Interview: 2020 Must-Know - BLACKSTARKIDS
Interview: 2020 Must-Know - BLACKSTARKIDS
"Surf is a metaphor for how we want to live life - care-free, kinda coasting by," say three-piece creative collective, BLACKSTARKIDS, who share about their empathetic new album 'Surf' (released only in February of this year and with another already on the way) that it "was started at a very stressful time in all of our lives and we viewed it as an escape from our stresses, and hoped it would lead to relief from a lot of life problems."
Growing up in Raytown ("a small suburb right outside of Kansas City"), tyfaizon, TheBabeGabe, and Deiondre all attended the same high school and wound up befriending each other four years ago over Instagram, with solid plans to start making music together formulated by January of 2019. About their local music scene, the trio says, "There was a small community of kids that existed in our city that were open-minded and creative. We take a lot of inspiration from the scene, and they show us a lot of support. It was a good place for us to be based; honestly, we love it."
Releasing music from their self-run label Bedroom Records ("Bedroom Records is just for all of us to be able to release music even without any major support"), which also encompasses not only their own individual musical pursuits, but those of some friends too, each member is now primarily focused on the emotive output of BLACKSTARKIDS, and with a recent co-sign from none other than The 1975's Matty Healy (who posted 'Surf' album highlight and opening-track 'Sounds Like Fun' to his Instagram story), the prodigious group show no signs of stopping, or being tamed, anytime soon.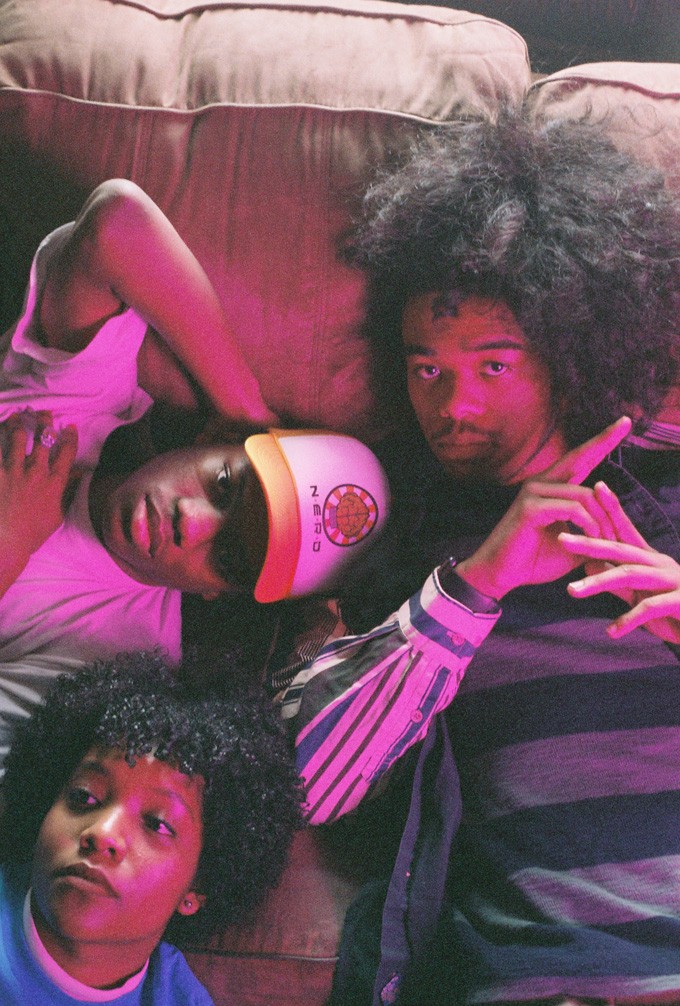 MUST-LISTEN: 'Sounds Like Fun', 'Too Depressed 4 Sex', 'How I Met Your Mother', 'Reasons To Exist'.
YOU WILL LIKE, IF YOU LIKE: beabadoobee, The Drums, Quiet Luke, Deb Never, Brockhampton, Doja Cat, LAUNDRY DAY, Willow... and staying in bed all day because getting up to shower is too much effort.
COUP DE MAIN: Your song 'Reasons To Exist' hits a bit harder in these unprecedented times we are living in currently. How have you been practicing self-care while in isolation?
BLACKSTARKIDS - TYFAIZON: I've been trying to keep positive thoughts - it's easier when the weather is nice, I'll go on walks or work on new ideas. I've also been binge watching 'The Wire'.
BLACKSTARKIDS - THEBABEGABE: As far as self-care, I feel like making music has really made this time easier for me. It's something productive and also something I just really love to do. I've been able to really focus in on it.
BLACKSTARKIDS - DEIONDRE: I've been working out and exercising a lot more and doing what I actually wanna do during these self-isolating times.
CDM: In 'Too Depressed 4 Sex', Gabe says, "Fuck the shower, I'm stressed / So stressed / I'd rather much just stay in my bed," which is a very relatable sentiment, but even more so now. How does it feel thinking back on these songs now in light of the current social mood?
TYFAIZON: I think a lot of songs like 'Too Depressed 4 Sex', 'Reasons To Exist', and 'Instant Bummer Endless Summer' hit more now - we made this album during a rough time in our lives, and this is a rough time in general, so it makes sense.
THEBABEGABE: I feel like 'Too Depressed 4 Sex' definitely lightens up the mood for this situation we're all currently in. Whenever I hear that song, I instantly just want to dance.
DEIONDRE: It's kinda funny to me a little bit, honestly, a very relatable verse though.
CDM: Lyrically, what's your favourite song that you've written?
TYFAIZON: For BLACKSTARKIDS? This song called 'Camp Whatever' on our new album. In general, probably my verse on this song called 'Neon Lemon'. I love the hook for 'Too Depressed 4 Sex' too, writing-wise, so that's up there for me.
THEBABEGABE: Favourite song that I've written is definitely 'Love, Stargirl'.
DEIONDRE: 'Wigs' was my favourite verse to write - first time I wrote about the city I live in from a proud and memorable standpoint. And the chorus on 'How I Met Your Mother' was fun to write with Ty and came out great I think.
CDM: How does your music-making process work?
TYFAIZON: I'll try to have an idea of what we want to make before we make it, and from that point we just listen to music we like and try and get in a groove. Deiondre will handle production, me and Gabe write the majority of the music.
THEBABEGABE: Usually just listen to a reference song that has the same feeling or sound we're trying to capture and go from there. We love to catch up, share memes, and talk during this process too.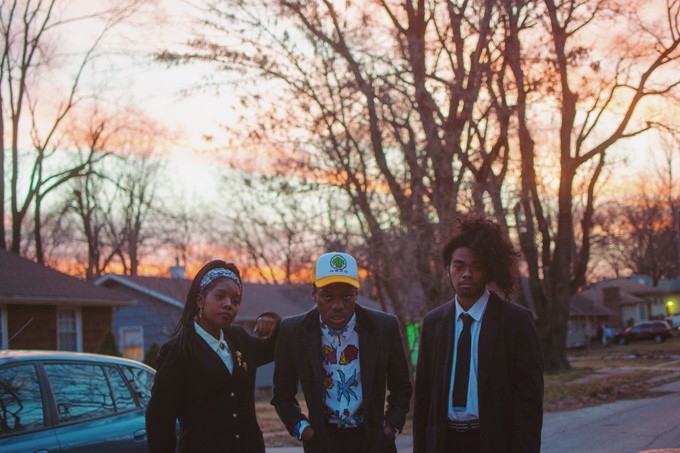 CDM: I love 'Sounds Like Fun' from your new album 'Surf'! What was running through your mind while writing it?
TYFAIZON: I was trying to write something that people could sing at the top of their lungs. That's how the hook came the way it did, I wanted it to be something that felt fun to sing, and catchy.
DEIONDRE: The 'Scott Pilgrim vs. the World' opening credit intro song scene - it was always a great open to anything for me, feels fun, assertive to the point and vibe we're driving across for 'Surf' as an intro in a way.
CDM: What do you think is the difference between a good song and a great song?
TYFAIZON: Most songs are good to me. A good song is just tolerable, like you can stand to listen to it. A great song you live your life to, you fall in with, and you might even fall in love to it. Great music is music that you share with loved ones, and music that you listen to alone all the time.
THEBABEGABE: The difference between a good song and a great song is that a great song will sound timeless. I usually know a song is great because I'll play it back-to-back for like a week.
DEIONDRE: The difference between a good song and a great song to me is that a good song is catchy and sticks in your head for a while because it sounded fun to you and caught your attention, and a great song will connect with you more personally than any person you meet ever could and you will know when it's a great song.
CDM: If B.L.A.C.K.S.T.A.R.K.I.D.S. were an acronym, what would each letter stand for?
TYFAIZON: Okay I'm gonna spitball whatever comes to mind. Barbecue wings, Late registration, All colours, Kisses, Skittles, Tyler, Antisocialites, Redbull, Kids, In search of..., Drop dead, Scott Pilgrim. We love all of those things/albums/people. Kinda hard, we have such a long name.  
CDM: What do you hope for people to take away from listening to your music?
TYFAIZON: I hope people who listen to BSK have fun, and ease up on themselves a bit. We're at an age where things get stressful, and we want our listeners to know it's okay not to have everything figured out yet.
THEBABEGABE: Whenever people are listening to our music, I don't want them to think too hard about it. I kind of just want them to feel the moment of the song and enjoy whatever energy it creates for them.
DEIONDRE: What I hope people take away from our music is to have fun whenever you can and express what you're feeling at that moment without restriction or boundaries; just feel free.
CDM: You've already released two albums, 'Surf' and 'Let's Play Sports', as well as a collection of 'basement demos'. Why is it important to you as a collective to be constantly releasing new music?
TYFAIZON: It's not necessarily for me, I think it's important to release music when we're inspired. We've been really inspired recently and so music has been happening, but if I'm not, then it won't.
THEBABEGABE: We're honestly always creating new music and I think that as a new artist it's very important to always be delivering new content for people. Plus, we enjoy making music so much.
DEIONDRE: I think having something anybody listens to that's outside of our album is a great way to show what we like personally and for them to know how we sound inside and out of our songwriting process, and I want them to know how we go about things and decide on things, and also capture the fun energy of how we make songs in the first place and still be involved at the same time with each other at all times.
CDM: Do you have plans to release more new music this year?
TYFAIZON: Yes! Another album. It's called 'Whatever, Man'.
CDM: What was your very first impression of each of your bandmates the very first time you met?
TYFAIZON: I thought they were both cool, honestly, like really cool, which is what made me introduce myself to both of them. Then when I got to know them I realised I had a lot in common with both of them.
THEBABEGABE: When I met both Ty and Deiondre, I was really excited! It was super cool to meet other people who make music!
DEIONDRE: I already knew Ty from working on his solo album beforehand, but I knew me and Gabe were gonna have fun regardless.
CDM: What's on your bucket-list?
TYFAIZON: Meeting some idols. Toro, Pharrell, Tyler. I want to write songs with Beabadoobee. I want to buy a trampoline.
THEBABEGABE: I would love to go to Japan.
DEIONDRE: Skydiving.
CDM: If you could steal one thing without consequence what would it be?
TYFAIZON: A trampoline!
THEBABEGABE: If I could steal anything without consequences, it'll definitely be a new car! Probably a Tesla!
DEIONDRE: Anything from IKEA.
CDM: If you were a country, what would be your national anthem?
TYFAIZON: 'Skinny Niggas Running Shit' by Soulja Boy.
THEBABEGABE: My national anthem would definitely be 'ICY GRL' by Saweetie!
DEIONDRE: 'POP' by Lil Uzi Vert.
CDM: What are your top five necessities for isolation/quarantine/lockdown?
TYFAIZON: Headphones, phone, charger, nice pillow, walking shoes.
THEBABEGABE: Top five necessities for quarantine are my music, my PS4, my sewing machine, hot cheetos, and 'Scarface'!
DEIONDRE: My guitar, laptop, french fries, my water bottle, and a good playlist of music.
CDM: You're one of our 'must-know' artist picks for 2020… who are yours?
TYFAIZON: Paris Williams, Medici, Monogram, Huron John, AG Club, off the top of my head.
THEBABEGABE: Paris Williams, Medici, AG Club and Monogram.
DEIONDRE: Paris Williams, Chiiild, Vacationer, Jacobean.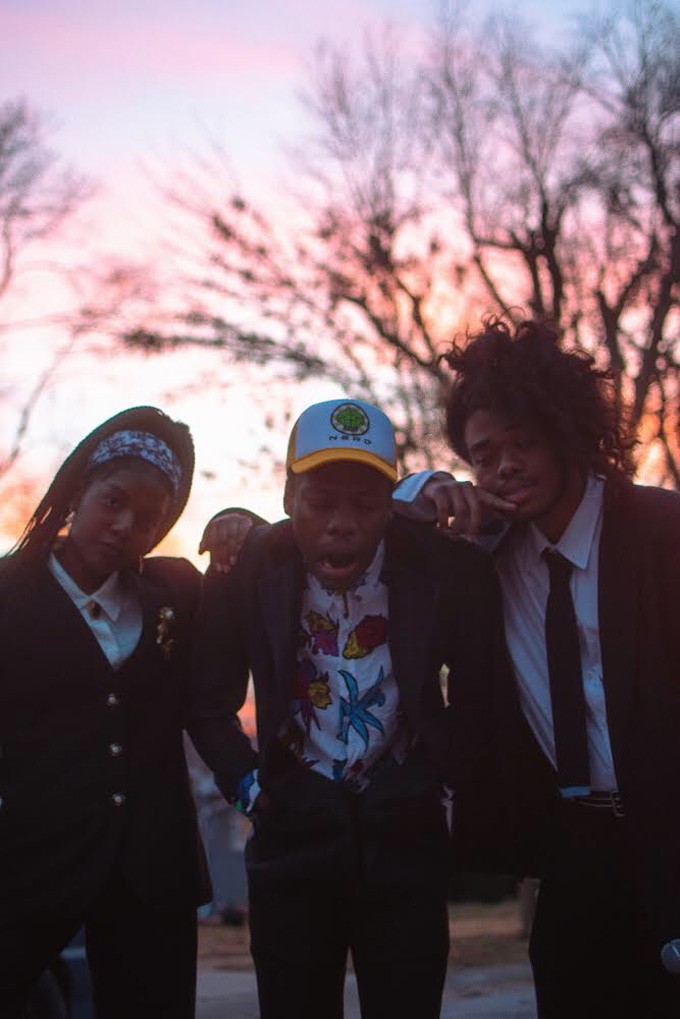 Watch the 'Too Depressed 4 Sex' music video below...
Load next