Halsey announces 2018 New Zealand show.
Halsey announces 2018 New Zealand show.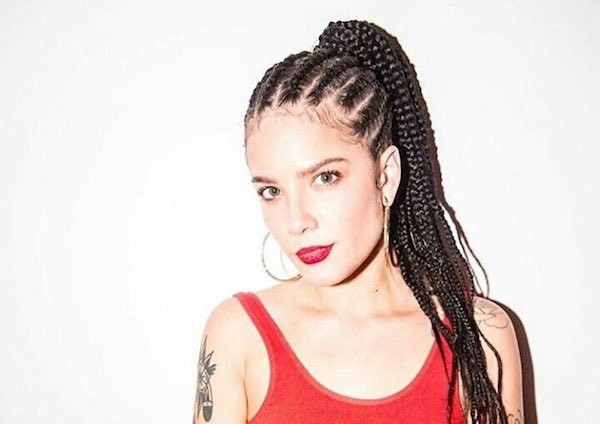 After much speculation and teasing to us that, "After Christmas, I will be back to play shows," Halsey has confirmed her return to New Zealand with her first ever New Zealand headline show, to take place at Spark Arena on April 19th.
Tickets will go on sale at 1pm on Wednesday, December 20th, with a Spark pre-sale beginning at 11am on Monday December 18th running until 11am Wednesday December 20th.
UPDATE: information about Halsey's VIP packages has now been released - click here for more information.
VIPs will be sold on the local ticketing system via the "Buy VIP" link" here
ANGELUS & AUREUM VIPs are $395.00 (NZD and AUD) before any service fees and INCLUDE a ticket in the $395.00 (NZD and AUD) price.
Here's the full tour info:
"Hailed by Billboard Magazine, Forbes and MTV as 'the voice of her generation', Halsey's meteoric rise to pop stardom can literally be tracked over the last two years.
Born Ashley Nicolette Frangipane in 1994, Halsey went from putting songs on SoundCloud as a teenager to releasing her first full-length album BADLANDS in 2015, stunning the industry with its debut at No: 2 on the Billboard charts, as well as achieving multiple top 10 chart positions worldwide, including No: 3 on the RIANZ album chart. BADLANDS features the hit singles; 'Ghost', 'New Americana' (RIANZ certified Gold), 'Colors' (RIANZ certified Gold) and 'Castle'.
However, it was in July 2016 when Halsey featured on the Chainsmokers single 'Closer' - which was number one in the U.S. for 12 weeks with over 1 billion streams on Spotify alone - that she was catapulted into another stratosphere.
Kiwis love Halsey. Whether it's that unmistakable voice, her take-no-prisoners attitude, or her irreverent approach to social media, there's something about the way this 23-year-old New Jersey native operates that we just can't get enough of. Luckily for us, the feeling is mutual, as Halsey is returning to New Zealand for her debut headline show in support of her latest Grammy nominated, chart topping, record hopeless fountain kingdom.
Immediately after launching itself into the top 10 in 40+ countries worldwide and being the first number one album by a female artist in the US in 2017, hopeless fountain kingdom held special significance for Halsey's fans. Singles like Bad At Love and Now Or Never showcase a connection between artist and audience that is increasingly rare in today's musical landscape. The record's wild ambition and musical abandon has seen it garner breathless reviews from the likes of Rolling Stone and NME and recently saw Frangipane grace the cover of Billboard, Paper & Playboy Magazine.
"Halsey shows off all of her wild musical ambitions on hopeless fountain kingdom, a bold second album that consolidates all the strengths of the 2015 debut BADLANDS. Judging from hopeless fountain kingdom, she could go anywhere from here." Rolling Stone (4 stars)
And if that wasn't enough, Halsey just released Him & I -  a modern tale of rebellion and reckless love with rapper G-Eazy (who is also her boyfriend). Check out the new vid for it here. While in Auckland earlier this year on a promotional visit, Halsey hinted at a return - that day has finally come as her debut tour is announced, returning hopeless fountain kingdom to the fans it was lovingly written for, and ensuring Halsey maintains her permanent place in our hearts.
SPARK ARENA, AUCKLAND - THURSDAY APRIL 19
TICKETS ON SALE 1PM WEDNESDAY, DECEMBER 20
Spark pre-sale: 11am Monday, December 18 until 11am Wednesday December 20"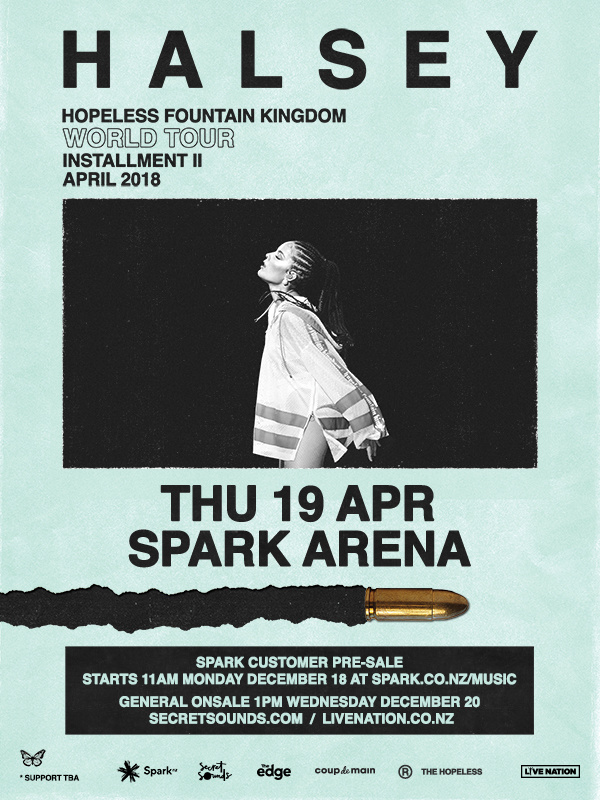 Watch the 'Bad At Love' music video below…
P.S. Read our cover-story with Halsey here.
Load next