Review: Taylor Swift - Staples Center, August 2015.
Review: Taylor Swift - Staples Center, August 2015.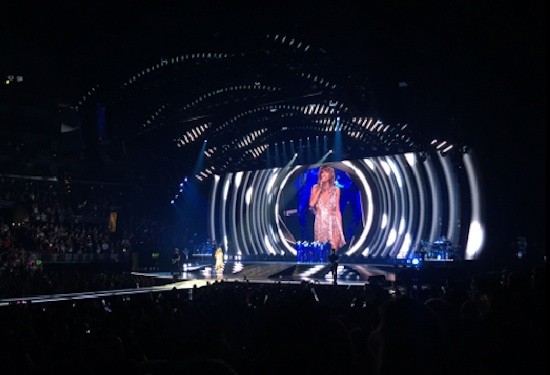 Tuesday night was the fourth of a sold-out five-show residency for Taylor Swift at the Staples Center in Los Angeles. Swift's colossal 1989 Tour promises an A-list roster of guest musicians and celebrities, a solid group of two to three opening acts, and a setlist chocked full of explosive mega-hits. More than just a concert, the multi-platinum artist manages to produce a pop extravaganza for adoring fans.
Opening acts included Australian singer-songwriter Vance Joy and Los Angeles natives Haim, three sisters who excel in both the pop and rock spheres alike. Vance Joy, who grew to become a household name after his single 'Riptide' exploded to the top of the charts back in July of 2013, performed a buzzy seven-song set.
Shortly thereafter, Haim was met with increasing crowd recognition as they launched into an abridged performance of hits from their debut album, 'Days Are Gone'. As always, eldest sister Este welcomed the audience to a jam session just before breaking into their rabble-rousing, Peter Green-era Fleetwood Mac cover of 'Oh Well'. 'Pray To God', recent single of DJ and producer Calvin Harris, which features the sister act, was a welcomed addition to their regular set.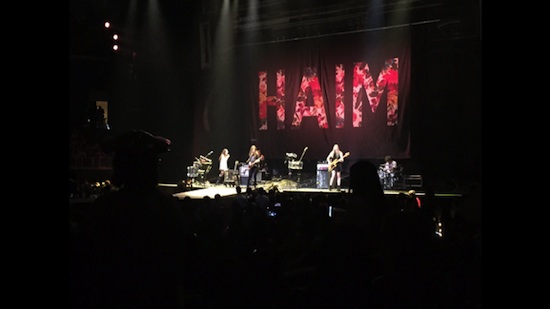 Just before Taylor was set to arrive (and also at various breaks throughout the show), a pre-recorded video plays overhead featuring commentary from the likes of Selena Gomez, Karlie Kloss, Cara Delevingne, and the HAIM sisters. The boom of the audience reverberates at the sight of Swift's celebrity friends on-screen. It's already clear from the sound of this arena that we are in for a night of positive dynamism.
Suddenly, the lights are killed. The fan-made neon signs switch on. Cue the roar of 15,000 anticipating attendees.
Swift emerges through the stage floor shrouded in fog and lights as the opening notes to 'Welcome To New York' vibrate throughout the arena. Although we were clearly not in New York, that big apple energy and wonderment may have some competition in Los Angeles Swifties, whose vivacity was seemingly unparalleled.
That vivacity may very well stem from the response they receive from Swift herself in the form of uplifting messages throughout the show. At one point she whole-heartedly addressed the crowd, "There are many different types of people here tonight but we all have one thing in common: When we feel great amounts of joy or pain, we turn to music, and that's why we're here tonight." Without question, that much was true.
The show was extensive – stretching 18 songs over the course of two-and-a-half-hours. The performance was complete with the consistent presence of a team of all-male backup dancers, elaborate stage set-ups, and enough neon to last a lifetime. Famous guests at the Tuesday night spectacle included alternative singers and multi-instrumentalists Beck and St. Vincent, who came out to perform the former's latest single 'Dreams'. Despite the fact that younger fans were unfazed by the alternative anthem, those who appreciated the gesture were out in full force. A little later, vocalist and pianist John Legend collaborated with Swift on his chart-topper 'All Of Me'.
While Swift performed '1989' songs in their predominantly original fashion, she bent the music for older material including a synth-pop rendition of 'Love Story' and a thundering and somewhat risqué performance of 'I Knew You Were Trouble'. Swift even regaled us with a piano-centric mashup of sorts, combining 'Wildest Dreams' with elements of 'Speak Now' hit, 'Enchanted'.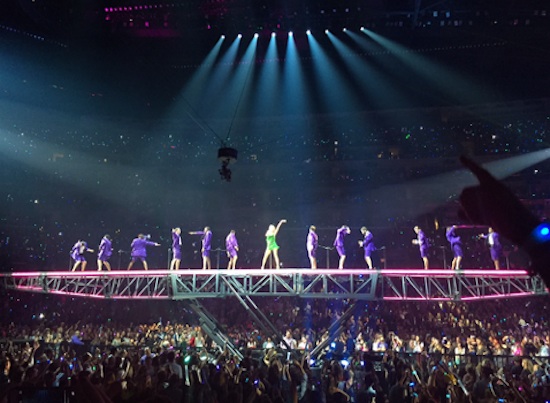 In preparation of the '1989' ballad 'Clean', Swift once again addressed the audience by giving way to an atmosphere of inspiration. "You are not damaged goods just because you've made mistakes," she proclaimed. "You are not someone else's opinion of you." The pop sensation has recently taken to cultivating and maintaining a squad of female friendships as part of her newfound message that preaches female empowerment. That constant supportiveness is now extending to loyal fans, who are mostly girls and young women.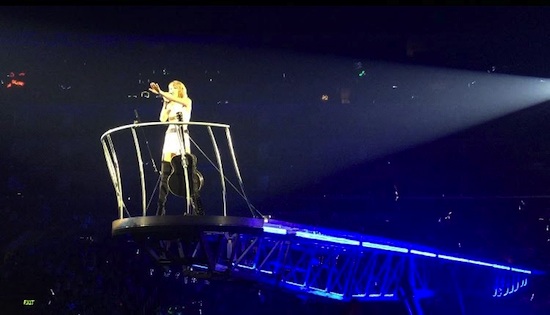 The musical barn-burner (pardon the absolute-exit-from-the-country-genre pun) concluded with the record's debut single, 'Shake It Off'. A show within a show–eruptions of confetti and fireworks effortlessly formed the enthralling send-off for the night. If there's one thing that is sure to be taken away from the concert, it is that Swift has assuredly ascended out of her country aura and has successfully transitioned into a top dog position within the pop realm. After Tuesday night's show, it's much deserved.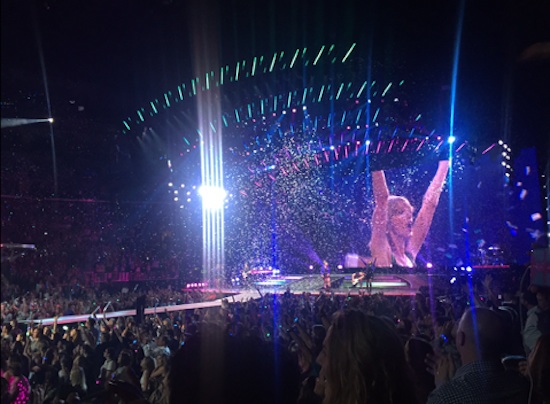 Load next