A Tegan And Sara x 'Love You To Death' appreciation post.
A Tegan And Sara x 'Love You To Death' appreciation post.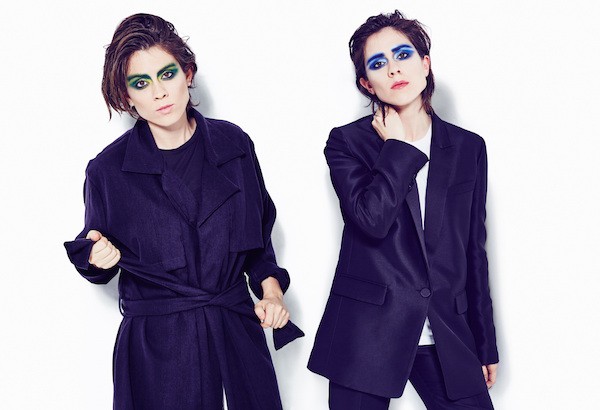 To celebrate the release of Tegan And Sara's new album 'Love You To Death' - it's out today! - we've decided to compile our favourite things about the animal-loving sister duo.
But first, here's some official info on the new album:
With over 1 million albums sold, 3 Juno Awards, 2 Polaris Prize nominations and a Grammy nomination, Tegan and Sara's career has deftly balanced critical acclaim with an ever-increasing foothold in the mainstream. Their unique ability to bridge the pop and indie worlds has allowed their music to cross all traditional boundaries – from being covered by The White Stripes, to performing with artists as diverse as Katy Perry, The Killers, Taylor Swift, and Neil Young.
Love You to Death, the follow up to Tegan and Sara's breakthrough 2013 album Heartthrob, was recorded in Los Angeles with producer Greg Kurstin (Adele, Sia, Beck) and features 10 new tracks.
Here's five things that we currently appreciate about Tegan And Sara:
#1. The album was entirely produced by Greg Kurstin - who's not only worked with the likes of Adele, Ellie Goulding, Years & Years, Charli XCX, and more - he also produced a number of songs on Tegan And Sara's last record, 'Heartthrob'. He came fully on board for all of 'Love You To Death', and in an interview with Buzzfeed, he said: "Working with Tegan and Sara, it just feels so effortless. It's one of the few bands that I would wanna do a whole album with."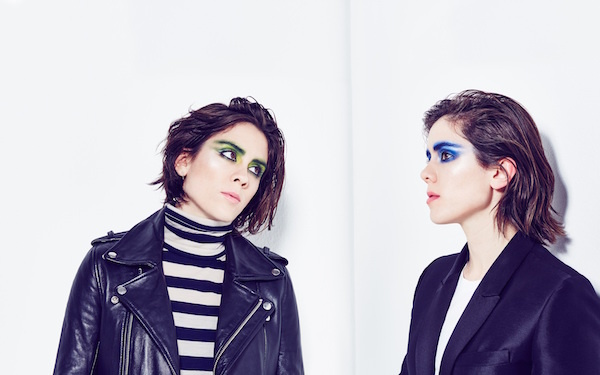 #2. Every song from the ten track album will have a video to accompany it - and the videos that have been released thus far range from stylish and arty, to hilarious. The dramatic video for '100x' features a collection of super cute dogs, I particularly love the subtle wind machine blowing their fur.
Watch the '100x' music video below:
#3. In support of the announcement of their new album, Buzzfeed released a long-form interview with the duo, where they talk about their aspirations, and also about what went into the new album. 
Sara spoke openly about the band's goals for where they'll be in the future, saying: "By 2017 can we be one of the top headlining tours in the States or internationally? Can we be one of the top-billed artists at festivals in 2017? I would love to be up there with our peers, Arcade Fire or Vampire Weekend. Maybe we can reach enough people that we can sell out a Madison Square Garden or an O2 Arena at some point. I want to believe that."
She also went on to talk about how this is the first album where she felt comfortable to write about the struggles in her relationship with her sister. She said: "In the years where I wasn't secure in our relationship, I knew that was the one completely untouchable topic. I have left Tegan as a very protected thing — the only protected thing — and I think it's because I was most afraid of it. Now that we're good again and things are so strong between us, it's really much safer for me to start to analyze it." Read the full interview HERE.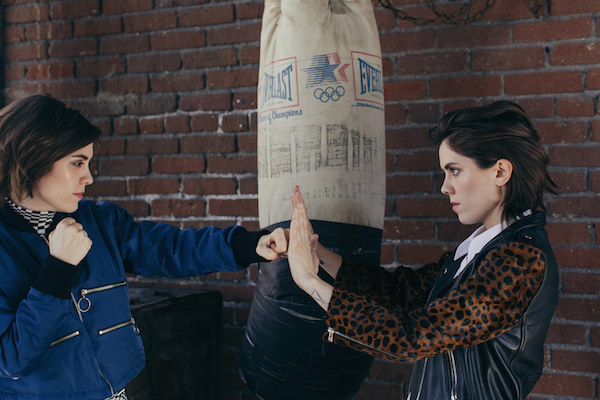 #4. Their new merch is amazing! Unfortunately some of it has already sold out, but I've got my eye on the 'Love You To Death' cap and the 'Urgent!' notepad. Check it all out HERE.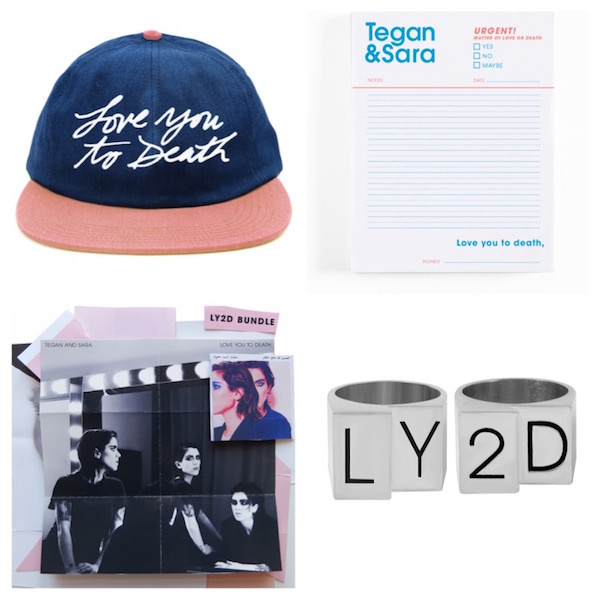 #5. They recently did a Q&A in the lead-up to the album's release on their Twitter account, where they revealed info about the new songs, and more. Check out some of the answers below:
@cantstopdesire I think White Knuckles, That Girl and BWU will be fan favorites for sure. #LY2D

— Tegan and Sara (@teganandsara) May 27, 2016
@ellaiarcangel We are learning every song from #LY2D acoustically. Stay tuned.

— Tegan and Sara (@teganandsara) May 27, 2016
@alexthompson_31 We were obsessed with Robyn, Alicia @aliciakeys and TLC when we were writing and recording #LY2D

— Tegan and Sara (@teganandsara) May 27, 2016
Tegan And Sara's new album 'Love You To Death' is out now - click HERE to purchase.
Watch the 'Boyfriend' music video below…
Load next