5 reasons you need to see Troye Sivan live in July.
5 reasons you need to see Troye Sivan live in July.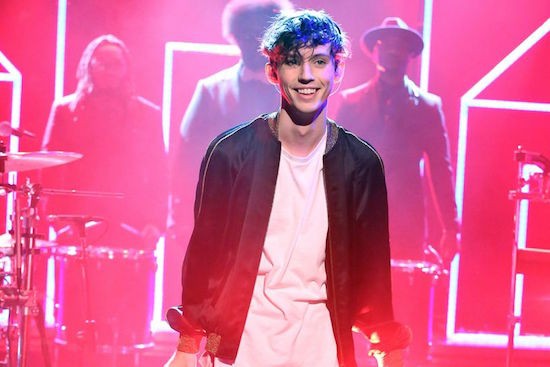 Because we here at Coup De Main are big Troye Sivan supporters, we've taken it upon ourselves to convince every single reader that they need to see him live.
And you've got a special chance to see him live too! He's just announced his New Zealand tour, and even added another Auckland date due to demand at the pre-sale.
He plays Christchurch's Horncastle Arena on July 28th, and Auckland's Town Hall on July 30th and July 31st.
Now here are five reasons that you've absolutely got to see Troye Sivan live this July:
#1. Troye's visit to New Zealand will be his debut performances in our country - making the tour even more exciting. When he returns again, he's bound to be playing bigger venues (if his career continues at the trajectory it's going on at the moment), so catching him at this tour is gonna be a once in a lifetime opportunity. Watch one of his first ever TV performances below, of him singing 'Youth' on 'The Tonight Show':
#2. Troye has a song with BROODS. Broods are from New Zealand. Maybe if Broods are in New Zealand they'll perform 'Ease' with him live. GOALS.
#3. He performs a cover of Alessia Cara's 'Here' as part of his live set, and it's phenomenal. Listen below:
#4. He performs a mix of older songs, and new songs from his hugely successful album 'Blue Neighbourhood'. Watch a couple of live performances from the iHeartRadio Theater in LA below:
#5. He's always had a soft spot for New Zealand, 'cuz we've supported him for so long. When we first interviewed him, he had the following to say about NZ: "Seriously, I remember 'Happy Little Pill' and 'TRXYE' getting so much support in New Zealand. And then I went to Queenstown for a holiday a couple of months ago and fell in love with it, so New Zealand is like my number one place that I really wanna come and play shows. And yeah, like you said it's #1 on iTunes there and 'Wild' the track is doing really well, so yeah I definitely have to come over and say thank you at some point."
Tickets for the tour go on sale on Monday, April 18th at 4pm, via Ticketek for Christchurch and Ticketmaster for Auckland.
Watch the 'Youth' music video below…
P.S Read our interview with Troye Sivan HERE.
Load next