Interview: 2016 Must-Know - Jerry Williams
Interview: 2016 Must-Know - Jerry Williams
Having opened on Nathan Sykes' (formerly of The Wanted) sold-out UK tour earlier this year, 19-year-old Jerry Williams introduced her sincere songwriting style to new ears - confessing relatable tales of heartbreak, adolescence and restlessness.
She's also the kind of girl you want around when thrift-shopping - you're guaranteed a bargain.
"When the artist's voice is so raw and emotional, it just really connects..."
COUP DE MAIN: At what age did you write your first song ever? And what was it about?
JERRY WILLIAMS: I think I was 12. It was about a Roald Dahl poster I had on my wall! I saw a home-video of me singing it the other day - it's so cringe! :( haha.
CDM: How does your songwriting process work?
JERRY: I tend to come up with the chords first and then sing a melody over the top. Sometimes, if the lyrics are a bit naff, I'll re-write new ones as a poem. When I'm writing on my own, I always find the bathroom is a good place to be creative - I don't know why! Or sitting by the radiator in my room...
CDM: Do you write your lyrics specifically for the songs, or do you write poems or prose and then evolve them into song-form?
JERRY: I usually write lyrics just for the song first. I have a lot of notes on my phone, from where I think of random lines or ideas!
CDM: Lyrically, what's your favourite song that you've written?
JERRY: I have a song called 'L's Song' which is a very honest, meaningful song to me. I was quite chuffed I managed to write a song where every line is 100% true to what it's about!
CDM: What do you think is the difference between a good song and a great song?
JERRY: Real emotion and a true story. When the artist's voice is so raw and emotional, it just really connects with me and other people. Then, when you find out it's about something that's happened in the artist's life, it's amazing to listen to. You feel something.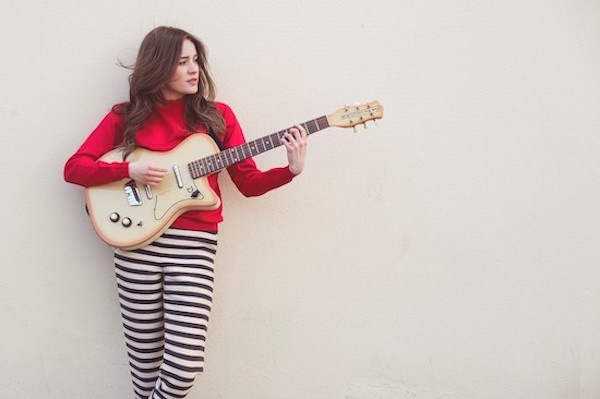 CDM: If you were a country, which song would be your national anthem?
JERRY: Hmmm, it depends what mood I'm in. I guess it'll have to be one of my favourite songs, Slow Club's 'Everything Is New'. That's such a gorgeous song.
CDM: What's the best ever vintage clothing find you've scored?
JERRY: A pair of amazing Russell & Bromley boots which were £5!!!... £5!! They were just at the back of this shop and the lady was like, "I'll sell them to you for a fiver?" And I was just like, "Um YEAH." I couldn't stop talking about that for days!
CDM: Do you have a favourite Roald Dahl book?
JERRY: Definitely - 'The Witches'.
CDM: If J.E.R.R.Y. were an acronym, what would each letter stand for?
JERRY: Jazzy Clothes, Evenings out with my friends, Roast dinners, Really long showers, YAY!
CDM: What's on your bucket-list?
JERRY: Everyone says this, but I'd like to sky-dive, even though I know I'd be petrified! To go to Australia would be amazing too!
JERRY WILLIAMS' 'Cold Beer' EP is out now - click HERE to purchase it via iTunes.
Watch the 'Boy Oh Boy' music video below...
P.S. Click HERE to check out more of CDM's 2016 Must-Know artists in CDM Issue #17!
Load next