Interview: Charli XCX on feminism and her sophomore album, 'Sucker'.
Interview: Charli XCX on feminism and her sophomore album, 'Sucker'.
"Pussy power, pussy power!" Charli XCX chants at her show, during the middle of her solo rendition of Iggy Azalea's single, 'Fancy'. It basically sums up everything you need to know about Charli - real name, Charlotte Emma Aitchison - who in a time when so many popstars are scared to label themselves feminists for fear of losing fans, is instead leading the way with her girl-power, girl-loving feminism, that she openly and candidly talks about. What makes her special is not only her music (which epitomises fearless feminism), but the way she interacts and connects with her fans. Charli's feminism is in all aspects of her music - from her all-female band, her lyrics, and her relationships with fans - and she fosters an environment which is changing the pop scene entirely. 
Feminism is a word so haphazardly thrown around by so many people, that it's sometimes hard to tell whether it's a term used as a fashion statement, or whether someone is actually aware of the history that surrounds it and why it is such a necessary aspect of the way we live our lives today. The riot grrrl movement from the 90s was crucial for both feminism in society as well as in the music industry, seen through artists such as Kathleen Hanna of Bikini Kill - a fundamental band in terms of defining the underground feminist-punk movement. In today's society there has not been a feminist movement as strong as the original wave of riot grrrl, arguably, but talking about feminism has become more commonplace, particularly within pop-culture. In a time where a number of artists choose not to talk about the subject of feminism because they feel unauthorised to comment - or that it's too 'controversial' - Charli stands out unashamedly, proud to identify as a feminist.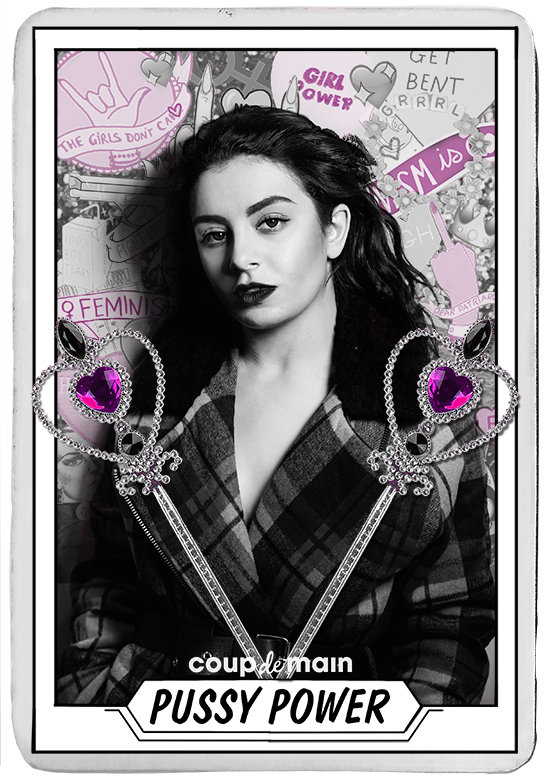 Gender equality is ultimately the goal for feminism, but it's an area which still has such a stigma surrounding it. In a world where rape culture, wage gaps, and slut-shaming exists, people still try to deny both the existence and the importance of feminism. Charli is not one of these people. She's open in admitting her opinion on whether gender equality exists today: "I don't think that genders are considered equal in what I do," and goes on further to highlight the positivity from spreading awareness of feminism: "I think it doesn't exist in what I do. I think there's still a lot of unnecessary stigma pointed towards females in the music industry and I think it's amazing that so many women are continuously talking about feminism and gender equality 'cuz I think it's raising awareness amongst younger people about the issues surrounding gender equality, and I think that's great." 
HOW I FEEL ABOUT GIRL POWER… 
Despite acknowledging the gender imbalance that exists both in society and particularly in the music industry today, Charli is still optimistic about the position in which feminism is in today: "I think feminism is in a great place today, because I think that numerous public figures have made it clear that you don't have to be a certain type of female to be a feminist, and I think that that's really important. And also that you can be a man and be a feminist, also, of course." She brings up an important idea about the inclusivity of the feminist cause that is often ignored by many - feminists come in all races, genders, and sexualities, and it's important not to discriminate against any of these.
She also notes that public figures promoting feminism has helped the cause: "I think that the way that certain public figures demonstrated that is pretty great for the younger people - for the younger people to realise that. Also I think that the younger generation - like fourteen-year-olds; even younger - are super aware of feminism nowadays 'cuz it's so publicly discussed by such high-profile figures, and I think that's really amazing. 'Cuz I don't think I knew what feminism was when I was fourteen. I think that's really great that people do [now]."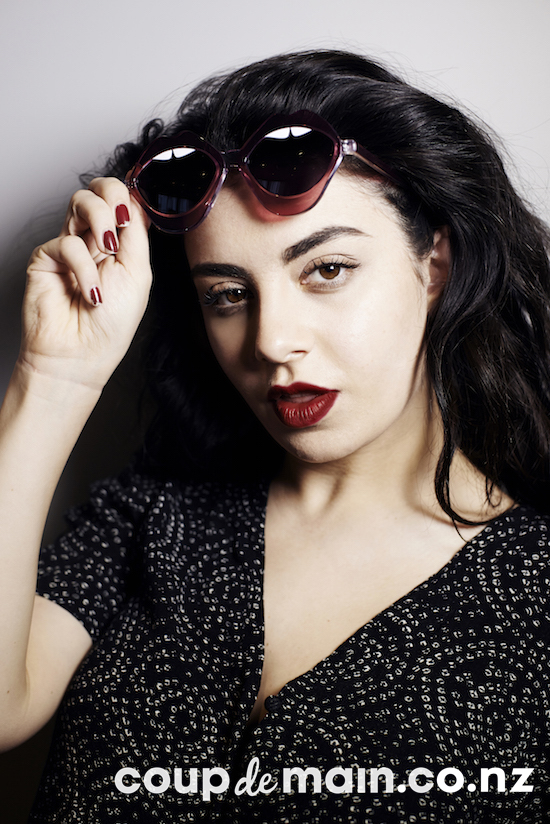 "Fuck you, sucker," Charli exclaims throughout the title-track of her sophomore album, 'Sucker' - a song that she kicks off her energy-filled set with on her current tour. There's nothing quite like seeing a crowd full of fans holding up their middle finger, yelling "fuck you" at Charli, as she snarls the lyrics back at them. The song is a massive "fuck you" to everyone who ever doubted Charli and her talent - "Oh dear god, do you get me now? Do you get me now? Oh you do?", she asks, before proceeding to call them out for being suckers. She describes the song as "kind of like a middle finger and 'told you so' to the people who doubted my validity as an artist," and goes on to describe how it sets the tone for the rest of the 'Sucker' album: "I think the album's very in your face from the first song. There is an aggression on the record and I think there's a very knowing, tongue-in-cheek tone to it all."  
MY FAVOURITE SONG FROM 'SUCKER'…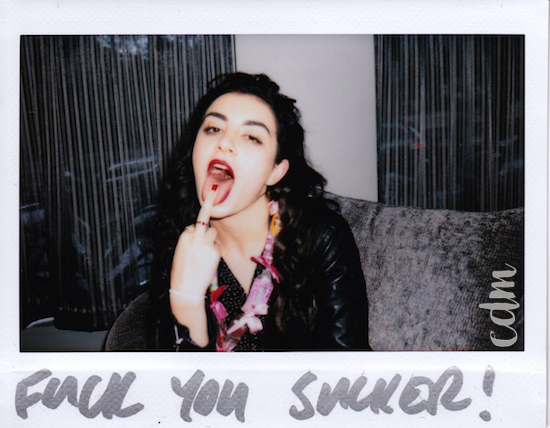 'Body Of My Own' is one of the more obviously feminist songs on the album, a narrative of self-love told through lyrics like, "I don't need you, my touch is much better." It's a succinct song about the sexualisation of the female body, but on Charli's own terms. She poses the question: "I think that if men can sexualise women in music and talk about the female-form and female bodies as a sexual thing, then why can't women talk about their own bodies like that?" She's correct. Historically, men have been able to sing about the female-form however they like (listen to basically any R. Kelly song), and portray this sexualisation in music videos with no complaints, but when a woman chooses to sexualise herself on her own terms, nine times out of ten she'll be labelled a 'slut'. It's an idea that songs like 'Body Of My Own' are proving otherwise, as they try to change society's perception about what a woman can and cannot do and say about her own body.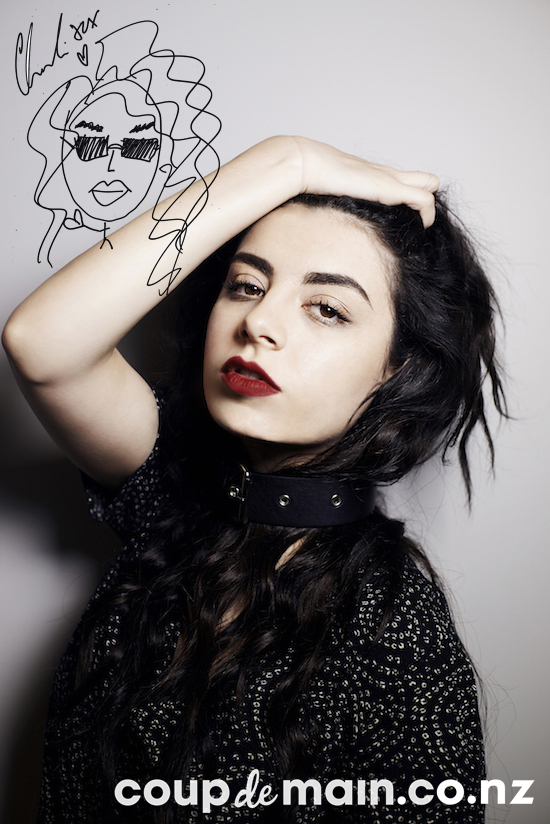 As well as promoting ideas of feminism through her own work, Charli's feminism can be seen through her work with and support of other artists, particularly in her numerous collaborations with other females - including Marina And The Diamonds, Iggy Azalea, Brooke Candy, and rising star Ryn Weaver (who she co-wrote 'OctaHate' with). In Coup De Main's recent interview with Ryn, she described Charli by saying: "Oh god, she's a gem. We're both Leos, and she is fiery and sassy, and I am as well."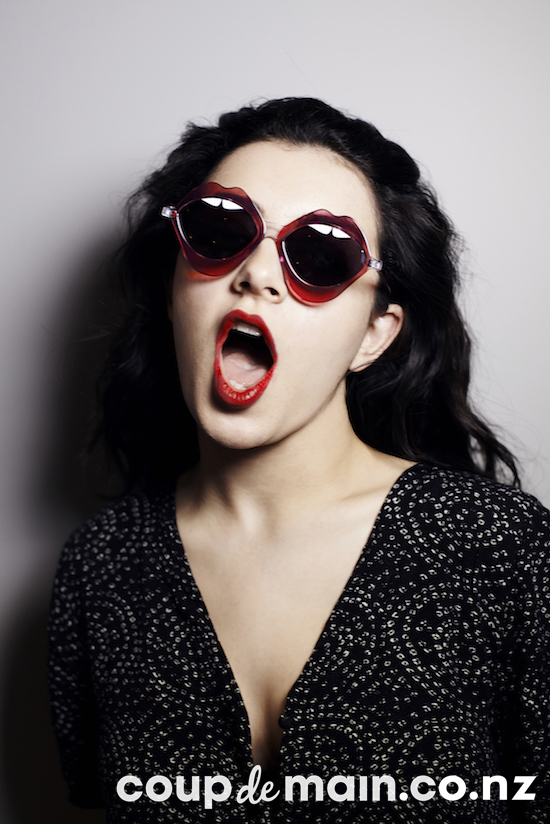 In addition to working alongside fellow females on collaborative projects, Charli also likes to bring them on tour - both as opening acts, such as up and coming artist Cuckoolander, and also in her live band. Charli explains: "I think it's really important to support other females because sometimes it seems as if the media really enjoy pitting us against each other, and I think that it's really important to fight that. I don't think at all that I'm alone in that I think right now there are so many women who wanna really stand by each other, and really encourage each other, and really respect each other's work, and I think that's really great." Holly Hardy (Cuckoolander) is mutually thankful for Charli's support of her, saying: "Meeting and working with Charli has been life-changing, she was one of the first people to hear my music and has since taken me under her wing and opened doors for me that I only dreamt about. Charli has shown me everything I need to know because she has the whole package; she is talented, hard-working and grounded."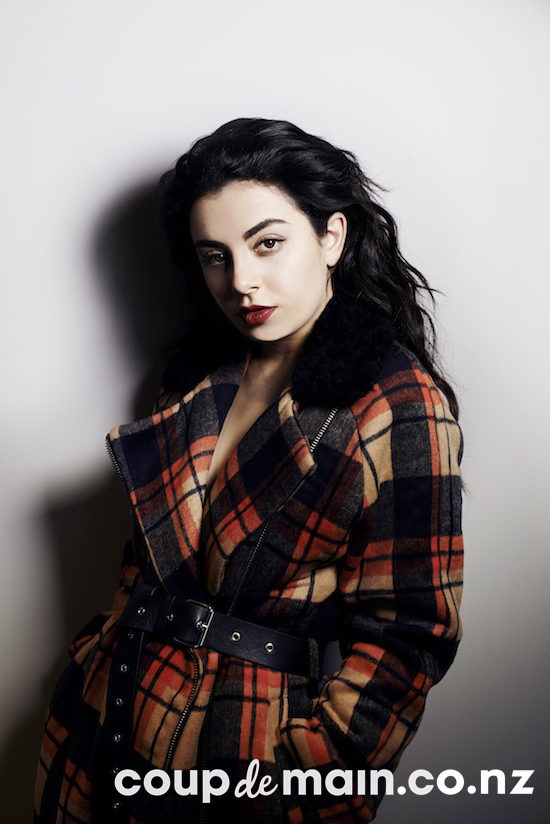 Charli's on-stage band is comprised of Debbie Knox-Hewson, Vicky Warwick, and new addition Chloë Alper. Their energy and on-stage chemistry is like nothing else - from their matching outfits, to their obvious enjoyment and laughter during performances, they're a collective of rad girls that you want to be best friends with. Charli wanted to have an all-girl band not only because they're girls, saying: "I wanted to perform with girls because I wanted to go on the road with girls, I had this fantasy of being in this all-girl band like The Donnas, very prom kind of feel to it. But I also really wanted to play with them because they're really great musicians, and they kick-ass when they play."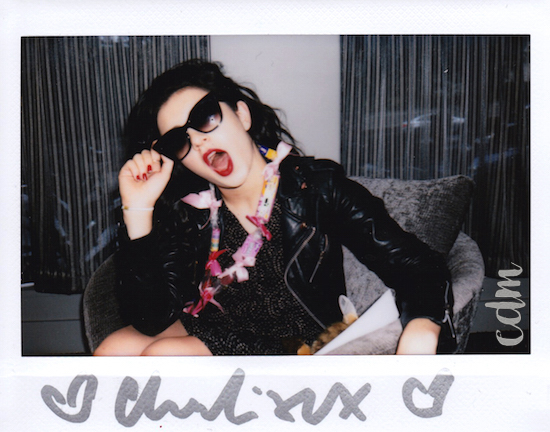 When it comes to the business side of things, Charli is just as involved and conscientious of the process as you would imagine. She released 'Sucker' through Neon Gold Records in America - the record label founded by her close friends Lizzy Plapinger (the MS of MS MR) and Derek Davies. "Lizzy and Derek and Neon Gold are really wonderful people, and really talented." Her involvement in the putting together of her albums is seen through the fact she co-produced her latest album too, a feat that showcases her talent not only as a songwriter, but in all facets of her music. Female producers are a rarity (particularly pop music), but Charli yet again highlights the real-life possibilities for women.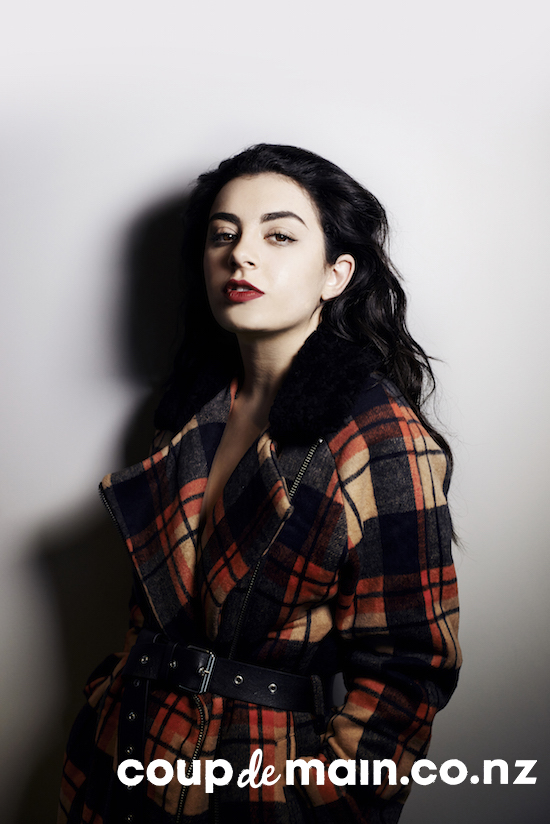 During our brief time with Charli whilst she was in New Zealand to perform a free iHeartRadio show, not once did she complain about being harried (or hurried). She's not phased by anything. There's no hovering entourage, there's no reluctance or hesitation to oblige any of our requests, and there's no lack of kindness despite obvious exhaustion from her non-stop touring and promo schedule. "Fuck it, I trust you guys," isn't a phrase normally uttered by a popstar who is being styled for a cover-shoot and lacking a mirror to check her reflection, but from Charli, it seems a genuine sentiment.
Ultimately, Charli XCX makes me proud to be a girl, and proud to be a feminist. She holds absolutely nothing back and is true to herself, with no apologies for being a real human. She's kind of like your dream elder sister - she teaches you things about the world, and about yourself. She acknowledges the gender imbalance in the music industry instead of tip-toeing around the question as so many others do, she loves to support fellow females in both the music and business sides of her life, and she sings about whatever the hell she likes. Charli XCX is a complete badass, has an adoration for pizza which is admirable, and is completely unashamed about her opinions. If you agree with her, then great, but if you don't, then, "Fuck you, sucker!"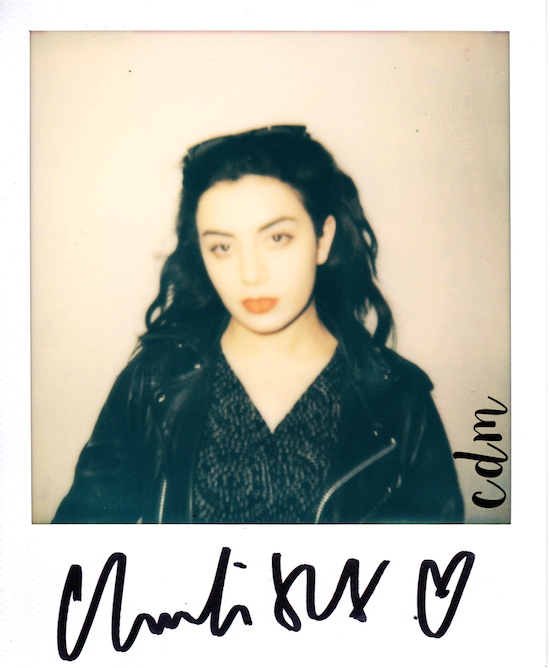 Charli XCX's sophomore album 'Sucker' is out now, click here to buy it via iTunes.
Watch the 'Famous' music video below…
Load next