Interview: Icona Pop's Aino Jawo on their new album, 'This Is... Icona Pop'.
Interview: Icona Pop's Aino Jawo on their new album, 'This Is... Icona Pop'.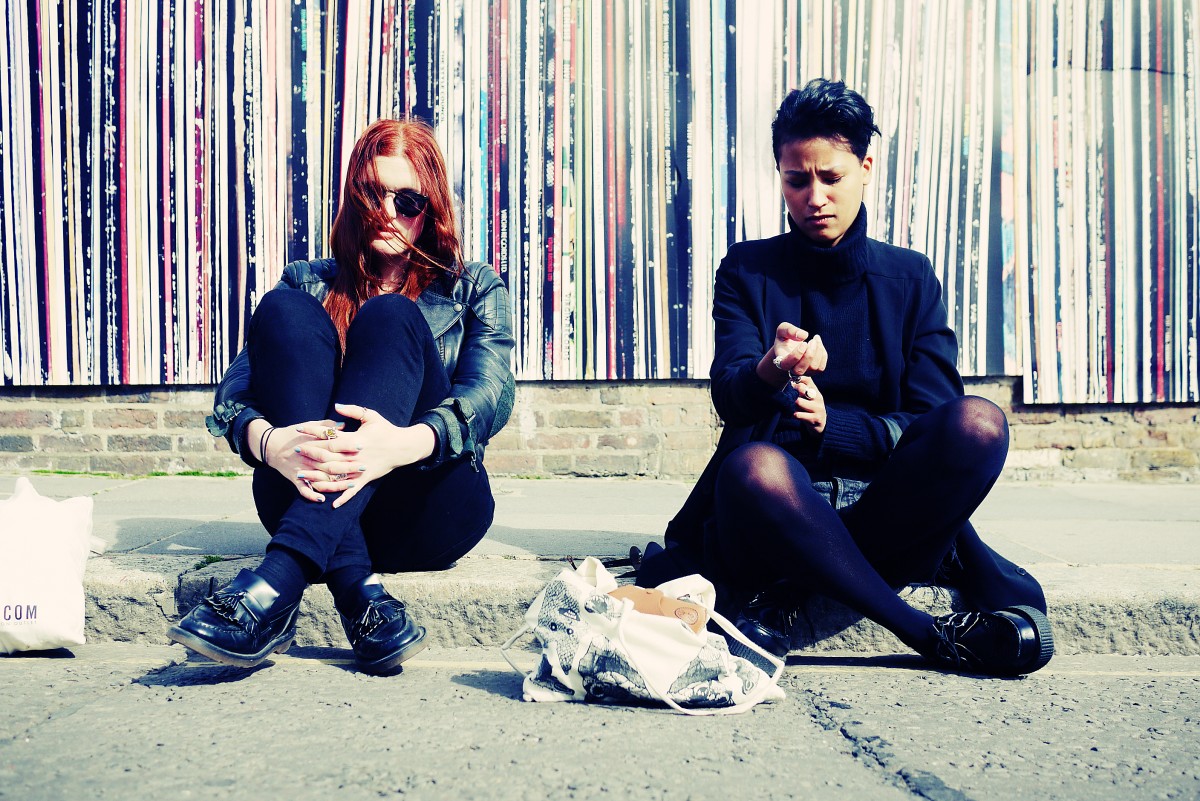 Born and bred in Sweden, Aino Jawo is one half of the incredibly tall Icona Pop duo which was formed after spontaneously meeting at a party hosted by bandmate Caroline Hjelt - a true love (or friendship) at first sight scenario.
Driven by their distinctively dramatic sound of chanted choruses and live but mechanised drums, the bittersweet essence of Icona Pop radiates dance floor anthem vibes.
Aino is high-heel loving and elevator hating... and should also be classed as a how-to-get-over-heartbreak expert. What, a lady.
Coup De Main spoke to Aino Jawo while she was on tour in New York recently...
"It's a very sensitive process to go to the studio and pour your heart out and you don't know if the other person's going to like that. We just sat down and started to write and we were musically talking the same language which made us realise we were like soulmates."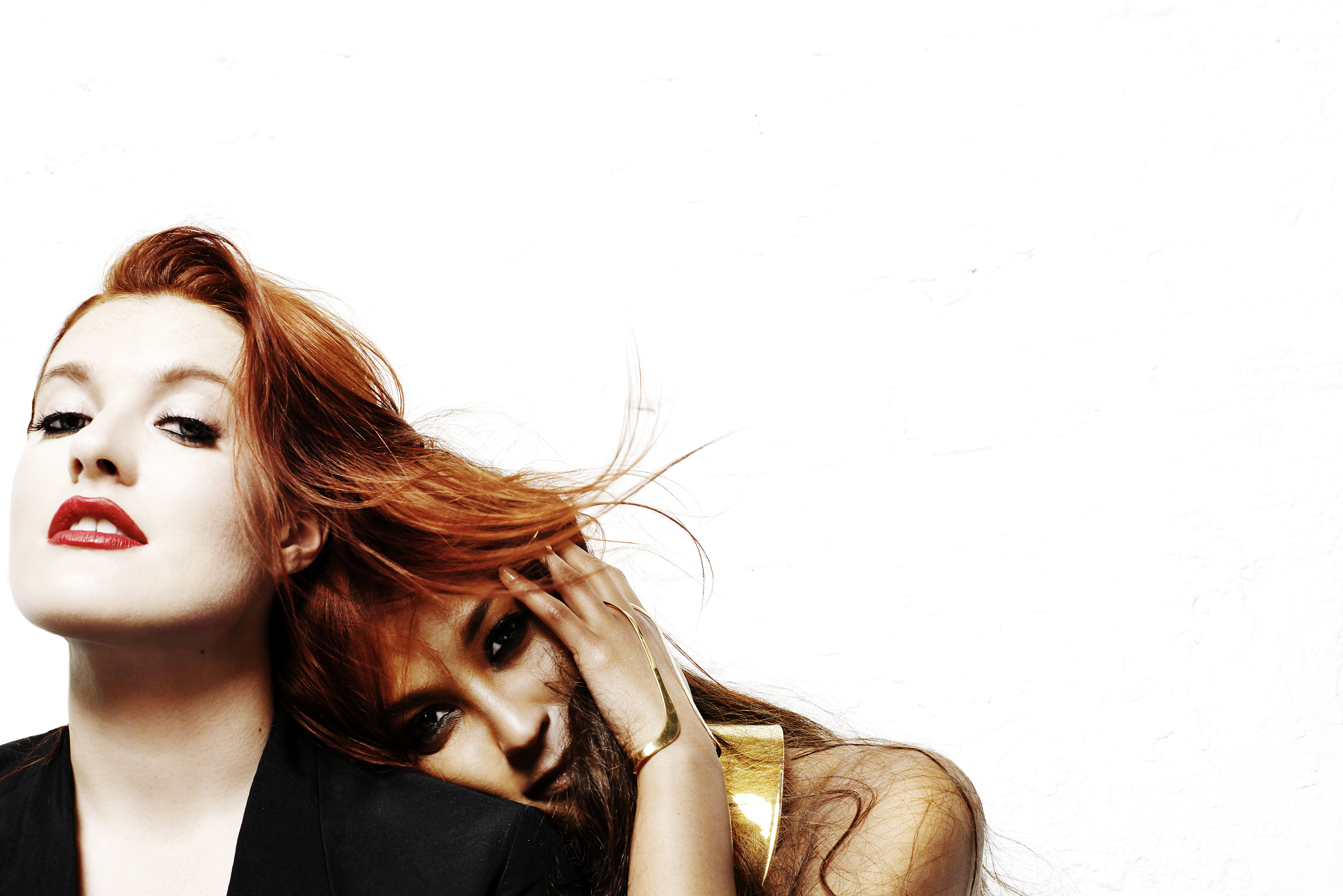 COUP DE MAIN: Congratulations on the release of Icona Pop's new album, it's going to be such a great Summer album! How does it feel to finally have it out?
ICONA POP - AINO JAWO: I am super excited! We've been working on the album for such a long time and New Zealand has been a big support for Icona Pop for a long time. I remember the first song we ever released we had a lot of people tweeting us from New Zealand, it's just very cool because it's totally on the other side of the world. So it feels like... finally! I'm just super excited.
CDM: How exactly does the Icona Pop songwriting process work?
AINO: We have a rule when we go into the studio -  in that when we go into the studio we're not meant to have rules at all. It's all about staying creative and trying to find new ways to create. Sometimes Caroline comes with a whole song that she wrote, sometimes I write the lyrics and Caroline does the production, and then other times we get someone else to do the lyrics or someone else produces, so it's always different. We're very open and we love working with new people.
CDM: Your style of music has been described as a mix between happiness and darkness - was this important in creating your new album?
AINO: Well, no. I would say that both Caroline and I... the music we listen to always sound every bittersweet. Bittersweet is kind of my own favourite style because I want to be able to cry to the same song that I also can laugh to. So when you're sad it makes you feel more sad, and when you're happy it makes you feel more happy. I would say that we like to disguise our heartbreaks with happier melodies.
CDM: The single 'I Love It' went platinum in New Zealand which is really awesome - how did the collaboration with Charlie XCX come about?
AINO: We had known each other for a while, we'd been working with the same producers and we actually met in Sweden - I think it was two years before 'I Love It' came out. I remember that we went to the studio with Patrik Berger, one of the producers that wrote 'I Love It', and he showed us this rough version of the song and we just totally fell in love with it, and then we helped Charli to make it more Icona Pop-like and she was very happy about that. I think it became this amazing, empowering female song that has been great to perform together a couple of times. She's a really cool girl, we like her.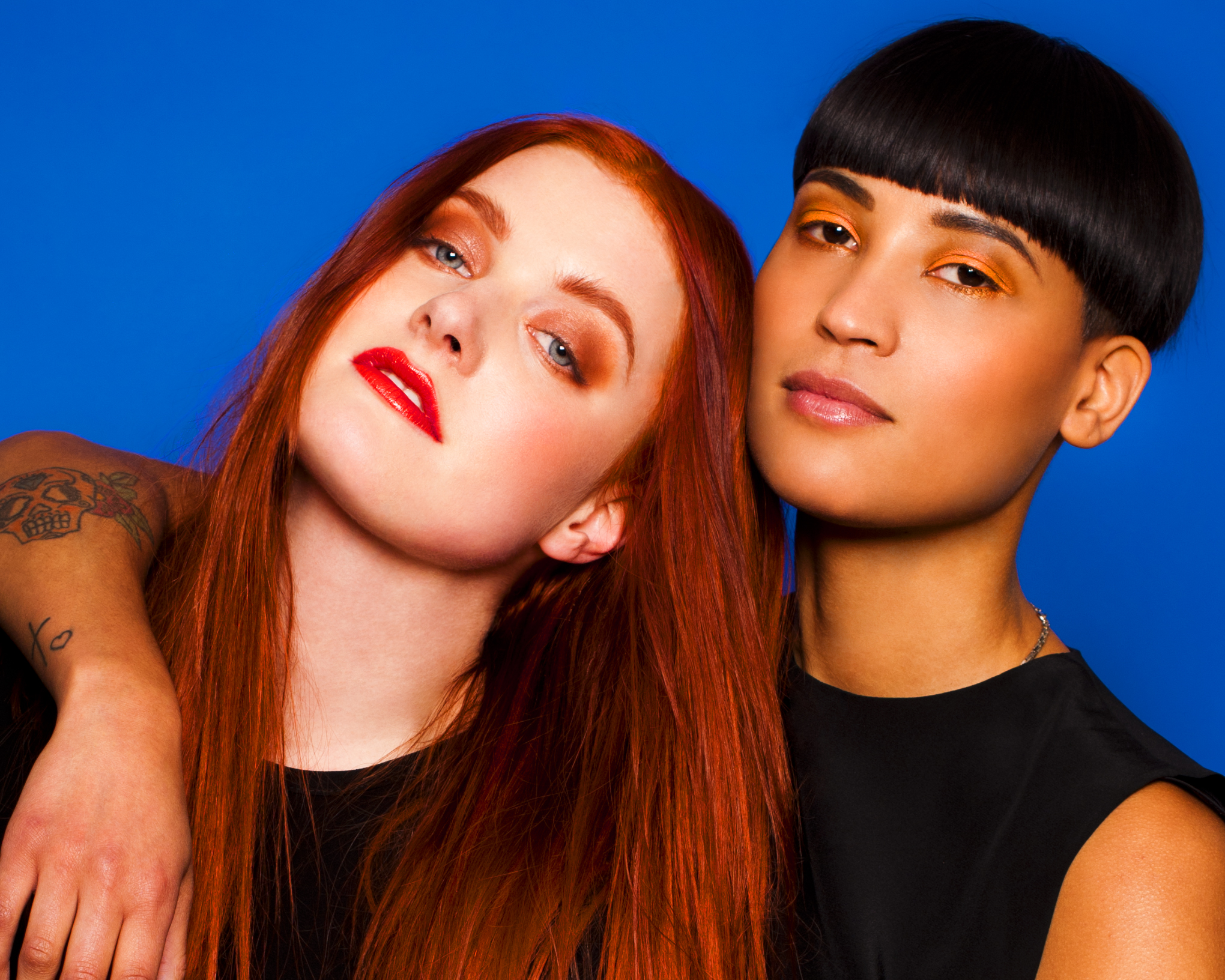 CDM: I really love the song 'Girlfriend', what made you want to sample Tupac?
AINO: We grew up in the nineties and hip-hop was huge especially in Sweden. Well, I think it was all over the world but nineties hip-hop was probably one of the best hip-hop periods in our lifetime. Tupac was one of our big heroes, and the funny thing was that Caroline and I had been singing that song for such a long time that we thought we should really do something with it. We thought it really sounded like a celebration for our friendship and what we are going through. So we starting writing the first verse and then got to the chorus and said: "Hey we should sample Tupac Shakur." We actually wrote a letter to his Mum along with a sample of the song, and she liked it so we felt very honoured to be able to sample a little part of Tupac Shakur.
CDM: Do you have a favourite song on the new album?
AINO: I think all of the songs are very special for me. They're special because we've been working on this album for about four and a half years and we had to kill a lot of songs. I think all of the songs [on the album] mean a lot, but a few of my favourites are 'Then We Kissed', 'All Night' and 'Just Another Night'.
CDM: The music video for 'All Night' is set at a New York Vogue Ball - what was it like filming there?
AINO: It was fantastic! The song is about expressing yourself and when you find yourself in the right environment it kind of makes you want to do 'All Night'. We actually asked if the real people of the Madonna video wanted to join us, so in the 'Up All Night' video, the dancers are the actual Madonna people which is very cool. It was amazing. The room was filled with such a great atmosphere and their personalities were amazing. We just loved it and it just fitted the song so well.
CDM: Now it's well known that you and Caroline met at a party she was hosting, but was there a specific bonding moment that sparked the formation of Icona Pop?
AINO: I think it was from the first time we met, it was like this electric shock and was almost like falling in love with someone. It was just pure friendship. Of course you talk about that a lot but it can be scary when you actually then write with someone because you never know how it's going to work. It's a very sensitive process to go to the studio and pour your heart out and you don't know if the other person's going to like that. We just sat down and started to write and we were musically talking the same language which made us realise we were like soulmates.
CDM: What was your very first impression of Caroline?
AINO: That she was a very warm person.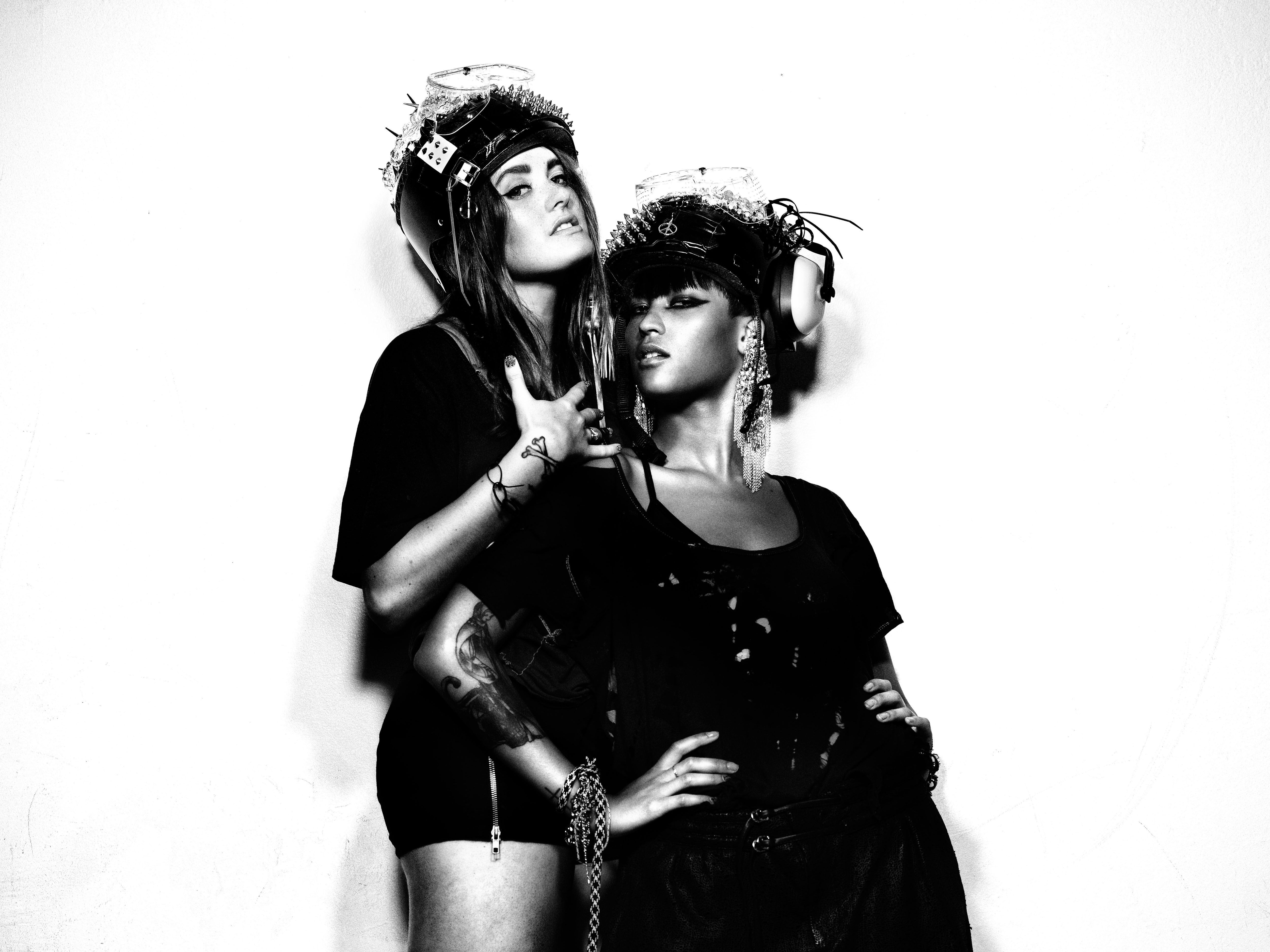 CDM: You wrote your first song, 'Sheriff Came To Town On A Big Black Horse', together the day after you met, that's impressive! Can you tell us what it was about?
AINO: Yeah! It was about sexual frustration - it was actually amazing! It was about the Sheriff and it sounded kind of like Western with a high dose of pop music. It was actually a weird mix. We recorded it on my laptop and then we had a guitar and microphone, and it sounded very cool but it was very Western and we were signing about sexual frustration - how we wanted to make love to this fantastic Sheriff.
CDM: In your opinion, what's the best way to get over a heartbreak?
AINO: I think the best way is just to hang with your friends. Of course you have to get over the person and you will be sad for a while... it's hard to say because everyone's different but I would surround myself with the best friends I have. You will cry and it will be a hard period in your life but you will get over it. There will come a day when you will be stronger and you will forget that person that just broke your heart. It's very hard to do that, but that's why you surround yourself with good people. Or write a song!
CDM: At the end of this month you're performing alongside Katy Perry at her iTunes Festival gig, are you excited for that?
AINO: I'm super, super excited about that. I really like Katy Perry and the music she does. She's an amazing musician and it's an honour to be opening for her in London.
CDM: What sort of atmosphere do you try and create during your performances? I've heard that you compare your shows to be a little like Star Trek with all the lights and effects...
AINO: I think we want people to be let into our Icona Pop world and we always call our little control deck we have, The Big Spaceship. We kind of want people to just be a part of our show because when you perform, it's also about a collaboration with the audience. I think we want to take them to a rave, a small rave.
CDM: A friendship-crush is someone you have no romantic interest in but really just wish you were best friends with them - who would be your top five friendship-crushes living or dead?
AINO: I would love to be best friends with Oprah, Prince, David Bowie, Elton John and Rihanna, or Katy Perry!
CDM: A little while back you won the Elle Gala's 'Best Dressed Duo' award - congratulations, by the way! - what inspires your incredible style?
AINO: Thank you! Well we are actually not that good at following trends, but our style is all about expressing what we are feeling that day. Both Caroline and I are very tall and we love to have really tall high heels even though we're really tall, and we like to mix the masculine with the feminine, or the punk with the preppy style. It's all about mixing and I think you can hear that all through our music, it's all vey mixed. Heroes when it comes to style... I would probably say David Bowie and Prince are the perfect people. They dress feminine/masculine and they're really sexy. Not many people can wear high heels and look sexier than a woman!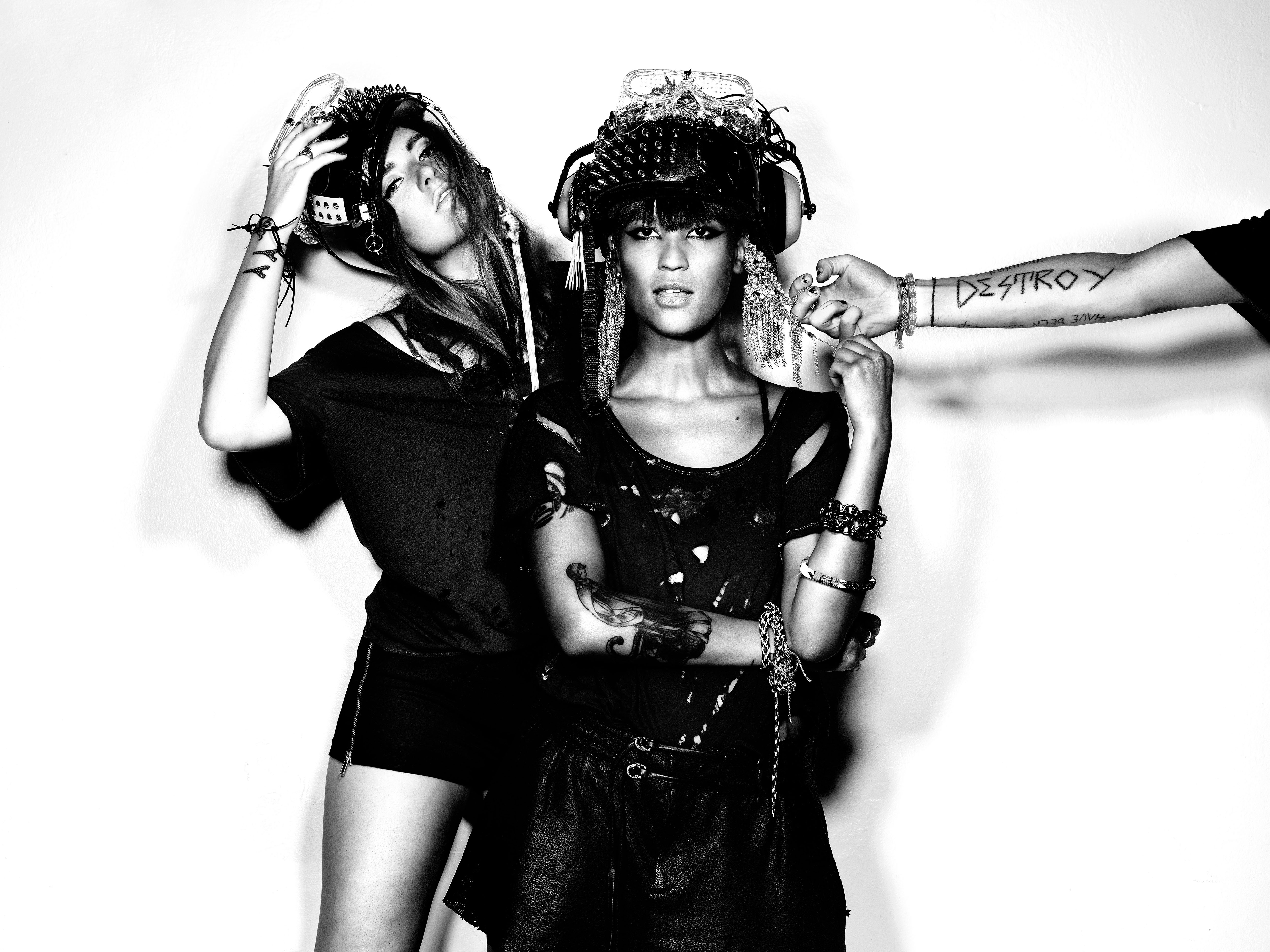 CDM: What do you think is the difference between a good song and a great song?
AINO: I would say a great song [is where] you like everything in the song. The lyrics move you, the beat makes you want to dance and you feel invincible when you listen to that song. A good song I think you can listen to but you get tired of it really fast.
CDM: Lyrically, what's your favourite song and why?
AINO: I like Talking Heads' 'This Must Be A Place'. It's been around for a long time and every time I hear it... it's one of those song that I can cry to but laugh to as well. It just makes me want to dance and I think it fits both young and old people. I could see every age dancing to that song on the dance-floor.
CDM: Tell me something that no-one else knows about each member of the band, including yourself…
AINO: Caroline hates birds. She's so afraid of birds. She thinks they're like flying rats and she screams every time a bird is near her. I hate elevators. I'm claustrophobic so for me to be in an elevator or small spaces is probably the worst thing on earth.
CDM: What do you feel are each of the members of Icona Pop's spirit animals?
AINO: I think Caroline's is a little pony, and mine is a little dog.
CDM: What's left on your bucket list that you'd really like to achieve?
AINO: Well we've released the album now so I'm really excited about that, but we just basically want to keep on doing what we're doing. Just travel even more and reach out to more people. Life is treating us well right now and we feel very good with the album, so I would just say go on tour all over the world and make a lot of albums!
CDM: Well we really love you in New Zealand, so hopefully you'll be able to come back and see us soon!
AINO: Thank you! We will be back soon. Thank you for all your support over there. Have a lovely day!
Icona Pop's new album 'This Is... Icona Pop' is out now!
Watch Icona Pop's 'All Night' music video below...
Load next