5 songs we're excited for you to hear from The 1975's upcoming album, 'I Like It When You Sleep, For You Are So Beautiful Yet So Unaware Of It'.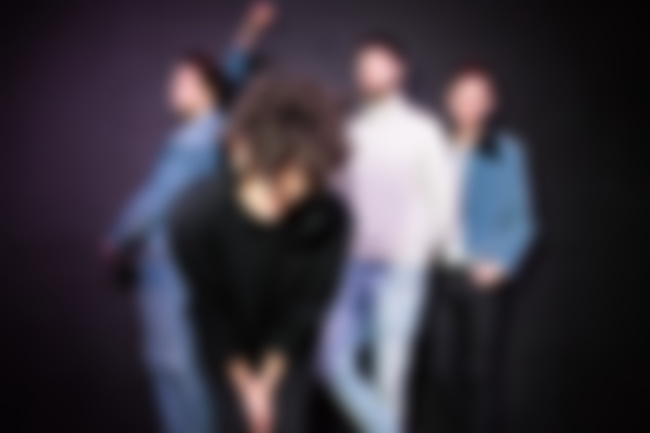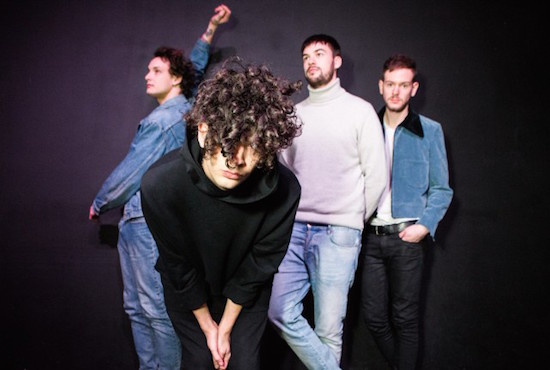 With The 1975's sophomore album 'I Like It When You Sleep, For You Are So Beautiful Yet So Unaware Of It' out in exactly a week - EEEEEP - we have decided to compile a list of 5 songs from the album that we are excited for you to hear next Friday!
Though it was hard to just choose 5 of the 17 tracks on the album, we have done some hard investigative journalism and chosen the following songs:
#1. 'The Ballad Of Me And My Brain' - easily one of the most intriguing songs from the album, it gives you total insight into Matty's psyche. He's spoken quite candidly about the song in interviews, telling Stereogum recently that, "I think that "The Ballad Of Me And My Brain" I wanted to be like the Replacements singing a Dr. Zeus song. I wanted it to be a berserk concoction of ideas and have this screaming kind of narrative. And it was quite intense; I actually did that in one take."
In uncredited interview on their website, Matty went further into detail about how his changing relationship with George during the recording of the record led to the song's creation:
"George and I are like brothers, we had never left each other's side. We complete each other. And my problems at that time separated us a little bit. It catalysed the troubles that he had and solidified all of the issues that I was having in return, and it became this really dark time. And born out of that was The Ballad of Me and My Brain. So, now, retrospectively I can think it was all okay, but it really fucked us up as a couple – because we are a couple, really. The distance that we travelled away from each other turned out to be a really important part of the album. When George got better, the unity we felt when we both got back together was like I'd been away from my wife for six months and I'd just picked her up at the airport and it was sunny and we were going on holiday. I know that sounds mad, but it's true."
#2. 'Change of Heart' is already a part of their live set, so diehard fans will already know the best lyrics from the song, "I've been so worried about you lately / You look shit / And you smell a bit."
The song refers back to lyrics from their debut album - the line, "You used to have a face straight out of a magazine," is based on the 'Robbers' lyric, "She had a face straight outta magazine".
Watch a live performance of the song below…
#3. 'I Like It When You Sleep, For You Are So Beautiful Yet So Unaware Of It' - this song highlights the incredible talent of George Daniel's production. It's an expansive, mostly instrumental song apart from some heavily edited vocals in the second, more upbeat half of the song.
Though mostly lyric-less, a mystery poem was found by fans from the band's Tumblr account - presumably a poem written by Matty. Read it below: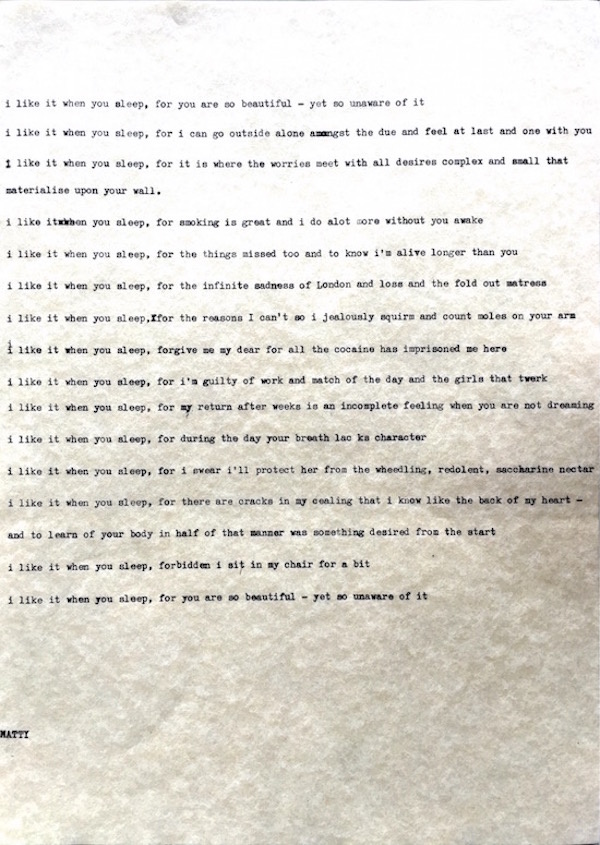 #4. 'If I Believe You' - The 1975 have always had relatable lyrics, but the line, "If I'm lost then how can I find myself?", has got to be one the most universally understandable ideas. The song has a huge gospel sound to it - and it even features the trumpet player Roy Hargrave, who played on D'Angelo's 'Voodoo' record.
#5. 'She's American' - another song that has been a part of the band's live set. 'She's American' showcases Ross MacDonald's bass skills, with sprawling and catchy bass lines throughout
Watch a live performance of it below...
Watch the 'UGH!' music video below…
P.S. Keep an eye out for The 1975 on the cover of CDM Issue #18!