Top five: The Internet collaborations.
Top five: The Internet collaborations.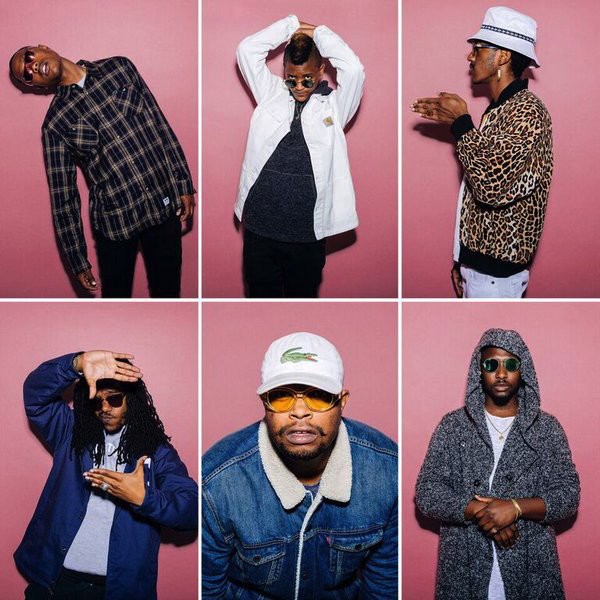 In celebration of The Internet's upcoming tour of New Zealand - they're set to play Auckland's Powerstation on August 2nd and Wellington's Shed 6 on August 4th, FYI - we've decided to compile our top five collaborations that they've released.
But first, here's some official tour info:
"After a stonking Laneway 2016 performance, it's an enormous pleasure to welcome back The Internet for two dates in Auckland and Wellington this August 2nd and August 4th respectively.
The LA-based soul collective began as two people - Syd Tha Kyd and producer/synth player Matt Martians. An offshoot of Odd Future, THE INTERNET blends smooth electronic urban soul, with chugging drums and slinking bass lines overlaid by front-woman Syd's honeyed vocals. Syd taught herself how to record, engineer, and produce at age 15. She also sings, imbuing every song with a sultry, mellifluous, quiet power. Matt produces and plays synths. Like all post-modern relationships, the duo initially met on Myspace in 2008, only to meet in-person three years later.
THE INTERNET started their own band in 2011. Syd had been writing music since she was small; she put this on hold to become OF's DJ and producer, and picked her songs back up in 2011 to make her first full-length album with Matt. THE INTERNET have now released three albums – 2011's Purple Naked Ladies, 2012's Feel Good and 2015's Ego Death which they are currently touring.
When they play live, THE INTERNET is a full band – swelling to a six-person outfit with Patrick Paige II, Christopher Allan Smith, Jameel Bruner and Steve Lacy joining Syd and Matt. They began playing together to tour behind Feel Good, and since then the band members all contributed their talents to THE INTERNET's latest album, the Grammy nominated Ego Death – their most evolved album to date, featuring guest appearances from the likes of Janelle Monae, Tyler, the Creator, and Vic Mensa.
Recorded in the band's hometown of Los Angeles, Ego Death is a heady mix of confessions and come-ons, shiny Rhodes keyboard glimmers, chugging drums, slinking bass lines, and Syd's honeyed voice anchoring the mix. It's a record that connects the dots between Digable Planets, Erykah Badu's Baduizm, the warm, inviting breezes of the West Coast, and the stories that only happen very late at night or very early in the morning, all played by musicians who are carrying the soul torch for the new generation.
Do not miss your chance to see THE INTERNET perform their beautifully crafted and genre-defying funk-tinted R&B soul - these shows will sell fast!"
Now here are our five favourite The Internet collaborations:
#1. 'Gabby' - featuring Janelle Monáe
In an interview with Nylon, Syd spoke about working with Janelle, saying the following: "One of my favorite songs by her is "Cybertronic Purgatory," and it kinda reminded me of that. She was just freestyling and didn't end up singing any lyrics, but we ended up using what she did record and made it sound like a sample."
Matt also had the following to say: "I grew up with Janelle and her producers, and that's where a lot of my production comes from. When I was first starting, I asked her producer advice for what I needed to buy, and he was the first guy who told me that I didn't need thousands of dollars of equipment, I just needed a MIDI board. I wanted the best that I could use, but he was like, "It's not about the equipment—it's you." Playing with her made sense because it's kind of a full circle, and I feel like our sounds are more similar than not. The track kinda sounds like her Cindi Mayweather days."
Listen to 'Gabby' below:
 
#2. 'Girl' - featuring Kaytranada
In the same interview, Syd spoke about collaborating with Kaytranada on 'Girl' - "Kaytranada's a really cool dude. He came to my house and played us a bunch of a stuff, but before that he sent me like 20 instrumentals. I had to go through all of them and find out which ones sounded the most like me. I picked two of them—one should be on his album. We weren't planning on using "Girl" for the album, I just wanted to use some Kaytranada beats and drop it before the album."
Listen to 'Girl' below:
 
#3. 'Ode To A Dream' - featuring Kilo Kish
Kilo Kish not only features on their album, but she's also supported them on tour - as well as them working on her music too. She spoke to Interview Magazine about their relationship, saying: "I was on The Internet album and they also produced a lot of tracks on my EP, so a lot of those were done in the studio together. I actually just left LA—I performed in a show with The Internet and basically spent a week with them. We listened to beats, hung out. Everyone is nice and chill and really cool people to collaborate with—the whole Odd Future group is really cool people. We definitely have a relationship that's more than like, "You do this hook and send it back." It's definitely more of a collaboration thing where we sit down and discuss and work on things together. It's good to have relationships with people where there's no pressure—when I'm working with The Internet, it's not like I have to work on a particular song or make something a certain way. There are no rules, which is good, and there's no expectations. It's always good when you have a free space to be creative and you don't have to fit into some type of box."
Listen to 'Ode To A Dream' below:
 
#4. 'Go With It' - featuring Vic Mensa
Lifted from their Grammy-nominated third album 'Ego Death', Vic Mensa lends his voice to 'Go With It' - and their combinations of sound work perfectly together.
Listen to 'Go With It' below:
 
#5. 'Higher Times' - Jesse Boykins III
Jesse features on 'Higher Times', from their 2013 album 'Feel Good'. He said about them this: "The Internet's my homies. I call them young visionaries. They've done a lot for music, and their generation, that probably won't be acknowledged for five years. It's really cool. They're laid back with me, we smoke weed, we talk about life, different things in culture, and then we apply what we're talking about to what we're creating. It's honest, it's the truth. They make honest music and anybody that likes honest music, I like to be a part of it."
Listen to 'Higher Times' below:
 
Tickets to The Internet's August tour of New Zealand are on sale now - click here to purchase Auckland tickets, and here for Wellington tickets.
Watch the 'Special Affair/Curse' music video below…
Load next