Interview: 2018 Must-Know - Bad Kid
Interview: 2018 Must-Know - Bad Kid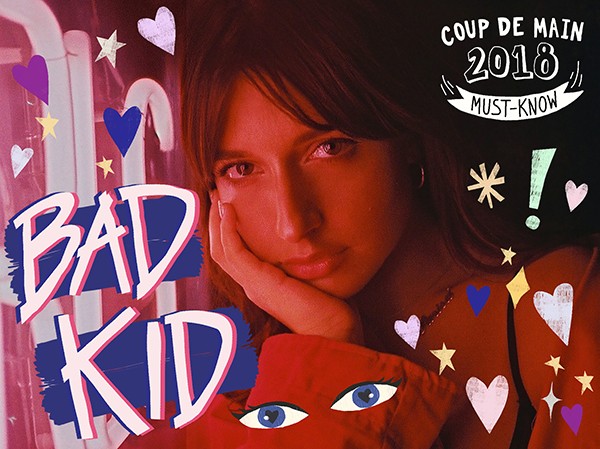 Hertfordshire's Parisa Louvel, aka Bad Kid, is set to have a big year - hard at work on her debut EP, debut music video, and debut shows. The world is her oyster.
MUST-LISTEN: 'Feel Your Love', 'Youth (Wabi-Sabi)'.
YOU WILL LIKE, IF YOU LIKE: Dua Lipa, Camila Cabello, Charli XCX, Tove Lo, Allie X, MØ, Hailee Steinfeld, Foxes... and living life like wabi-sabi.
COUP DE MAIN: If you were to write a haiku (or short poem) introducing Bad Kid to anyone not already familiar with you, what would you pen?
BAD KID:
Let's call her Bad Kid
Small and fiery, she writes
Pop songs you dance to.
That's probably the first and last Haiku poem I will ever write.
CDM: How does your songwriting process work?
BAD KID: I'm kind of messy when I'm writing alone. My phone is full of voice notes for song ideas, and I have so many lyrics jotted about it's hard to keep track. I usually fit my lyrics to a melody and go from there, building around it. I prefer working on a song with just a piano or guitar and building up from there, so I know the foundations of it work. But I think I'm still finding my feet when writing, it's cool to be constantly learning.
CDM: What was going through your mind while writing 'Feel Your Love'?
BAD KID: I wrote this a couple of years ago when I was going through the honeymoon period at the start of a relationship. FYL sounds really positive on the surface but lyrically it's about dependency and the unhealthy need for that person to love you how you love them. Looking back when I started writing it I didn't see it that way, and it's only now reflecting on the relationship I understand what I was subconsciously trying to pen in the song.
CDM: At what age did you write your very first song ever, and what was it about?
BAD KID: I was about 12 when I wrote my first actual song and it was about love. I hadn't experienced that emotion yet but I'd seen so many movies about love I thought I got it. It was a break-up song. Dramatic and cheesy.
CDM: What do you hope for people to take away from listening to your music?
BAD KID: I hope people can relate, that's the most important thing to me. That someone can listen to a song and think, "I feel like that," or "I've been there," and it can mean something to them. I want to soundtrack moments in people's lives - whether it's a break-up, falling in love, passing exams, or getting wasted.
CDM: If you were a country, what would be your national anthem?
BAD KID: It would be wrong for me to say anything other than 'London Calling' by The Clash.
CDM: What do you think is the difference between a good song and a great song?
BAD KID: The emotion and intent behind it translating and having the power to affect your mood. Also, it needs to be able to stand on it's own melodically and lyrically without relying on a shit ton of production.
CDM: If you could steal one thing without consequence what would it be?
BAD KID: My favourite painting by Vincent Van Gogh called 'Starry Night Over The Rhône'. It makes me feel so peaceful, I've loved it since I was little and saw it on a postcard.
CDM: If B.A.D.K.I.D. were an acronym, what would each letter stand for?
BAD KID:
Boisterous
Artistic
Dainty
Kind
Impulsive
Determined
CDM: What's on your bucket-list?
BAD KID: Karaoke in Tokyo. Dance at a carnival in Brazil. Visit as many museums and art galleries as I can in Paris. Ride a motorcycle (vespa too). Swim with sharks. Play to a sold-out Arena. Buy myself a Gibson Les Paul. Learn a different language. Tattoo somebody else. Skydive. I could go on forever though. I'm kinda impulsive, so all the smaller things you usually put on there like skinny-dipping or random weird shit, I've ticked off.
CDM: You're one of our 'must-know' artist picks for 2018... who are yours?
BAD KID: Billie Eilish, Jessie Reyez, and Goat Girl.
CDM: What does 2018 have in-store for Bad Kid?
BAD KID: I'm working on an EP for this year, which will be exciting to release. It'll be cool to show a broader spectrum of my music. Also, visually there'll be a lot more to see as I haven't released an official music video yet. There'll be my first shows this year too, which I cant wait for. I feel like I've been waiting a lifetime, and to start bringing the songs to life in front of people will feel magical.
Listen to 'Youth (Wabi-Sabi)' below...
Load next