Interview: 2018 Must-Know - Black Honey
Interview: 2018 Must-Know - Black Honey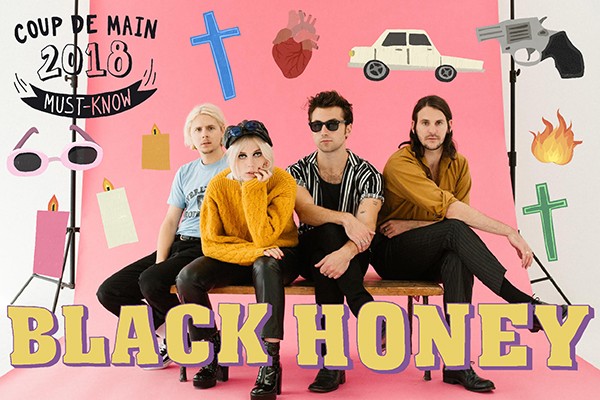 Armed with a slew of catchy and distinctive releases (highlights include 'Somebody Better' and 'Corinne'), experience touring with British rock royalty Royal Blood, and an undying love for their fans, there's something very special about Black Honey - and the band are still yet to release their debut album.
The four-piece from Brighton are set for great heights, and we can't wait to witness their ride.
MUST-LISTEN: 'Hello Today', 'Corinne', 'Dig', 'Madonna', 'Somebody Better'.
YOU WILL LIKE, IF YOU LIKE: Wolf Alice, Peace, Swim Deep, The Big Moon, Sundara Karma, Sunflower Bean, Alexandra Savior, Mini Mansions… and watching Quentin Tarantino films on repeat.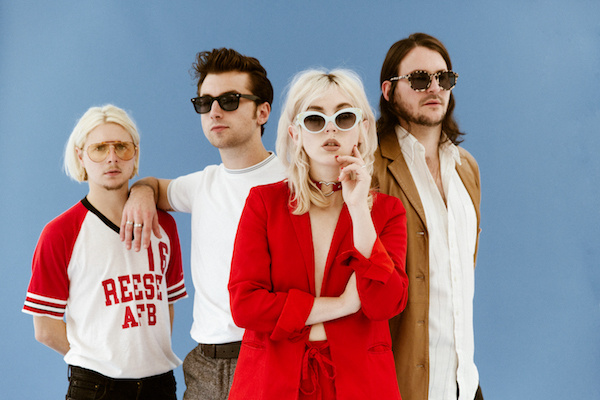 COUP DE MAIN: 2018 is the year of the Black Honey debut album - we're so excited! What can fans expect from the album?
BLACK HONEY: The album's bittersweet, it's pretty up and down. I feel like it's a real reflective of my headspace, sprinkled with cinema and romance.
CDM: The B-Side to the 'Dig' vinyl is an acoustic version of 'Corinne', a song dating back to 2015. What was it about this song that made you want to release it in acoustic form now?
BLACK HONEY: It's a fan favourite and sounds great acoustic, we sing it together backstage almost everyday on the road.
CDM: In honour of the 'Dig' music video - do you have a favourite Tarantino film of all time?
BLACK HONEY: Hmmm at the moment it's 'Django Unchained'.
CDM: You spent the majority of the end of the last year on the road with Royal Blood. What's your favourite tour story, to date?
BLACK HONEY: I think it was Halloween, where all the boys dressed in my clothes and mini skirts in Barcelona. I painted everyone's faces and we went dancing, Ben [Thatcher] started a conga line with the entire night club, and Tom got dragged back to the bus by the police before proceeding to gouge his leg open from running around in his pants. We got locked out of the site so employed some epic drunk teamwork to climb three 7 foot fences to get back to the bus before getting shut down by our own security.
CDM: I saw you guys open for Mini Mansions back in 2015 at London's Lexington, and you've since gone on to gain enough fans to fill Wembley Stadium for five nights straight. What are some of the most important lessons you've learnt about the music industry since then?
BLACK HONEY: Love your fans like they love you. No-one knows what the fuck they're doing and most people who work in the music industry are just hanging out in the pub, so choose who you work with wisely.
CDM: You consistently do rad vinyl pressings - particularly the Halloween special. Is it important to you as a band to always produce physical editions of music to be available to fans, even in a world where digital and streaming reigns?
BLACK HONEY: Yeah, for so long we couldn't afford to make vinyl, so it's still a privilege to us.
CDM: How does your songwriting process work?
BLACK HONEY: I write a lot of journals and lyrics and am constantly learning. I'm trying to mix up the process to always keep it fun. I'm on a writing roll at the moment so I'm making tunes every day.
CDM: Do you write your lyrics specifically for the songs, or do you write poems or prose and then evolve them into song-form?
BLACK HONEY: Kind of both, my journals are always crammed so I always have something to work with.
CDM: What do you hope for people to take away from listening to your music?
BLACK HONEY: I want them to forget their troubles just for an instant.
CDM: Lyrically, what's your favourite song that you've written?
BLACK HONEY: Ummm I love the ballads like 'Mocking Swing' or 'Cadillac' - I never listen to them, but love them as poems.
CDM: If B.L.A.C.K. H.O.N.E.Y. were an acronym, what would each letter stand for?
BLACK HONEY:
Bad
Lovers
Aching
Club (for)
Kids
 
Honeys
Only,
No
Egos
Yeah?
CDM: You're one of our 'must-know' artist picks for 2018... who are yours?
BLACK HONEY: I love Nova Twins and HMLTD, but I feel like I'm in my own little world at the moment to be honest.
Black Honey's single 'Dig' is out now - watch the music video below…
Load next