Interview: Charli XCX, the best of both worlds.
Picture the scene. It's December 2014 in New York City's Ed Sullivan Theatre, the home of David Letterman's CBS talk show. Charli XCX is stood atop a pink baby grand piano, having just performed 'Need Ur Luv', a stand-out track from beleaguered sophomore album 'Sucker' with Vampire Weekend's Rostam Batmanglij. Letterman climbs onto the piano, shaking first Batmanglij's hand, then Charli's. In the gap usually left for post-performance chat between host and artist, Paul Shaffer, the show's irritating, stuck-in-the-80s band-leader, incessantly yells "X! C! X!" Charli nods patiently, as if to say, 'Yes, that is, in fact, my name.'
To top off an already alienating, awkward encounter, Letterman pulls from his jacket pocket a suggestive, furry device (a throwback to an earlier segment in the show) and hands it to Charli, with a "Merry Christmas."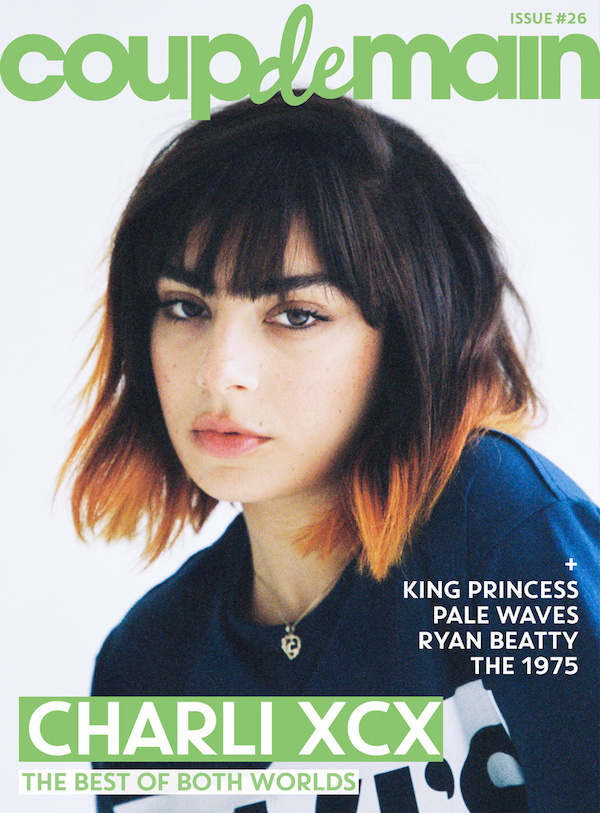 Click here to order a CDM x Charli XCX zine (i.e. a mini-magazine featuring photos + quotes from this cover-story).
How far we've come. Letterman retired, replaced the following year by Stephen Colbert. Batmanglij left Vampire Weekend and released a solo record, 2017's 'Half-Light'. Talk show hosts are, quite rightly, unlikely to still get away with the sort of sexually suggestive move that Letterman pulled on Charli.
But perhaps the biggest changes of all have come in Charli XCX's career. It's taken the best part of four years, but it feels like the world has finally adjusted to her existence, no longer (figuratively or literally) screaming the three letters of her moniker at her like some kind of UFO just arrived on earth. Concurrently, she has adjusted to the world around her, finding a unique duality in her artistry that is surely the envy of many of her peers.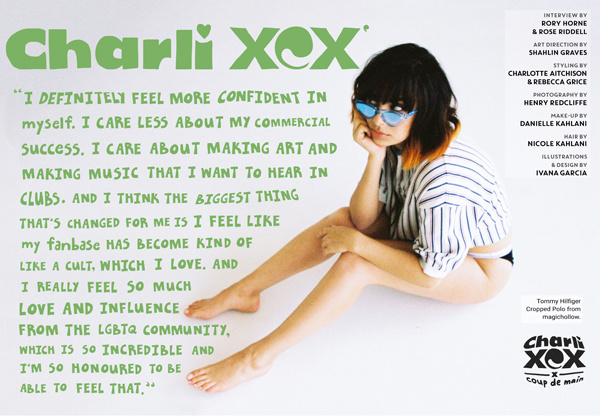 The balance that Charli has struck is between the commercial and the alternative, between viable, mainstream releases and wonky art-pop. She's found a way to get the best of both worlds: critically-acclaimed work that's adored by her fans alongside bops that have a shot at chart success.
She has emerged from the ashes of the kind of popstar she was back in 2014, throwing caution to the wind with a decidedly 'fuck it' approach to everything she does. If she gets a hit, great. But it's no longer the priority. To watch her evolve into Charli 2.0 – while retaining everything that made Charli 1.0 such a fascinating pop entity to begin with – has been liberating, in a second-hand kind of way, for her fans and pop-watchers alike.
'Sucker' was one of the final casualties of our pre-New Music Friday existence, that distant, half-remembered world we were living in up until July 2015. The album's release dates differed wildly from country to country, staggered across a two-month period. It's hard to retroactively justify this now – we've become so accustomed to blanket releases, in which every territory internationally gets new music on the same day. Something had to change, and since it has, Charli XCX has not released another LP.
Instead, she's moved onto other, less restrictive formats to get her music to her fans. Over the past few years, there's been an EP (2016's 'Vroom Vroom'), two mixtapes ('Number 1 Angel' and 'Pop 2', which bookended 2017), and most recently, a smattering of songs in mid-2018 (which one fan dubbed as the "Charli Clears Out Her Google Drive Era"). These releases have been characterised by a move away from the broad, chart-aiming numbers of 'Sucker' in favour of frequent collaborations with A.G. Cook, SOPHIE and Danny L Harle, whose industrial, noise-pop influences are a natural fit for Charli's slick, sweet vocals.
But alongside these adventurous endeavours, she's continued to be a sporadic presence on the charts. Since 2016, 'After the Afterparty' and 'Boys' have both gone Top 40 in the UK, as have two tracks on which she featured, David Guetta and Afrojack's 'Dirty Sexy Money' and Rita Ora's 'Girls'. One or two chart hits a year and she can continue to do all of her less commercially viable work. It looks from the outside like a pretty sweet deal, and Charli agrees, telling us, "I care less about my commercial success. I care about making art," whatever form it takes.
There may be no better indication of her move towards her true artistic self than how she uses her accent in her music. Listen back to 'Sucker' – there are moments when her intonation slides towards the American. But the almost comically proper received pronunciation of lines like "Bitches know they can't catch me" from 'Vroom Vroom' puts her Britishness front and centre. There's no hiding behind some other, Americanised version of what a popstar should be. Take her as she is or not at all, she's telling the world.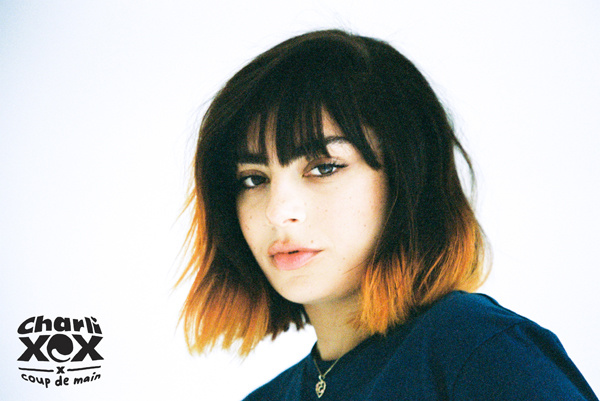 Last week, Ariana Grande, who's preparing to release a new album just a few months after her last, told Billboard that she wants to "put out music in the way that a rapper does," discussing the "standards that pop women are held to that men aren't" and how badly she wants to "drop [music] the way these boys do." Grande's statements may shed some light on the evolution of Charli XCX as an artist. Perhaps her release strategies have become more inspired by those in hip-hop, but artists like her and Grande are actively de-gendering this flexible, unorthodox attitude towards their releases. Over the past ten years, the music industry has seen more and more artists who can't be defined by a single genre, and has become more accepting of the fact that almost every musician exists across many different sonic realms and influences. Perhaps the next great battle is in the industry's regard of gender. We may not be far off a broad understanding that an artist's gender should not define them or determine how their music is released.
The content of Charli XCX's output remains distinctly female, typified by the exuberant cry of "No boys, no boys!" on this year's 'Girls Night Out'. In our time together, she discusses the uphill battles that female musicians face, particularly in the press. She's noticed that there's "maybe like a 70% chance" that music publications will "put a dude on the cover over a woman," limiting the upward mobility of female artists. But she notes her excitement to be on our cover alongside her pal King Princess, whose Auckland show she had attended the night prior.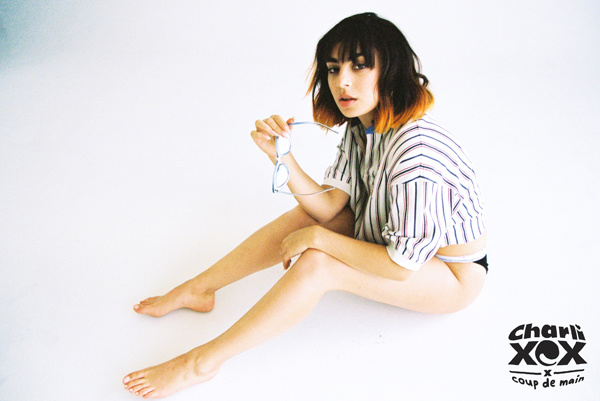 Charli is in New Zealand primarily as a support act for Taylor Swift's Reputation World Tour, but she cannily uses these macro opportunities to fuel her micro, alt-pop endeavours. With just five days' notice, she took over Auckland's Raynham Park for a late-night show following Swift's Mount Smart Stadium date. Here, she plays the tracks from 'Number 1 Angel' and 'Pop 2' that would fall on unfamiliar ears in the arenas, where it's all 'Boom Clap', 'I Love It' and 'Fancy'. But in this setting, with these attendees, the crowd is wild for these more left-field cuts. Under these circumstances, it's 'Boom Clap' and the like that would be out of place.
Something strange – ironic, even – happened just after we spoke to Charli. She had, for the first time in several years, some proper commercial success. '1999', her energetic, nostalgia-filled duet with Troye Sivan and the last of her five 2018 releases, was not just her once-a-year chart-climber. The song reached number 13 in the UK, making it Charli's 3rd highest chart entry as a lead or co-lead artist, after 'Boom Clap' (#6) and 'Doing It' (#8). This is her biggest hit by some margin of the experimental, post-'Sucker' chapter of her career.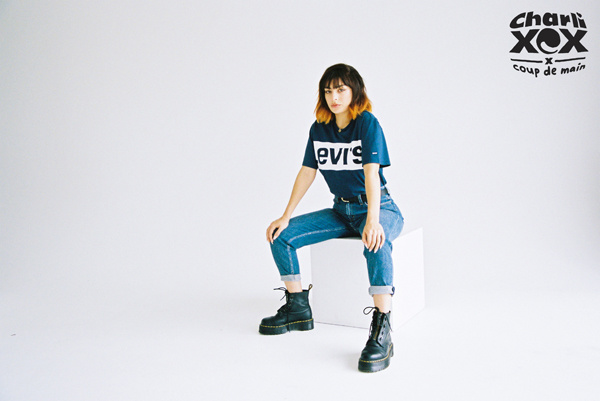 Now, when Charli XCX has a hit, it almost looks like an accident. The success of '1999', undoubtedly fuelled by its hilarious video in which Charli and Sivan parody popular cultural iconography of the late 90s, was unexpected but wholly welcome by both artists. Sivan, who has struggled to break into the upper end of the charts, tweeted a text screenshot that read: "Can't believe I'm not a flop in the UK anymore."
"If [1999] goes top 10 I'll make another album. And drop it next year," she posted in an Instagram caption. Alas, it didn't quite make get there – on this week's chart, it slipped down to 24. Maybe this is a blessing in disguise; barring a late resurgence, she's no longer beholden to her offhand promise. She can keep things on her own terms, just as she likes them.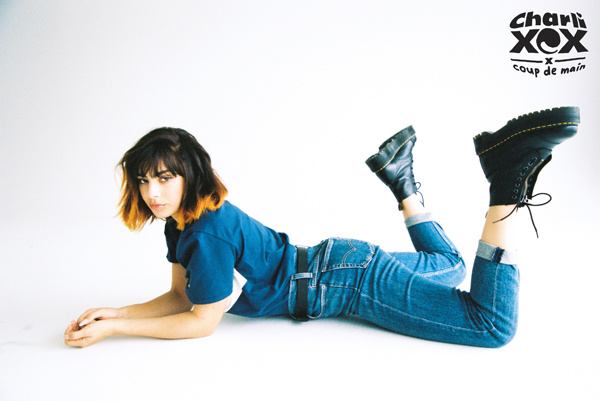 "Should I make an album???? Should I not make an album?????", read her next post. It's intriguing to watch her in limbo, deciding her next move right before her eyes. An artist judging their future work off the back of a return to the big league may seem cynical, but in the past three years, Charli XCX has proven herself to be an artist with a devotion to integrity and authenticity. Whatever she does in 2019 – be it a third LP, another mixtape, or an unpredictable succession of singles, or a capital-P pop banger with its sights set squarely on the charts – she's got pop fans the world over in the palm of her hand, ready to be thrilled by her next move.
We spoke to Charli during her brief trip to New Zealand about why she considers her fandom a cult, the ideas that didn't quite make it into the fantastic '1999' video, the changing state of the music industry, and much more…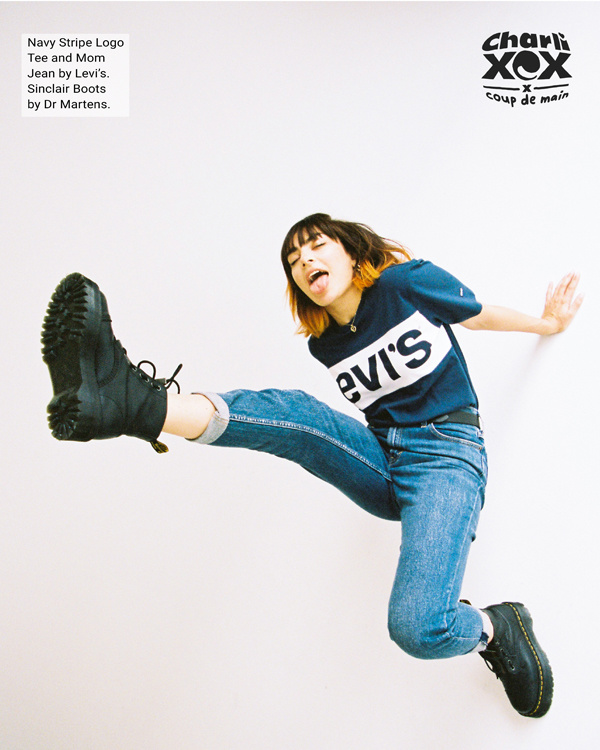 COUP DE MAIN: We saw you leaving the King Princess show last night. Was it your first time seeing her?
CHARLI XCX: Yes! It was fun. Yeah, that was the first time I've seen her and it was cool. It was really good. Obviously wanted her to play 'Pussy Is God'.
CDM: I know! The chant was intense.
CHARLI: Right!
CDM: But she's going on the Pussy Is God Tour next year, so she just told us, "I promise I will play it!"
CHARLI: Yeah, but it was really cute. It was fun. I enjoyed the show. I said to her a minute ago when she was here, it was really nice to see a lot of lesbian couples out in force and being so open with their love. Because I have lesbian friends, but I've never really seen so many lesbian couples in one space, being really coupley.
CDM: Totally, and she was saying it's nice for her to see that in an audience, because often when she goes to shows, it's just drunk dudes trying to grope you and people spilling beers on you, so she was happy that the show was like that. Anyway, we're really excited because you guys are both gonna be on the cover of our December issue - we've dubbed it the Bad Bitches Issue.
CHARLI: <laughs> Right!
CDM: We first interviewed you back in 2013, and it's been cool to see your evolution progress with each new musical release, but also rad to watch you come into your own as a business woman and captain of your own ship.
CHARLI: Thank you.
CDM: Do you think it's getting easier or harder to be a women in the music industry?
CHARLI: I think that different people will face different problems. I'd like to say it's getting easier and I think it's just becoming more frequent to talk about being a woman in music. People are much more comfortable with talking about their experiences. Before people were less vocal, maybe because of fear. Whereas now you can be any type of woman, you can come from any place and you can voice your opinion and I think that's brilliant.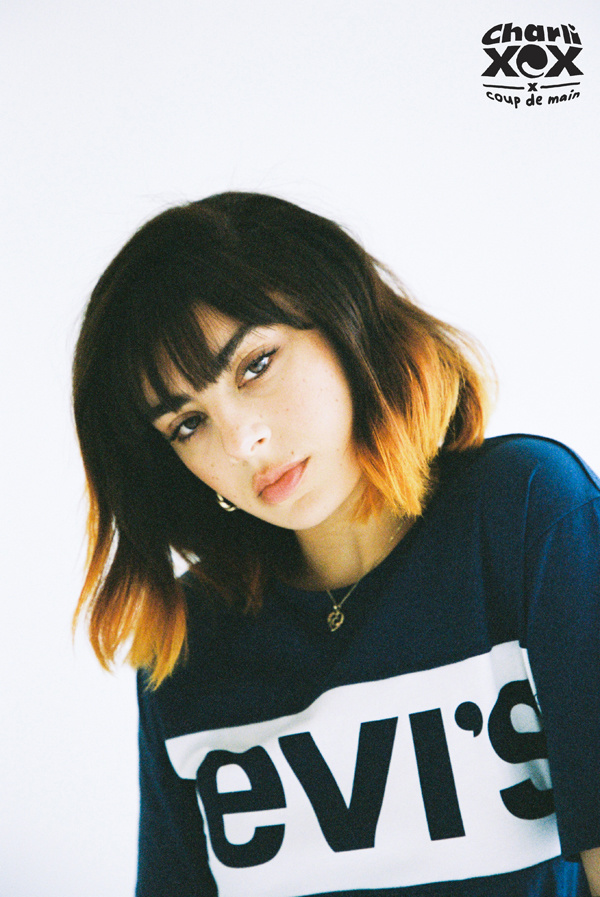 CDM: In 2014, you told Interview magazine that the main change for you in the past two years since becoming more commercially successful is that, "People seem to take me seriously now as a songwriter for other artists and as an artist." In 2018, what do you feel has been the biggest change for you in the past two years?
CHARLI: I definitely feel more confident in myself. I care less about my commercial success. I care about making art and making music that I want to hear in clubs. And I think the biggest thing that's changed for me is I feel like my fanbase has become kind of like a cult. <laughs> Which I love, and I really feel so much love and influence from the LGBTQ community, which is so incredible and I'm so honoured to be able to feel that.
CDM: We're still waiting for you to make the French pop record that you once told us you wanted to make. I think every time we talk once a year, we like to remind you of this. So here's your reminder for 2018.
CHARLI: I still love French pop music. One day. It's on the list.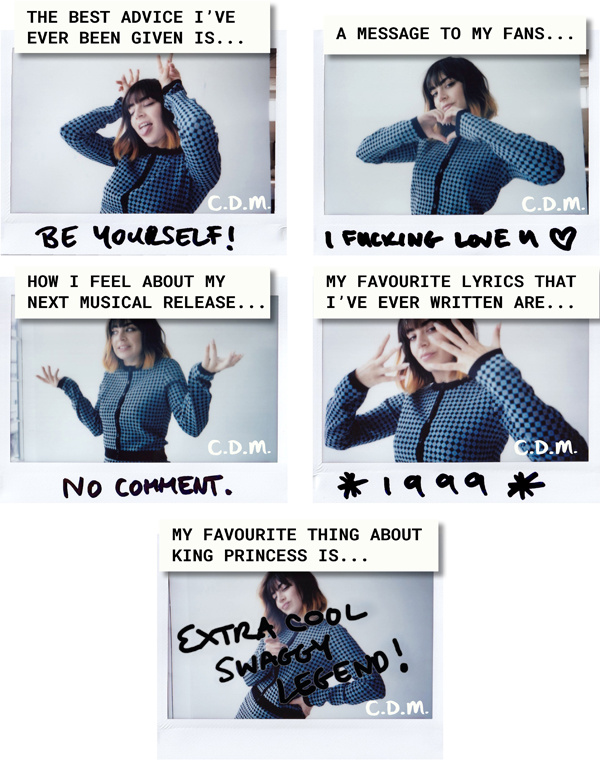 CDM: We obviously love the '1999' music video and you're consistently delivering really incredible visuals to accompany the music. Were there any ideas you had for the video that didn't end up making the final cut?
CHARLI: Yeah, we didn't even shoot it, but I really wanted to do Cher's 'Believe' video. I also really wanted to do the fountain sequence from 'Friends', with Troye and I's faces superimposed onto all of the characters. But there were a lot of legal issues with that.
CDM: I feel like a lot of people no longer place as much importance on a music video. We live in a world where MTV and music television isn't considered to be a taste-maker anymore, but I think you're proving that in 2018 a really great video can enhance a song even more. Why do you personally find that it's important to you?
CHARLI: For me, when I think of my own music, it's not just sonic, it's visual. There's obviously a sonic story to be told, but there's also a visual story to be told. I think about my own music so cinematically [and] I want to be able to show what that is. I also think for people who maybe don't know me that well or follow me on Twitter or my Instagram, there's a sense of humour that I can only really deliver in my videos. If you have a good video idea, like you said, it's still important. There are just so many average videos out there, because no-one has money to make them.
CDM: I think that's the problem. But sometimes the best ones are the ones that are on-the-fly and don't have much budget, but have a good idea.
CHARLI: Yeah. Sometimes. It's about the idea, for sure.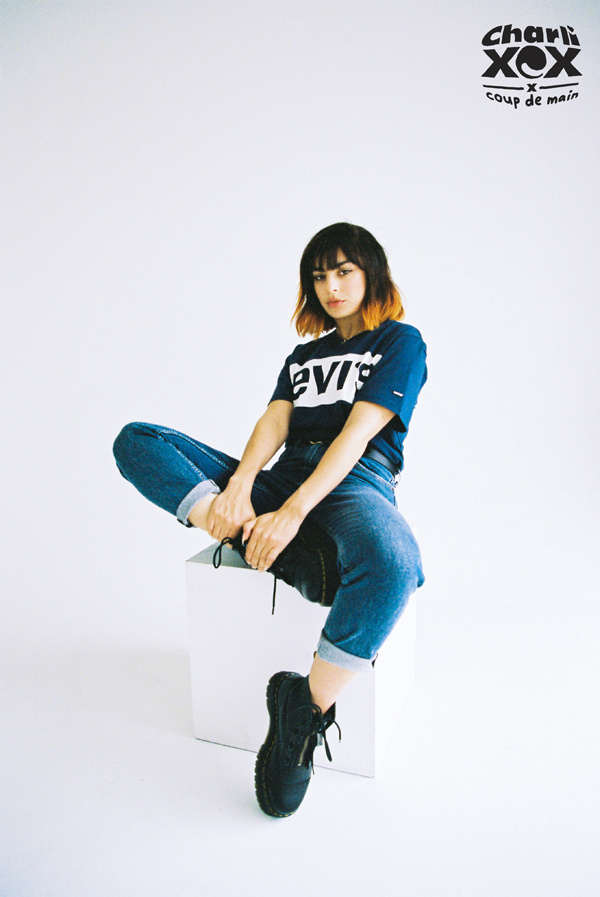 CDM: Do you see the 2000s as a decade worthy of the same level of nostalgia put on the 90s?
CHARLI: Definitely. Y2K is pretty powerful. I mean, Paris Hilton, 'The Simple Life'. Britney had some obvious ups and downs in that time. J-Lo and Marc Anthony. There's some good fashion stuff from then as well. It's like the birth of the chav, and Juicy tracksuits being, like, the shit, and then not the shit.
CDM: Yeah! I think they're coming back.
CHARLI: Oh, they're totally back.
CDM: How would you describe your hometown of Bishop's Stortford for anyone who has never been there?
CHARLI: It's very cute, quiet, countryside. It's a market town.
CDM: Has it changed a lot since the 90s?
CHARLI: Probably, but in ways that I haven't really noticed. The vibe is still the same.
CDM: Do you get a chance to go home very often?
CHARLI: Yeah, my parents still live close to there and I actually have my own place down that way too.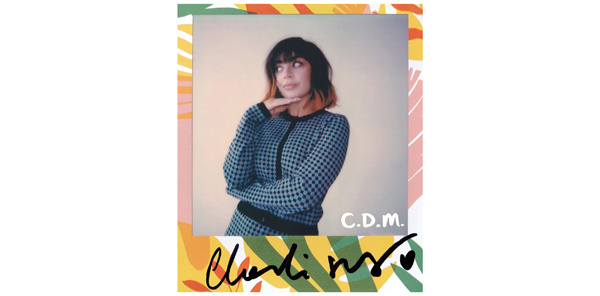 CDM: Does your approach to making mixtapes like 'Number 1 Angel' and 'Pop 2' differ from if you're thinking about working on an album? Do you approach it differently?
CHARLI: Well, I haven't made an album for a while, so it definitely was a different process from making 'Sucker'. But if I do make another album, I don't think that the process will be that different from making a mixtape, because essentially those mixtapes are albums. They're ten original songs; it's like a full-length body of work. The mixtapes allowed me to develop my way of working and figure out my strengths and weaknesses, and figure out that I am a really good curator. That's a strength that I want to play to more.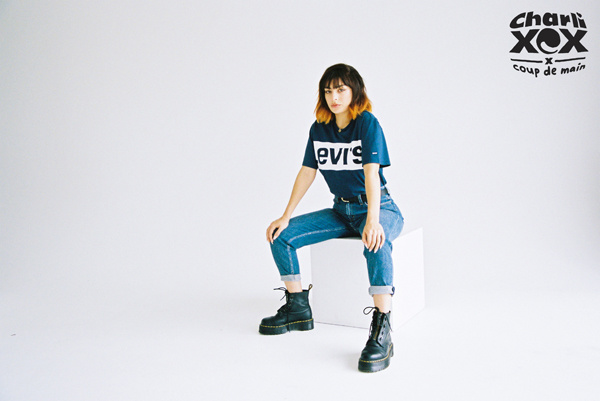 CDM: There was a quote from your Guardian interview which was really powerful where you talked about how you felt quite alone at the moment and you thought that that was going to impact on your future music. I was wondering if you'd see the remake of 'A Star Is Born' yet?
CHARLI: Yeah, it really spoke to me. First of all, I just really like that movie. I think Gaga did a really good job. I think that – kind of going back to your first question about being a woman in pop – there is still this  stereotype of the way women need to be in pop music to sell records. There are 100% people who have defied that, for sure. But of course the male gaze is still so prevalent in pop music. I don't have any issue with being revealing, it's my choice, you know? And whenever it's anyone's choice to do that, it's totally fine. But there is still this stereotypical way, even if it's just a subconscious thing, that labels want artists to look. Like, "Don't be too weird. You can be weird, but don't be too weird."
CDM: They think you have to be considered accessible or else mass audiences won't like you.
CHARLI: Right. Exactly, and so that's why that movie really spoke to me, because I've really struggled with that. And I think with the rise of Instagram in such a massive way, it really leaves people feeling more insecure than ever.
CDM: It's a whole other world where people are curating lives which aren't reflections of their real life.
CHARLI: Right! I don't want to be chasing this unattainable dream of the way I'm supposed to look. What I really liked about the movie is that I could really relate to how vocal she was, being outspoken, being like, "I don't want to do this." That's obviously something the real Lady Gaga has done in her career as well. It felt very real and that's why I liked it.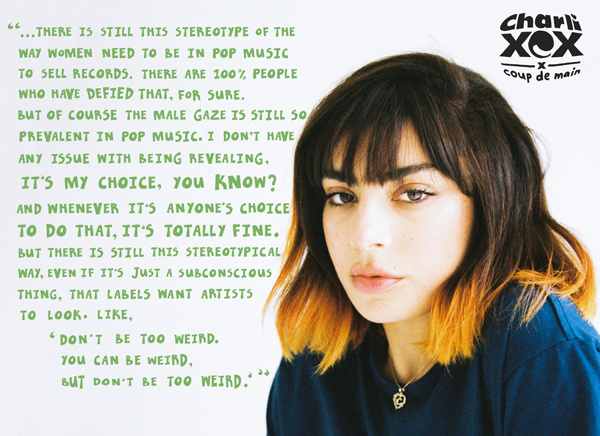 CDM: It's been cool seeing you opening for Taylor Swift, but also putting on your own Pop 2 and 1999 parties - you're kind of like Hannah Montana, you're living the best of both worlds!
CHARLI: I really like that comparison, it's really good.
CDM: You definitely need to get a wig that you just like--
CHARLI: Snatch off?
CDM: I think my favourite part about that show was that no-one recognised her without the wig. She's got the same face!
CHARLI: Yeah, she looked exactly the same. The tour is really fun with Taylor, but obviously it is two very contrasting things. Which is cool, I like the fact that I can do both.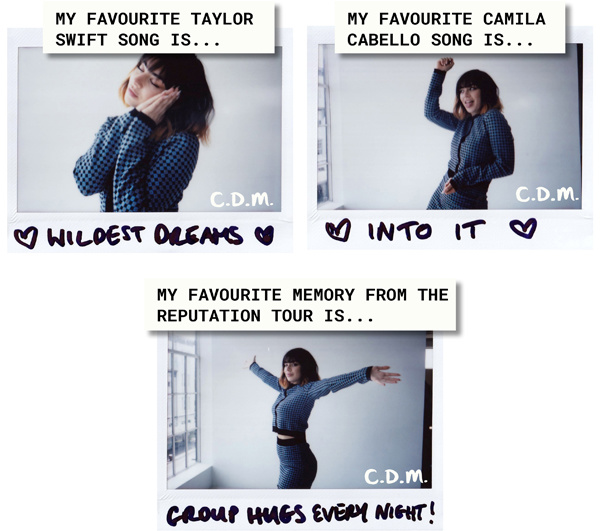 CDM: You spoke with Rolling Stone about how you love that pop music isn't reliant on radio anymore. Do you think not relying on radio is helping to push the boundaries of what pop music can sound like nowadays?
CHARLI: Yeah, definitely. And not even that, more just like – obviously radio breaks songs, and big songs are on the radio, but kids don't listen to the radio. Some kids do, but a lot of them don't, so they're finding their own music, curating their own playlists, rather than being told what to listen to.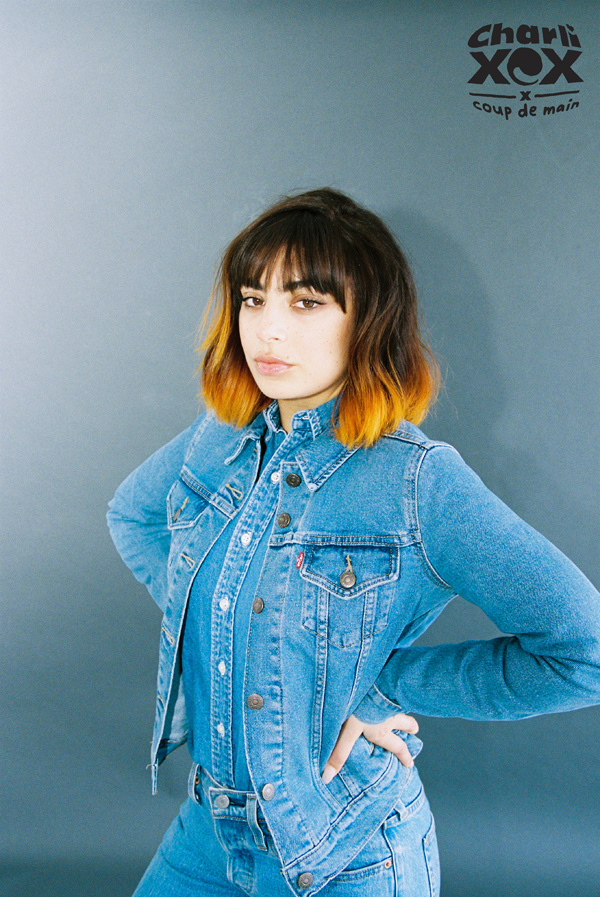 CDM: Last month you said on your social media, "I think some people don't take me seriously as an artist because I like to party and I make pop music about partying. Fuck them." Writing a perfect pop song, that's such a fine art. Why is there such a social stigma of looking down on pop artists as 'basic'?
CHARLI: I think because there is a history of pop being puppeteered and pop being a packaged product that's sold. And, you know, some pop artists don't write their own songs. And that's cool - even if they don't write their own songs, it doesn't mean that they shouldn't be taken seriously. I think there's just this stigma against pop music, of it not being a serious genre. Just because a song isn't a ballad, or a song isn't slow, or a song isn't acoustic doesn't mean it's not serious. There's still a lot of skill and work and craft that goes into writing a club smash. I don't really know why, I just think that's the way we're programmed.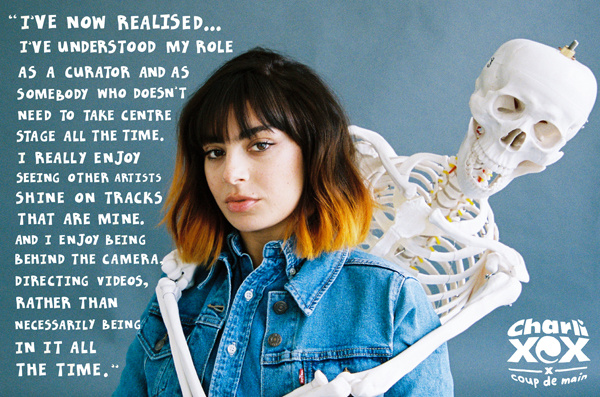 CDM: You wrote 'Sucker' about the music industry and as a "fuck you" to all the people who didn't support you but now do. Do you still feel that way about the industry?
CHARLI: You know what, I'm very jaded, I think. I'm very jaded. I feel like an underdog. But I am an underdog. Like, that's the story. I think I always saw it as a slightly negative thing, but now I see it as a positive thing. All of the articles that are written about me are like, 'She wrote this,' 'She featured on this', 'She's a support act for that,' and that is all true. But I've now realised, like I was saying, I've understood my role as a curator and as somebody who doesn't need to take the centre stage all the time. I really enjoy seeing other artists shine on tracks that are mine. And I enjoy being behind the camera, directing videos, rather than necessarily being in it all the time.
CDM: It's cool that you can get enjoyment from all these different things.
CHARLI: Yeah, I just love it. I think that's my way of creating the world around me.
CDM: Making the cult!
CHARLI: Making the cult, and nourishing the cult, and creating something that's going to be long-lasting, rather than the second I'm gone, it's gone.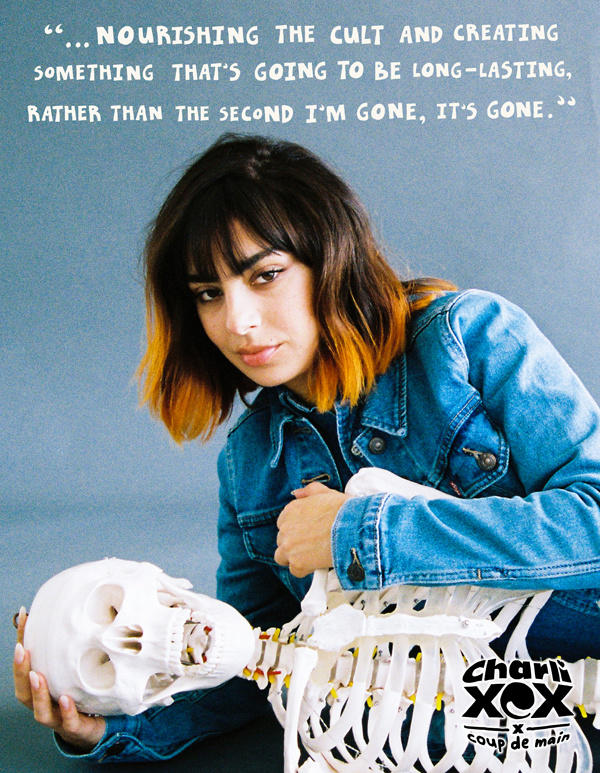 CDM: Are you excited to do some more songwriting with Camila once you finish up the tour? I know you guys mentioned that you wanted to do it.
CHARLI: Yep. We spoke about it. I actually think she's taking some chill time. She did the Taylor tour and a full headline tour at the same. I don't really know what she's doing. We don't have plans to write, but I love her and we will definitely do writing again.
CDM: I'm also very excited that you worked with Tommy Genesis and A.G. Do you know if that's going to be for her to release or for you to release?
CHARLI: Okay, so we have two songs together. We have one song called 'Bricks', which is in this movie called 'Assassination Nation', but they haven't got the rights for the soundtrack yet so we can't release it. But it's a great song. And then I've done a verse on her album for her song called '100 Bad'. It's a remix, but she's used it as the main version. She's cool, she's really underrated. I like her a lot.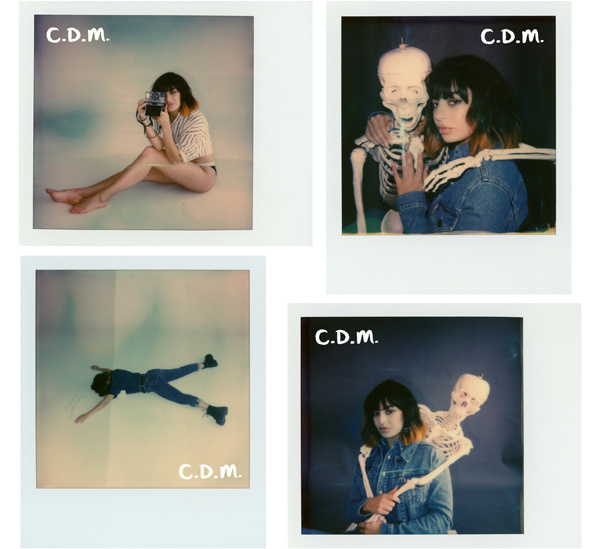 CDM: Are you still working on Vroom Vroom Records at all?
CHARLI: I've sort of put that on pause, honestly.
CDM: You're quite busy, it must be hard to balance everything.
CHARLI: Yeah, and A.G. was like, "Why do you want to run a label?" I was like, "You run a label!" He was like, "Yeah, but why do you want to run a label?" I was like, I don't really… know. I just want it as an option, so I secured the option.
CDM: You've always moved the goalposts of how music is released and distributed, and a couple of years ago you recorded a whole album in 24 hours. Did any of those songs ever come to fruition?
CHARLI: Yeah, the last song we recorded on that day was 'I Got It', a very, very demo version of it, but that song we obviously ended up using on 'Pop 2'.
CDM: Would you ever set yourself another challenge like that?
CHARLI: Yeah! It was so fun. We started around 1pm, and we ended at like, 5, 6am. And some of the songs were terrible. But it was cool. It was just fun.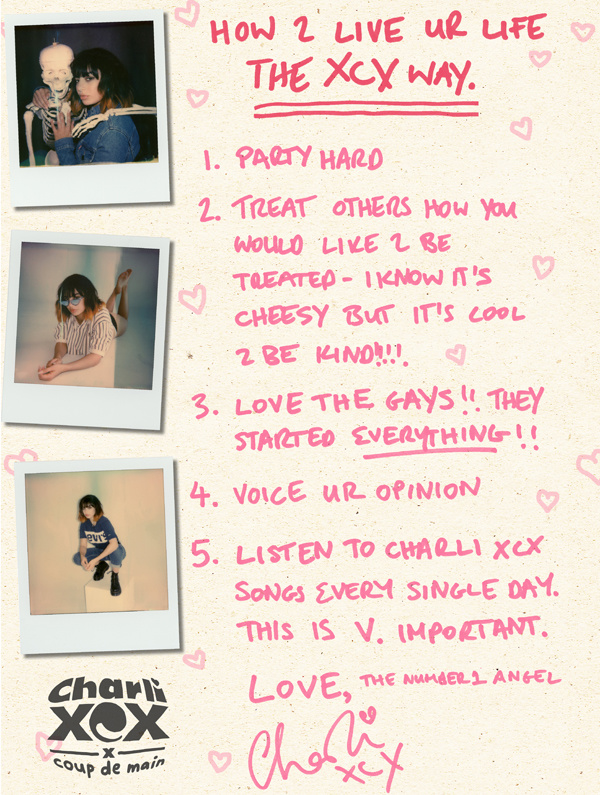 Charli XCX's single '1999' is out now - click here to purchase.
Watch the '1999' music video below…