Interview: 2020 Must-Know - Chinatown Slalom
Interview: 2020 Must-Know - Chinatown Slalom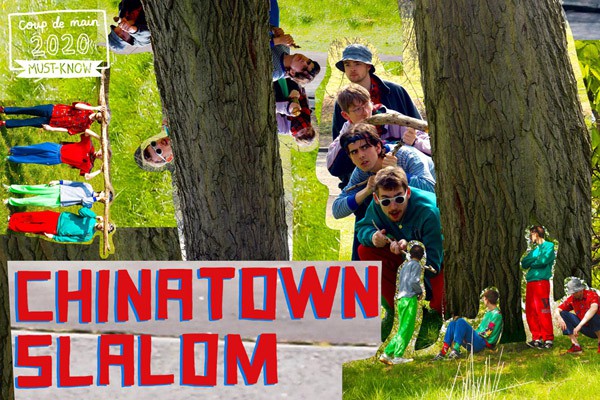 Both studying at the Liverpool Institute for Performing Arts, Liam Nolan and Jake Brettell had only been acquainted with each other for three days when on a lark they decided to start rapping over a beat they'd just made together. And in what can only be described as kismet, the end-result, 'Dr Marvelo & His Best Friend Corkie', paved the way for Nolan and Brettell to form Chinatown Slalom with fellow music production classmates Mikey Woods and Ricky Crawford.
This unorthodox approach resounds in everything the dynamic four-piece apply themselves to - whether it's making their D.I.Y. album 'Who Wants To Be A Millionaire?' (which the afore-mentioned 'Dr Marvelo & His Best Friend Corkie' opens) independently and then taking on music industry meetings, or their songs themselves; high-octane shots that make a beeline to getting stuck in your head.
That's just the kind of band Chinatown Slalom are. Unforgettable, completely unlike any of their contemporary musical peers, and coming for you in 2020.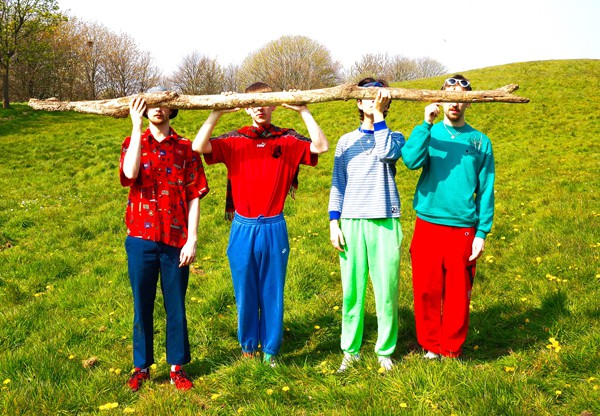 MUST-LISTEN: 'Where U At?', 'Who Wants To Be A Millionaire'?, 'Dr Marvelo & His Best Friend Corkie', 'Just Love'.
YOU WILL LIKE, IF YOU LIKE: Gorillaz, Glass Animals, The Avalanches, Alt-J... and eating cereal for dinner.
COUP DE MAIN: The titular song of your album 'Who Wants To Be A Millionaire?' refers to some of the woes of our generation - "feeling like I shouldn't feel" and "all my money had gone away". What are the hardest things about growing up in the world now today?
CHINATOWN SLALOM: We are all in agreement that the hardest thing is probably the existential dread that comes with growing up knowing that the chances of you actually owning a place to live in is incredibly slim. Compare that with the prices our grandparents bought their houses for and it's all really quite depressing! We also think it's harder to be true to who you are nowadays because the world is so noisy, constantly telling you what to think and what to do, when really no-one has a clue. It's quite nice to keep reminding yourself that the whole world is winging it; no-one really has any control over what is happening!
CDM: In 'Where U At?' you say, "There's a big conspiracy coming after me." Do you think there's a tendency for people to feel like it's them against the world in times of uncertainty?
CHINATOWN SLALOM: I think it can feel like that at the time, and channeling that emotion of feeling almost like an outlaw to the rest of the world can definitely fuel you wanting to do something about it, but as the Kendrick Lamar song ['Duckworth.'] goes, "It was always me vs the world / Until I found it's me vs me." It takes a while to realise that the only thing stopping you, and the only thing that can motivate you is yourself.
CDM: You've been very deliberate about the launch and career trajectory of Chinatown Slalom. Why have you wanted to be so careful about everything to do with the band externally?
CHINATOWN SLALOM: In all honesty, I don't think any of us really feel in control of anything, let alone the image we have as a band. We probably haven't acted in the usual ways perhaps most bands would, but I guess we're just doing our thing. We have pretty strong cringe detectors and maybe that results in us not wanting to do things that make us feel weird. It's probably also the reason we can write music together. Songwriting is a long game of getting rid of things that make you cringe until there's none left. I guess that all just takes a bit of being honest with yourself and what you want.
CDM: Is it important to you to retain your independent work ethic within the band even though you've signed with September Recordings?
CHINATOWN SLALOM: During the time of signing a deal, there is so much going on it was quite easy for us to become flustered. We were also feeling so burnt out from finishing the last album that for a while our productivity dried up. This only added even more pressure, as the last thing you want after signing a deal is to lose the ability to create! So for a time we were quite lost and the work ethic that helped us finish the first album in six months had gone! It was only when we realised we could use the energy we were feeling to be the concept of a whole new body of work that the ball got rolling again. Now it doesn't even feel like we are signed, we are spending long tea-fuelled nights trying to get this music done again, and back to having fun whilst making it.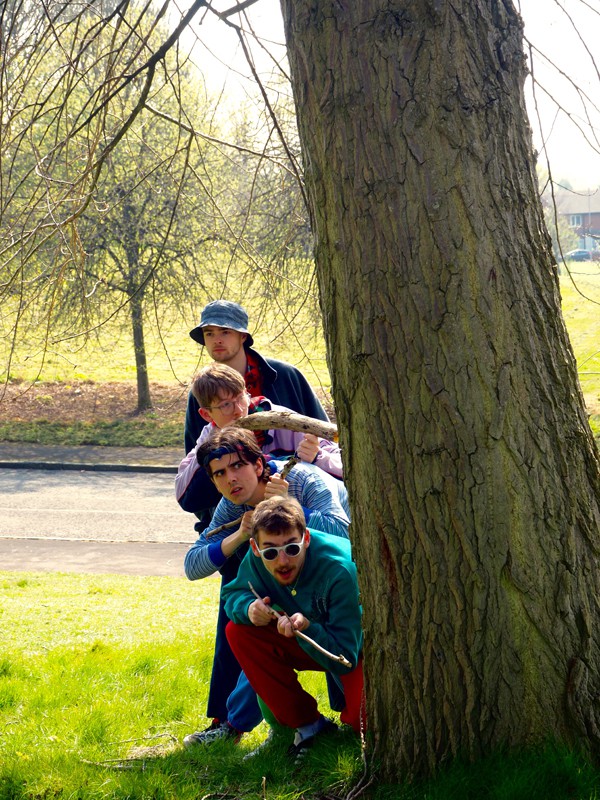 CDM: The 'Bingo Mondays' competition you ran was so great! Whose idea was that?
CHINATOWN SLALOM: Thank you! Originally we were going to shoot a teleshopping video with sketches in which we advertised the album, a mechanical hoover called a 'Eubank' (a genius invention), and a Pot Noodle (Liam's signature dish during the 'WWTBAM' days). We were going to improvise these skits and just hope something funny could come out. When we met with our good friend IHBFilms, the director of the 'Where U At?' video, he suggested that maybe it could be a bingo show, as it tied in with the concept of 'Who Wants To Be A Millionaire?' better. We loved the idea and were so excited to make our first mini sketch. We have had dreams to start a sketch show longer than we have had to make an album... I guess that shows whether we are better at comedy or music.
CDM: Your music videos are all so good - how involved with the creative process of the band's visuals are you?
CHINATOWN SLALOM: When we made the album, all we really had was an album cover. From there we had to decide what kind of visuals would accompany this jamboree of an album. We love the idea of trying to capture different styles for different videos, but keeping the same 'D.I.Y.' feel throughout, hopefully reflecting the music on the album. However, we would be the first to say we are complete novices in the filming world, and have been helped by some really talented directors for our recent videos. These experiences have helped us grow in confidence, and in the new year we are hoping to make some more videos for the album, but just with our close friends.
CDM: Although it has simple lyrics, 'Just Love' is a very heartfelt song. Do you think love is the strongest human emotion?
CHINATOWN SLALOM: The entire concept of emotion is pretty abstract, 'Is love even an emotion?' It certainly feels different to happiness or sadness or fear, something more than what we've evolved from, just for survival. Love from family or old friends or a partner is harder to define, it feels more like an energy radiating between you, even if at a distance. In that sense, you could say the collective spirit we all have in our circles of influence can trump everything. Love your neighbour, kids.
CDM: What was running through your mind while writing 'Dr Marvelo & His Best Friend Corkie'?
CHINATOWN SLALOM: Our honest answer is, 'Fuck me, I'm high. And I just met this guy yesterday, and now we are rapping on a beat we made today as these two absurd caricatures of ourselves even though neither of us have ever spit bars in our lives... Is this what university is normally like?'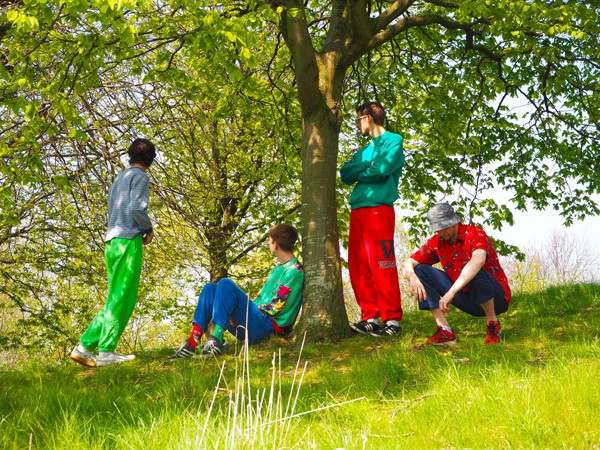 CDM: How does your songwriting process work?
CHINATOWN SLALOM: This varies greatly for every song we've made. Most of them start life as flipping a sample to a beat, or a voice note in one of our phones, or a recording of us jamming. We usually use our own recordings and samples pretty interchangeably and maybe that's what gives the music a bit of a collaged sound. I dunno, I guess we just chuck it into Ableton, fuck it up as much as we can, realise we've gone too far, bring it back a little bit, then feel like it's lost something, and then we fuck it up some more. Then this goes back and forth over and over again for a few months until we just can't do it anymore out of sheer exhaustion. It's a lot of fun though.
CDM: Lyrically, what are your favourite Chinatown Slalom songs?
CHINATOWN SLALOM - LIAM NOLAN: I think 'Bullets On A Screen' is my personal favourite, it summed up my anxiety of feeling directionless when I first got to university, and of not being sure of myself enough to know what I wanted. "I am upside down, and I'm trying to read signs that are flying at me like bullets on a screen," came out as a stream of consciousness, but to me, summed up that hesitant dread that came with being eighteen.
CHINATOWN SLALOM - MICHAEL WOODS: One of my favourites is 'Where U At?'. When this song was written we sat around in the garden, Jake beatboxing, Michael singing a bass line, Ricky harmonising and Liam rapping a stream of consciousness, talking about supersonic booms and polyphonic beats on the microphone. I love listening back to the original demo of us humming it in the garden.
CHINATOWN SLALOM - RICKY CRAWFORD: My song obvs, "All we are is ripples in the pond," doesn't get more profound than that.
CHINATOWN SLALOM - JAKE BRETTELL: "Is it just love, is it just love, is it just love," gives me goosebumps every time. Some of our most profound lyrics.
CDM: Since Ricky has his own song 'Ricky's Song'... when do the rest of you all get your own songs - 'Liam's Song', 'Jakes' Song' and 'Mikey's Song' - too?
CHINATOWN SLALOM: 'Ricky's Song' is called that because Ricky is our resident synth head, and that song is just all him jamming. So I guess when Mikey does a screeching three minute guitar solo, Jake shreds the Samba drums for a tune, or Liam creates a whole choir out of his voice for a song, that's when they'll get their own named one!
CDM: You've said that you're working on another EP and album to be released before the end of next year. How's that going? When can we expect to hear some new music?
CHINATOWN SLALOM: Good! We're sat writing this whilst we put the finishing touches to the EP - a cinematic score to a cowboy film we hope to one day make. It's funny, Jake played a bit of guitar that made us all feel like we were in the Midwest, and from there we have somehow arrived here. It's funny to see where letting your imagination run wild can get to. The second album is also well underway, and again we are trying to go in a direction we've never been in. Hopefully it will help portray the headfuck of a year we've just had!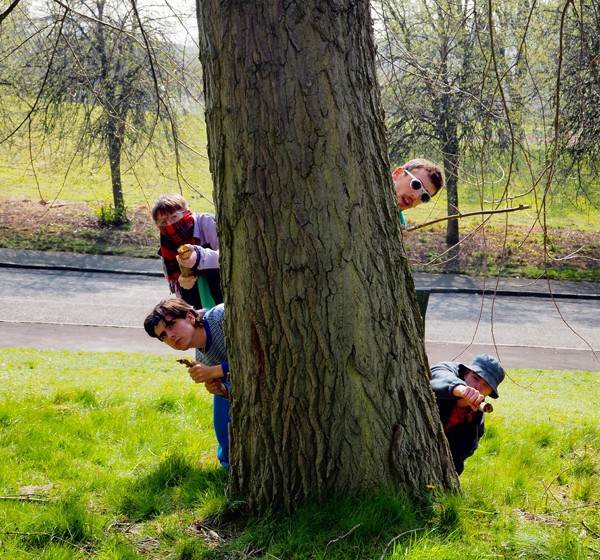 CDM: If C.H.I.N.A.T.O.W.N. S.L.A.L.O.M. were an acronym, what would each letter stand for?
CHINATOWN SLALOM: Clear Heads In Near Abstract Time, Only We kNow. Since Landing At Liverpool On Mersey. (Allow the silent 'k' please.)
CDM: If you won a million dollars, what would you do with the money?
MICHAEL: Bet it on a couple of horses, maybe like three horses.
JAKE: Treat myself to something nice like a boat.
RICKY: Give a quarter to family and friends, invest half, and keep the remainder as a wage.
LIAM: Invest... and I've always had a lifelong dream to buy myself a canal boat, so I'd buy that.
CDM: What's on your bucket-list?
CHINATOWN SLALOM: A spade? Sorry, we're a sucker for cracker humour. Mikey wants a dog.
CDM: You're one of our 'must-know' artist picks for 2020… who are yours?
CHINATOWN SLALOM: Travis Bickle is great.
Watch the 'Who Wants To Be A Millionaire?' music video below...
Load next