Interview: NZ band Daffodils on their single 'Staring At The Sun'.
Interview: NZ band Daffodils on their single 'Staring At The Sun'.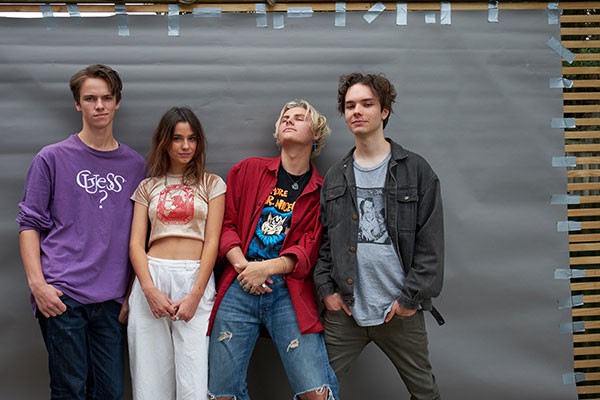 We first heard Daffodils' 80s inspired song 'Two Angels' last year, and have been eagerly awaiting more music from the Auckland four-piece. They've delivered, in the form of their first release of 2018, 'Staring At The Sun', an equally as catchy release, which sees the band reflect upon wasting time.
We spoke with the band's Theo Spike Salmon about their new single 'Staring At The Sun', as well as what else they have planned for 2018…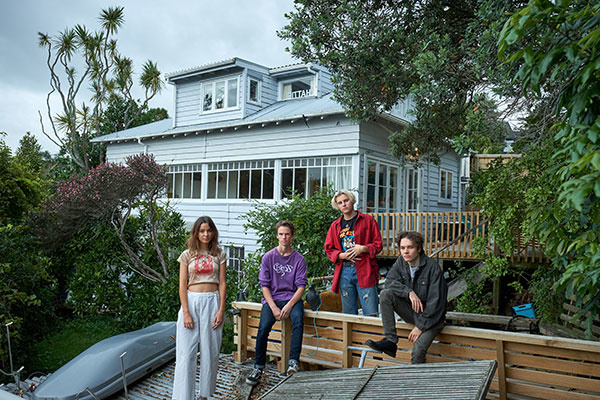 [Photos by Mark Smith]
COUP DE MAIN: What was running through your mind while writing your latest single, 'Staring At The Sun'?
DAFFODILS: I'd been through a pretty messy, destructive relationship (on both sides) when I was a bit younger that didn't end very well. I think it's really tempting to try and fix those kinds of relationships out of some misplaced sense of romance, when in reality you're just hurting yourself and that person. It took me ages to figure that out, and so the song is about how much time and energy I wasted on that part of my life.
CDM: Is the song lifted from an upcoming release?
DAFFODILS: It definitely could be, but that's a surprise! We're in the studio at the moment, working on an EP for release later in the year.
CDM: You've been playing a few live shows recently - what can people expect from a live Daffodils show?
DAFFODILS: We love noisy, high energy performances, and lots of dancing and moshing, because those are the kind of gigs we used to go to and the first kinds of gigs we got to play at when we were fourteen. I want to give people that kind of intimate, energetic experience.
CDM: Important question: are daffodils your favourite flower? If not, what are?
DAFFODILS: I think definitely! And sunflowers too. When daffodils flower they cover the park down the end of Louis and I's street, and that's one of my favourite times of year.
CDM: What other NZ music are you currently listening to?
DAFFODILS: There is so much fantastic music coming out of New Zealand all the time! Some of my favourite artists at the moment are Kane Strang, Raiza Biza, Aldous Harding, Two Cartoons, Connan Mockasin; one of my favourite albums of all time is 'You and I' by Cut Off Your Hands. I'll always love The Mockers too.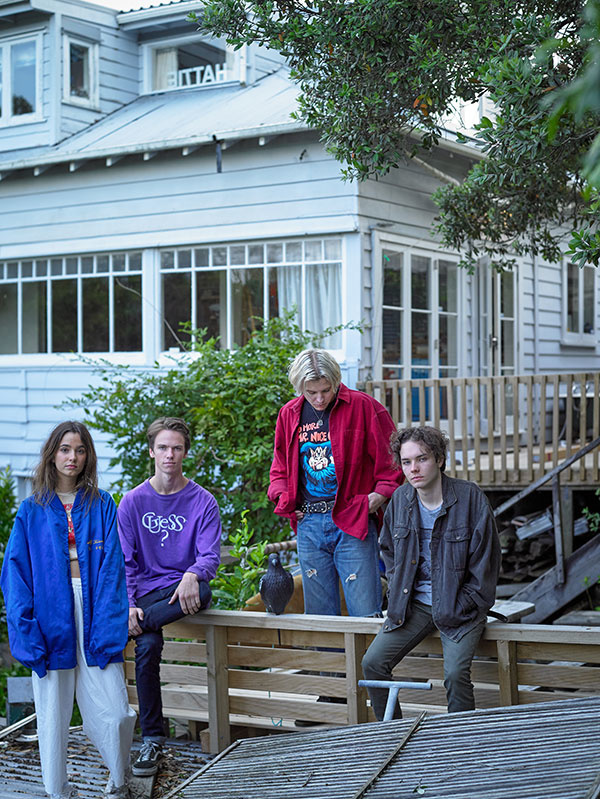 CDM: If you were to curate your own music festival, who would you want to play and what would the festival be called?
DAFFODILS: Tyler, The Creator most definitely! And Tommy Genesis, Wolf Alice, Brockhampton, Aminé, Rat Boy, Slaves, LCD Soundsystem, The Cure, Princess Nokia, Roy Blair, Jamie T... So, so many. I've got no idea what I'd call it, I feel like I wouldn't be able to come up with a name that would do it justice. It'd have to be something grand I think.
CDM: What's the most despicable thing you've ever done?
DAFFODILS: When I was about 9 at primary school, I thought I was hilarious and I wanted to play a joke on my teacher, so I bought some of those blood capsules you can get from the $2 shop. I went up to her and told her I was feeling sick, and when she wasn't looking I popped the blood capsules into my mouth. She freaked out when I started spitting fake blood, and I think she was about to call an ambulance when I told her I was joking! She had a totally justified shout at me, and I had to write apology letters and everything. I think my dad thought it was funny.
CDM: If you could pick any five people (living or dead) to be in your entourage, who would you choose?
DAFFODILS: Eric Andre, Debbie Harry, Tyler, The Creator, Charli XCX, and Mike Myers! I feel like that'd be the ultimate high school cliqué.
CDM: Do you believe in magic?
DAFFODILS: I'm not sure! I would definitely love to, I've always been fascinated by the idea of it! And I've always loved Harry Potter.
CDM: What is your spirit animal?
DAFFODILS: Dogs! I love dogs, I'm very much a dog person. I would probably turn into a dog if I was given the choice.
CDM: If you could steal one thing without consequence what would it be?
DAFFODILS: Terry Hall's Fun Boy Three haircut. I have never, ever wanted a haircut more than I want that one!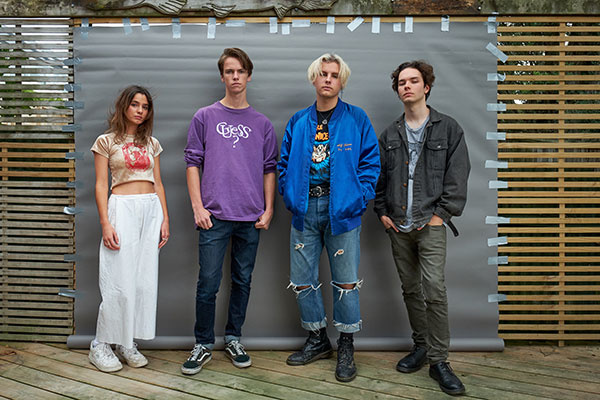 CDM: What is the most heroic thing that you've ever done?
DAFFODILS: When I was about seven I saved my five-year-old sister from floating away in a dinghy. I think that was definitely my peak as a human being; it's all been downhill from there.
CDM: What is your first proper memory, ever?
DAFFODILS: When I was little we had a big Newfoundland named Moby, and he was gorgeous and mopey. He used to let me use him as a pillow, and all my memories of being a little kid have him in them.
CDM: If you were a country, what would be your national anthem?
DAFFODILS: 'Classic' by MKTO, and everyone would have to sing it every morning as they got out of bed.
CDM: Stretch your right arm out as far as you can reach, what can you touch?
DAFFODILS: My lunch; I discovered today that fruit toast and cheese work very well together!
Listen to 'Staring At The Sun' below…
Load next