Coup De Main presents: Gengahr announce first ever New Zealand show + new album 'Sanctuary'.
Coup De Main presents: Gengahr announce first ever New Zealand show + new album 'Sanctuary'.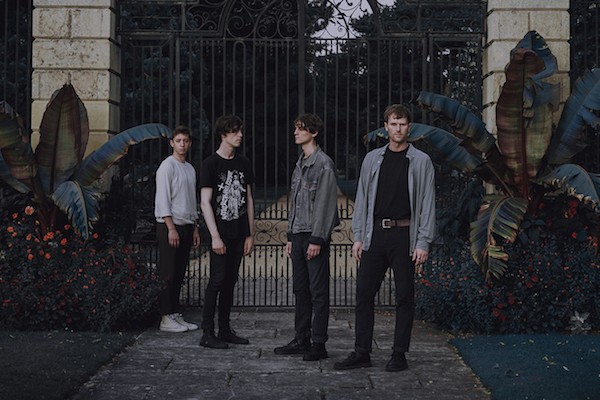 Gengahr first won our hearts in 2015 with their excellent debut album 'A Dream Outside', and today, we are overjoyed to announce that the UK four-piece will be coming to New Zealand for the very first time ever next year to play Auckland's Neck Of The Woods on Tuesday, March 10th, in support of the band's third full-length album 'Sanctuary' (out January 31st).
The band will also play Sydney and Melbourne, which will be their first Australian shows since the 2015 run of Splendour In The Grass.
Tickets go on sale from Friday, October 11th via frontiertouring.com/gengahr.
And in other exciting news, Gengahr have released a new song 'Everything & More' today, which you can listen to below:
"More expansive and ambitious than ever before, 'Sanctuary' is the experimental alt-pop band's finest body of work to date, a DIY triumph which welcomes old friend Jack Steadman of Bombay Bicycle Club as producer, adding his distinct brand of symphonic sparkle to Gengahr's complex, layered sound and pushing the band further into all-out pop territory than they'd ever dared stray before. Recorded at the new Propagation House way out in Bude in Cornwall, the album also recaptures the magic that old school friends Felix Bushe, John Victor, Hugh Schulte and Danny Ward felt when they were making their debut.
Born of an epic journey, the follow-up to their acclaimed 2015 debut 'A Dream Outside' and 2018's 'Where Wildness Grows' sees songwriter Felix Bushe tapping into personal pain but coming out fighting. Homer's Odyssey was constantly in the back of Felix's mind when writing, acting as a constant guide. His own modern take largely deals with the fact that his wife is still living in Australia, while Felix is based on the opposite side of the world. The highs and lows of such a long-distance relationship, as well as the sudden passing of his mother, have all fed into the album's rollercoaster of emotions. The disco-inflected 'Heavenly Maybe', heavy with ennui as well as a powerful melody, details Felix's experience of partying in order to distract him from his real-life problems. "I was picturing myself as Odysseus in this captive journey where I was just trying to get back to where I wanted to be in life," he explains.
With mixing from the hugely in-demand Nathan Boddy (James Blake, Nilufer Yanya, Shame), additional production from John Victor and engineering from A Dream Outside's engineer James Bragg, Sanctuary is vibrant, intoxicating, intimate and alive; the product of friends having a good time and seizing control of their own destiny. It is a heartfelt, sophisticated body of work that runs the full gamut of human feeling, with a positive ending in the form of the beautiful, twinkling 'Moonlight' – a harmonious conclusion of unison and togetherness, hinting at a bright future."
GENGAHR
with special guests to be announced
New Zealand
March 2020
Presented by Frontier Touring and Coup De Main
FRONTIER MEMBERS PRE-SALE
via frontiertouring.com/gengahr
Runs 24 hours from: Tuesday 8 October (2pm NZDT)
or ends earlier if pre-sale allocation exhausted
GENERAL PUBLIC ON-SALE
Begins: Friday 11 October (2pm NZDT)
Tuesday 10 March
Neck Of The Woods | Auckland, NZ
18+
ticketmaster.co.nz | Ph: 0800 111 999
Load next