Interview: Haim - Women in charge and the fight for gender equality.
June 24, 2020 |
by
Shahlin Graves
| Cover photo by Drew Escriva | Canter's Deli photos by Paul Thomas Anderson |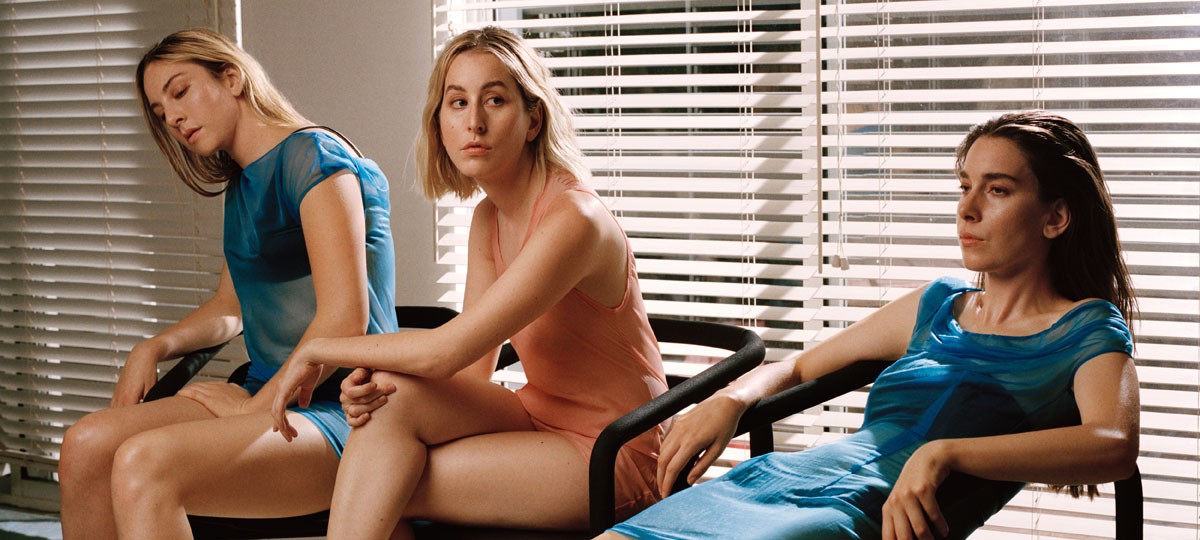 "We've always been a three-woman show. We've always been the CEOs of our company. And honestly, all we need from the people around us is just support," declares Alana Haim emphatically, with her elder sisters Danielle and Este thoughtfully nodding in agreement. Having originally planned to visit Australia in advance of the band's new album, 'Women In Music Pt. III' (named after a dream Danielle had in which they were invited to a 'women in music' event), we find ourselves on a long-distance Zoom call instead, each sister a talking head of animated expressions in a Brady Bunch-ish tic-tac-toe board, and it's almost surreal that the trio don't reach out to high-five each other on-screen in celebration of their united strength. With a typical Haim interview experience usually being a lot more tactile (think: endless hugs) and infinitely more rowdy, today, we try our best not to talk over each other in moments of excitement, outrage, or solidarity.
Following up the band's 2017 album, 'Something To Tell You', Haim are set to release third album 'Women In Music Pt. III' on June 26, a defining chapter in their journey to share empathetic perspectives and female narratives very rarely otherwise heard on chart-topping, percussive and guitar-driven pop records. From their 2012 debut single, 'Forever', in which they challenged the status quo of inequality in relationships ("You tried to bring yourself up without involving me / It isn't fair, to have your way"), to their sophomore album on which they denounced the fragility of the male ego in 'You Never Knew' and paid tribute to the empowering epiphany of self-healing in 'Found It In Silence', Haim's musical releases have always humanised living out your most honest truth and the real-life complications of working to undermine the patriarchy. And on 'Women In Music Pt. III', Haim confront their individual struggles in a way that's never failed... together as a team.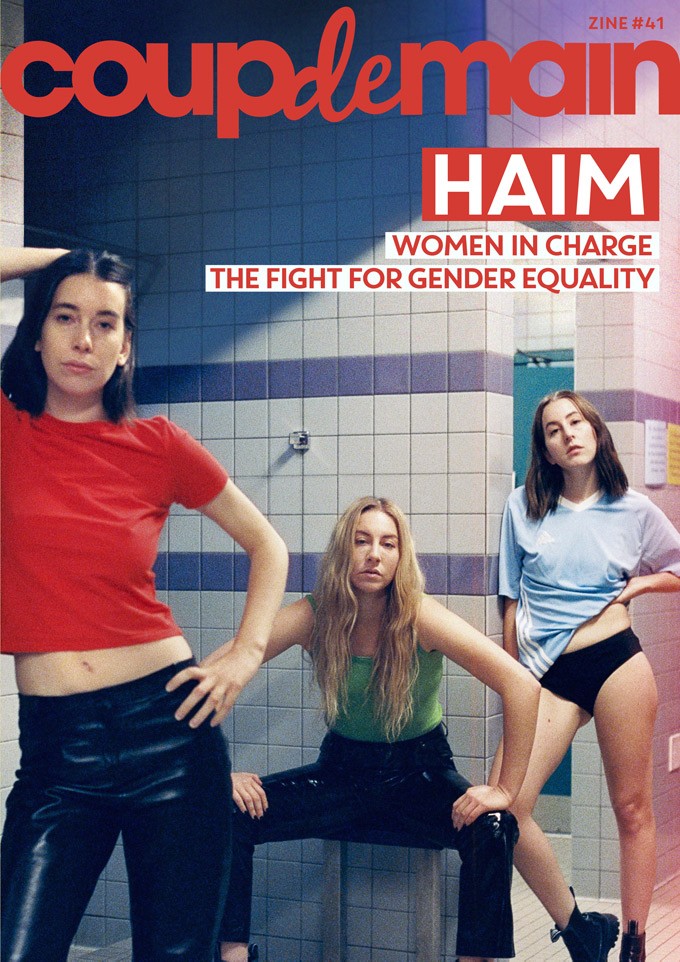 Click here to order a CDM x Haim zine (i.e. a mini-magazine featuring photos + quotes from this cover-story).
"Help[ing] one another, is part of the religion of our sisterhood," wrote 'Little Women' author Louisa May Alcott in her 1870 novel 'An Old-Fashioned Girl', and although penned one and a half centuries ago, is a sentiment that lives on in Haim's own sisterhood - both familial (as storied in 'Hallelujah' on their new album, which pays homage to the support and guidance they offer each other), and in their adopted sisterhood, having demonstrated a career-wide commitment to helping raise other women up. Long before 'Truth Hurts' became a number one single, Haim took dance partner Lizzo on their 2018 Sister Sister Sister tour of America - as well as Maggie Rogers; who has described Haim as "powerhouse women" - with Lizzo telling NME gratefully about the experience, "We played the biggest venues we've ever played, we got to play Radio City Music Hall, and for me, that was life-changing." Like how Florence + The Machine's Florence Welch embraced Haim back in 2012 telling fans to "make sure you get down early to see them" on her UK Ceremonials Tour, and rather memorably crowd surfing at a Haim show in London the following year, as well as Rihanna's almost mythical 2013 "What y'all think about HAIM?" tweet and subsequent European tour support slot, Haim have always paid forward any kindness shown to them - from creating a t-shirt to sell in support of SoundGirls ("an organisation that empowers young women to enter the world of professional audio and music production"), to playing a benefit for the Girls Rock Camp Foundation, donating merchandise profits to the Black Trans Femme in the Arts Collective ("Black trans femmes sit at a particularly mistreated intersection of race and gender representation and are consistently denied opportunities and platforms. The BTFA Collective is a collective of Black trans women and non-binary femmes dedicated to making space for themselves in the arts and beyond"), and teaming up with Emma Stone and the Spice Girls to raise money for charities including the Global Girls Alliance and the Los Angeles LGBT Center. Past mentor, Jenny Lewis (whom middle sister Danielle played in her touring band, and then later, Julian Casablancas' at nineteen), told me in a 2015 interview, "I've learned so much from the Haim girls; I'm so incredibly proud of them and I'm always there if they need me."
Neon Gold Records co-founder, Lizzy Plapinger (who released Haim's 2012 debut 'Forever' EP), thanks the trio for tackling gender inequality in the music industry head on: "Working with Haim will always be one of the most meaningful honours of my career. Alternative, indie, rock, etc has been a historically male-dominated space as perpetuated by the equally male-dominated industry, so for Haim to come in as the true rock stars they are - three women, guitars blazing, bombastic personalities, precise vision, dedicated work ethic, and determined ambition matched with their expert and versatile skills as musicians - was radical in positively shifting the industry's perspective (and fans') to help show this is a genre NOT only for men! An ongoing battle that I will forever pay respect to them for helping to dismantle."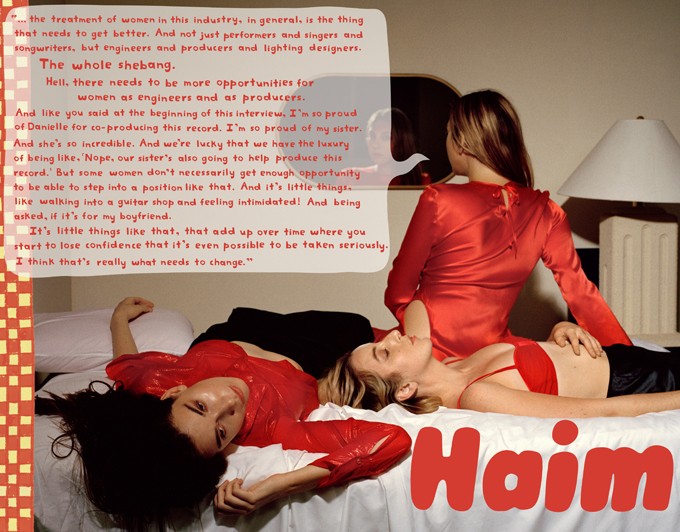 While accepting the award for Best International Band at the 2018 NME Awards, eldest sister Este addressed the audience saying, "To anyone that identifies as a girl, whenever you walk into a guitar shop or a soundcheck or a recording studio, do not let anyone that's there intimidate you or make you feel like you don't belong there because you do belong there," and in response to former Recording Academy President Neil Portnow saying that women who wanted to be part of the music industry need to "step up" after only one woman won a main award at that year's Grammy Awards, Haim encouraged, "WOMEN - no need to STEP up, SHRED up (in their fucking faces)." And the band continue the good work of their musical godmother Stevie Nicks, who in a 2018 interview with Rolling Stone said about being the first woman to be entered into the Rock and Roll Hall of Fame museum twice: "Well, that's probably the biggest part of it. After the show last night I was talking to the Haim girls. I was saying to them, 'Okay, now I've opened the door for you. Now each one of you need to go do a solo album really fast and get your solos going so in the next 20 years you'll be able to do this too and maybe I've opened the doors to all the girls in my life that sing and write and play and are amazing.' My biggest hope is that I have opened the door due to the fact that there's 22 men who have gone in twice and zero women. I think that's really a little off balance. That's what I'm hoping, that what's happened here to me will give all the little rock and roll stars that are just waiting out there a little hope that they can also do what I do. Mind you, it took a long time. I'm 70 years old. It took a long time for this to happen, but maybe because of this it won't take so long for all the other incredibly talented women that I know and that I respect and that I listen to and that I'm friends with."
In 2015, a 71-year-old Joni Mitchell explained to The Cut a lifetime of feeling unheard by men in positions of power in the music industry: "All my battles were with male egos. I'm just looking for equality, not to dominate. But I want to be able to control my vision. There are those moments when I wax feminine and I get walked on." Similarly, Björk told Pitchfork in the same year: "I want to support young girls who are in their 20s now and tell them: You're not just imagining things. It's tough. Everything that a guy says once, you have to say five times." With women vastly outnumbered by men in the music industry, both in creative roles (according to the Annenberg Inclusion Initiative's 2019 research results, only 21.7% of artists in the music industry are women, only 12.5% are songwriters, and only 2.6% are producers), and behind-the-scenes (the gender divide across the entire industry worldwide is thought to be 70% male to 30% female), it's vital that there be a cultural shift in how the music industry perceives women as expendable, and how toxic work environments intimidate women into silence due to fear of retaliation. In 'Man From The Magazine' from their new album, 'Women In Music Pt. III', Haim denounce the empathy gap between genders ("You don't know how it feels / You expect me to deal with it 'til I'm perfectly numb") and take to task the sexist ideology that boys will be boys. "I don't want to hear: It is what it is, it was what it was," disparage a world-weary Haim, sharing personal anecdotes of degrading experiences with chauvinistic music store employees and a repulsive advance from a music journalist who asked of Este's expressive on-stage bass face, "Do you make the same faces in bed?" And while there's an argument to be made about finding comfort in shared experiences, mostly, it's just heartbreaking to learn that there's no level of career advancement that protects women from having to endure indignities that men in music will never know.
Tag-lines such as "women in rock" differentiate female musicians from their male peers. These gender-based descriptors are reductive, positioning women as the best of their own kind, and not just talented in their own right. Gender is not a genre or a trend, and this disassociation of women roadblocks their careers, with Laura Marling once telling The Guardian that: "If you prevent women from seeing any examples of them achieving, then it prevents them from believing they can achieve it... For women to achieve they have to go around that bump; they have to be as good, if not better, than their male counterparts." And in conversation with Marling on her 2016 podcast Reversal Of The Muse, Este confided, "If I feel like I'm being demeaned in any kind of way, I automatically feel like I need to defend myself. And I think that's also a by-product of just being around mostly male musicians growing up and never feeling like I had a support system." She concludes, "I was constantly feeling like I had to prove myself." Although certainly motivating, this gaslighting of women can cause traumatic self-doubt that can last a lifetime.
But in a full-circle turn of events, Haim's success (two top ten albums on both sides of the Atlantic, fan-favourite single 'The Wire' certified platinum in Australia, and a beloved reputation as a summer festival staple), has not gone unnoticed by the next generation of women in music. "As someone who listened to Haim all throughout high school, it was really surreal for me to have Danielle drum on this record and for her to like it enough to be a part of it herself," said Clairo to me last year about working with Danielle on her debut album, 'Immunity'. And elsewhere, Haim's legacy builds; their fingerprints all over the musical landscape, with the trio having contributed to the discographies of artists such as Carly Rae Jepsen and Charli XCX, Primal Scream and U2, as well as Kid Cudi and Calvin Harris. The likes of Justin Timberlake and Sia have also worked on music with Haim, Este has played percussion on songs released by Lady Gaga and Adele, and Danielle featured as a central recurring vocalist on Vampire Weekend's 2019 album 'Father Of The Bride'.
In discussion with me over Danielle's contributions to 'Father Of The Bride', Vampire Weekend frontman Ezra Koenig last year shared that after seeing Haim very early in their career play to a handful of people in New York, he connected again with Danielle when both bands played Mumford & Sons' 2013 The Summer Stampede festival in London - praising her "very inspiring" musing on the concept of albums. In a recent communication, Koenig further explained: "There are a lot of reasons why I feel a kinship with Danielle. I think we both feel a little bit caught between genres and caught between generations. I knew I related to Danielle's approach to album-making when we talked backstage at a festival before the first Haim album came out and she said she was still looking for the 'thesis statement' song or something like that. I loved that and knew exactly what she meant. I'm not sure people understand how much Haim is a product of her conceptual way of thinking. As much praise as the band has gotten, I can't help but feel that Danielle's been deeply underestimated as a songwriter and producer."
Echoing Koenig's sentiments, Plapinger argues that, "Danielle has always been co-producing the records, she's just finally getting the recognition and credit she deserves in my opinion." And 'Women In Music Pt. III' is a solid testament to Danielle's prowess in the studio, with first time co-production credits, alongside longtime collaborators Ariel Rechtshaid and Rostam Batmanglij. About the album-making process and Danielle's creative process, Rechtshaid details: "Danielle was going through a very prolific period during the making of WIMPIII. She had a clarity I hadn't seen quite yet. It's like she had gone through some hard life shit and suddenly she had so much to say and it was coming out so clearly in her lyrics. She just had the vision. During the making of 'Father Of The Bride', I was starting to put together my tracking studio. By the time we started WIMPIII it was fully ready and Danielle was able to jump from drum kit to drum machine, to guitar, etc with quickness and ease, and so the arrangements came together quickly. There was momentum. Between their keyboard player Tommy King, Buddy Ross, Rostam, and myself, we had a tight team of musicians to support Danielle's vision. Also, Este and Alana have become even crazier musicians than they already were. Basically, between September and December 2019, we were just firing off on all cylinders. Banged out more songs than ever in a fraction of the time (with songs to spare). [I'm] proud of everyone."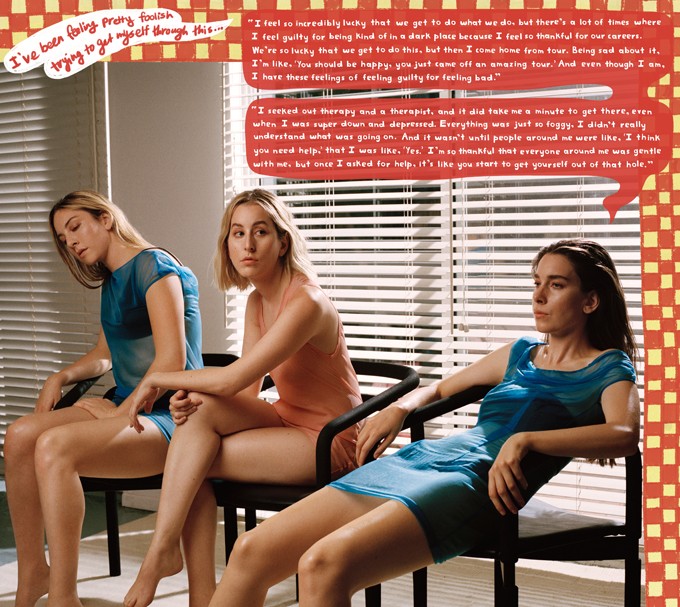 And with eight years of cumulative Haim wisdom under their belts now, 'Women In Music Pt. III' continues to expound upon the never-ending difficulties of communication, but also finds the band exorcising their own demons and sharing a more defenceless side, with deeply introspective tracks dealing with prevalent issues such as depression and loneliness. About the album's second single, 'Now I'm In It', Danielle has said: "After being constantly on the go the past couple years, I didn't wanna stop and deal with some shit. Also, every day my sisters and I feel so fucking lucky that we get to do this for a living!!! It seemed like stopping and dealing with these emotions would be letting everyone down. But every time I've been depressed, it takes me accepting that I need help, to start to get out of it. It's gotten a little easier as I have gotten older to recognise the symptoms and remind myself that when this happens, I need to seek help (shout-out to my therapist!!). Anyway, we all know it's important to talk about this stuff. This one poured out of us. Take care of yourself. Be nice to yourself. And thank the ones around you that help you every day. Hope this helps anyone who is in it right now."
Like an emotional catharsis (fellow San Fernando Valley native Brie Larson once described Haim as "earth angels"), listening to 'Women In Music Pt. III' is confirmation that there's solace to be found in the knowledge that a problem shared is a problem halved (or in Haim's case, a problem thirded). That it's important to be your own best friend. That your self-worth cannot be discounted. And that it's better to have loved and lost than to have never loved at all. These are some of the things that Haim songs teach you - always comforting, always with optimism in their hearts, and always punctuated by powerful reminders of one's own hardiness ("But I ain't dead yet," sings Danielle wryly in 'I've Been Down'). Haim have been up, down, and everywhere in between, but on 'Women In Music Pt. III' they put the pedal to the metal and unbuckle their seatbelts; repurposing pent-up feelings into emotional bullseyes. From the breezy 'Los Angeles' about falling out of love with something so integral to your identity and way of living ("Hometown of mine, just got back from the boulevard can't stop crying"), to recent single 'I Know Alone' which has already resonated with listeners and taken on new meaning during this time of social lockdown ("This came from feeling like I was in the deepest spiral of being alone and feeling like I felt loneliness deeper than anyone ever had. I remember there were a lot of solo drives with a couple diet cokes in the passenger's seat, going for hours at night to clear my head. Now with everything going on, 'alone' feels like a ritual. Only I know my own little secret routine on these days of being by myself and I almost take comfort in it. It's my own way of staying sane in my alone-ness and it's really helping me get through this," says Danielle), and the razor-sharp tear-jerker of a closer 'FUBT' ("I spend my mornings overthinking all my own mistakes but I would never judge your problems in the same way / You beat yourself up and I let you take it out on me"), this album is Haim's outlet. And for people who claim to be bad at communication, their emotional tenacity is as unmistakable as it is relatable.
Misogynistic double standards have robbed women of their prerogative to be anything but humourless in order to be taken seriously as career professionals, but Haim's joyful approach to their work is a fortifying reminder that equating solemnity to intellect or artistic capability is nothing but a social construct designed to oppress women with self-doubt and imposter syndrome. In a recent interview with BBC News, Danielle divulged: "I feel like because we don't take ourselves too seriously, and we do choreography in our music videos, sometimes the rock community doesn't take us seriously. I feel like they want us to be more... aggressive. It's something we think about a lot: Maybe if we just strictly played our instruments in music videos, not dancing around and stuff, would the rock community take us more seriously as a band? And I think unfortunately it does have to do with us being an all-female band." But if there's anything to be learnt from the Haim sisters, it's that hard work can help pave the way for others. And then maybe, one day, when the conversation around 'women in music' has been normalised, the potential of women will no longer be perceived as a threat to male authority.
But always with their priorities in order, Alana, Danielle and Este Haim politely request that your focus not stray from pressing social issues even during the release week of their new album. Vocal about injustice, the band have spent the last few weeks protesting police brutality and systemic racism, and campaigning in support of the Black Lives Matter movement. Via their collective Instagram account, they issue the plea: "As we get ready to release our new record next week, we feel strongly about keeping our attention on the fight against the systemic injustices the Black community faces in America and hope everyone continues to use their voice and platforms for what is right." To find out more about the Black Lives Matter movement click here.
COUP DE MAIN: On a scale of one to ten, with the only correct answer being a zillion, how proud are we all of Danielle co-producing this new album?
ESTE HAIM: A trillion!
ALANA HAIM: YAASSS! <applauds wildly>
DANIELLE HAIM: Thank you!
CDM: Loneliness and isolation are big themes on this new album, but the idea of sisterhood and 'best friends' is what most people probably think of when Haim comes to mind. Do you think it's important for people to know that feelings of loneliness are just as valid even if you're surrounded by people that love you?
ESTE: Absolutely.
DANIELLE: Definitely.
ESTE: You touched on something that we feel, or definitely felt when we were writing and recording this record, that you can be in a room full of people and still feel like you're completely alone. But we were all kind of feeling the same thing at the same time, so we did kind of commiserate about that. When we were writing this record we were kind of all feeling the same thing at different points.
ALANA: It's important to know that it's okay to feel lonely sometimes. I feel like a lot of the battle about being lonely is that you're ashamed of it. You feel ashamed for feeling that feeling and it's really just being okay with being like, 'I feel lonely right now. I'm feeling an emotion that's happening.' And being like, 'That's okay. I have to work through it.'
CDM: In 'I Know Alone' you say, "I know alone / Some things never change / They never fade." With mental health being unlike other illnesses that you can cure or go on a tried and tested path to recovery on, is mental health something that society needs to normalise as being a life-long journey? Something that people do struggle with their whole lives?
DANIELLE: Yes.
ESTE: Absolutely we do. I mean, I'll be open and honest, I'm on an SSRI [selective serotonin reuptake inhibitor]. And I love my SSRI. I'm very thankful for my SSRI. But is there a stigma attached to it? I know that it makes me feel better and it makes functioning in life easier for me and it takes away the cloudiness that I was experiencing for a very, very, very long time. And so I'm thankful for it. But do I feel judged sometimes when speaking about it? Absolutely. And I think it's dumb. But yeah, we on this record, especially like we've talked about, we know how tough it can be mentally. And I think that also comes with growing up. The world can sometimes be a really confusing place and wrapping your head around that can sometimes be hard and debilitating, and you kind of end up spiralling and it's hard to get out of it sometimes. However, we're lucky we have each other to kind of pick each other up and check in with each other and make sure that we're okay. It's a lot like quarantine. I wake up in the morning and call Danielle and Alana and make sure that they're okay: Do they seem okay? 'What's going on? What's new? What did you dream about?' We're basically doing the same shit in quarantine that we were doing when we weren't in quarantine.
CDM: You also say, "Friday hits and I feel like wasting everybody's time / When Sunday comes they expect me to shine." Is there a societal pressure on people to 'get happy'? And to stay 'happy'?
DANIELLE: Yes.
ALANA: Yeah, and I think that's directly what Danielle is actually speaking on in that lyric - you don't want to feel like a downer. We don't want to feel down, but sometimes the people around you are like, "Come on, snap out of it." Sometimes you just can't and then you feel bad. There are times where you just have to feel the feelings that you're feeling. When we last saw each other, you asked me to take a polaroid and to write advice to myself. I remember writing, "Never be afraid to show your emotions." And honestly, I still feel that way.
ESTE: It's okay. It's okay to feel that way.
CDM: This is a safe space.
HAIM <in unison>: Yes!
CDM: "Now I get scared for reasons I don't know, is it just because I ain't tough enough to be alone," you ask in 'Leaning On You' from the new album. We're so fearless when we're young and then at some stage the world becomes a really scary place. As we grow older, does the way we understand fear change?
ALANA: Oh yeah.
DANIELLE: Of course.
ALANA: For sure. When you're young, that's exactly it, you're fearless and you have such a crazy beautiful outlook on life, and then you grow older. And life happens. Different pressures, like, 'I don't have my parents taking care of me any more, I'm my own human, I make my own decisions.' You grow up and there's things that get into your brain. Like, now I have to pay bills.
DANIELLE: But also, even in our business [lives]... some of the things that come across your desk about your own business. You're like, 'Wait! This is happening?!' We've talked about finding out that we were getting paid much less than a band that was comparable to our level of whatever. We were getting paid one-tenth of their fee and it's just like, 'What?!' A lot of stuff just feels unfair. It's still shocking.
ESTE: And the lack of transparency around that is shocking.
DANIELLE: Yeah.
CDM: Is that lack of transparency one of the things that you think needs to change about the music industry?
ALANA: Oh yeah, 100%.
ESTE: It is one of the things that need to change, I don't think it's the most important thing that needs to change, but I do think that the treatment of women in this industry, in general, is the thing that needs to get better. And not just performers and singers and songwriters, but engineers and producers and lighting designers. The whole shebang. Hell, there needs to be more opportunities for women as engineers and as producers. And like you said at the beginning of this interview, I'm so proud of Danielle for co-producing this record. I'm so proud of my sister. And she's so incredible. And we're lucky that we have the luxury of being like, 'Nope, our sister's also going to help produce this record.' But some women don't necessarily get enough opportunity to be able to step into a position like that. And it's little things, like walking into a guitar shop--
DANIELLE: And feeling intimidated.
ESTE: Feeling intimidated! And being asked, if it's for my boyfriend. It's little things like that, that add up over time where you start to lose confidence that it's even possible to be taken seriously. I think that's really what needs to change.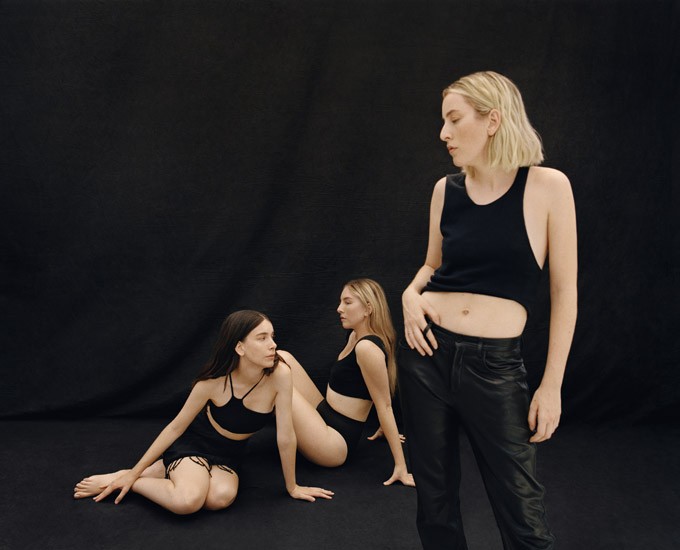 CDM: I'd already been thinking a lot about sympathy versus empathy lately, and then I listened to 'Man From The Magazine' today. It was like you'd read my mind. Have you ever found that when you are trying to explain your experiences as women in the music industry to a man that they might show sympathy, but don't convey any empathy?
DANIELLE: Oh yeah.
ESTE: Yeah. <laughs drily> And I think we still experience that even now. Maybe three or four days ago we were being interviewed by a male rock journalist and we had just gone through explaining why we called our record 'Women In Music Pt. III' and the kind of tongue in cheek aspect of it and why it's so important to us. Then he started asking us about [our song] '3am' and he was like, "I really love the bassline. Who played it?"
ALANA: We were like, "What?!"
ESTE: I was like, "Was there a misprint in the credits? Like, does it say someone else?" And he was like, "No, no, no, I haven't even seen the credits, I just wanted to know who played bass on it."
DANIELLE: We were like: "Este. Next question. We play our instruments."
ALANA: Este is our favourite bass player.
ESTE: I played my instruments on this record, and the record before that, and on the first record ['Days Are Gone']. It's crazy. Still to this day.
CDM: Every woman we know, they all have a 'music-industry-man' story. I for one once got told by a male publicist that I wasn't smart enough to interview a male musician. What advice would you give to any woman who is so frustrated with the music industry she's maybe thinking that it's just not worth it anymore?
ALANA: Oh my god, don't fucking say that shit--
ESTE: Fuck that guy. Send me his address.
ALANA: Fuck that guy! We've been told so many times in our careers that we would not be able to do what we're doing right now, and we've always felt that we didn't belong because we were women. I really do think it's just not taking that shit and making sure that you are on the path that you want to be on. Carve your own path and just follow it and don't let anyone deter you from that path.
ESTE: I'm so bummed to hear that happened. That makes me so mad.
ALANA: I am so angry.
CDM: I was similarly enraged for you, when I heard you say, "Man from the magazine, what did you say? / Do you make the same faces in bed?" You shouldn't have to grin and bear it.
DANIELLE: No. No!
ESTE: Yeah. Like, if I had a nickel for every time I went to Guitar Center and was asked if I was buying a bass for my boyfriend, I wouldn't have to do music anymore. But I definitely won't give up.
CDM: We've got to talk about 'The Steps'. I love this song! So much. And some of my favourite 2020 lyrics: "And every day I wake up and I make money for myself / And though we share a bed, you know that I don't need your help."
ALANA: That lyric kind of came from being in bed with people in business. "Every day I wake up and I make money for myself..." We kind of wrote that lyric being like, whomever you get into bed with business-wise, they need to trust you. It's hard to fucking scream, like, "I got this! Trust me, this is my career. This is what I want to do." And it's frustrating when you don't get the love and respect back, and they're like, "No, no, no, I got you." Like, "No, I fucking got you. You don't fucking understand. I got this!" We've always been a three-woman show. We've always been the CEOs of our company. And honestly, all we need from the people around us is just support. That's kind of where that song came from, just frustration and being like, <shouts> "Just so you know! Every day I wake up and I make money for myself!"
CDM: "You say there's no stupid questions only stupid people, well I've been feeling pretty foolish trying to get myself through this," you say in 'I've Been Down'. Is there a tendency for people to invalidate other people's feelings? Or even for yourself to invalidate your own feelings?
DANIELLE: For sure. "I've been feeling pretty foolish trying to get myself through this..." I feel so incredibly lucky that we get to do what we do, but there's a lot of times where I feel guilty for being kind of in a dark place because I feel so thankful for our careers. We're so lucky that we get to do this, but then I come home from tour. Being sad about it, I'm like, 'You should be happy, you just came off an amazing tour.' And even though I am, I have both these feelings of feeling guilty for feeling bad, if that makes sense?
ALANA: Also, it's coming to terms with your brain. Your brain literally has a mind of its own. There are times where I feel the way that I feel and I don't understand why. And you have to understand that you go through these things and it's out of your control sometimes. It's not like you can be, 'I'm gonna feel this way today.' Sometimes you just wake up and you have a feeling and you wrack your brain being like, 'Why am I feeling like this? Maybe I shouldn't be feeling like this. Why am I like this?' But that's just how it is. And you can't control it sometimes. It's just all the chemicals and things working in your body. It just kind of happens.
ESTE: That's why Zoloft is so great. <laughs>
CDM: It's very relatable when you say in 'Gasoline' that, "You know I get sad and I can't look past what I'm sad about." Is sadness the most all-consuming human emotion?
ESTE: Sadness and anger. And sometimes I think they're very interchangeable. You know the scene in 'Something's Gotta Give' when Diane Keaton is crying and laughing at the same time? That's how I feel sometimes.
ALANA: That's me 90% of the time.
ESTE: Joni Mitchell, she said it best [in her song 'People's Parties']: "Laughing and crying / You know it's the same release."
CDM: When you ask, "Can you help me out?" in 'I've Been Down', it feels like a turning point in the album, like you've had the epiphany that it isn't a show of weakness to ask other people for help. Do you think that's an important thing for people to learn?
DANIELLE: Totally. And that song was the last song we wrote on our album, so it shows an arc in the way that we were feeling. I've said it before, but I seeked out therapy and a therapist, and it did take me a minute to get there, even when I was super down and depressed. Everything was just so foggy, I didn't really understand what was going on. And it wasn't until people around me were like, 'I think you need help,' that I was like, 'Yes.' I'm so thankful that everyone around me was very gentle with me, but once I asked for help, it's like you start to get yourself out of that hole.
CDM: 'Now I'm In It' is a great reminder of the importance of being a good friend to yourself.
DANIELLE: I still work on that daily. It's really, really hard to do that. But yeah, it's something that I work on daily.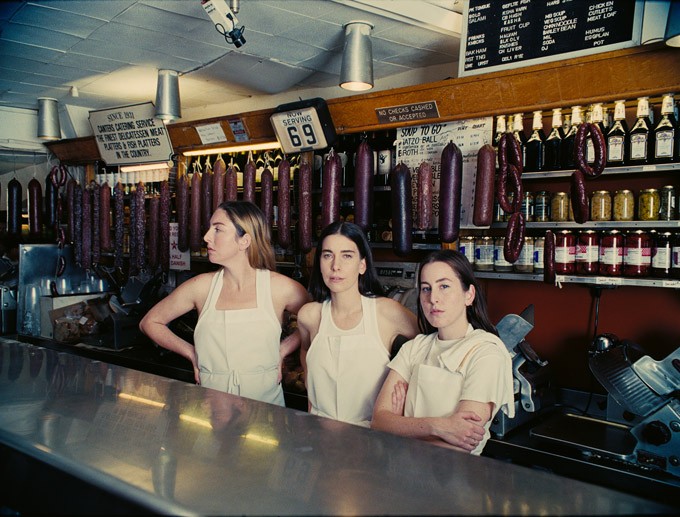 CDM: And 'All That Ever Mattered' is the ultimate self-worth anthem. I love when you say, "I'm not something that you can buy." Have any of you ever done a love languages quiz?
ESTE: Yes! Of course.
ALANA: Este, what's your love language?
ESTE: My love language is Time Spent. But most of my partners, and I think this might just be like men in general, but I find that for most men their love language is Acts Of Service. I don't care... I don't care! I want to be able to sit with you and talk with you and get deep with you. I'm such an emo kid. I need to be able to speak in Rilo Kiley lyrics to you. That's the language we need to speak, and you screwing in a light bulb for me isn't really going to make me feel like you love me. So, that's my love language.
ALANA: I need to take my love language quiz. You need to send me the quiz.
ESTE: It's a whole book. I'll send it to you.
ALANA: I'm so down. I would love to know what my love language is.
ESTE: I think yours is also Time Spent, Lanz.
DANIELLE: Is there one that's like Words Of Affirmation?
CDM: There's five: Words Of Affirmation, Quality Time, Receiving Gifts, Acts Of Service, and Physical Touch.
ESTE: Quality Time is my thing. If you give me time and you're sitting with me and we're connecting, I'm like, 'Awww this person adores me.'
ALANA: I'm definitely not a gift person. I don't like getting gifts.
CDM: I like giving gifts but I don't like receiving gifts.
ESTE: I don't like receiving gifts.
ALANA: I don't like receiving gifts, I get really uncomfortable. I just feel uncomfortable whenever someone gives me a gift. I probably am whatever Este is. We're probably all the same. <laughs> I'll take gifts any time from you though.
DANIELLE: You know what the thing is? I actually miss your gifts though.
ESTE: Important information.
ALANA: I miss you! You're the best gift.
CDM: When the world is okay again and we are next reunited...
ALANA: The cake-pops. I will never forget.
CDM: 'Don't Wanna' is another one of my favourite songs on the new album. Do you consider yourself to be a true romantic when it comes to relationships? Or a realist?
ALANA: I'm a romantic.
DANIELLE: I think I'm a romantic too.
ESTE: As I'm getting older, I'm becoming more of a realist... but I'm still a romantic. I mean, my sisters and I, our favourite thing to do as sisters is watch old rom-coms.
ALANA: Yes!
ESTE: Do you have a favourite rom-com?
CDM: I've been watching a lot of Tom Hanks' back catalogue at the moment.
ESTE: That's exactly what I've been doing! 'Big', 'Sleepless In Seattle', 'You've Got Mail'...
DANIELLE: 'You've Got Mail' is so good.
ALANA: Meg Ryan is a fucking boss.
CDM: But they don't make rom-coms like they used to anymore.
ALANA: I know!
DANIELLE: Literally, that is my biggest gripe. Like, why can't anyone make a good rom-com?
ESTE: I know. I know! And it's literally our favourite thing to do as sisters.
ALANA: I've just been dreaming of rom-com stories during quarantine. None of them are good. But maybe one day...
ESTE: There's going to be so many quarantine rom-coms that come out in the next couple of years.
CDM: Alana, pitch me a quarantine rom-com.
ALANA: The typical one is, you meet a guy at a bar and you have a one night stand, and you're like, 'Cool, we're probably not gonna do this again because we're so different.' And then quarantine happens! You have to stay together for months! And then they fall in love, or maybe they break up, but they have to stay in the same house! You can't leave! It's endless jokes, honestly.
ESTE: Endless jokes! Comedy ensues.
ALANA: And then it ends in a Zoom wedding.
ESTE: There we go.
ALANA: I'm just spitballing here.
ESTE: I would watch that movie.
DANIELLE: I'd watch it.
ESTE: One of them's really clean, one of them's really messy--
ALANA: Comedy! Already!
ESTE: One of them's vegan, one of them's keto...
ALANA: The possibilities are endless.
ESTE: Endless!
CDM: You're wasted on the music industry. The film industry needs you more.
DANIELLE: Tell me about it.
ESTE: Honestly, get me in the room. Get me in a meeting.
CDM: Back to 'Don't Wanna' quickly, are there certain things you look for when feeling like you don't want to yet give up on someone? Or is it just a gut feeling?
ESTE: I think it's a case-by-case basis.
ALANA: That song goes through a relationship - meeting someone new and then trying to figure it out. I mean, I still to this day have no fucking clue what I'm doing when it comes to dating or being in a relationship.
ESTE: How are you supposed to know? How?!
ALANA: We were all interviewed about 'The Wire' today, and they were like, 'So are you still bad at communication?' Yes, incredibly bad! I am awful at communication still to this day and we wrote it in 2008. I am awful at communicating! It's feeling out how to act with a new person and kind of falling in love and figuring it out.
ESTE: Again: I don't know how you're supposed to know who's the one. How do you know? How are you supposed to know?! Tell me. If someone could just tell me how you're supposed to know that the one is the one? I'm so confused.
CDM: Do you believe in destiny and fate? That if you're meant to be you will be? Or do you think relationships require real work to succeed?
ALANA: I think it's both.
ESTE: The latter.
ALANA: I think it's both! My parents met on a blind date. My mom's best friend and my dad's best friend were like, you guys should meet, and then the rest is kind of history. Do I think that everything was rainbows and daisies? No, relationships are insanely hard. You have to work at a relationship and you have to be able to fucking communicate, which is something I need to work on. It really does take work. You're two separate people. You're different people with different lives and you come together and you have to be able to compromise and kind of get it together. Really, I do think that it's a little bit of both and when you find the right person, it's still super hard but you figure it out together.
CDM: It's funny you just mentioned 'The Wire'. Last time we saw each other, one of the things we talked about was the running theme of miscommunication, from 'The Wire' to 'Something To Tell You', and now on 'The Steps' you say rather relatably, "I can't understand why you don't understand me." What life lessons about communication have you learnt since I last saw you all?
ALANA: Oh god. I think what I've learned about myself is that I'm a Sagittarius. I'm a very fiery person and I have full fire in my belly. And I think what I've learned in the 28 years of my life is that in relationships there are some times where you need to just calm down and just listen. I've had to learn to do that. Maybe that's just in relationships. I feel like in business, you can't tell people to do that.
DANIELLE: I think there's some Scorpio there too.
ALANA: Yeah, I'm a Scorpio Rising / Sagittarius Sun. I'm fully at 100 all the time. But as I said before, I'm still terrible at communicating. If anyone wants to send me a pamphlet on how to communicate better... maybe that's the journey.
CDM: When we reunite we'll also do tarot readings and then spend forever analysing everything about each other.
DANIELLE: Yes!
ALANA: I would love that!
DANIELLE: RSVP yes.
ESTE: Oh my god, I love a tarot reading. I love The Cards.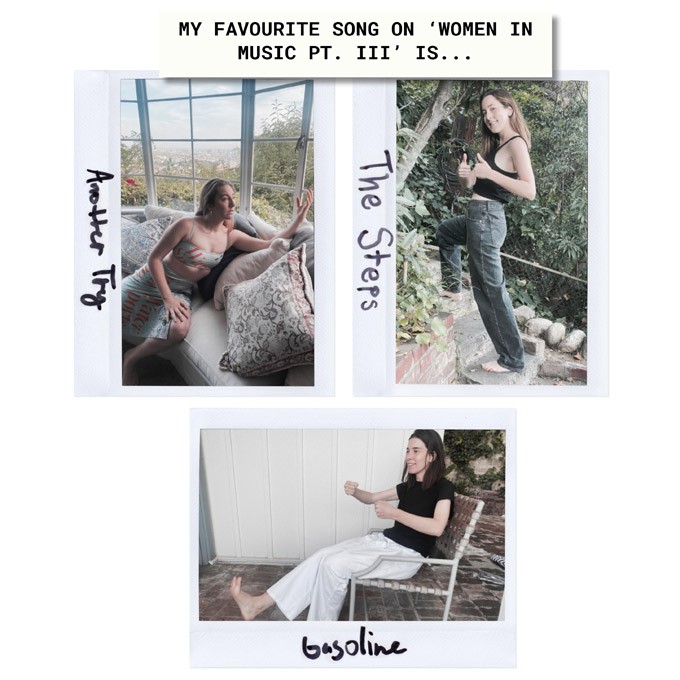 This interview has been edited and condensed for clarity.
Haim's new album 'Women In Music Pt. III' is out this Friday, June 26.
Watch 'The Steps' music video below...