Review: Harry Styles - Mt Smart Stadium, March 2023.
Review: Harry Styles - Mt Smart Stadium, March 2023.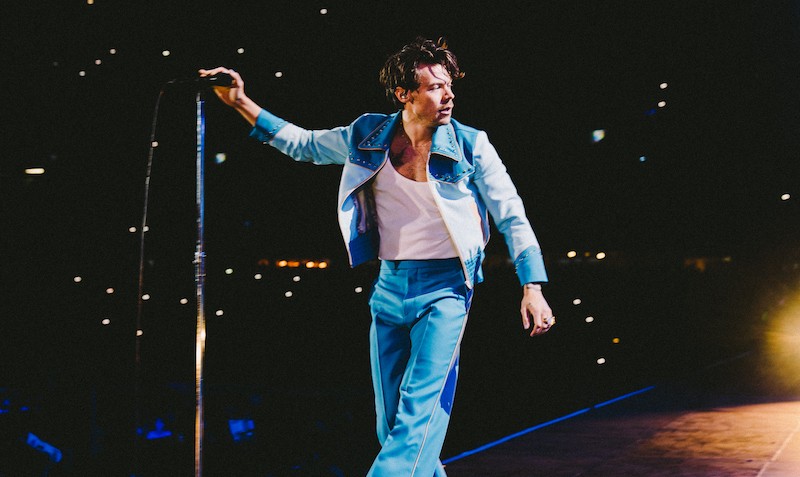 "She's dressed as a banana," announced a delighted Harry Styles, launching into an impromptu riff-off which involved the commendation of fans dressed as fruits or vegetables (fondly referred to as 'The Banana Song' by fans, or 'She's Dressed As A Banana'). "Is there anyone dressed as an aubergine? / No there's not /  No aubergine / There is not an aubergine / You're not dressed as an aubergine / But you've got watermelon on your head / You're dressed up as a clown instead..." This was a night where anything could happen with Styles as a host, and with the adoring crowd having waited five long years for his return to New Zealand, everyone in attendance at Mt. Smart Stadium knew that the Auckland leg of Love On Tour would be a night to remember (and cherish) forever.
The crowd roaring as Styles skipped on stage to the beginning of 'Music For A Sushi Restaurant', the entire stadium was immediately up on their feet dancing - the atmosphere absolutely electric.
After a boisterous rendition of the New Zealand folk song, 'Tūtira Mai Ngā Iwi', Styles warmly welcomed 47,000 attendees: "Good evening people of Auckland! And surrounding areas! My name is Harry. Thank you for such a warm welcome back to New Zealand! It is a pleasure to be able to play for you tonight." An incredibly energetic and playful performer, it was impossible not to have a good time when you could tell that Styles was having just as much fun as his feather boa and cowboy-hat decked out audience. The vibes were contagious.
And the question on everyone's minds: Did Styles fill in the New Zealand census? After thanking the opening acts, Ny Oh and Wet Leg, Styles last night asked in reference to a tweet Coup De Main had posted asking the New Zealand Census 2023 Twitter account if he would have to take part in the census: "And also, did everyone do the census thing?" With his signature droll wit, Styles confirmed that he had indeed filled it out, but warning fans that he would have to stop the show if anyone attending hadn't complied.
Since his last visit to New Zealand, Styles has released two albums - 'Fine Line' and 'Harry's House'. While the setlist mostly favoured newer cuts, 'Golden' and 'Adore You' were highlights of the night, along with the unreleased fan-favourite, 'Medicine'.
'Satellite', 'Daylight', and 'Late Night Talking' showcased fun moments from his Grammy and Brit award-winning Album Of The Year, with 'Treat People With Kindness' inspiring a fan-choreographed 'boot scoot' dance in the floor area, and a cover of One Direction's 'What Make You Beautiful' a classy moment of nostalgia and reminder of how far the 29-year-old popstar has come since his days working at the W. Mandeville Bakery in Holmes Chapel.
While most of Styles' setlist was buoyant and upbeat, the mood drastically changed for more emotional songs, 'Matilda' and 'Little Freak.' Fans hugged their friends and tears were streaming.
The night then took an interesting turn when Styles began to read out some of the signs fans had made - including one that stated they had "sold their cat's leg to be here." Another fan who was going through a break-up due to not being prioritised by their ex, was turned into a teaching moment for all, with Styles advising: "Don't be a Michael!"
It's clear how much Styles cares about his fans, and especially enjoys his time in New Zealand. Before closing out the show, he invited fans to "be free to do whatever you want to do with the rest of your evening. Until... We return! Which will be... I'm not sure yet. However! I hope it's not as long as last time!"
Set List:
Music For A Sushi Restaurant
Golden
Adore You
Tūtira Mai Ngā Iwi
Keep Driving
Daylight
Woman
Matilda
Little Freak
Satellite
Cinema
Treat People With Kindness
What Makes You Beautiful [One Direction cover]
Late Night Talking
Watermelon Sugar
Love Of My Life
Encore:
Sign Of The Times
Medicine
She's Dressed As A Banana
As It Was
Kiwi
As the sun disappeared and the temperature dropped our favourite band from the Isle of Wight, Wet Leg, were the perfect choice to warm up the crowd, with an incredible performance featuring almost the entirety of their self-titled debut album - and a new song that is yet to be released! "I'm in really good spirits because we get to go to Hobbiton tomorrow, which is like a lifelong goal of ours," lead vocalist, Rhian Teasdale, revealed as the band chatted with the crowd. And as to be expected, the band's longest and loudest scream during 'Ur Mum' set up a frenetic tone for the evening.
Wet Leg Set List:
Being In Love
Wet Dream
Supermarket
Convincing
Obvious
Oh No
Ur Mum
Too Late Now
Angelica
Chaise Longue
Load next