Interview: BFF with 5 Seconds Of Summer!
Interview: BFF with 5 Seconds Of Summer!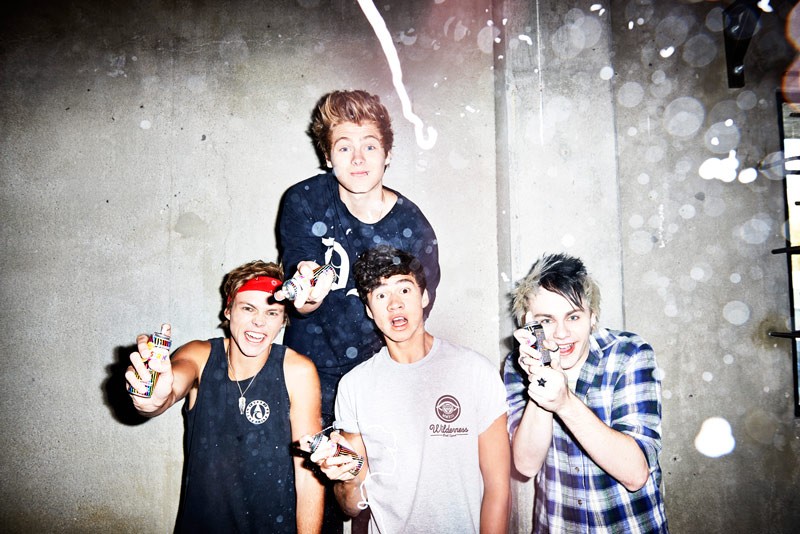 "I thought we already were…" is basically the best reply I could ever receive after asking Michael Clifford from 5 Seconds Of Summer if we could be best friends. Even after only chatting to him and Luke Hemmings for all of seven minutes, it's clear I have found the key to their hearts. The Australian four-piece may give off the true rocker vibe [complete with thigh-hugging skinny jeans, vintage band singlets and the all important 'just-got-out-of-bed' hair], but there's one thing that crumbles their hard-core exterior… My Little Pony. Of course, as a serious journalist, I already knew this going into the interview and had donned a My Little Pony singlet specially for the occasion. Slightly cringing as I decided to inform them of this fact, Michael's reaction took me somewhat by surprise - "I have My Little Pony underwear!" And thus, a beautiful new friendship was born.
Having just come off the stage from the Sheffield leg of their UK headline tour, the band have gained quite the cult following in the last twelve months. After being announced as the opening act for One Direction's worldwide 'Take Me Home' tour, the boys have skyrocketed into fangirl [and fanboy] worthy status - however, riding on the coattails of the beloved British boyband is definitely not 5 Seconds Of Summer's game-plan.
Since the start of 2014, Luke, Michael, Calum and Ashton, have already kicked off a UK tour, sold out their North American and Canada tour, had their newest single 'She Looks So Perfect' debut at #1 on the iTunes charts of 41 countries, had their EP go to Number Three on the US iTunes album chart on pre-orders alone, and just top to it all off the music video for their single gained over a million views in its first 24 hours. And hey, it's only just the start of March.
Putting all that aside, Coup De Main had more pressing matters to discuss. They may be currently caught up in a whirlwind of publicity, touring, recording and screaming fans, but the lads were more than relieved to chat about Pokemon. And video games. And Vegemite, Niall Horan, their emotional love for Nandos, dressing up as superheroes, an undying love for Jack Black and throwing a Teenage Mutant Ninja Turtles party. It's just all in a days work for a band who are making it clear that their five seconds of fame isn't coming to an end anytime soon.
"I think the day we collaborated with Alex [Gaskarth] was probably one of the best days of my life… He's one of my biggest idols and it was just so crazy… I never thought I'd be in this position."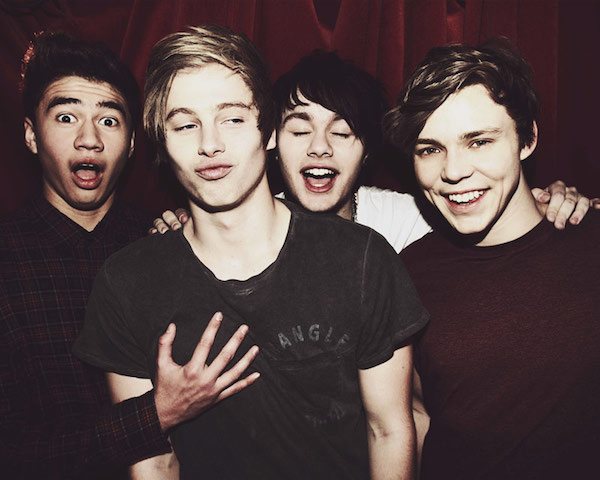 COUP DE MAIN: First of all, we have something VERY important thing to celebrate. 'She Looks So Perfect' debuted at #1 on iTunes in New Zealand!
5 SECONDS OF SUMMER - MICHAEL CLIFFORD: Yeah, so badass! Thank you.
CDM: What's the traditional 5SOS way of celebrating something like that?
LUKE HEMMINGS: Definitely, Nandos. A big group hug and then Nandos.
MICHAEL: Or you know how like in TV shows they stand still in the air when they high-five? Yeah, it's like that.
CDM: It's been so cool watching you guys in the last year go from when you played your show at Zeal in Auckland which Jamie McDell opened, and then seeing you guys open for One Direction and taking over the world. Has it been a really fun last year?
LUKE: Yeah, it's been an incredible last year. I dunno, I'm not sure we've taken over the world yet! We're working on it, but this year's been amazing for us. We've really grown for sure.
CDM: Can we just talk about the 'She Looks So Perfect' music video for a second? It was released this morning and was written and directed by Ketchup the dog AND has an old lady stripping off in a supermarket - what more could anyone want in a music video?!
MICHAEL: <laughs> Exactly!
LUKE: Thank you for understanding!
CDM: Talk us through the craziness…
MICHAEL: I guess we were just looking around for ideas for the video stuff, and the director Frank - I mean Ketchup <laughs> - he came to us with this idea of the song just making people want to take their clothes off or something? And we were like…
LUKE: That is awesome.
MICHAEL: …Alright, that's amazing! And we like nudity, so we're in.
CDM: And just for people who don't know who Ketchup the dog is, can you explain a little about his history?
LUKE: We stayed in a house in LA, and there was like this plastic dog thing? I don't really know what it was. We named him Ketchup and…<laughs> this sounds really bad! The fans kind of know the dog as Ketchup.
MICHAEL: And then one of the fans stole Ketchup!
CDM: Oh no! I didn't know that!
MICHAEL: Yeah, he was taken away.
CDM: We're now going to play a game of 'True or False?'. I'll read out a statement and you tell me if it's true or false... After the release of 'She Looks So Perfect', 5 Seconds Of Summer now get a free lifetime's supply of American Apparel underwear.
MICHAEL: Oh false! American Apparel… I don't think they like us. I think they're annoyed at us.
CDM: Michael's ever-changing rainbow hair is the source of all his magical powers.
LUKE: True.
CDM: Ashton's fingers are so long because he once lied and they grew like Pinocchio's nose. 
MICHAEL: <laughs> I just want to say true, because that would be awesome!
LUKE: Yeah, I'm gonna go with true.
 
CDM: Luke won the 5SOS Pizza Hut ice-cream eating competition, after eating seventeen bowls of ice-cream.
MICHAEL: <laughs> That is definitely true!
LUKE: True! And I am so proud of that.
CDM: Michael is a Pokemon in human form.
LUKE: I dunno?
MICHAEL: I dunno. I want to say true because that would be so cool, but I don't think I am. I just wish I was.
LUKE: False, but hoping one day…
CDM: Let's just go with true…
MICHAEL: Yeah! True, true. Done.
CDM: Luke is going to marry Mila Kunis.
LUKE: Awww man. I wanna say true.
MICHAEL: Ha! Aw man.
LUKE: I wanna say true so bad, but I can't.
MICHAEL: False. Sorry buddy. 
CDM: Michael wishes he were a character in the video game 'BioShock'.
LUKE: Oh my god, how do you know that?
MICHAEL: I don't even know how you know that! But yes, true! It sounds weird but I wish I was Elizabeth. I don't understand how you know all these things!
CDM: Thorough research of your Instagrams…
MICHAEL: Oh right! Hardcore.
LUKE: Nice!
CDM: And true or false: Vegemite is your kryptonite.
LUKE: No, that's definitely false. Vegemite is a loved thing in 5SOS.
MICHAEL: Yeah, we have a tub of Vegemite always. We actually have it on our rider now for all our shows! There's always Vegemite around. I don't know how they get it here 'cuz they don't have it in the UK?
LUKE: It's a tough life.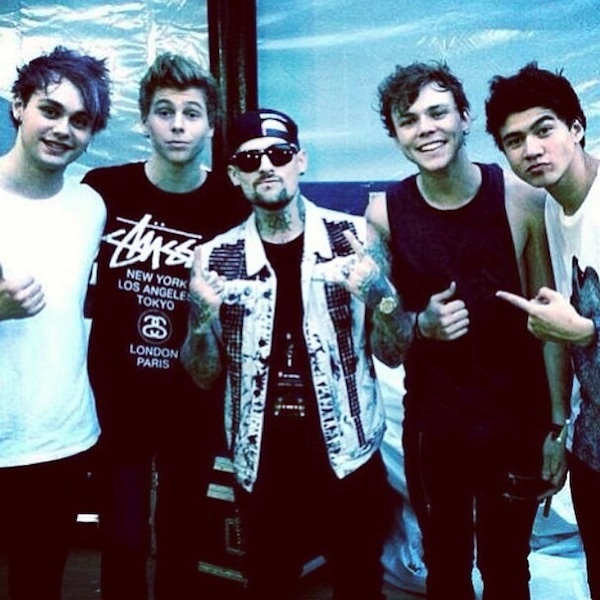 CDM: Your debut album is on its way! What was it like writing and collaborating with the likes of Alex Gaskarth from All Time Low, as well as Benji and Joel Madden from Good Charlotte?
MICHAEL: I think the day we collaborated with Alex was probably one of the best days of my life. I still think about it. I still remember his face. He's such a beautiful man.
LUKE: You were so nervous.
MICHAEL: He's one of my biggest idols and it was just so crazy. Now we're all friends with him and he's so supportive of us and it's just crazy. I never thought I'd be in this position. Luke's first concert that he went to was Good Charlotte, so collab-ing with Benji and Joel was insane. They're iconic dudes.
LUKE: They're super nice as well.
CDM: How does the 5 Seconds Of Summer songwriting process work?
LUKE: We usually go to write with other people and we'll go in groups of two, so for instance me and Michael will go to a songwriting session, and then Calum and Ashton will go to one. We usually come with an idea to write about or the people that we're writing with will have an idea, and then we'll try and build a song from that.
CDM: Can you give us any clue as to what kind of sound or vibe the album is going to have?
LUKE: I think the single 'She Looks So Perfect' that we released kind of gives a good idea where the album's heading.
CDM: When's it actually coming out? When are we actually going to be able to hear it?!
LUKE: I don't want to say soon… because the fans get upset when we say soon!
MICHAEL: We say soon a lot!
CDM: We've been given strict instructions from fans to not let you say soon!
LUKE: <laughs>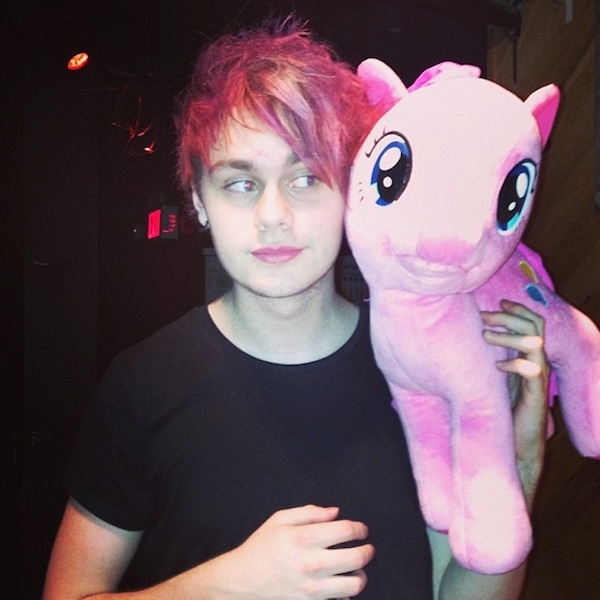 CDM: You also posted a picture on your Twitter of a My Little Pony figurine sitting on top of the speakers at your Sheffield gig. Amazing. Is it a concert mascot?
LUKE: <laughs> I think fans throw those on stage and I think we just kind of embrace it.
MICHAEL: We've got certain things that members of our crew always take with them. That little guy, someone put a 5 Seconds Of Summer shirt on him, and we always bring him around. We name them.
CDM: What's his name?
MICHAEL: I can't remember his name. I think his name was Derpy. This sounds really stupid, we sound like we're five!
CDM: No you don't! I'm even wearing a My Little Pony top today, just for you.
MICHAEL: Really?! I have My Little Pony underwear!
CDM: That's amazing - can we be best friends?
MICHAEL: Yeah! I thought we already were...
CDM: You toured with One Direction last year - did the boys give you any advice or words of wisdom?
MICHAEL: Yeah! They were always really supportive and we learnt a lot from them.
LUKE: I think we observed how they work and their work ethic.
MICHAEL: Yeah, they work hard.
LUKE: They work very hard. They take it very seriously, but at the same time they have a lot of fun on the road with everything they do.
CDM: And guys, come on, that thirty minute set opening for 1D just wasn't enough - when are you coming back to visit us?! Because you can't go forgetting us now, especially considering that Calum is one of us…
MICAHEL: <laughs> I promise, we are coming back soon! We have been talking recently about an Australia/New Zealand tour and stuff, so it should be really soon. We LOVE New Zealand. I have been staring at these two brownies this whole interview and they look sooo good!
LUKE: They do, yeah.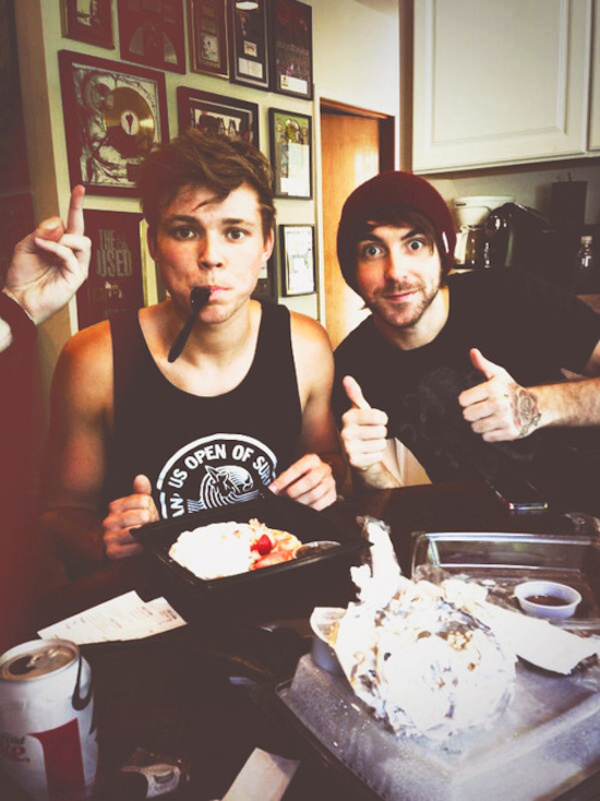 CDM: You can eat them soon, promise. Game time now, again. Would you rather have Lou Teasdale become the fifth member of 5SOS, or Niall Horan be your hairstylist?
LUKE: <excited noise> Yes! I love this game.
MICHAEL: I dunno if Niall would be able to do my hair very good...
LUKE: But I think that Niall's such a lad that it wouldn't even matter. We could have the worst hair, but we'd have a great time.
MICHAEL: Yeah having him around… but then, nah, I'd love to have Lou in the band. I think we both have conflicting opinions - I'm gonna say I wish Lou was in and Luke's gonna say Niall as hairstylist.
CDM: Would you rather forever perform in superhero costumes, or jungle animal onesies?
MICHAEL: I think superhero costumes are pretty badass.
LUKE: I'd consider doing that for shows anyway.
MICHAEL: I would love to be in one all the time, like if that was a fashion statement.
LUKE: If that was socially acceptable, I would be in a superhero costume all the time.
MICHAEL: I don't think you'd be able to get me out of one!
LUKE: You'd just feel better.
MICHAEL: That's what i'm gonna do! I'm gonna make my own superhero costume. Thank you.
CDM: What's your superhero gonna be?
MICHAEL: Oh. Awesome Guy. Awesome Man. I dunno. I'm working on it! i just thought of it!
LUKE: That is the worst name ever!
MICHAEL: That's because I just thought of it ten seconds ago! It'll come, don't worry. You'll be the first to know.
CDM: Would you rather have a Nandos Black Card or an endless supply of pizza whenever you wanted it?
LUKE: Nandos black card.
MICHAEL: Nandos. I mean… I just get emotional when I think about Nandos.
CDM: Would you rather eat five pickled onions, or wear crocs on stage for one show?
MICHAEL: Crocs.
LUKE: Crocs on stage.
MICHAEL: I was the only person who didn't eat a pickled onion, and I was scared just from going near it.
LUKE: Yeah, they look like eyeballs.
CDM: Would you rather be related to Kurt Cobain or Dave Grohl?
LUKE: Oh!
MICHAEL: Ahhh what!
LUKE: You can't ask that!
CDM: I just did.
LUKE: I think I'm gonna have to go Dave Grohl, because he'll know about the Foo Fighters and Nirvana.
MICHAEL: Yeah. Yeah, I mean I'm sorry but Dave Grohl. He's just so awesome.
LUKE: I'd definitely cry if I met Dave Grohl.
MICHAEL: Oh, Dave! <laughs>
CDM: What do you feel are each of your spirit animals?
LUKE: Can they be any type of animal? Can they be a made-up animal?
MICHAEL: I'm gonna think about it for a second.
LUKE: I think I'd be a giraffe or a whale.
MICHAEL: Why would you be a whale?
LUKE: I think I'd be a whale because I could be the big fish in a small pond.
MICHAEL: Yeah, that would be nice. I'd love to have little fish.
LUKE: I think that would be great.
MICHAEL: I think I'd be some sort of majestical creature like a… actually maybe I'd be the Paper Clip Guy from Microsoft Word.
LUKE: "Can I help you with that?" <laughs>
MICHAEL: <laughs> Yeah! That's all I'd be I reckon.
LUKE: Everyone hates that guy!
MICHAEL: No, no, no - I'm gonna change my answer! I don't like that guy.
LUKE: Be a dog. Be normal.
MICHAEL: No! I'm gonna be a flying… I'm gonna be an Albatross. No, that's not my spirit animal. Pikachu. I'm gonna be Pikachu. I'm done. Pikachu.
CDM: A friendship-crush is someone you have no romantic interest in, but just really wish you were best friends with. Who would be each of your top three friendship-crushes, living or dead?
MICHAEL: Such a great question by the way…
LUKE: Will Smith, for sure. Will Smith, hands down. He is my friendship-crush. I've never heard of a friendship-crush before.
MICHAEL: This is so great! There's just too many Gods running through… you keep going. Finish all yours.
LUKE: No I'm happy. I'm content with Will Smith.
MICHAEL: <laughs> My top three would probably be… I'd pick Bruno Mars.
LUKE: That's a good one.
MICHAEL: He would just be badass to be friends with. I feel like he'd be really nice. Who's that other guy that we were saying would be really nice? Bob Marley! Far out. He would just be nice. They're kind of both the same aren't they… no, alright I'm gonna pick a cooler one. Jack Black! Please, Jack Black. Jack Black, please be friends with me.
CDM: Solid choices. How about we make you a deal? If you come back to NZ, we'll throw you a Teenage Mutant Ninja Turtles welcome back party with compulsory ninja turtles costumes.
MICHAEL: That is the best thing you could ever do!
LUKE: Yeah. We haven't worn Teenage Mutant Ninja Turtle costumes for ages, because there's four of us in the band and we each have our own spirit turtle.
MICHAEL: That's who my spirit animal is - Michelangelo.
CDM: We'll make it happen. IF you keep your promise.
MICHAEL: Yes! Thank you so much by the way!
LUKE: Yeah, thank you so much.
CDM: Thank you for talking to us today! Enjoy your brownies and then go to bed - it must be late for you guys now!
MICHAEL: Thank you so much! I appreciate it!
5 Seconds Of Summer's debut single, 'She Looks So Perfect', is out now on iTunes. Click HERE to purchase.
Load next