Interview: Hinds on their upcoming debut album, 'Leave Me Alone'.
Interview: Hinds on their upcoming debut album, 'Leave Me Alone'.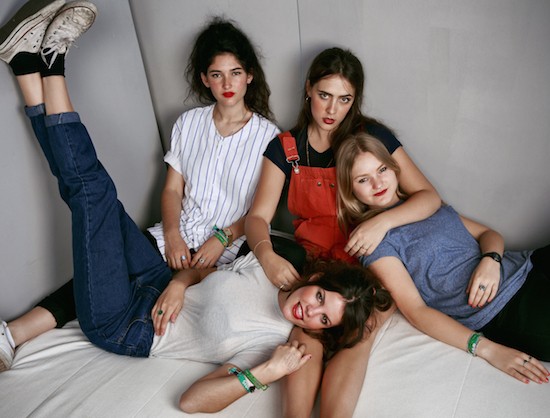 Hinds' debut album 'Leave Me Alone' will leave us waiting until January 2016 to finally experience the foursome's first full-length effort. In the meantime, they have toured America and Europe and created a legion of fans who can't get enough of their fuzzy, sunny tunes, or the group's infectious disposition. Videos like 'Bamboo' display the dream team at their best - kookily embarking on adventures that are cleverly retold through music. Originally from Madrid, the band can easily make any stage and any city their home.
Carlotta, Ana, Amber, and Ade have created a lo-fi, garage rock inspired sound that's both reminiscent of their inspirations and mentors, The Parrots, but also uniquely their own. They can distill teenage adventures and lovelorn platitudes in poppy beats and sly lyrics, keeping you dancing and thinking all the while.
The band set aside some time to answer our questions via e-mail while on tour...
"We like to keep our music messy and sincere - so we are perfectionists on imperfections..."
COUP DE MAIN: Congrats on heading out on the UK tour! Have you noticed big differences between audiences in different countries?
HINDS: Thanks!! Hell yeah! There's a huge difference between countries. Spain and America are more similar - audience gets crazier. Europe is divided on 50% people dancing and 50% listening happily haha.
CDM: You're finishing the production of your debut album. What are the biggest influences for the new stuff?
HINDS: Mmmm I think it's the same guys that inspired us for the first songs!! Loads of Mac DeMarco, Black Lips and Devendra, but also Glass Animals, Fat Whites, 'Twin Peaks'.
CDM: One of my favourite songs of yours is 'Between Cans'. I read that it's about your time living together as a group of friends and your (sometimes drunken) adventures. What's the best part of working and touring with a group of friends your age?
HINDS: Hahaha no! That's 'Trippy Gum!' 'Between Cans' is about a love story in a dirty house. The best part is just that. Being real friends, in the good parts and the bad parts. We all love music, to party, to meet new people and meet our idols, watching bands, getting free beer in festivals, travelling... lalala.
CDM: There's a lot of talk about making space for women in rock. Have you ever felt underestimated or condescended to because of your gender?
HINDS: Yes we have...! But what people are wrong about, is thinking that the music industry itself is sexist. If we have ever felt  underestimated, it was coming from the audience, or people's comments on the Internet. It's that side of the industry that discriminates us because of being women, never promoters, festivals etc.
CDM: Do you think gender equality exists or doesn't exist? 
HINDS: It doesn't exist. Yet.
CDM: You recently collaborated on a 7" with The Parrots for Burger Records. How did that project come about? 
HINDS: It just came from the love we all have for each other hahah. We've been friends for so many years, and we have all grown up admiring Burger Records. They have shown us 70% of what we listen to now. So doing a split with our best friends on that label sounded just awesome :)
CDM: You recorded 'Barn' in one day with Diego Garcia from The Parrots. What's your strategy for going into recordings? Are you perfectionists?
HINDS: We recorded the DEMO with Diego in one afternoon. But we recorded 'BARN' in Berlin in 7 hours with a German guy. Then we asked Diego to please mix that mess hahah. We are perfectionists because we really, really think about the recordings, but we hate auto-tuning and editing songs too much. We like to record as much as possible live, the four of us. And we kind of like mistakes on the vocals - we like hearing breaths, laughs and mistakes that come just that way. We like to keep our music messy and sincere - so we are perfectionists on imperfections, if that makes any sense to you haha.
CDM: The video for 'Bamboo' was so unique and fun. It really showed your individual personalities and your collective vibe. Who came up with the idea?
HINDS: Us... as always haha. All the videos we've done so far were directed by us, and some of them also by Alex Delucas (The Parrots' bass player!!), and edited by Carlotta.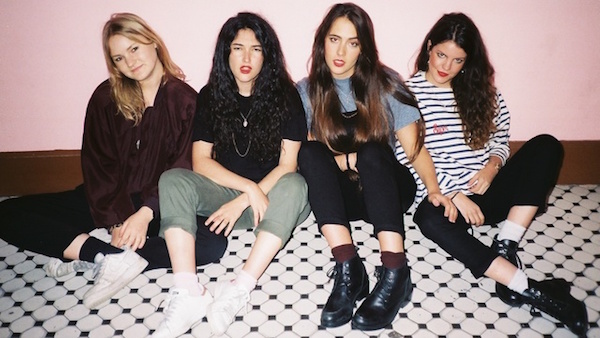 CDM: Your motto is "our shit, our rules." Is it ever hard to convince labels or producers to go along with your vision? What are your 'rules' for making a distinctively Hinds song?
HINDS: We feel very lucky in this way because everyone that is working with us, really trusts us, and knew that motto before signing with us haha. If you are in Hinds' team it's because you trust Hinds. But we also know we are very young, and we always consider labels, booking agents and our manager's opinion, because experience is so wise in this messy industry! (But yes, we fight, friendly, almost every week haha).
CDM: The band started in Madrid, which isn't known for having a super famous garage-rock scene. What about your hometown inspires your music?
HINDS: Madrid is still our favourite city in the world. Everything is so cheap, people are happy, open - we live on the streets, with our friends drinking cans! Plus even if it's not a big scene, it has obviously made us be what we are. Los Nastys and The Parrots were important role-models for us, and still are!
CDM: What are your pre-show rituals? 
HINDS: Beer.
Watch the 'Chili Town' music video below...
Load next