Interview: Bleachers' Jack Antonoff on his upcoming New Zealand debut.
Interview: Bleachers' Jack Antonoff on his upcoming New Zealand debut.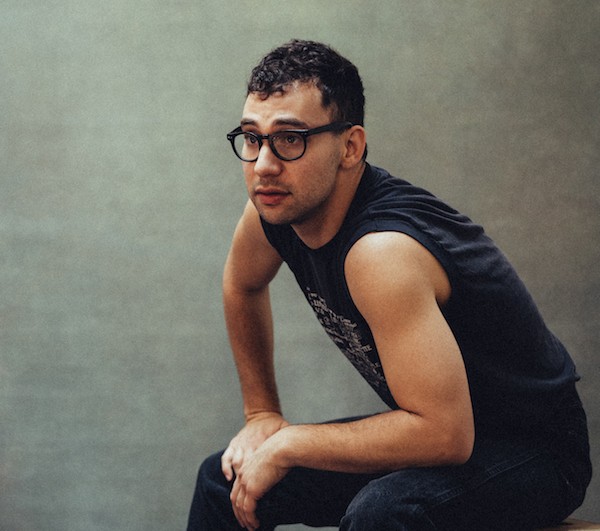 Armed with one of our favourite albums of 2017 ('Gone Now', I'm looking at you), Jack Antonoff's project Bleachers will finally make their New Zealand debut next week - supporting Paramore's Tour Four at Spark Arena on February 13th.
We caught up with Jack ahead of his first ever show in New Zealand to talk about his live show, being on 'Sesame Street', and more…
COUP DE MAIN: Back in April last year you promised us that you would come to New Zealand with this Bleachers album cycle - and you've come through on that promise, with the announcement that you're coming to support Paramore's tour. Are you excited to be coming to New Zealand for the first time as Bleachers?
JACK ANTONOFF: Yeah, I'm over the moon about it.
CDM: Is there anything you want specifically to do or see in New Zealand, if you have any time off?
JACK: We'll it's the end of the tour so I'm gonna gonna spend a couple of days there and I really just want to write music in New Zealand. So I think I'll just want to be in my hotel or my studio and see what happens when I write down there.
CDM: And you have reason to come even more than the tour, as you have a Silver Scroll award waiting for you.
JACK: I know, it's such a big deal, I'm so incredibly excited. <laughs> It doesn't feel normal.
CDM: Very important question, will Rick Antonoff be coming with you? I want to witness some deal-making happen from New Zealand!
JACK: I think there's honestly a good chance. My parents don't ask me anymore if they can visit, they just show up. So I'll probably find out a couple days before, but I would say a good 60-70% chance he'll come and bring his bizarre energy to your country. It's a lot. <laughs>
CDM: What was it like being on 'Sesame Street' earlier this week?! Did you get to meet all the characters?
JACK: Oh that was the coolest. That was the first time in my career that I thought I'd made it. The first and only time. It was really emotional and it was really intense because I grew up on that. It's a huge part of growing up, it feels like the one thing that everybody shares is 'Sesame Street' and I've always thought that everyone they've had on 'Sesame Street' must have done something right, so it makes me feel like it's all downhill from 'Sesame Street'. There's really nothing else I want to do… except for coming to New Zealand! I'm really happy I'm doing that. My plan is to come and do these shows supporting Paramore, then I want to come back pretty soon after and do some shows, that's what I'm hoping I do.
CDM: I was lucky enough to see you live at Governors Ball in New York last year, and it was truly one the best live shows I've seen in such a long time. 'Gone Now' is such a truly personal and intimate record, but in a live space it has this amazing energy about it - how did you go about bringing these songs you created in your apartment, to a live setting?
JACK: Thank you so much. When that time comes, it's a really intense process. I sit with the band and we go through the songs and we think - because you don't want the live show to sound like the album, you want it to be something totally new. So we go through the recording and we say, "Alright, let's lose these parts and let's make these parts even more exciting." That's basically what live is, you just pick a couple parts and you say, 'Let's feature these, this song is about this….' There's always other things going on in the album but it's really about, 'This vocal range right here, so let's make this the main focus for the live show.' It also changes when people hear it and react to it, you can have an idea of what you wanna do but once you start playing it you realise, 'Oh, this is the part that means a lot to people,' so let's focus on this part. I don't know if fans realise that, but they play a huge role in shaping the live shows. We are constantly looking at what's working and what people are reacting to and then that's the stuff you gravitate towards.
CDM: Another important question, can you please play 'Goodmorning' down in New Zealand? It's one of my favourites from 'Gone Now'.
JACK: I will do my best to remember that, it's one of my favourites also.
CDM: One thing I vividly remember from my interview with you earlier this year was when you likened 'Gone Now' to a house, explaining that different songs were like different rooms in a house, serving a different purpose. So I thought we could go through a couple of 'Gone Now' songs and you could maybe describe what type of room you think they would represent?
JACK: 'Don't Take The Money' is definitely the front door, that's why it was the first single. Not only because it was the first single, but also it slightly suggests what is in the house. Like, if you went past a house with a strange red door you get an idea of, 'Oh, what could be in there?', so it doesn't give it away but it tells you a little bit of what's gonna happen there. The attic is definitely 'Foreign Girls' because everything about that is all of these weird thoughts and sounds that you wouldn't put out in your kitchen or your bedroom but you might leave up in the attic. It's all of these strange feelings that you want people to see but you don't want them to see all the time. 'Goodmorning' is the kitchen for some reason, even though I talk about a bedroom a lot in that song it feels like a space you would spend a lot of time in and that's the song that feels very "lived in" to me. Then I would say the basement is the reprise ['I'm Ready To Move On/Mickey Mantle Reprise'] because that feels like it's just so dense and filled with all these weird things and sounds and it's just kind of like a mess like a basement. It's not meant to be tight or concise in any way. So the way you would have your living room which is well put-together you'd have a song like 'I Miss Those Days' or a song like that, where there's a statement and a feeling and it all adds up - whereas your basement you can just throw all your shit in there and not have to worry about that kind of thing.
Bleachers are supporting Paramore next Tuesday 13th February at Spark Arena - click here to purchase tickets.
Watch the 'I Miss Those Days' tour video below…
Load next