A Jimmy Eat World x 'Integrity Blues' appreciation post.
A Jimmy Eat World x 'Integrity Blues' appreciation post.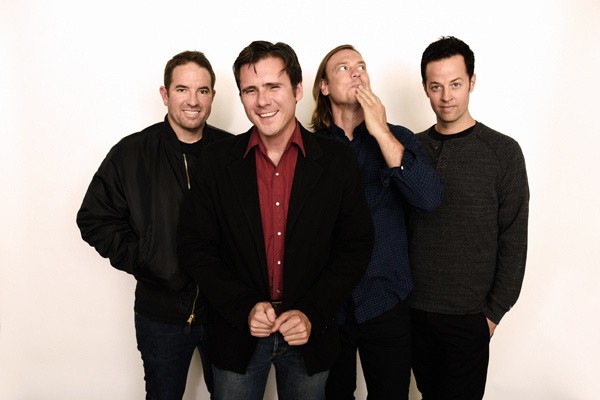 To celebrate the release of Jimmy Eat World's new album - their ninth album which is out today, FYI - we've compiled a few things that we appreciate about the long-time band.
First, here's the lowdown about the new album:
Before Jimmy Eat World entered the studio to record their ninth full-length album, Integrity Blues [RCA], the members of the multiplatinum Mesa, AZ rock band did something they've never done in over two decades.
"We took a little break," smiles lead singer and guitarist Jim Adkins.
After a successful 10th anniversary tour revisiting Futures, the musicians briefly went their separate ways at the end of 2014. Adkins released a series of 7" & embarked on his first worldwide solo tour, Lind released an EP and toured with his wife in The Wretched Desert, Linton took up boxing, and Burch opened up CaskWerks Distillery in Arizona.
When the band reconvened in November 2015, they teamed up with producer Justin Meldal-Johnsen [Paramore, M83] and began sifting through ideas.
"I came to a realization," admits Adkins. "In the break, writing was a little trickier. I wanted to change things up. So, instead of writing about a problem, I wanted to write about a solution. If you look at your life for what's going wrong, it won't be too hard to find things. If you start looking at what you have rather than what you're missing out on, you come away from things with a much different perspective that's a lot more grateful and positive. As an album, Integrity Blues is about trying to overcome that personal struggle instead of getting upset with what life could be that it isn't."
They recorded in Los Angeles with Meldal-Johnsen, offering a different setting from their usual Arizona digs.
"We became willing to throw away our default responses to everything and search for the best answers rather than relying on what was familiar or comfortable. When you're younger and you make music, you do it for discovery. Being in this for a long time, it's about throwing out all of your expectations and comforts and seeing what you can do without them."
With warm production and a powerful upbeat groove, Integrity Blues first single "Sure and Certain" pairs a buzzing guitar hum with an unshakable chant.
"It's about the idea of having blinders on for what you want to do and achieve," the frontman explains. "Since you're so laser focused on what you think you want, you're missing out on everything around you. It can be a very limiting way to go about life."
Surveying the journey thus far, Adkins maintains the same passion he did on day one, and it continues to fuel Jimmy Eat World. "I've wanted to play music since second grade, and here I am playing music. It's something we're immensely grateful for. That's why we don't take it lightly. We want to be in a constant state of progress. You have to move forward in a way that's challenging and evolving."
"At the end of the day, you have to be proud of your own work," he leaves off. "We are. If you breathe that in and believe it, you've won."
Now without further ado, here are five things that we currently appreciate about the band…
#1. Along with the announcement of the album, Jim Adkins released a letter he wrote explaining his thoughts on the new album - about being in a band for such a long time, and dealing with identity. Read it in full below: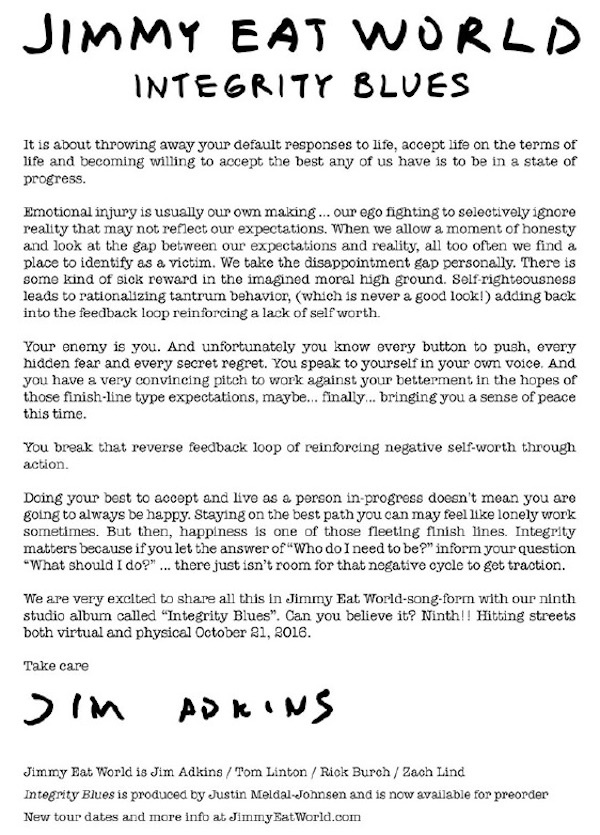 #2. Jim recently did an interview with Associated Press, talking about being a fan of music today, and being a creator of music today - and he said, "It's never been a better time in history to be a music fan." Watch the full interview:
#3. The band recently dropped an acoustic version of their single 'Sure and Certain' via their VEVO channel, and it showcases their talents immensely. Watch the performance below:
#4. In a interview with Noisey, the band also talked about the need for interviews, and whether they enjoy doing them - after 23 years as a band together. They had the following to say: "I don't know, man. You have to enjoy it, because it ends. There's gonna be a day when no-one cares, and they'll be over it."
The interview goes on to chronicle their entire career, as well as contemplate their future - to which they say, "I don't think we spend a lot of time thinking about: What are we going to be doing? How long is it going to last? I think we just take the next step."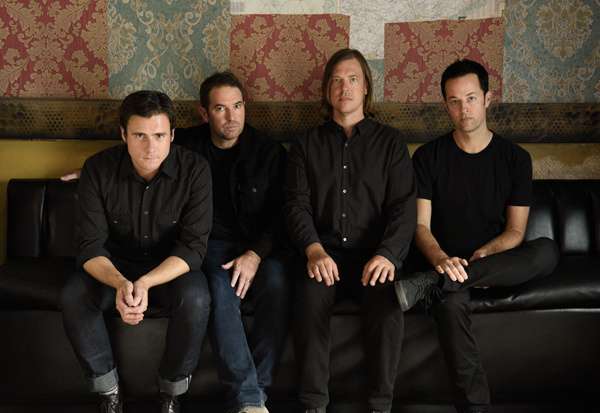 #5. If you'd forgotten about Jimmy Eat World prior to the album announcement, Taylor Swift did us a favour by including their classic song, 'The Middle', in one of her videos for Beats 1 Radio - watch below:
Jimmy Eat World's new album 'Integrity Blues' is out now - click here to purchase.
Watch the 'You Are Free' lyric video below…
P.S. Read our latest interview with Jimmy Eat World here.
Load next