Interview: Kaitlyn Dever on 'Dopesick' + the importance of more LGBTQ+ representation on-screen.
Interview: Kaitlyn Dever on 'Dopesick' + the importance of more LGBTQ+ representation on-screen.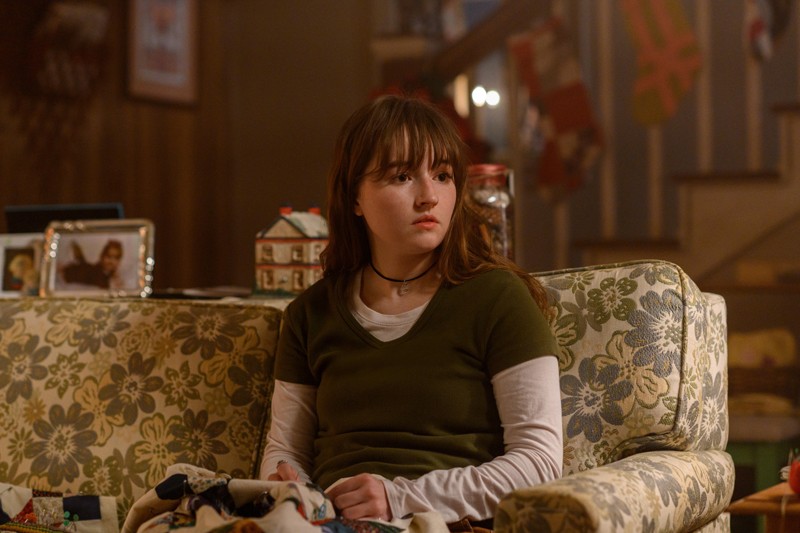 Currently shooting a new film in Australia with Julia Roberts and George Clooney, Arizona-born actress Kaitlyn Dever is enthusiastic about what she describes as her "first sort of tropical winter", now experiencing the southern hemisphere's opposite seasons. She continues: "I'm loving the project I'm working on, and it's just been a real treat. Australia has been really, really incredible. I am loving it here. I love the people. I love the weather. I'm normally really excited when winter comes around and the weather gets colder, but it's a nice change."
'Dopesick' is Dever's latest project, streaming on Disney+ in New Zealand (with new episodes on Wednesdays), in which she plays closeted coal miner Betsy Mallum who spirals into a struggle with addiction after being prescribed pain relief by her family doctor (deftly played by Michael Keaton) for a work-related back injury. Dever's character is based on an amalgamation of people that writer Danny Strong interviewed to obtain a perspective of real events, and the limited series is inspired by Beth Macy's investigative book, 'Dopesick: Dealers, Doctors and the Drug Company that Addicted America', that traces the beginning of the current opioid epidemic back to 1996 when Purdue Pharma released OxyContin - claiming that the new pills were less addictive than other opioids on the market.
Coup De Main talked to Kaitlyn Dever about the social responsibility she felt portraying Betsy in 'Dopesick', the importance of more LGBTQ+ representation on-screen, and the show's 'Gilmore Girls' connection...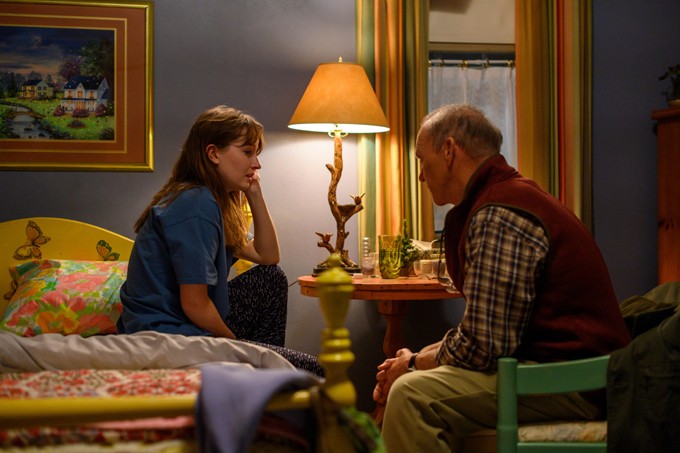 CDM: One of my friends just texted me excitedly 'cuz she realised that Danny Strong who created 'Dopesick' was on 'Gilmore Girls'. Literally everything in the world is connected.
KAITLYN DEVER: Right! It's so funny because I've actually been bingeing 'Gilmore Girls' for the first time. When Beanie [Feldstein] and I were making 'Booksmart' we would always sit in bed and watch random episodes, and I always loved doing that with her. It's her biggest obsession, 'Gilmore Girls', so I have taken the time now to fully watch it from beginning to end. I'm still in season four, but I just got to Danny Strong's character and I texted him like: "Oh, my god!" I didn't know either. I know he's done so much work as an actor, but I had no idea he was on 'Gilmore Girls', which is very cool.
CDM: Having played Marie in 'Unbelievable', now Betsy in 'Dopesick', as well as Amy from 'Booksmart', is it important to you to be involved with these projects with such strongly written women characters?
KAITLYN: Yes, I'm always trying to seek out strong female characters, and characters that I'm really, really passionate about, and stories that I ultimately think deserve to be told. I think that 'Booksmart' was such a such an important movie for people growing up in my generation, and 'Unbelievable' is such an important story that needed to be told - and a story that was definitely buried as well. And I think that with 'Dopesick', when I first read the first episode, I was aware of the opioid crisis but I was not aware of the amount of injustice that was going on at the beginning. And even now, still. Ultimately, I read that, and I read the book 'Dopesick' and I just wanted so desperately to be a part of telling that story. I was so grateful to Danny for really putting his trust in me and allowing me to take on such a such a big role. Betsy is such an important character, and an important element to the story, and I couldn't believe that he picked me to play Betsy and I'm forever grateful for that. I want to continue to find projects that start a conversation and move the needle forward in some kind of way, and really create change, and also just really allow people to learn from these shows. It's really cool that we're able to tell this story in such a big way as well, with Hulu and Disney+ and Star. It's really important.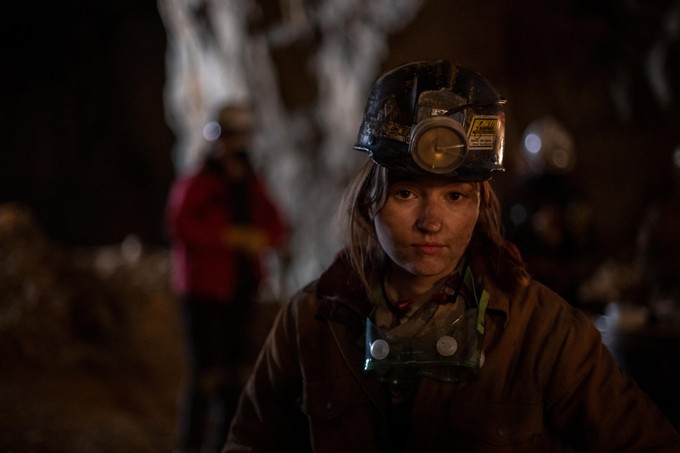 CDM: You character Betsy has a complicated storyline - from having to endure a homophobic family, to trying to prove herself as a woman working in mining, and then being prescribed OxyContin for a back injury. Someone once told me that reading books is like absorbing other people's life stories and a constant exercise in strengthening your empathy. Do you feel similarly about acting?
KAITLYN: I do. I'm so grateful that there's queer representation in this show - I think that it's so important to have, and we need more of it; as much as we can. And it's something I realised more and more, when I did 'Booksmart', and people were so grateful for the amount of queer representation in that movie. There was a queer journalist that I met along a press tour and she thanked us for making 'Booksmart' because it allowed her to see herself in a widespread movie and she didn't have to go to a tiny little theatre and seek out a tiny little indie film to see herself on-screen. The more and more we're able to make projects that allow people to see themselves on screen is so important. I definitely agree with you on being able to empathise with books and literature and art, but I think with acting, and TV, and film, we're really able to add so much humanity to these characters. Bringing this story to life on film, it just allows people to connect to these characters so much more. That is what allows people to actually really learn and soak in information, and also, again, feel seen, and to better understand what actually happened. We get close to a lot of our character's faces in this show, and with the audience watching, I think that is such an important part of connecting. And just the way the show is made is so incredible. Again, I'm just really, really happy - so, so happy to be a part of that.
CDM: I constantly feel like I'm having panic attacks while watching 'Dopesick' - either crying intensely, or shouting at my laptop screen, sometimes both at the same time. I was sort of familiar with Fentanyl and its role in the American opioid crisis, but hadn't heard of OxyContin before. There's a line in the show about "speaking for people who don't often get a voice in this country" and I feel like that resonates with how I feel about 'Dopesick'.
KAITLYN: Thank you for saying that. What was so incredible and also heartbreaking at the same time was that we were shooting this show essentially in the heart of where it started - where Purdue and the Sackler family targeted the first communities. We were shooting in Virginia, and being surrounded by that while making the show there was just really incredible. I had crew members coming up to me and sharing their story with me. After doing a take one day, I would have people coming up to me and feeling comfortable enough to share their story. It's just so powerful, and it feels so special, to allow not only one person to feel seen in that way, but several people. Now that the show has come out in the States, and it's now coming out in the world, it feels really incredible to see the reactions, not only in the States, but globally, It's an important story for everybody to see. It's been really rewarding to see the reactions that it's been getting, and people are really connecting to it in a big way.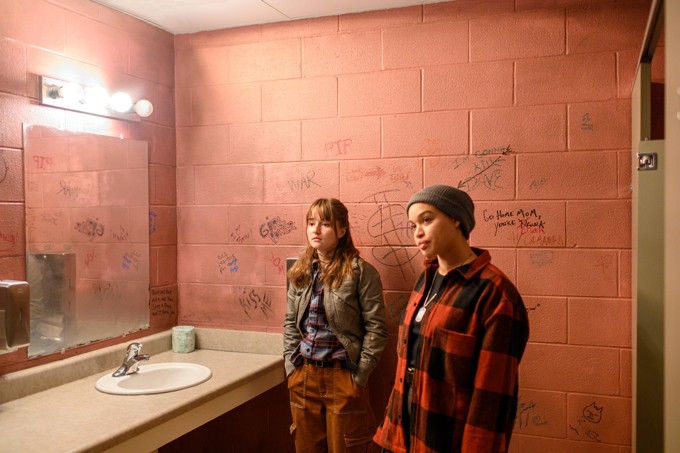 CDM: We have ACC here in New Zealand which means that everyone is covered if they're injured in an accident - whether you're working, unemployed, retired, or just a visitor to New Zealand - and the cover helps pay for treatment and recovery costs, as well as help with your income. It was really eye-opening seeing how dangerous the daily lives of these miners in these mining communities are - and how unprotected they are if anything goes wrong. Was that something you knew much about before being cast in the show?
KAITLYN: The thing that I was aware of was that it's a very hard job, just in general, and it's very difficult to take care of yourself when you're doing this kind of hard, hard labour. When I read Betsy's character, it was another element that I fell in love with because I quickly learned in character research and development that being a coal miner is a very hard job - but being a woman in that kind of workplace is also really hard. And it's a very rare thing, as well, especially at that time. I was really trying to seek out as much information as I could, but the book 'Dopesick' was really, really helpful. What was so heartbreaking is that she needed to continue working so that she could continue living her life and move on with her life, but this injury really stopped her from moving on with her life, and what stopped her even more was being prescribed Oxy. It's so heartbreaking. She literally just went to her doctor to get better, and she thought that she was going to, and then didn't. It's a really, really heartbreaking story. But I love how proud she was of being a miner; that was one of my favourite elements of her character.
CDM: Your performance is 'Dopesick' is quite physical - from the constant scratching, to some really hard-to-watch withdrawal scenes. How did you prepare for this role?
KAITLYN: There's no real set formula for preparing for this kind of thing. I took it as its own singular thing. I mean, I take pretty much everything that I do as a singular sort of entity, and this one required everything that I had. I knew from the moment I read it, I thought this is going to take a lot out of me, but it's going to be so, so worth it because we're coming together to make something really, really important and really special. I felt the weight of it immediately. And I knew that this story was so much bigger than this character, Betsy, and so much bigger than me. I had to somewhat forget about my own feelings on set, feeling tired at the end of the day and feeling exhausted, because I had to give everything I had to her - because she does represent a large, large group of victims who are affected by the opioid crisis. I put a lot of pressure on myself to get that right. And I did so much research online; I watched a lot of documentaries. When you google symptoms of opioid withdrawals, you kind of get more clinical symptoms, and I really wanted to make sure I was getting the emotional side of it right. There was someone on set that I ended up meeting that was such a crucial part of my character development, and he became a really good friend of mine, and shared a lot of similarities with Betsy and was always so open and kind with me in sharing his story. I could ask him any sort of question to make sure that I was doing it absolutely right. Going into it, I really didn't want to sugarcoat it, and that's exactly what Danny didn't want to do with this show, as well, but I also didn't want to do anything over the top. I wanted to make sure I was being as authentic and true as possible. Reading 'Dopesick' was super helpful as well, and I also made a spreadsheet so that I could see - that was the first time I've ever done that for a role - each moment in Betsy's journey, which is so different from the next. Withdrawals are so complex, and it's so not black and white, from what I've learned. I wanted to be very, very specific about those levels, and the ups and downs of her journey. With TV, you can't shoot everything in order - it would be a dream if we could, but we just couldn't. So I had to keep track of where she was in her story, and again, I wanted to be really specific about it. I made the spreadsheet so that I made sure I got every beat and every moment right.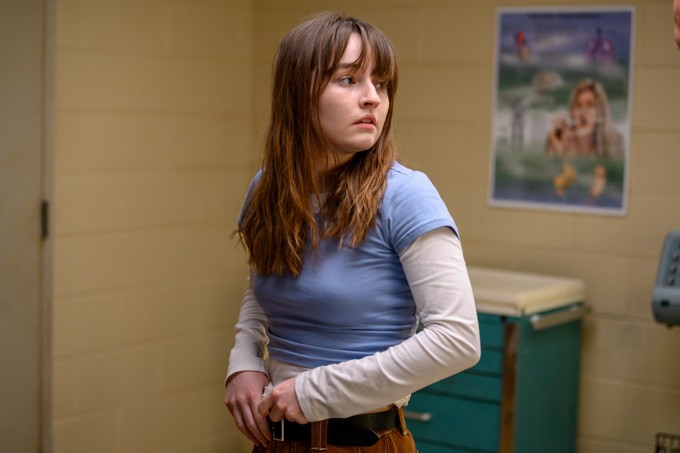 'Dopesick' is currently streaming on Disney+.
Watch a trailer below:
Load next