PSA: Young Thug added to Laneway Festival 2017 line-up.
PSA: Young Thug added to Laneway Festival 2017 line-up.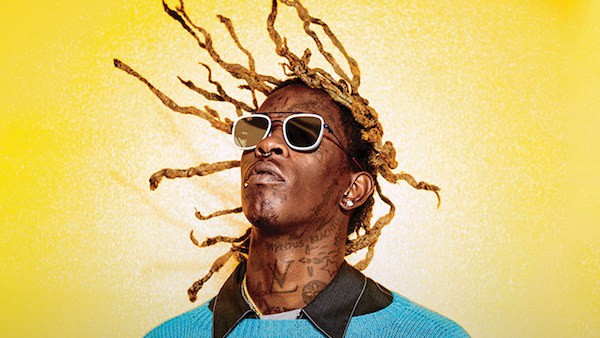 In exciting news, Young Thug has been added to the Laneway Festival line-up for 2017 - adding to the already stellar line-up of the likes of Glass Animals, AURORA, Julia Jacklin, Mick Jenkins, and more!
Here's the official info on the new addition:
"Young Thug is one of the most prolific recording artists of the moment. After knocking out collabs with hip-hop heavyweights Travis Scott, Gucci Mane, and Laneway alumni Jamie xx, Young Thug returned this year with a full body of work titled JEFFREY. The album, with huge singles 'Pick Up the Phone' (92 million streams) and 'Wyclef Jean', showcases Thug's ever-evolving, unpredictable style inspired by gender, identity, fashion, and Elton John.  
Laneway Festival New Zealand Co-Promoter Mark Kneebone says: "Young Thug is one of the most brilliant voices of his generation; knowing that we are going to have him play a twilight set in the middle of Albert Park is a wonderful thing."
Young Thug joins a list of stellar hip hop acts to play Laneway over the years including Vince Staples, Run The Jewels, Vic Mensa, Danny Brown and Earl Sweatshirt, and will play alongside Mick Jenkins and Clams Casino on the 2017 line-up.
These shows will be Young Thug's first ever shows in the region and we can't wait to have him play at Laneway 2017.
Young Thug fills the spot left by the withdrawal of The Julie Ruin, who are unable to play the festival due for medical reasons."
And if you weren't already convinced by that - check out Vince Staples' proclamation that everybody loves Young Thug in his postcard he wrote for us below:
If you needed even more convincing to love Young Thug, listen to his #OnBrand song entitled 'Harambe' below:
Laneway tickets are on sale now - click here to purchase.
Watch Young Thug's 'Webbie' music video below…
Load next