Review: Little Mix - EartH, London, November 2018.
Review: Little Mix - EartH, London, November 2018.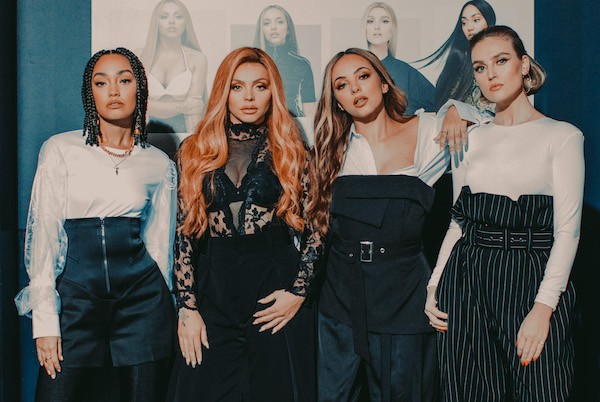 The four members of Little Mix hold each other in an impromptu group hug. Having just belted out the final notes of 'Only You', their collaboration with Cheat Codes, this spontaneous moment of unity is to comfort one of their number, Jade Thirlwall, who had to abandon her verse after she began to well up. "I had really good ad-libs, as well," she jokes.
After seven years together, and days away from the release of their fifth album, 'LM5', Little Mix are arguably the strongest they've ever been. Tonight, onstage at London's EartH (known as the Hackney Arts Centre until a couple of months ago) in an exclusive Apple Music performance being livestreamed across the globe, we see the love they have for their new music is as strong and devoted as that which they have for each other. The two coalesce on delightful new release 'Told You So', a song of friendship and comfort designed to dry tears (including Jade's) and mend hearts. It's sweet but not sickly, a foot-tapper led by strident power chords, played tonight by a live, all-female band.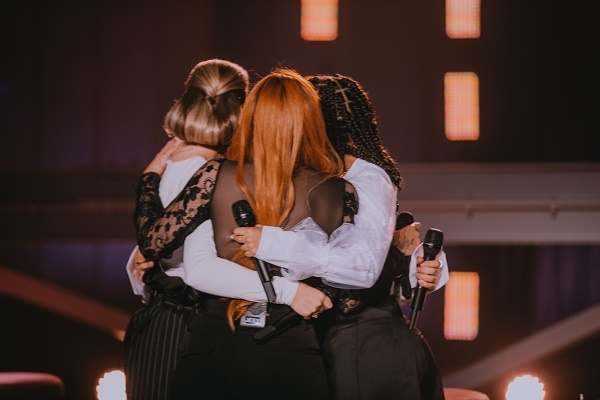 The stripped-back nature of tonight's performance allows the focus to be on the vocals. It's easy to forget that behind the huge bops and empowering messages are four incredibly talented vocalists whose harmonic abilities are completely unrivalled in pop today. Not since Destiny's Child have a group had such incredible synchronicity in their vocal power. On tonight's version of 'Touch', we hear the song as never before. Perrie Edwards's cry of "I feel like for the first time I am not faking," is suddenly a lyric of such optimism and clarity of mind, normally hidden away in the brilliant, maximalist production of the studio version. In the new arrangement, this two-year-old song is a genuine revelation.
The set they play tonight is short, just eight tracks and an exclusive performance of next single 'Strip', with nothing older than 2015's 'Black Magic', from their third album 'Get Weird'. That they don't rely on the big hits or fan favourites such as 'Wings', 'Move' and 'Power', but instead focus on the imaginative new tracks goes to show their confidence in 'LM5'. And it's justified – the slightly unorthodox wonkiness 'Joan Of Arc' works a treat and the response to 'Woman Like Me' from the few hundred fans here proves it will live on as a Little Mix classic.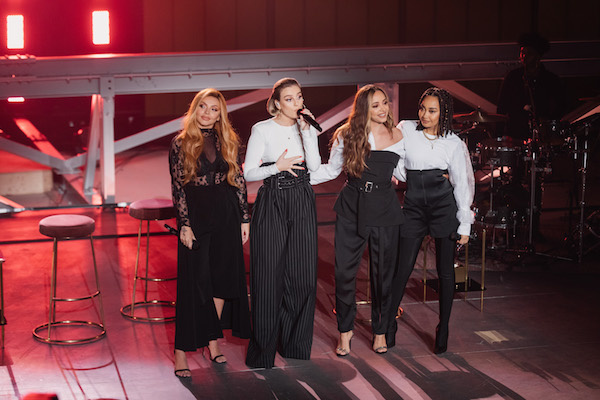 From this taster, Jesy Nelson's assertion that 'LM5' is an album written to help the listener to "feel fucking amazing about yourself" appears to be accurate. The much-teased 'Strip', which they perform with rapper Sharaya J, celebrates differences, imperfections and natural beauty. The self-love mantra of the chorus, "Finally love me naked, sexiest when I'm confident," is paired with specific references to breast size and weight, and an opportunity for Leigh-Anne Pinnock to proudly celebrate her Black heritage: "Wanna talk about colour? / It's the skin that I'm in that I got from my mama." What a delight it is to experience a song that will so clearly be a force of good in the world while also, as they say, going off. 'Strip' is a bop of the highest order, its brilliance enhanced rather than diminished by its preachiness.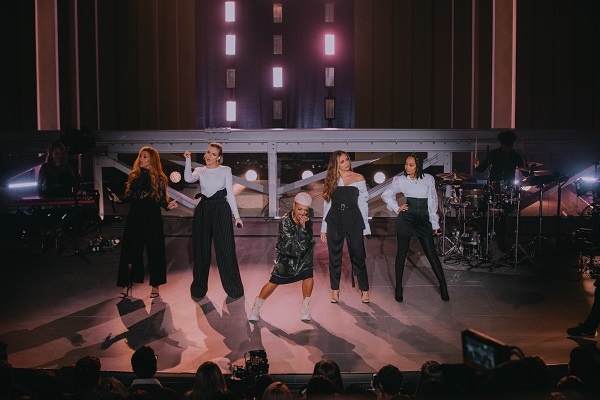 For too long, Little Mix have been dismissed by those too quick to write them off, or too snobbish to engage with their work. With 'LM5', they're no longer giving the doubters an excuse to ignore them. They have come out swinging with a selection of empowered, confident bangers that aren't shy to make a statement. As they reveal more of themselves to us, including from the stage tonight, the change they're undergoing is proving a fascinating and rewarding moment to watch. When 'LM5' drops this Friday, Little Mix will embrace their fans in a group hug, finally allowing them to get a little bit more familiar with the hearts and minds of the four girls they've loved for the past seven years.
Set List:
Shout Out To My Ex
Only You
The Cure
Joan of Arc
Told You So
Touch
Black Magic
Woman Like Me
------------------------------
Strip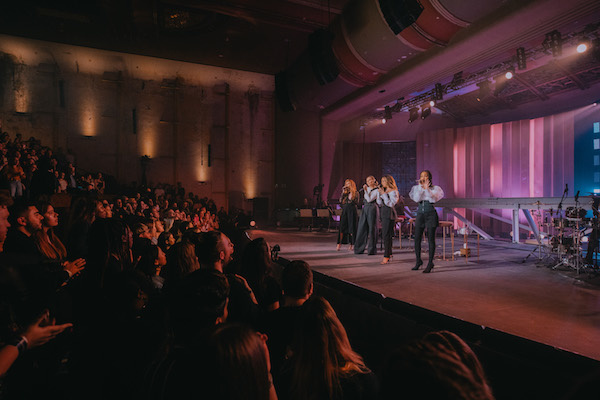 'LM5' will be released on Friday. You can watch this gig on Apple Music here and listen to 'The Cure' below.
Load next