Review: Marika Hackman - O2 Shepherd's Bush Empire, November 2017.
Review: Marika Hackman - O2 Shepherd's Bush Empire, November 2017.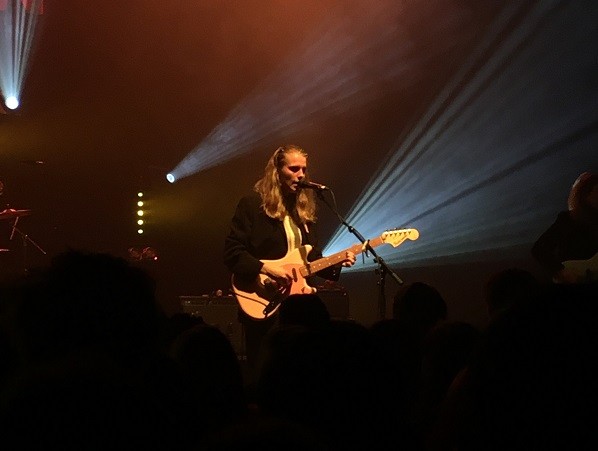 Marika Hackman seems intent on her audience having a fun night in her company. Her set opens with a huge backdrop, depicting her name and a fried egg, descending to the sound of the Universal Studios theme, leaving the audience laughing as well as cheering as she takes to the stage. There comes a moment midway through this, the final performance on her U.K. tour in support of this year's sophomore album 'I'm Not Your Man', when she needs to switch guitars, giving the floor to The Big Moon guitarist Jelly Denniston, with whom Marika tours and records, to tell a few jokes. "I would've been a doctor, but I didn't have the patients," goes one. She tells us she's been heckled on previous nights, but there's no such animosity tonight: the London audience politely chuckles along.
Her desire to keep things mostly light is evident in her setlist too. We're treated to just three cuts from debut album 'We Slept At Last', ('Ophelia', 'Open Wide', 'Animal Fear') a record that now seems morose compared to the predominantly upbeat and playful 'I'm Not Your Man'. Save for a few more 'oldies' from the EPs that preceded 'We Slept At Last', Marika sticks to the new stuff, and the crowd seems up for it, giving enthralled reactions to the opening notes of 'Time's Been Reckless' and 'My Lover Cindy'.
Marika is a formidable stage presence, in a baggy suit and white trainers. It's a striking look that's not in keeping with the aesthetic of 'I'm Not Your Man', with its playful food illustrations. Instead, we find her with her hair gelled back against her head, with heavy eye make-up. She shares smiles and laughs with her bandmates during and between songs, and her positive energy is infectious. The main bulk of her set closes with 'Boyfriend', a song that encapsulates everything Marika is as an artist: playful, humorous, flirtatous, and raucous. It's anthemic, and bound to be the most popular song of her live shows for some time.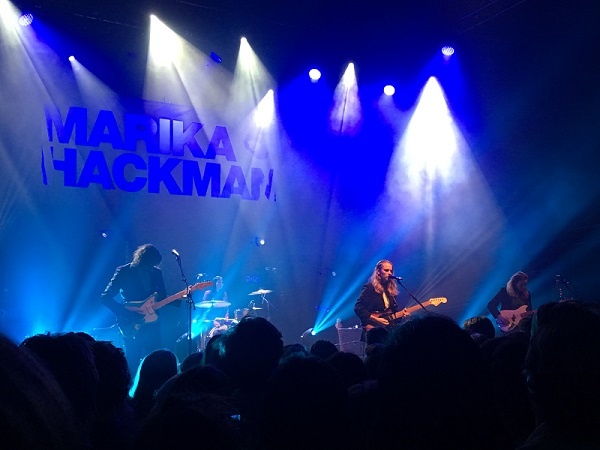 "I thought I'd make it a bit sad, because we've been having so much fun," Marika declares upon return for an encore, "and I can't stand being happy for too long." She plays 'Cigarette', a song that is more downbeat than it is upsetting, but it's a beautiful moment of stillness and calm following a high energy set. She stands alone and bathed in light, intricately plucking away as she mutters, "I tried to hold your hand but you yanked it from my grip." We're not sad, but enamoured. (It's worth noting that if she really wanted to depress us, she'd have played 'I'm Not Your Man' closer 'I'd Rather Be With Them', a truly miserable cut that is absent from tonight's setlist.)
The final number, 'Blahblahblah', is able to reach heights that the album cuts it short of, as the band thrash at their instruments, seemingly in keeping with the frustration that they lyrics convey. It's a rousing end to a joyful night, and a tour into which it seems that Marika has really been able to relax, enjoying her newest material and the response that the crowd has had to it.
Set List:
Good Intentions
Eastbound Train
My Lover Cindy
Bath is Black
Deep Green
Ophelia
So Long
Open Wide
Majesty
A World Alone
Gina's World
Animal Fear
Time's Been Reckless
Cinnamon
Boyfriend
-----------------------
Cigarette
Apple Tree
Blahblahblah
Load next