Review: Mark Ronson x Club Heartbreak London - June 2019.
Review: Mark Ronson x Club Heartbreak London - June 2019.
It's 11pm at the intimate Scala club in the heart of London's Kings Cross. Without unnecessary pretence or ceremony, Mark Ronson appears on the shadowy stage, greets the DJ, and takes over. Club Heartbreak has begun.
Attendees expecting the charismatic vibe of Ronson's 'Uptown Funk' would have been surprised but surely not disappointed; Club Heartbreak was exactly as advertised: broken promises, missed chances, and unrequited love crafted into the bangers we've come to expect from Ronson.
Ronson set the tone with Tina Turner's 'I Can't Stand The Rain' before launching into new Camila Cabello tune 'Find U Again' from his recently released fifth studio album, 'Late Night Feelings'. Next up, Change's 'Change Of Heart' was possibly a little lost on the younger crowd, but Kanye West's 'Paranoid' drew instant recognition.
Ronson's proclamation, "We might have a King Princess in the house tonight," introduced the gifted signee of Ronson's own label, who collaborated with the DJ/Producer on 'Pieces Of Us'. While fans were obviously hoping to hear a live rendition of the track, they were placated by King Princess joining Ronson on-stage to dance in a shower of broken-heart confetti as her song played.
Ronson followed up with his Lykke Li track, 'Late Night Feelings', then had everyone's hands in the air for 'I Follow Rivers'. Dua Lipa track, 'Electricity', was an apt set choice given the singer's presence (along with Charli XCX) at the gig.
The heartbreak kept rolling with a brief snippet of Jefferson Airplane's 'Somebody To Love Me' segueing into Ronson's own cover of the same song, featuring Boy George. With the crowd singing along, it was the perfect opportunity for Ronson to announce his next guest.
"I'd like to bring someone to the stage who's going to perform a song from the album… London give a fucking warm welcome to Yebba!" With 'Don't Leave Me Lonely', Yebba showcased her soaring live vocals. As Yebba departed, Ronson dropped straight into his Amy Winehouse collab 'Back To Black' - receiving the response only a London crowd can provide for the much-missed local artist.
Next was a carefully crafted tribute to the queen of heartbreak songs, Beyonce. A sample of Dawn Penn's 'You Don't Love Me' (notably featured in Beychella) led into Andy Williams' 'Can't Get Used To Loving You', the source of the original opening for Beyonce's 'Hold Up', which was the final song in Ronson's triad. When the first bars of Outkast's 'Ms. Jackson' rang out, the crowd surged in instant recognition, before easing into a state of calm for The Smiths' 'How Soon Is Now', only to be hyped up again by Ronson's now renowned remix of Lady Gaga and Bradley Cooper's 'Shallow'.
"I'd like to play something brand new off the 'Late Night Feelings' album… one of my favourite songs. Please feel free to have a good time," was Ronson's modest introduction to Angel Olsen collab 'True Blue', as silver heart balloons were released from the balcony.
Finally, Ronson broke out the most successful 'Late Night Feelings' track to date; Miley Cyrus' 'Nothing Breaks Like A Heart'. With a hoedown throwdown Cyrus sidestep, Ronson dropped in Billy Ray's 'Old Town Road', much to the crowd's delight. And he kept it in the (god)family with Dolly Parton's 'Jolene', before signing off with the ultimate heartbreak jam, Fleetwood Mac's 'Dreams'.
"I don't know if you're feeling good or you have a broken heart or what the fuck, but thank you for coming out and I'll see you soon."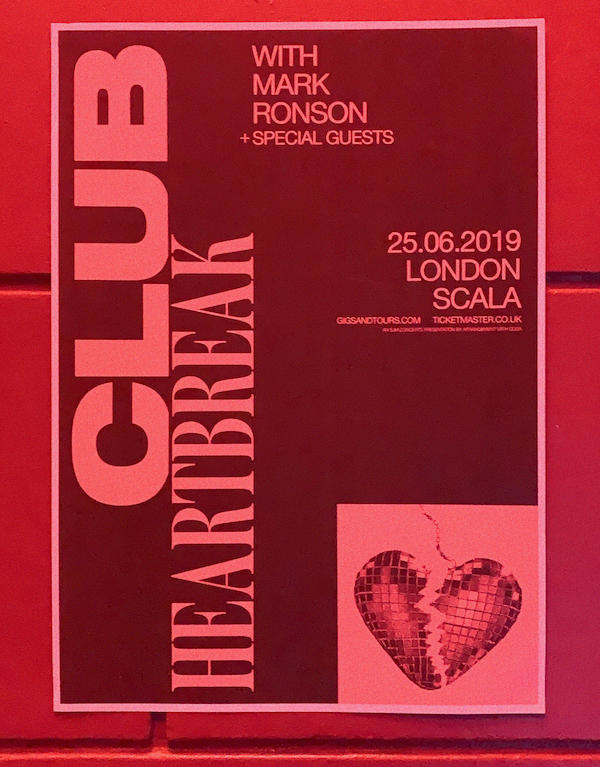 Set List:
I Can't Stand The Rain
Find You Again
Change Of Heart x Paranoid
Pieces Of Us
Late Night Feelings
I Follow Rivers
Electricity
Somebody To Love Me x Somebody To Love Me
Don't Leave Me Lonely
Back to Black
You Don't Love Me x Can't Get Used To Loving You x Hold Up
Ms Jackson x How Soon Is Now
Shallow
True Blue
Nothing Breaks Like A Heart x Old Town Road x Jolene
Dreams
Load next