Interview: Robinson on her latest single, 'Nothing To Regret'.
Interview: Robinson on her latest single, 'Nothing To Regret'.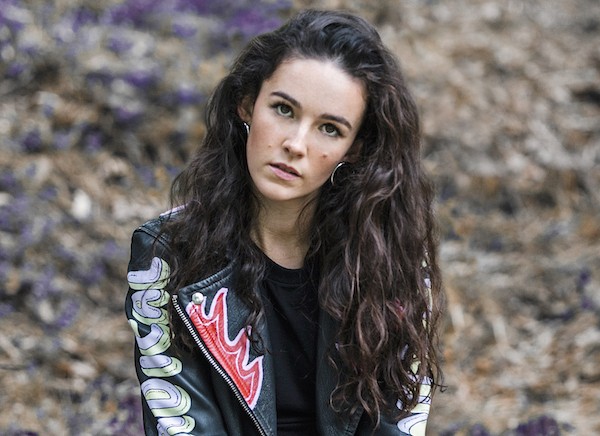 Following up singles 'Don't You Forget About Me' and 'Crave You', New Zealand artist Robinson is onto a hit with 'Nothing To Regret', her current single which has amassed over 28 million streams - as well as opening slots for the likes of Dermot Kennedy.
With writing sessions around the world under her belt, we spoke with Robinson about the song, her songwriting, musical crushes, and more…
COUP DE MAIN: We love 'Nothing To Regret', it has such an awesome sentiment to it. Why do you think it's important to encourage people to live their lives with no regrets?
ROBINSON: I think it's important to live without regrets because we may miss out on doing things, if we are always in fear of going with our gut instincts. I'm a big believer in gut instincts and truly feel often we know what's really best for us deep down. Sometimes, we may make decisions that we aren't happy or proud of... but rather than dwelling on those, I think great things can come of those situations by turning those feelings into stepping stones and keep moving forward with a positive attitude.
CDM: Is 'Nothing To Regret' lifted from an upcoming EP/album?
ROBINSON: 'Nothing To Regret' is one of many songs I've written over the past two years, so I think it's definitely moving towards an album which I'm so excited to put together.
CDM: What's your favourite song, lyrically, that you've written so far?
ROBINSON: My favourite song I've written is one I wrote a year ago in London. I absolutely adore and love London, but felt that big city feeling where everyone is 'head down' and 'straight to work,' sort of left me longing for some sense of human connection and togetherness within a big city. The song references people walking too slowly on pavements and not taking a moment to smile or look up, and the way I can allow all these people I don't know, affect my feelings so intensely.
CDM: How does your songwriting process work?
ROBINSON: My songwriting process changes every time and it's truly dependent on the mood I'm in. Sometimes, my feelings are really clouded and confusing and it takes a minute to work through them... but often, I'll be sitting there playing around with chords and it all sort of pours out when the right combination is found of chords and melody, to create a home for this particular feeling. Other times, it starts in the studio with a producer, sometimes a sound can inspire something!
CDM: What other New Zealand musicians are you a fan of currently?
ROBINSON: New Zealand has so much incredible music. I saw October live on K Road and thought she was mesmerising!
YOU WILL LIKE MY MUSIC, IF YOU LIKE... Sad stories, disguised as happy songs!
IF YOU ONLY LISTEN TO ONE OF MY SONGS, YOU SHOULD LISTEN TO... 'Nothing To Regret'.
WATCH THIS VIDEO, BECAUSE... INSIGHT INTO MY REAL-LIFE LIVING ROOM DANCING!
MY TOP FIVE MUSICAL CRUSHES ARE... Jeff Buckley, Liz Frazer, Rihanna, Donald Glover and Kendrick Lamar.
YOU KNOW YOU'VE MADE IT WHEN... Elton John says your name!!
CDM: If you were to curate your own music festival, who would you want to play and what would the festival be called?
ROBINSON: Hmmmmm that's so hard! I think I'd call it 'ROBS RAVE' and I'd want Rihanna, Childish Gambino, Kendrick Llamar, SZA, Tove Styrke, Dua Lipa, Bon Iver, Sigrid, Daniel Caesar & YEBBA. Pretty ambitious lineup huh?
CDM: What's the most despicable thing you've ever done?
ROBINSON: When I was super young, my Year 1 teacher told me to put the jar on the lolly lid and I couldn't resist and shoved a bunch of lollies in my mouth. I was so focused on the lollies and was fighting between eating some and putting them back, that the whole class had left on a field trip and I had been locked out of the classroom... so I banged on the door and the teacher came and got me. I had bad dreams about it for a week.
CDM: If you could pick any five people (living or dead) to be in your entourage, who would you choose?
ROBINSON: Will Smith, Rihanna, Donald Glover, Maggie Smith and Robin Williams.
CDM: Do you believe in magic?
ROBINSON: Yes!  
CDM: What is your spirit animal?
ROBINSON: My spirit animal is a baby giraffe hahaha. They always look so inquisitive about life and I think if they could talk they would ask lots of questions... just like me haha.
CDM: If you could steal one thing without consequence what would it be?
ROBINSON: Nothing! I learnt my lesson from my lolly days!
CDM: What is the most heroic thing that you've ever done?
ROBINSON: The most heroic thing I've ever done is stick up for myself against an old neighbour who used to bully the kids in the neighbourhood! He was an awful person.
CDM: What is your first proper memory, ever?
ROBINSON: I remember my grandma giving me a bottle of this roll-on moisturiser when I was younger and putting it all over myself, until later realising it was roll-on deodorant hahaha.
CDM: If you were a country, what would be your national anthem?
ROBINSON: Destiny's Child - 'Survivor'.
CDM: Stretch your right arm out as far as you can reach, what can you touch?
ROBINSON: My guitar, believe it or not, we're meant to be hehe.
Watch Robinson's 'Nothing To Regret' music video below…
Load next