Review: Outside Lands Festival 2016.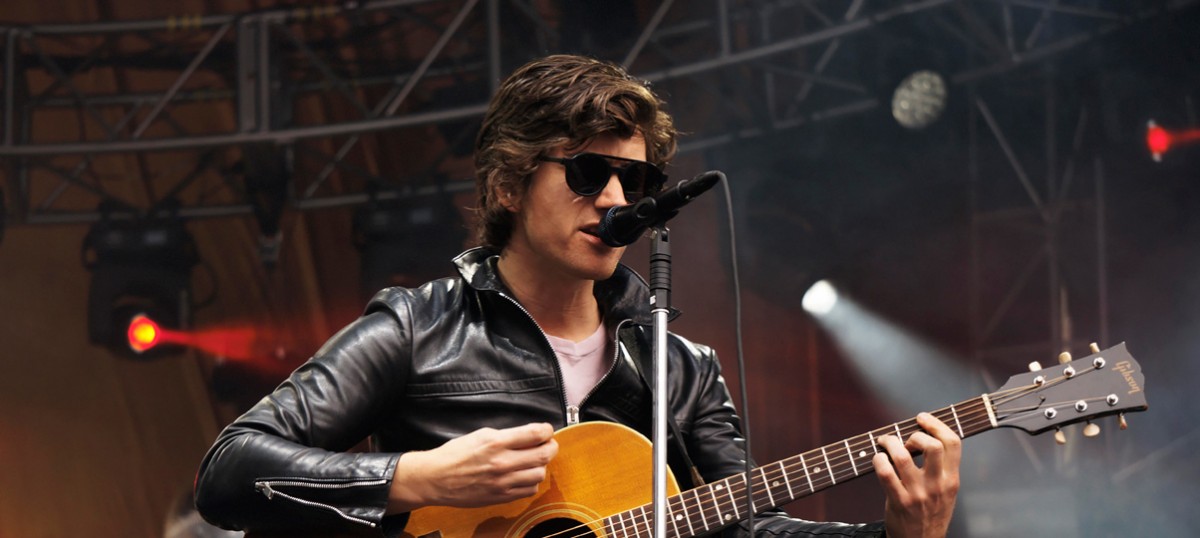 Outside Lands Festival is held annually in San Francisco's Golden Gate Park, drawing an enormous crowd of approximately 60,000 attendees per day, and in 2016 they all came to see the likes of Lana Del Rey, LCD Soundsystem, Radiohead, The Last Shadow Puppets, Halsey, and more.
But the festival isn't just about music, with local San Francisco culinary delights, as well as specific areas dedicated to your favourite types of food - Cheese Lands and Choco Lands are definitely the places to be.
Check out our thoughts and photos from our favourites at the festival below…
Låpsley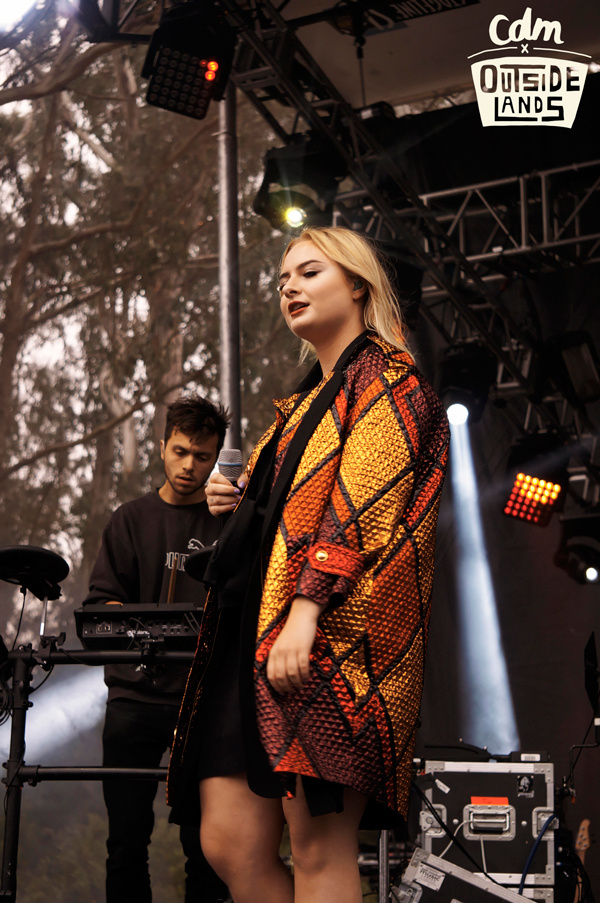 British XL Recordings signee Låpsley's performance at Outside Lands was an understated one, as she appeared on the Panhandle Stage - but she managed to draw a relatively large crowd throughout her performance of tracks from her debut LP, 'Long Way Home', as well as the 'Understudy' EP.
Her distinctive voice came to life behind layers of her vocals - set highlights of 'Operator (He Doesn't Call Me)' and 'Painter' showcased her immense skill as both a singer and a producer. She was thrilled to be performing too, shouting out being in San Francisco, and commenting that the last time she was here, "It was 4:20. Lol."
Grimes
Nothing beats the energy of a live Grimes show, and San Francisco was no exception to that rule. With a signature opening of the 'laughing and not being normal' violin intro, one of her dancers took to the stage alone, before her entire girl-gang appeared on stage to open with 'ReaLiTi'.
As always, her set provided complete variety, from the literal screaming in 'Scream', to the pop goodness of 'Flesh Without Blood', her performance inspired headbanging galore - not just from her backup dancers and backing vocalist, Hana, but from people dancing in the audience too.
Vince Staples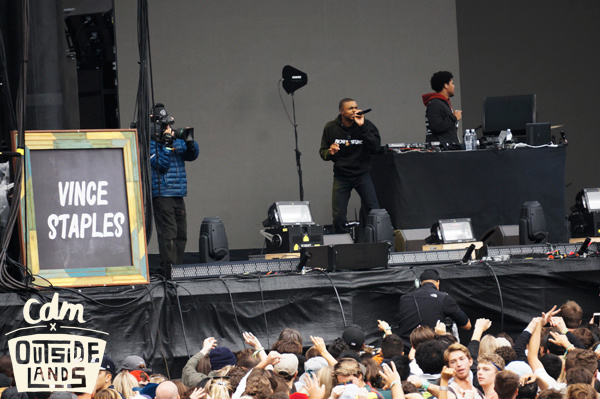 Last time we saw Vince Staples was back at Laneway Festival earlier in the year - and this time he brought a new production set-up with him, marking a step up in his career. Though only one guy on stage with a DJ, Vince managed to command attention from all those attending his set at the Twin Peaks stage.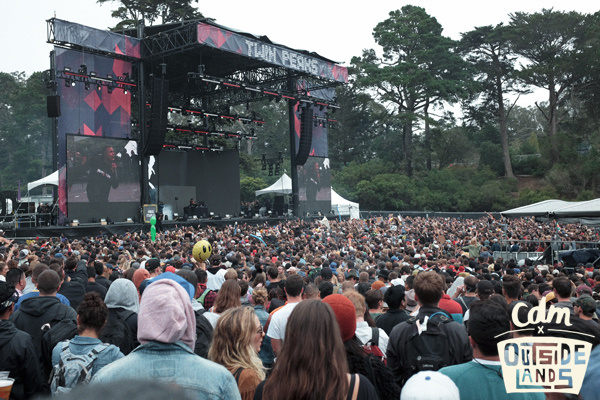 Between songs Vince gave an ironic shout-out to the police, before starting a "Fuck the police" chant, leading into a rap-along on 'Norf Norf'. Another set high was the performance of his Flume collaboration 'Smoke And Retribution', that had the entire festival bouncing up and down.
The Last Shadow Puppets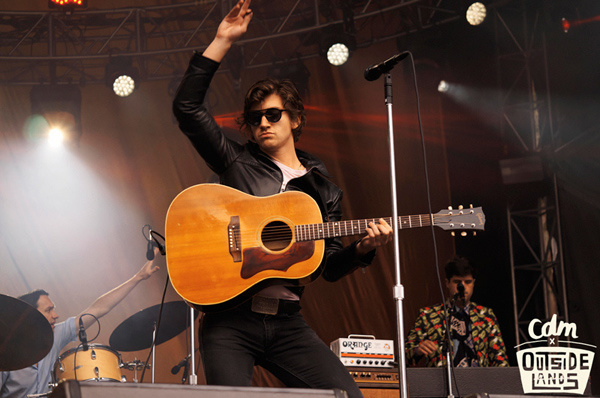 The Last Shadow Puppets' performance at Outside Lands marked their last ever show on American soil of their 'Everything You've Come To Expect' tour - and they went out in style, with both Alex Turner and Miles Kane donning leather for the occasion.
Their four-piece string section took to the stage first, before the rest of the band - notably, Tyler Parkford and Zach Dawes of Mini Mansions have been a part of their live band on this touring cycle - joined them to open with the super slick 'Dracula Teeth'. The audience was equally knowing of their old and new songs, head-bopping to 'The Age Of The Understatement', and singing along to Miles' enthused voice on 'Bad Habits'.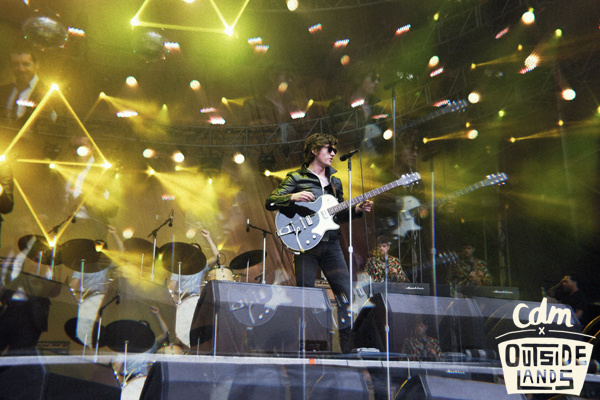 Romance was in the air during Alex's extravaganza of a song that is 'Sweet Dreams, TN', and it continued into 'Standing Next To Me', with Alex giving Miles a kiss on the cheek mid-performance.
Closing with their cover of David Bowie's 'Moonage Daydream', even their tambourinist was having the time of his life - throwing his tambourine into the air throughout the song. With a peace sign from Alex, and applause from Miles to the audience, they left the thoroughly impressed audience wanting more - who hopefully won't have to wait another eight years for a new TLSP album.
Halsey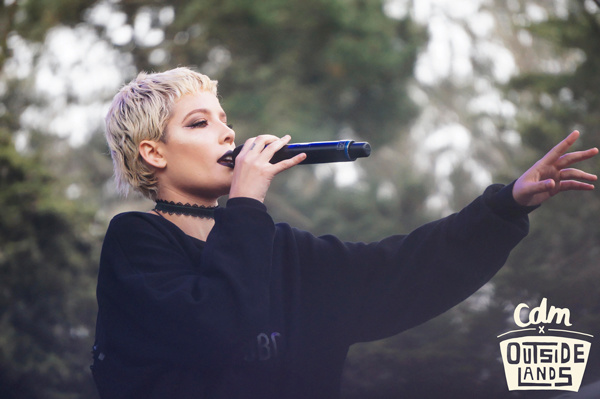 The 'Badlands' Tour was brought to life over on the Twin Peaks stage - as Halsey took to the stage as the sun was setting. Opening with 'Gasoline', she stood atop her new production-screen, towering over the enormous turnout for her set.
Between songs, Halsey commented on the extreme cold in San Francisco, noting that she had something in common with the audience - her teeth were chattering too, only, she wasn't on Molly.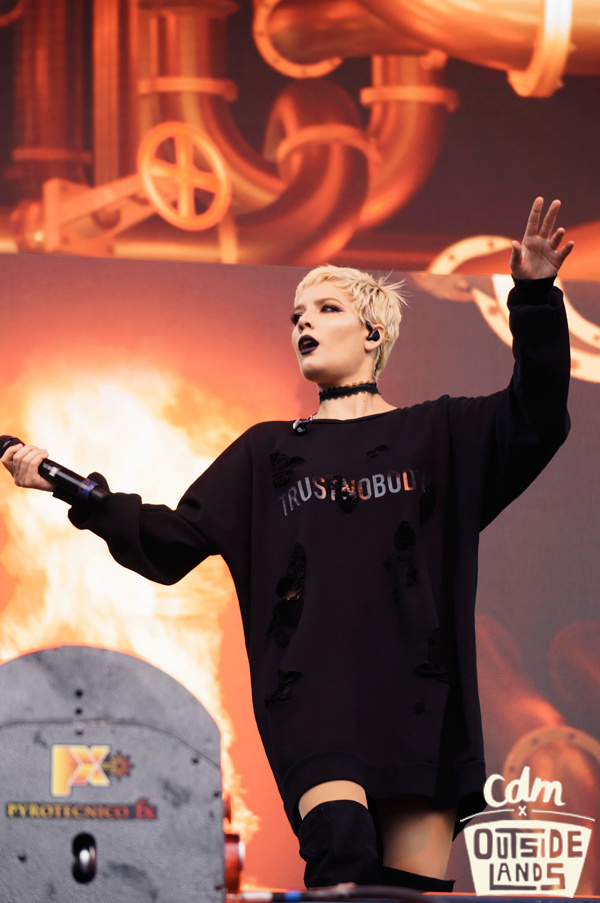 She pleased older fans by playing the 'Room 93' EP song, 'Is There Somewhere', showcasing the strength in her vocals - which her new stage-production merely intensified and added to the performance as a whole.
Her live vocals are just as strong as you'd expect, and her set varied between upbeat crowd sing-alongs during 'New Americana' (before playing it she said: "You either love this song or you hate this song"), and 'Roman Holiday', before slowing things down for the more emotional "deeper cuts" from her album, 'Coming Down' and 'Drive'.
Check out more photos from Halsey's set here and The Last Shadow Puppets here.
Kehlani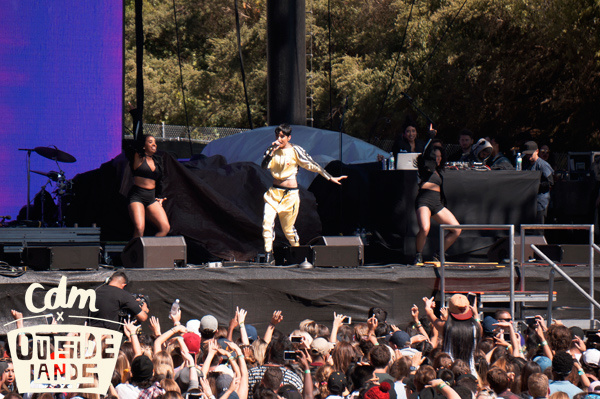 "I know I don't look like a typical R&B singer," Kehlani stated mid-way through her set, mid-way through proving that she is, in fact, a very excellent R&B singer. With two dancers alongside her on stage, her performance was an enjoyable set from the rising star - though many a fan was disappointed that Chance The Rapper did not appear to sing his guest verse on 'The Way', despite the festival changing their set times so that there was no clash between sets. Even still, fans of both started to leave Kehlani's set early to head over and wait for Lil Chano - unfortunately for them, as the rest of her set featured some new music that sounded incredibly promising!
Chance The Rapper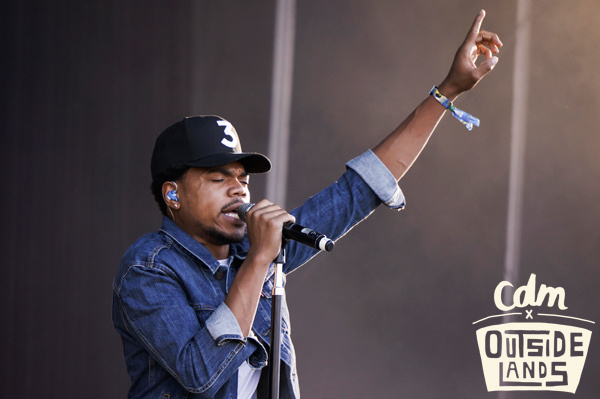 I've never been more simultaneously happy and claustrophobic than watching Chance The Rapper play to a crowd of 60,000+ at the Lands End stage - it was clearly a set that no-one attending the festival wanted to miss out on.
His live band added a whole other depth to the sound, something that is often rare in rap music - and Lil Chano was clearly having the best time, doing his own version of a moonwalk across the stage throughout the show. He also performed older repertoire, opening with the inspirational 'Everybody's Something', and 'Pusha Man'.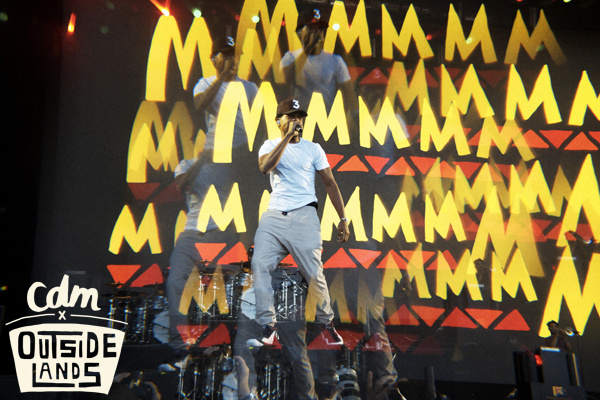 Between songs, Chance gave shout-outs to his family, explaining that he was nearly late to his set because he was helping with his Grandmother's work on 'Kids Of The Kingdom' - a Christian daycare centre that he is immensely proud of - before launching into 'Sunday Candy', the song that she inspired.
'No Problem' led the crowd into a bouncy Mexican Wave that looked equally wild and joyous, and 'Favourite Song' had everyone belting out the lyrics to their favourite song, as they sung and danced the night away.
Miguel
No-one looked happier on stage than Miguel at Outside Lands - even from a far away distance, his visible joy at being on stage and performing was infectious. His microphone stand is also the best thing I've ever seen, covered in a white fringe, it was almost as stylish as the rest of his band, who all donned matching white ensembles for the performance. Not only were they slickly dressed, but their performance matched their image too. Though the sound at the Twin Peaks Stage was never ideal, Miguel's voice was total perfection - with a falsetto like nothing else, that had everyone in the audience falling to their feet for him.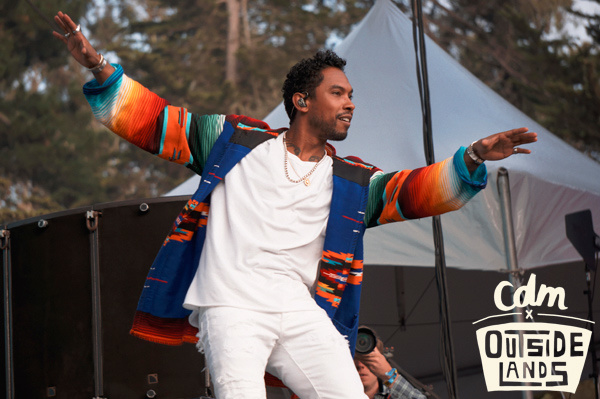 As well as being generally incredible (and inducing crowd sing-alongs for 'Do You…' and 'Coffee'), he stopped to give an inspirational speech, during which he said: "The power of gathering is what I think we need most as human beings," before leading a call and answer sing-along of "I wanna fuck all night," from his latest song, 'Come Through and Chill'.
Lana Del Rey
My heart melted at the end of Lana Del Rey's set when she went down into the audience and took selfies, signed albums, and accepted gifts from dedicated fans - fans who had been waiting at the barricade all day to see her perform live. There's no denying that she really loves her fans - and I can see why they love her, because she puts on an incredible show.
From her immaculate live production (a cursive 'Del Rey' sign hung above her), to her brand new back-up dancers / singers, the show was flawless - and her vocals were just the same.
Playing a variety of old and new pleased the crowd - there were sing-alongs for classics 'Blue Jeans' and 'Born To Die', and Lana's voice and guitar skills also got time to shine on a performance of 'Yayo', though she commented that it was so cold she mightn't have been able to play as well.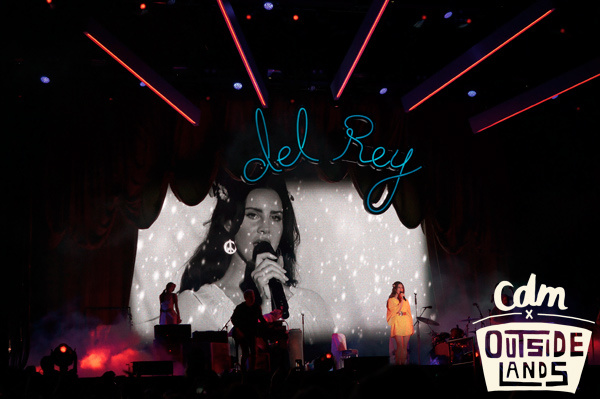 "It's just the most magical place," she commented on Outside Lands between songs, but it was Lana herself that brought the magic to the stage - enthralling the captive crowd for her one-hour set, which totally flew by. Her performance also saw fellow Outside Lands performer Halsey watching from the sound-desk, singing and dancing along to every word - watch a video of her dancing along to 'Off To The Races' below…