5 reasons to see Paramore live next February.
5 reasons to see Paramore live next February.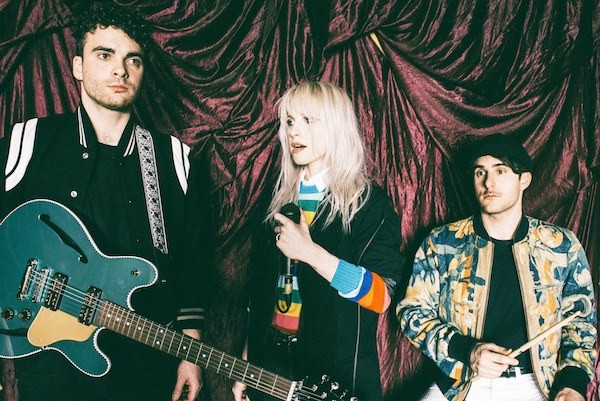 We here at Coup De Main are very, very excited - because in a matter of months, Paramore are returning to New Zealand to play a show at Spark Arena on February 13th (and they're bringing Bleachers with them!). It's a show we cannot wait for, and for this very reason, we've compiled a few reasons why you should be there too.
But first, here's some official tour info:
"Paramore's fifth studio album was recorded at Nashville's historic RCA Studio A – also their first time recording in their beloved hometown. Produced by Justin Meldal-Johnsen (M83, Jimmy Eat World, Beck) and Paramore's own Taylor York, After Laughter signalled the return of founding member Zac Farro to the band. Featuring the hugely successful singles 'Hard Times' – which has had over 50 million views of its colourfully playful video which Billboard declared "addictive" – and 'Told You So' which saw over 7 million views in its first two weeks alone.
Long regarded as an exhilarating live act with a non-stop show led by the fearless Hayley Williams, with Taylor York on guitar and Zac Farro back on drums, Paramore are a bona fide juggernaut, selling over 6 million albums and leaving a trail of sold-out headline arena tours in their wake. They have sold out iconic venues around the world including Madison Square Garden and Wembley Arena, and performed show-stealing headline festival sets at the likes of Reading and Leeds Festivals, Riot Fest and their own four-day festival cruise Parahoy!.
With Tour Four hitting Auckland' Spark Arena in February this will be Paramore's first headline show Down Under since their last tour in February 2014."
#1. If you're a fan of 'Parks and Recreation', you'll be well aware that the show is happening on February 13th, also known as Galentine's Day. It's Leslie Knope's favourite day of the year, a day for "ladies celebrating ladies." Here's some further explanation:
#2. Paramore's NZ show is part of Tour Four of the 'After Laughter' cycle, with other countries already having experienced their live show with this album - and the new production looks amazing. Check out some photos of it below:
#3. A new tour means new songs live. Some of our favourite songs of the year come from Paramore's 'After Laughter' album, and we can't wait to see 'Hard Times', 'Forgiveness', and 'Rose-Colored Boy' live at the show. Watch a live performance of 'Hard Times' below…
#4. It's been announced that Paramore are bringing a very exciting opening act with them down to New Zealand, in the form of Jack Antonoff's own project, Bleachers. Watch Bleachers perform 'Don't Take The Money' live below…
#5. With Zac Farro rejoining Paramore, his own project HalfNoise has been getting some stage-time during the Paramore show, with the performance of 'Scooby's In The Back' at some of the shows - meaning we might get the same in New Zealand.
Watch some fan-footage of these performances below…
P.S. A bonus sixth reason to attend is the very important fact that Paramore have been covering Fleetwood Mac's 'Everywhere', and it's the best cover. Ever. Watch it below if you needed more reason to come to Tour Four:
Tickets to Paramore's NZ tour are on sale now - click here to purchase.
Watch the 'Fake Happy' music video below…
Load next