Interview: 2017 Must-Know - Post Animal
Interview: 2017 Must-Know - Post Animal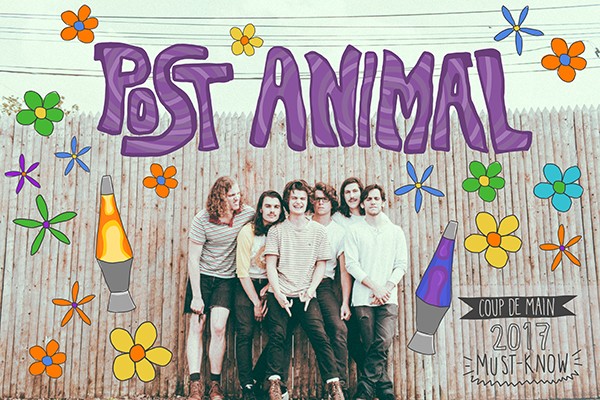 Chicago-based band Post Animal are set to release their debut album into the world this year, following an intensive recording process at a friend's lake-house in Michigan last year, where all six members of the group collaborated like never before.
Comprised of Dalton Allison, Jake Hirshland, Joe Keery, Javi Reyes, Wesley Toledo, and Matt Williams - these best pals turned band members take inspiration from Western Australia's psychedelic scene; think Tame Impala, Pond, King Gizzard And The Wizard Lizard & Co.
MUST-LISTEN: 'When I Get Home', 'Goggles', 'Caught In The Trap', 'Eel'.
YOU WILL LIKE, IF YOU LIKE: Tame Impala, Pond, King Gizzard And The Lizard Wizard, Twin Peaks, Unknown Mortal Orchestra, Jagwar Ma, The Flaming Lips, The Lemon Twigs.
COUP DE MAIN: Your album is reportedly called 'The Gators Are Back in 3D'... What can your fans expect to hear from the album? Do you plan on releasing deluxe editions that feature real 3D glasses to accompany the album?
POST ANIMAL: You bet! As of now that's what we're calling the next record, but nothing's for certain. It's the first set of recorded music that we've done with the full 6-player line-up, we did everything we could to create something with lots of layers, odd and subtle additions buried in the songs that give incentive to really bite in. The album's definitely less sonically psychedelic- conceptually loopy and strange, but pulling from a more broad range of influences than the last stuff was. 3D goggles would be a gas!
CDM: I love that you all went to a lake-house in Michigan to record the album, it seems like it really made you guys closer as a band. Did it change the way you guys write music together? Or has that songwriting/music-writing experience always differed from song to song?
POST ANIMAL: It's always a little hard to describe the writing process because, like you said, it really differs every time. We're best friends before teammates, so we mostly got better at songwriting as a group - a lot of us do our best work when we're just fiddling together. Songs like 'When I Get Home' or 'Goggles' or 'Hoverin'' were written all or in-part out of jams or collaborations. That said, the best part about the lake was whether songs came really skeletal or almost finished, they couldn't escape the band actually playing them. We demo-ed sort of aggressively in the first two days before we did any final recording, and every song bended and gave in to each of our wants. It's definitely our most collaborative work for that reason - doubt if we'd stop recording retreat style, it was pretty slick.
CDM: Is there one of you who predominantly does the lyrical writing for songs, or is it entirely collaborative too?
POST ANIMAL: No rules with the lyrics really - some people write for others sometimes, some people write for themselves, sometimes people write for themselves and then we decide a different voice would sound better and swap it!
CDM: Your live show looks super cool - I know a lot of people think 6 people is considered a lot for a band. Do you guys tend to prefer playing live, or recording music?
POST ANIMAL: I don't think we would like it if we didn't get to switch between the two, but we'd blow a gasket if we couldn't play live, playing live is cool. We've got a big team, no secret. Five of your best on the stage with you is what makes it fun!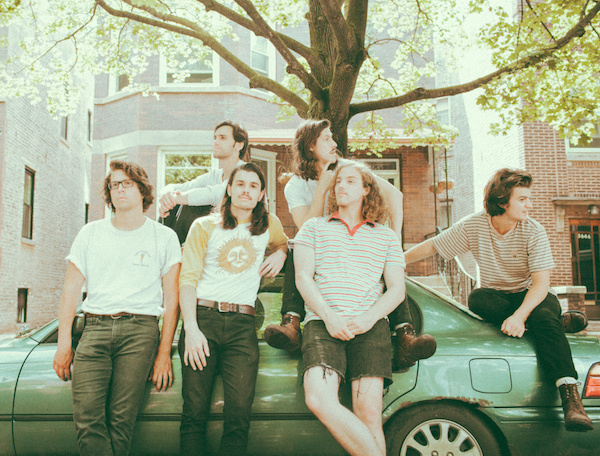 CDM: Lyrically, what's your favourite song that you've written?
POST ANIMAL: Immediately 'Caught In The Trap' comes to mind, but it changes with the seasons no doubt!
CDM: What do you think is the difference between a good song and a great song?
POST ANIMAL: Good songs are sitters, great songs are standers, hip-shakers, platinum records. A great song is when you look at Javi Reyes in the middle of listening and you share a laugh. A great song comes on at the watering-hole and you lean back just a little and sorta look up trying to find the source. A good song is safe with one owner, but a great song you'll sometimes try and tease out of a guitar or a keyboard and play it yourself. Who's to really say!
CDM: At what age did you write your very first song ever, and what was it about?
POST ANIMAL: Probably different for all of us, but we all started dang young. Maybe in the elementary or middle school arenas writing about nonsense - feelings we hadn't experienced yet!
CDM: What do you hope for people to take away from listening to your music?
POST ANIMAL: It'd be enough if it added something new to someone's world. Maybe we manage to make them think about something they hadn't, or digest a unique clash of tones, or suck down something really fuzzy and heavy at a moment in their day they weren't expecting to. Maybe it's just getting something really really right and making them feel easy or distracted or present.
CDM: If P.O.S.T. A.N.I.M.A.L. were an acronym, what would each letter stand for?
POST ANIMAL:
Pork and
Olive Oil
Saffron
Toast
At
Neal's
Intimate
Market
At
Lou's Market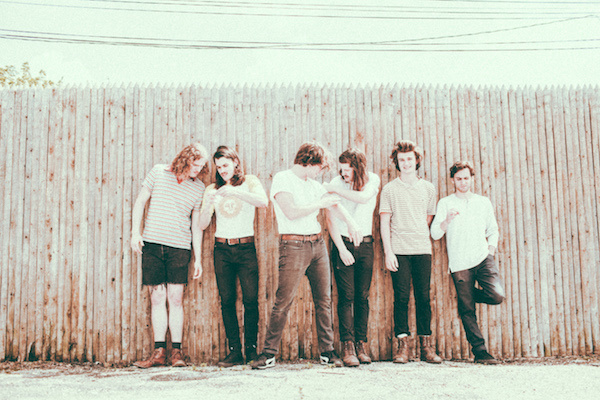 CDM: What's on your bucket-list?
POST ANIMAL: Summer Tour 2017, look out!
CDM: If you were a country, which song would be your national anthem?
POST ANIMAL: It would start as 'Walking In Memphis' and eventually become 'Seek And Destroy' as we take down the machine and revolt from within and become a meritocratic and confident rock 'n roll nation, and then it would be 'Puttin' On The Ritz' during national holidays.
CDM: You're one of our 'must-know' artist picks for 2017... who are yours?
POST ANIMAL: Here's some! Thanks for chatting:
The Nude Party (NC) + The Evening Attraction (CHI) + Summer Salt (TX) + Dashhounds (WI) + Joe Bordenaro and the Late Bloomers (CHI) + Tippy (WI) + Ciara (ATL) + Ne-hi (CHI) + Jude Shuma (CHI) + Acid Dad (NYC) + Lucille Furs (CHI) + Slow Pulp (WI) + Diplo (EDM) + The Voluptuals (CHI) + Max Loebman and the Mild Ones (CHI) + Chicago's Jude Shuma again (CHI) + Dalton's band THUMM (CHI) + Me en You (WI) + Cafe Racer (CHI)
Post Animal's 'Garden Series' is out now - click here to purchase.
Watch the 'When I Get Home' music video below…
Load next