Review: Rex Orange County - KOKO, London, February 2018.
Review: Rex Orange County - KOKO, London, February 2018.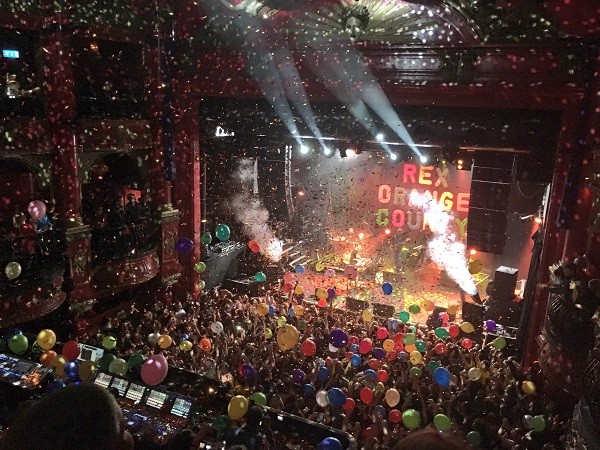 200 balloons of every colour imaginable fall on a sea of bodies, most of whom are excitable teens who've been screaming their lungs out for the last hour. Simultaneously, confetti canons blow golden sparkles into the air, and beams of light hit what is surely one of the largest mirror-balls in London. Rex Orange County is in the closing moments of his performance at KOKO, which at a capacity of 1,400, is his largest headlining show to date. It's a spectacle that could rival any you'd see a few miles away at the O2 Arena, making it hard to believe Rex Orange County is still an unsigned 19-year-old.
There's a certain homecoming feel to tonight's show. Rex, real name Alex O'Connor, mentions several friends and collaborators who are in attendance. Shout-outs are delivered to Benny Sings (who features on 'Loving Is Easy'), as well as a random dude just a few metres from the barrier: "I went to school with that guy," Alex notes before 'Best Friend'. His dad also gets his moment when Alex points him out in the lighting deck. You'd be harder pressed to find a member of the Rex Orange County Extended Universe who isn't here.
'Apricot Princess', which dropped quietly on a Wednesday in April of last year, took a little time to find its audience, but you wouldn't know it from this enraptured crowd. Hundreds sing every word of the two-minute melancholy ditty 'Untitled', jump ferociously to 'Television/So Far So Good' and hang on every word of 'Happiness'. Only five songs from the record make it into the slim thirteen-track set-list, with the rest of the night made up of deeper cuts, as well as more recent releases, the Frank Ocean-esque 'Edition' and joyous bop 'Loving Is Easy'.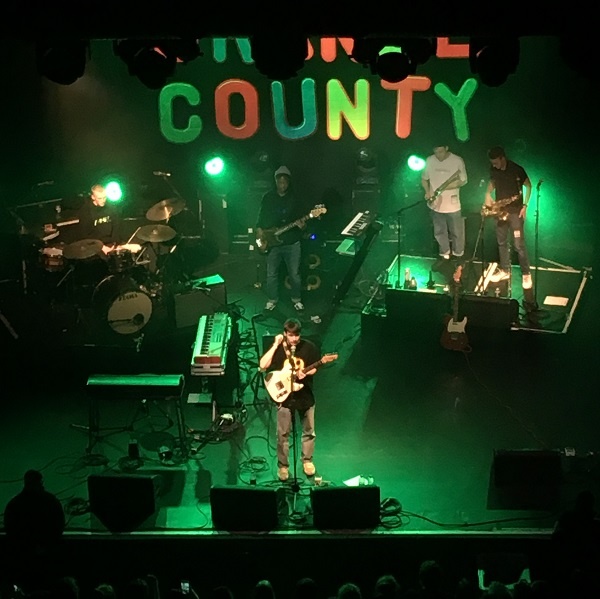 An appearance from Alex's girlfriend, singer Thea Morgan-Murrell, has become a staple of London shows. "There's a lot of you," she notes, taking a second to cast her eyes across the masses, before adding, "Shit." They play, for the first time ever, a song of hers called 'Grandfather Clock'. It draws from some of the same jazzy, soulful influences as Alex's own work, but Thea's powerful, warm vocals and confident command of the crowd mark her out as a potential star in her own right. There were signs of this in her where-did-that-voice-come-from verse on her boyfriend's 'Sycamore Girl', which they play tonight, but this guest appearance gives us a taste of what she can do given three minutes to herself, too.
Late last year, R.O.C. was given a boost by the one-two punch of a couple of features on Tyler, The Creator's 'Flower Boy' album, as well as his second place finish on the BBC's Sound Of 2018 poll. But if the majority of the fans here tonight have only come to him in the past six months, they've certainly done their homework: one of the night's wildest reactions is in response to 'Corduroy Dreams' from the self-released 2015 debut album 'bcos u will never b free'. 2016 cuts such as 'Sunflower' and 'Best Friend' are also among the most popular moments. Perhaps this is the ultimate indicator of his talent – regardless of when they were released, or when they were discovered, each of his songs casts a spell over the audience. Every song he plays is responded to as if it was dropped yesterday and we're hearing an exclusive first live performance.
It's hard to say if Rex Orange County will remain an under-the-radar, slow-burn gem with a cult following for much longer. Record labels are reportedly circling, and he's been working with Paul Epworth and Mark Ronson ahead of his next release. But what this performance proves is that Alex has the stage presence, songwriting talent, devoted following and elaborate confetti/balloon combination to survive the big leagues, should he happen to find himself there in the near future.
Set List:
Apricot Princess
Television/So Far So Good
Uno
Grandfather Clock (with Thea Morgan-Murrell)
Sycamore Girl (with Thea Morgan-Murrell)
Edition
Untitled
A Song About Being Sad
Corduroy Dreams
Loving Is Easy
Sunflower
Best Friend
Happiness
Load next