Review: Stormzy - Logan Campbell Centre, August 2017.
Review: Stormzy - Logan Campbell Centre, August 2017.
Closing out his tour last night at a packed-out Logan Campbell Centre, South London Grime artist Stormzy's debut Auckland show was one to remember - for a multitude of reasons, none moreso than the sheer energy contained within the venue throughout his electric performance.
The energy was palpable before he even arrived on-stage - with Stormzy chants from the 3,000 strong crowd, at times echoing over the sound of the two opening acts, Jay Bulletproof and Jess B.
His 2016 album 'Gang Signs & Prayer' has just been nominated for the highly prestigious Mercury Prize, and his performance was filled mostly with tracks from that very album - with Stormzy, real name Michael Ebenazer Kwadjo Omari Owuo, Jr., spitting his verses atop the distinctive grime beats for which he's known for.
From dedicating a song to his Mum ['100 Bags', a song which she features on in the introduction], to shouting out all the beautiful ladies in the venue [before performing 'Cigarettes and Cush'], his set was varied, but with the energy never dropping at all throughout.
Closing out the show with his hit 'Shut Up', the entire venue felt thunderous from everyone jumping up and down, singing along every single word with him. But the show wasn't over yet, with Stormzy's finale seeing him jumping offstage and making his way to the photo pit to take photos and shake hands with the first few rows of fans.
With his return to New Zealand already announced as part of the Northern Bass line-up, there's no doubt that Stormzy's beloved status will continue to grow when he returns.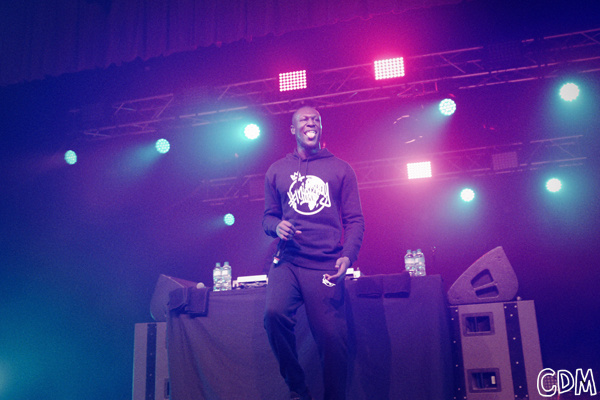 PHOTOS TAKEN WITH FUJIFILM'S NEW X100F CAMERA - click here for more info.
Set-List:
First Things First
Cold
WSM4
Rucksack
Mr Skeng
Cigarettes and Cush
Fester Skank
Dude
Feed Them To The Lions
100 Bags
One Take Freestyle
Bad Boys
Scary
Shape Of You (Ed Sheeran cover)
Big For Your Boots
Know Me From
Shut Up
Load next