Interview: Suki Waterhouse talks all things 'I Can't Let Go' and more.
Interview: Suki Waterhouse talks all things 'I Can't Let Go' and more.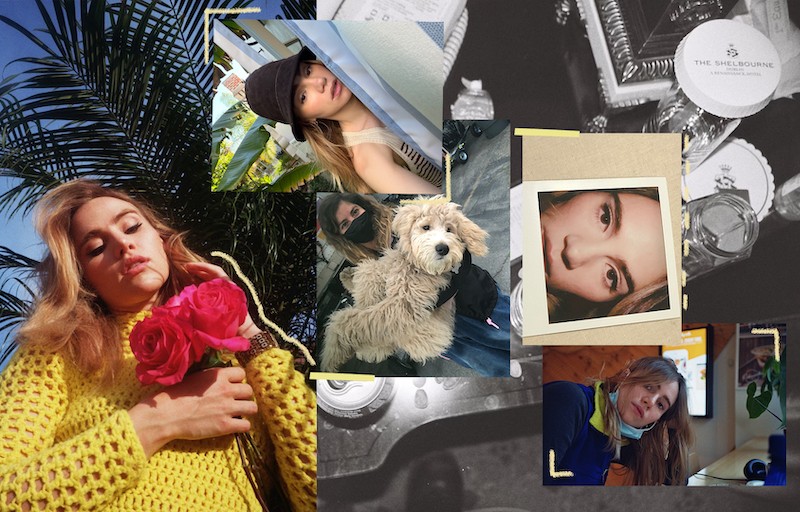 "I can't forget that night / You said I looked like Suzi Quatro," yearns Suki Waterhouse as she opens her debut album, 'I Can't Let Go', with her single, 'Moves'. The album is the culmination of years of experience in the heartbreaks and memories Los Angeles holds, with Waterhouse finding self-reflection, and pleasure-seeking inspiring a lot of this record. Her list of inspirations are seemingly on the tip of her tongue, almost as if they're always reverberating in her mind, she fires them off from the The Velvet Underground to Sharon Van Etten and everything in between. 
The world of melody has been cocooning Waterhouse as she's currently filming the upcoming adaptation of Taylor Jenkins Reid's 'Daisy Jones and The Six' as 70s band member, Karen Sirko. Waterhouse found that working on the music through the show helped her make her own solo music; "It's been the most incredible project to be involved with especially as I was making and releasing my music... It actually taught me so much and it's been really amazing. I've got to play beautiful organs and learn how an organ works and just feel that excitement through a different time era. It's all been incredibly stimulating and I feel like I've ended up feeling like I want to write songs in that kind of world."
While it seems like Waterhouse has ticked every bucket-list item off, she has never actually gone out on the road touring yet, confessing: "I'm going to have to prepare myself to have a life out on the road for a few months, which I've never done before...  I have this very orthopaedic old lady heat mat that I might have to bring with me, an infrared sauna mat, maybe a dog." Waterhouse will set off on solo dates throughout the month of May, before heading off with Father John Misty later this year from July 'til October. 
Multi-tasking as she talks to me and drives to a video shoot (which was the video for 'Devil I Know'), we chatted to Waterhouse about all things collaboration, connectivity, and voyeuristic streaks... 
P.S. Check out Suki's exclusively curated pages in our Dreams zine by ordering here!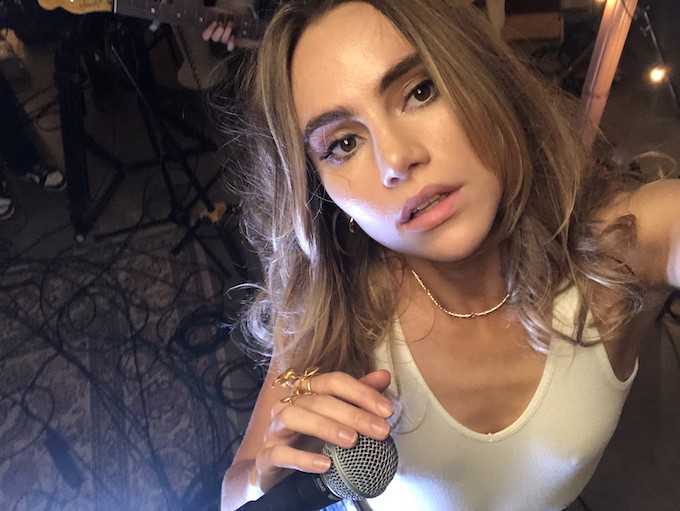 COUP DE MAIN: How does this album differ from the world of Suki Waterhouse that we've seen before and music that you've put out in the past?
SUKI WATERHOUSE: The whole time that I've been working, and I started when I was 15, or 16, I just never really felt like I got to... it feels like a hologram version of myself that I got to present to the world. There was so much that happened to me and so many things that I'd written about, and music started as quite a private experience for me documenting everything that I was feeling, and every relationship, and everything that felt important over the last 10 years. So this is the most honest version of myself that I think I've ever had the chance to experience with people, and that's what's made it both very nerve-wracking and very exciting.
CDM: Your music also feels familiar in a homely way, but completely fresh and exciting at the same time. Who are your biggest influences both in your music and in your life?
SUKI: Oh that's nice, 'homely', it's a nice word. I started off always very into the Marianne Faithfull / Nico music, like Velvet Underground when I was younger, and originally, it was very much going to be like that. I was actually quite nervous of production and turning them into real songs. I was very married to my voice memos and just screaming with a guitar on a voice memo. I think to get to push myself into seeing where I wanted to go with keeping a very organic sound that feels very personal. I think people like Sharon Van Etten and Lou Doillon, who I've always been absolutely obsessed with and she was really inspiring to me too because she was an actress. Her mother is Jane Birkin but she just made the most beautiful, raw, honest album, and a song called 'I.C.U.' in particular, I found really haunting and it followed me around for a long time, and people like Aimee Mann I took a lot of inspiration from, Lucinda Williams with 'Fruits Of My Labour', Cat Power; I've been listening to certain songs of hers like 'Be Me Boy' since I was literally 13. 
CDM: One of my favourite songs from the record is 'Put Me Through It', as you very vividly go through a journey of this tumultuous relationship. What do you think is the nucleus for why people are always wanting what's maybe not the best thing for them? 
SUKI: A lot of this album was me facing the voids that I have inside of myself that I've been trying to fill for as long as I can remember and coming to terms with, 'Will I always have these gaping holes inside myself?', and needing to find ways to build them and how that turns out, which is not always so great. It can get really, really tiring, and falling in love with people and seeking pleasures and that kind of thing. I actually wrote that song in Winnipeg, and I was in Winnipeg for two months, which was one of the most crazy experiences one can possibly go through in the winter. I met some people in Winnipeg, and that's been quite fun because I'm not from the music world. I'm quite resourceful at finding anyone like, "Does anyone know anyone in Winnipeg who does music?" and finding a local band in Winnipeg and just going into a session room with them. I didn't really write it there but I was screaming into the microphone "fucking put me through it" for two hours and then I wrote the song properly later on, but I mean, why do we go back to things? I guess it is quite fun to fuck yourself up, there's always good stories from it.
CDM: You were saying you found a local band in Winnipeg. Do you find that you work best with strangers? Or do you think it's better to know someone when you work with them?
SUKI: It honestly depends. I love that thing where you just never know what will come of a collaboration and that's quite exciting to me. Pretty much everything on this record, every song was a complete necessity; every song was a need. It was about something or somebody and it was a feeling or an event that had just stuck around me for so long. Usually something will come to me and I just can't shake it off and I'll be trying to write a song about that until I get the right feeling and the right song.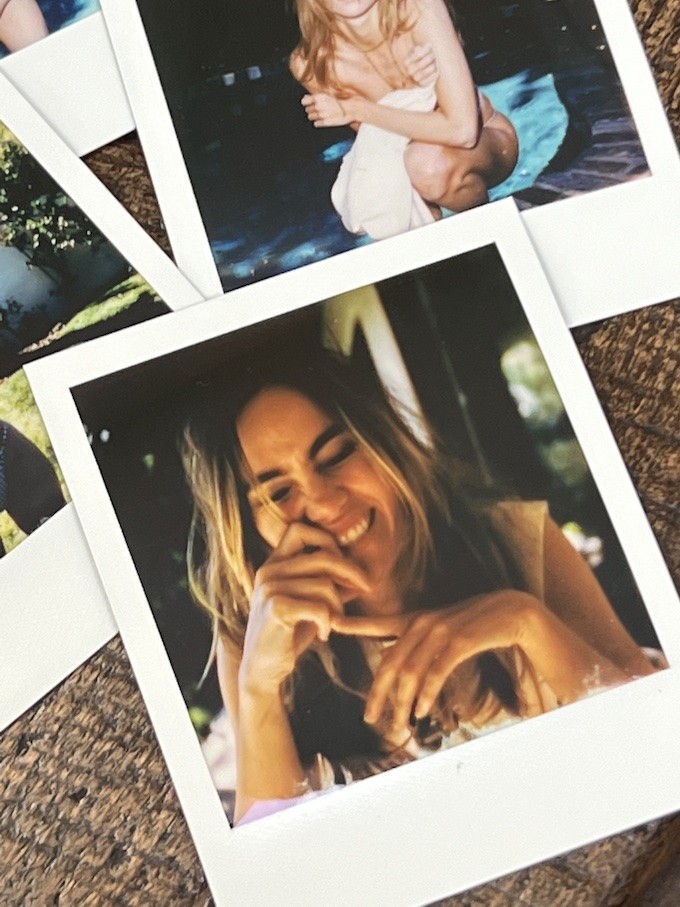 CDM: I think it's super interesting how you dip into many different ponds in terms of artistry like music, acting, and modelling as well. Do you think that being able to see art and yourself from all these different angles and perspectives has helped or hindered what you create? 
SUKI: I hope it helps it. When I think back to being when I was probably about 16 or 17, I was writing a lot of music, and everything I've got to do in the years since then was majorly influential to what I've written about. I think it only helps further my scope of what I can find to write about, but I do actually feel a connectivity to everything. If I'm working in film, then it will really influence me but I've always been drawn towards film being very transformative and transporting and being taken somewhere else. Being around that and being around film, making movies, being on sets, I always find incredibly inspiring to write music because there's something very strange about even being on the set; you take a hiatus from your life. Somebody else pays for it, you're put into summer camp with a bunch of other people, everybody gets incredibly close, there's an intensity to it that's very strong and then it's cut off immediately and you're left with nothing again and you don't have a job and you go back home and you haven't kept up with your friends and you get lonely all over again. There's something lonely about the making of the movie and there's something very lonely about the after, so all these things colour songwriting quite a lot.
CDM: Do you find when you get in front of people when you're singing versus acting or modelling, it feels like a different version of yourself each time? Or is it the same version but adapted for each situation?
SUKI: The music part of me, I feel like it's way more... it's not something that I necessarily feel is very intermingled in a strange way. There's a separateness to be honest, that I feel inside myself. I've never really thought about it that much, but I definitely feel like there is a separateness. 
CDM: You also recently released a video for the song 'Melrose Meltdown'. How involved are you in the process of the more visual aspects of your music?
SUKI: I'm very involved. I'm just about to go and do a music video today. I'm doing a completely guerrilla music video today. Everything is very down to me, the visuals for 'Melrose Meltdown', I was very into the Gus Van Sant movie 'To Die For' and I wanted to capture... because the song is very much about this heartbreak of being in Los Angeles very young, very away from everything I've known and being completely swept up in a fantasy that was incredibly not based in any reality at all, which just happens when you're a long way away from home. You're 21 and you're like, "I live in LA and I'm in love!" I love that movie because it just explores American ideals so much. I wanted to intertwine my broken fantasy of that with the movie representing American dreams and my own coming to America story, if that makes sense. 
CDM: What was running through your mind when you were writing the track 'Bullshit On The Internet'?
SUKI: It started sort of happening when I was a proper teenager, we didn't really have proper social media, it came in a bit later. I guess I'm at the age where I remember the time before, and I also was very much around for the explosion of so many voices in your comments and so many voices everywhere. I did experience quite a lot of cruelty from online and I kind of see it as having this ID of yourself where everything bad that you could think about yourself - every spiral of insecurity and horrible thing you can think about yourself - you get those echoed back at you but even worse. It creates this whole other amount of things that you couldn't have even dreamt up. I feel like I've gotten to this quite peaceful place with it now where I can read something awful and feel nothing which is probably not a very good thing, but it's a good place. But that has taken a long, long time and taken thinking deeply about what drives people to do that and it's interesting because you're like, "Well, I don't do that stuff. I don't write that stuff about people," but then you have to think that there is a callous streak in all of us and a voyeuristic streak and and I can definitely relate to having a voyeuristic streak. I love watching the 'The Real Housewives of Beverly Hills' and I love watching chaos and all those kinds of things. It's an extension of that and you reach a place where you're like, 'Well, we're all connected to that cruelty in some way.' I wrote that song imagining... I think it will relate to people and how we all have to see people from the past move on, and then it's online and how painful that is. I had all kinds of meaning behind it.
CDM: You have such an empathetic view of people in your comments for someone who has probably dealt with it for so long. 
SUKI: Not always. Look, I definitely type in "F U" quite a lot. But you can just write a great reply and then delete it.
CDM: In Rolling Stone, you said that, "It's like nobody wants to be seen as anything but this holier-than-thou figure. I miss having a bit more texture to how people are OK with being perceived," and I was watching the show 'Pam and Tommy' as I was reading that quote and they're so shamelessly partying so hard and so publicly and I couldn't help thinking that it felt like a time capsule. What do you think it is about today that has people so guarded on what parts of themselves to show?
SUKI: I think everyone really enjoyed - and I've really enjoyed - watching Julia Fox the last few months. She's had this very old-school mentality, and she said something like, "Who cares? Who gives a fuck what celebrity is dating what celebrity? They're not the most important people in the world," and I quite enjoyed how she was engaging with the press and it felt very old-school. Almost like Warhol vibes; writing and talking to Interview magazine. I've really enjoyed that. It takes a certain person, I don't enjoy the confrontation of having to do that. I'd rather not, but I definitely enjoy it. I think that kind of stuff is exciting and different as well. I think everybody's become incredibly walled up and I understand why as well, because everyone's just terrified of saying anything.
CDM: Yeah, I didn't even think about Julia Fox. 
SUKI: It's a really different way of engaging that you don't really get to see very often.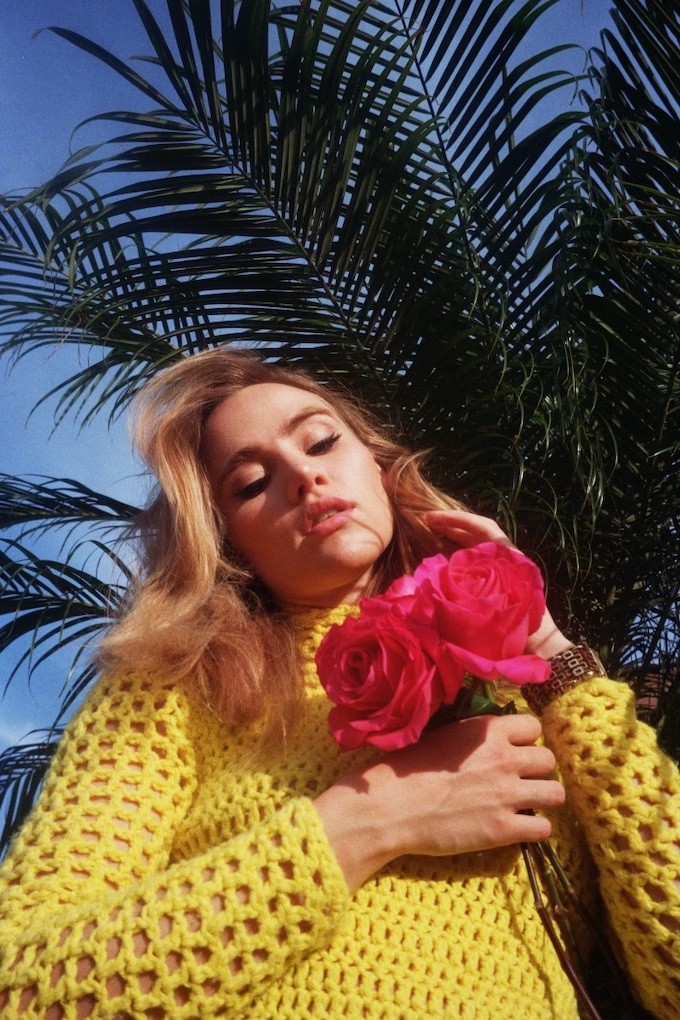 CDM: This past year, you've also done a couple of sets at different music festivals. Would you want to go out and play some live shows with this record as well? 
SUKI: Oh yeah! I did Bottle Rock, Shaky Knees. I did one in LA and one in London. I've got a few more and then a tour being announced. I'm going to have to prepare myself to have a life out on the road for a few months, which I've never done before.
CDM: Do you have anything that you're already thinking of bringing on tour? A tour essential of sorts?
SUKI: I have this very orthopaedic old lady heat mat that I might have to bring with me, an infrared sauna mat, maybe a dog - I think I'm going to get a dog to bring!
CDM: You're also starring as Karen in the adaptation of the Taylor Jenkins Reid novel 'Daisy Jones and the Six' which is so exciting and one of my favourite books. How did you sign onto the project and get involved?
SUKI: I was just like you and I read an amazing book, which just absolutely took my breath away. I was just obsessed with getting the part and I had to go and do a couple of auditions and do a piano rendition, which was quite painful. At the beginning, I wasn't particularly good at piano, but then we did a a six-month band camp and got to work with Blake Mills, who's been making all the music, so it's been the most incredible project to be involved with especially as I was making and releasing my music. 
CDM: As a solo musician as well, what was it like formulating and working on these songs as a band and getting to play them with the rest of the cast?
SUKI: Great! It actually taught me so much and it's been really amazing. I got to play beautiful organs and learn how an organ works and just feel that excitement through a different time era. It's all been incredibly stimulating and I feel like I've ended up feeling like I want to write songs in that kind of world and we've got to go around Los Angeles to like all the beautiful places in Laurel Canyon and I feel like I got to relive life as a musician in the 70s.
Suki Waterhouse's 'I Can't Let Go' is out now - watch the video for 'Melrose Meltdown' below:
Load next