Interview: The Internet's BFF, Troye Sivan.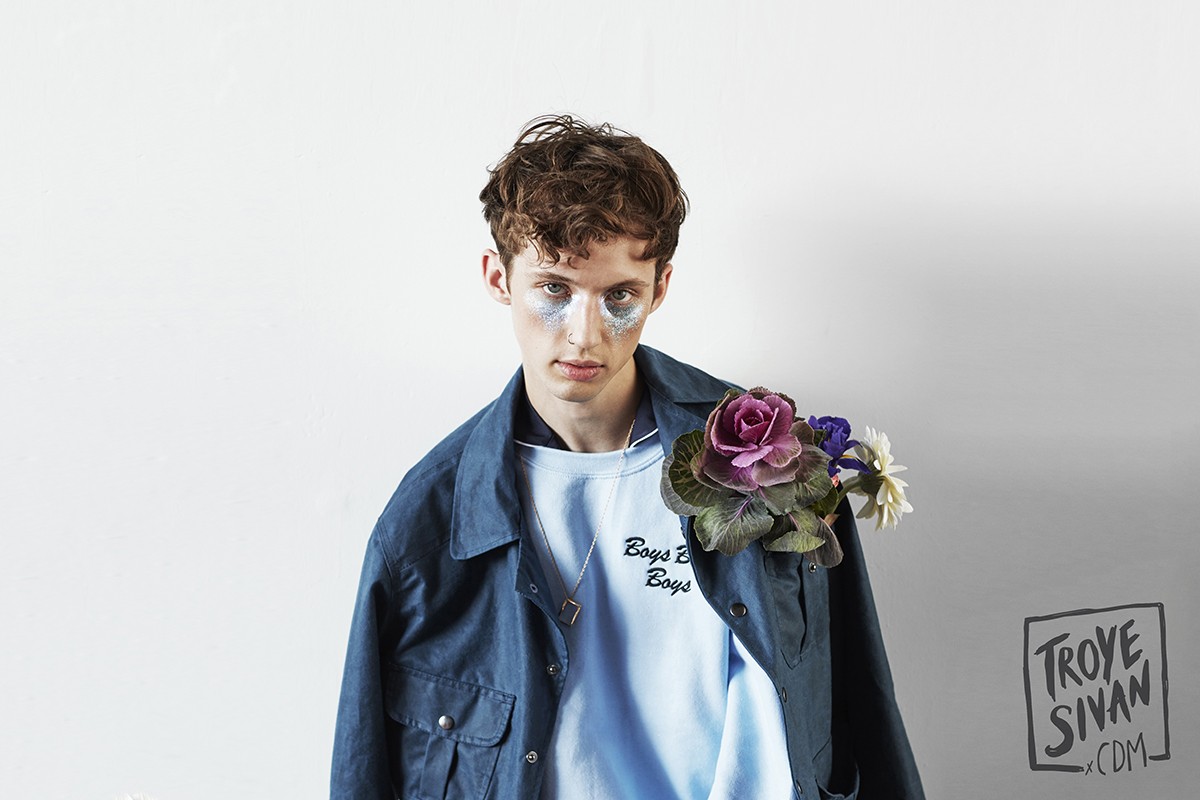 "I feel like a lot of you guys are real, genuine friends of mine," stated Troye Sivan in a video that he released via his YouTube channel on August 7th, 2013. It was a video entitled 'Coming Out', and has since been watched by over 7 million people. And since the release of that video, Troye's fans - or real, genuine friends, as he prefers to refer to them - have grown his career into something truly extraordinary and forever life-changing.
It's not hard to figure out why Sivan's fans love him so much. He spends so much time investing himself in their lives, and after spending any period of time with him, he immediately makes one feel at total ease through his sense of calm, and relaxing demeanour - the ideal persona for someone who's constantly meeting new people. It's therefore little wonder the success that has come from his sharing-is-caring work ethic, and already, his achievements speak for themselves.
Sivan's first ever major label EP, 'TRXYE', topped iTunes charts in 66 countries, and debuted at #5 on the U.S. Billboard album charts. The 'WILD' EP of 2014 topped charts from pre-orders alone - and upon its actual release, it peaked at #5 in the USA and the UK. His debut album of 2015, 'Blue Neighbourhood', sold over 500,000 units in America, and that same album reached the Top 10 of album charts in five different countries (New Zealand of course, being among them). And with 5.6 million Instagram followers, 4.3 million YouTube subscribers, more than 506,759,276 views on his Youtube videos, and over 100 million streams of his album (and counting), the numbers don't lie - there's something infectious about Troye.
But impressive statistics aside, each of the above-listed numbers represent something very special to Sivan - because to him, they're not just numbers, they're close confidantes who have taken the time to support him every step of the way in his pursuit of popstar greatness.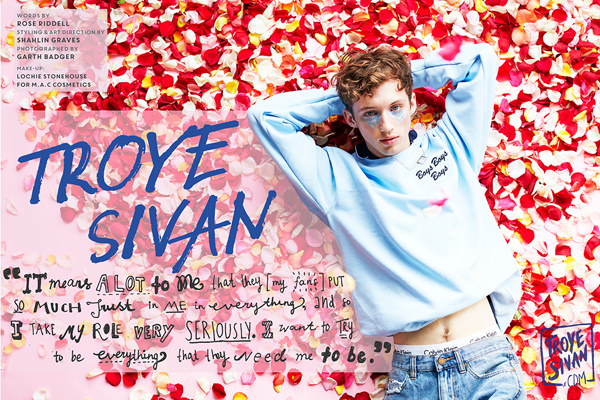 [All rose petals thanks to Flowers On Onewa. Custom-designed 'Boys Boys Boys' sweater by La'Pin. Satin Look Piping Shirt in Navy by Glassons. Rose Gold Necklace by The 1975. Norm Reg Fit jeans in Hutchence Blue by Rolla's.]
While in Auckland on the final leg of his 'Blue Neighbourhood' tour, Sivan hosted an album signing at Queen Street's JB Hi-Fi store for diehard fans who had lined up for hours, managing to meet/greet 250 New Zealanders in an hour-and-a-half. No mean feat, considering that even though Troye stayed longer than the advertised signing-time, unfortunately only half the queue were among those lucky enough to meet him. During the signing, there was no shortage of fan-stories, tears, or gifts of Nutella - and the next day during Coup De Main's cover-shoot, Troye's mum, Laurelle Mellett, laughs as she tells me she never ever has to purchase the Mellett family's favourite spread anymore. Various other gifts from local fans included patterned burger socks, an entire Domino's pizza, hundreds of handwritten letters, drawings, and even a marriage proposal from one particularly forward female fan who dramatically got down on one knee to propose to Troye, giving him a ring that he graciously accepted - although there's no word as yet on a wedding date.
Though they may have been brief encounters, Sivan's efforts were admirable as he tried to make every one of his fans' experiences both unique and memorable. Reflecting upon the signing, he speaks with an air of sadness when he sighs, "I wish I could spend more time with people than I actually get to, but then we don't get through everyone." He goes on to explain his intent during signings, of focusing on every single person who comes through the line, trying to notice something unique about them, or complimenting them on something he likes. During his Auckland signing he asked after hair-dying tips, complimented clothing and nail-polish, as well as an assortment of other things - all small gestures, but precious personal words that meant the world to the people on the receiving end of them.
And the affection is mutual, with Troye recently purchasing a special storage locker in America where he keeps every gift given to him from fans - filling entire suitcases at times while on tour, and then shipping it back to storage. His manager is equally as thoughtful, replacing fans' broken CD cases at the signing - telling JB Hi-Fi to charge the new albums back to her.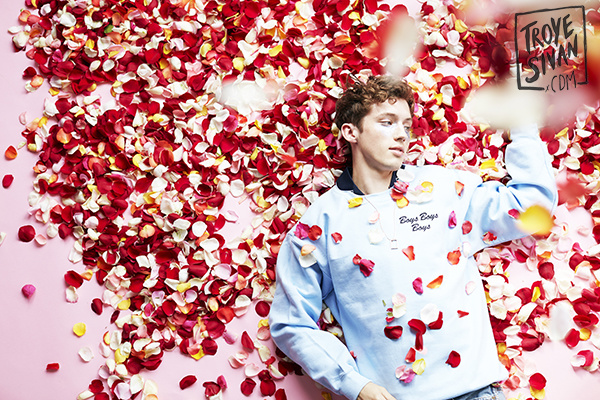 Last year, when we spoke to Sivan on the phone about his thoughts on monetised meet & greets, he hadn't yet embarked on a headlining tour, so had yet to tackle the issue himself - a controversial one for many modern day popstars who charge exorbitant rates. He told us at the time, "I would never wanna give a fan who's maybe like economically more well off than another, a better experience," and he's stayed true to that promise - happily stopping to meet countless fans while walking the streets of Auckland, after spending an afternoon op-shopping along Karangahape Road. During his brief time in the country, he even paid a visit to Modern Manners, the gender-neutral clothing store that become famous amongst local fans after one of the elusive 'WILD' VCR tapes was hidden there for fans to discover back in July. The store's owner Liam Sharma has always admired Sivan's expressiveness of gender fluidity, so was thrilled when he paid a visit to the store, saying, "It was awesome having him spend time in my store and admire the atmosphere, including the many artists I have included within the space. We have always related towards LGBT people, and Troye just opened us up to so many more younger people."
If you need further proof of just how much Sivan looks after his fans, scroll through the hashtag #TroyeMeetLucy on Twitter, where you'll come across comments such as, "Don't really know who Lucy is but she most likely deserves to meet Troye," or, "The fact that no-one's getting jealous or rage-y is amazing. Have not met or spoken to her before but I bet she deserved it." These comments are a testament to the fanbase which Sivan has cultivated with his fans, in which they are supportive of one another, as opposed to hierarchical and unwelcoming.
The Lucy which the hashtag referred to did indeed end up meeting Troye - after he saw the hashtag trending on Twitter during the night of his second Auckland show. Having been a fan of Sivan since 2014, Lucy attended all three of his New Zealand concerts, and as a token of her appreciation towards him, she hand-embroidered him a shirt with a red rose and his name on it. And at Sivan's Sunday show, he walked out on stage wearing Lucy's shirt - his own special way of thanking her. Lucy has similar thoughts about the Troye fanbase, calling it a "tight-knit fandom," a place through which she's made some of her best friends. At the same time, she too affirms Troye's statement about his fans feeling like his friends, concluding, "You don't feel like a fan, you feel like a friend."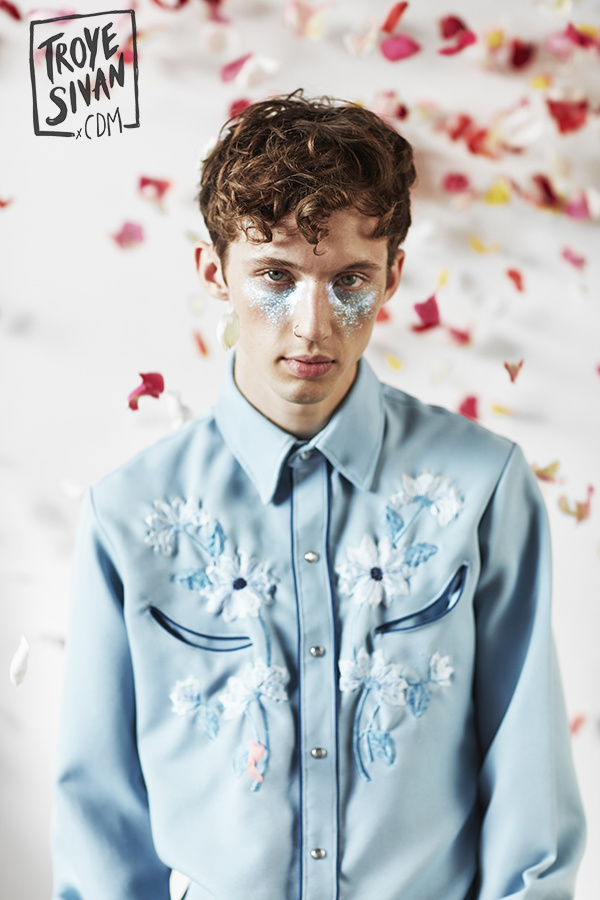 [Western-Style Floral Shirt by Vixen Vintage. Norm Reg Fit jeans in Hutchence Blue by Rolla's.]
Last November, by chance, we happened to be in Sydney at the same time as Troye's first ever official Australian tour - shows that ended up being cancelled due to illness. During the day of our scheduled interview, we received hourly updates from his record label, assuring us that interviews and the show would both still be going ahead, a testament to the dedication of both Troye and his team - not willing to give up, until a final doctor's visit diagnosed him with acute laryngitis, leaving him no choice but to cancel his shows. In true Troye fashion, he was heartfelt in his apology via Tumblr, where he acknowledged fans who had already been lining up outside the venue in the rain.
During our first phone call with Sivan following his 'WILD' EP release (prior to the show cancellations in November), we questioned him about what feeling he wanted people to walk away with after hearing his album. "I just want them to be like, 'Whoah! That was good!'" he said at the time, and there's no denying that it is indeed good. Words even more complimentary than 'good' have been used to describe it, with The Guardian calling his songs, "Immaculate doses of three-minute emotion," and Rolling Stone stating that, "Blue Neighbourhood, like all the best young loves, is full of promise." The album has since gone on to be nominated for not one, but seven ARIA [Australian Record Industry Association] awards, proving even further that the album goes above and beyond the mere adjective 'good'.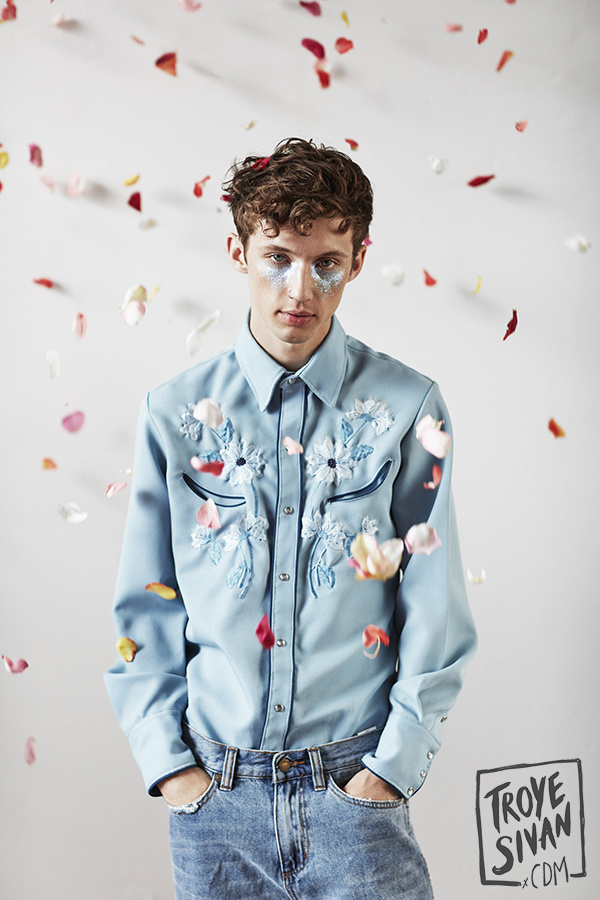 The album 'Blue Neighbourhood' invites you into the mind of Troye. It's a very specific world that Sivan envisioned during the creation of his record - it's intimate, lush, and welcoming, yet it's also a home that many a teenager around the world also shares. In 'Suburbia', Sivan sings about his hometown with fondness, recalling memories of sunsets, his mother's cooking, and specific songs that soundtracked these memories - singing, "I'm never letting go of suburbia." If you've ever sat at home alone in your room and felt lonely wanting to escape your hometown, but also not wanting to leave, listen to 'Suburbia'. If you've ever wanted to give everything you have to somebody, no questions asked, listen to 'Youth'. If you've ever needed to count to fifteen as Troye has -  a counting mechanism he used to use for anxiety problems - or questioned your entire identity and faith, listen to 'Heaven'. Each song on Sivan's album speaks to a different aspect of his life - at times singing with both wisdom and youthful naivety, yet also universally relatable truths.
Where any up-and-coming musician's debut album might feature a number of top industry-approved producers from around the world to ensure guaranteed success and radio-play, Sivan opted instead to keep his cards close to his hometown of Perth - working with his long-time collaborator Alex Hope [whose vocals also feature on 'Blue'] on almost every track of the album, as well as a few other close co-writers and friends. The album is a homage to local Australian talent, with the likes of Tkay Maidza, Betty Who, and Allday featuring - as well as New Zealand duo Broods.
Sivan's relationship with other musicians is evident not only through his collaborations on 'Blue Neighbourhood', but also through who he champions in the music industry, and sometimes even brings on tour with him - Tigertown, in the most recent instance, who supported his NZ tour. From originally meeting at a writing-camp in London three years ago, Troye and Charlie Collins (Tigertown's lead singer) forgot about one another until a mutual friend sent a video of Charlie "doing whiskey slaps, which is where you take a shot and slap someone," and the two reconnected. They then found each other at SXSW, and ended up becoming a part of each other's lives again. As well as supporting his friends, Troye is always first to promote new music - with the likes of Aurora, Lontalius, Alessia Cara (whom he released a new version of 'WILD' with), Astrid S, and Dua Lipa receiving his praise, just to name a few. By tweeting, or bringing the artist as a support act on tour, Troye is creating a very important group within the music industry grounded in support and encouragement, going against the grain in an often cut-throat industry where so many artists thrive off tearing each other down.
Although the mainstream fame that transpired from 'Blue Neighbourhood' has been relatively new, the name 'Troye Sivan' has been floating around for a much longer time than many people may realise - all the way back to 2006, to be precise. The public's first introduction to Sivan was via a Telethon that raised over $3 million dollars for various beneficiaries around Australia, during which an 11-year-old Troye performed a cover of 'Somewhere Over The Rainbow'. If there's one thing that you watch today, make it that video - it's the very first video ever posted on his YouTube channel, and watching it is guaranteed to give you chills. His sparkling eyes and incredible falsetto instantly capture your attention, and though much has changed since then - one of which being the lowering of his voice by a few octaves - it's a noteworthy insight into the beginning of a rapidly soaring career.
During our time with Sivan this past July, we plied him with a personality quiz, designed to learn as much as possible about him in a short period of time. Not only were his answers revealing, but it's clear that Sivan thinks everything through - he's decisive and concise, and carefully considers every option available to him. According to his results from the quiz, Troye is a Campaigner personality-type, described as a "true free spirit" and "charming, independent, energetic and compassionate." Initially surprised by his results, he soon agreed that aspects of his results reflected himself wholeheartedly - "Campaigners are fiercely independent, and much more than stability and security, they crave creativity and freedom." Sivan shares this personality-type with the likes of Carrie Bradshaw from 'Sex and the City', Piper Chapman from 'Orange Is The New Black', and Phil Dunphy from 'Modern Family'. Sivan is an all-in type of guy, and when he agrees with something, he'll say adamantly: "100%."
Mama Mellet breaks into laughter during the quiz, "You do not mind being at the centre of attention," she teases. And when I ask if Troye considers himself emotionally stable, she tunes in, disagreeing with his answer, retorting, "I think you are!" Sivan and his mother's back and forth banter emphasises just how important family is to Troye, and perhaps his endearing humility is partially thanks to having his down-to-earth family as an anchor.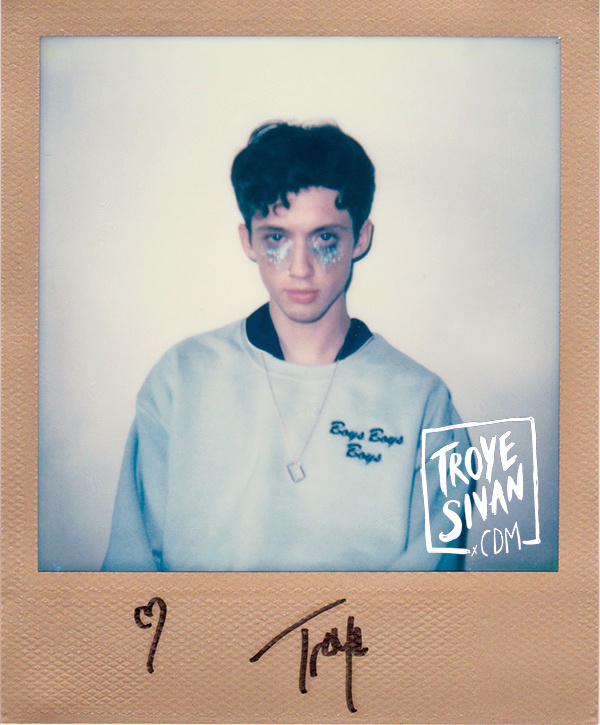 Sivan's recent tour of Australia and New Zealand was a total family affair, with his mother acting as his tour chaperone and #1 fan, all in one. We were seated next to Mrs. Mellet at Troye's first Auckland show, and she donned a Troye Sivan tour t-shirt for the joyous occasion, singing along to every single word of every song, and happily meeting fans who would come up to her throughout his performance. The following night we spotted her down in the photo-pit this time, snapping photos of her son performing to a 3,000 strong audience, taking selfies with fans in the front row, and even FaceTiming with his 90-year-old grandmother during the show - as unfortunately she's never been able to attend one of his shows herself.
Prior to our quickfire personality quiz, Sivan had entered our photoshoot location with a gasp. To be fair, he had stumbled upon a room full of multi-coloured glitter ready to be applied to his face, and an enormous pile of rose petals, only fitting for a popstar who has become an important role model within the LGBTQ+ community. Though he was in no means the first person to use YouTube to come out as gay, it was a hugely mobilising action on his part - a decision which has changed not only his life, but also influenced the lives of his fans as well. Sivan's original video post was set up with an e-mail address, troyesivansupport@outlook.com, that Troye created as a way to communicate advice and help to his fans - providing an outlet that otherwise might not have existed.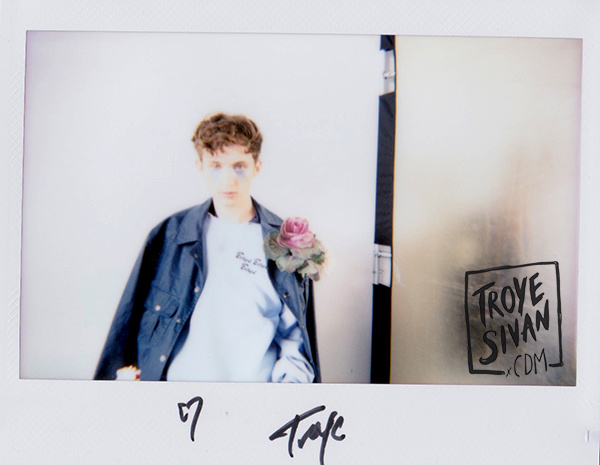 Speaking to Sivan, one gets the sense that he's both incredibly open with his ideas and views, and not at all afraid to share these with the world. He uses his platform to raise awareness about social issues - not only things like sexual equality, but racial inequalities and political issues that arise and exist not only in Australia, but all over the world. There's a sense of responsibility that exists in anyone with a large following, and Troye understands this inherently, wanting fans to be able to look up to him as a role-model - something that didn't exist for he himself when he was growing up. Sivan spoke to us last year about the changing understanding of gender, saying, "I think the world's starting to realise that there are far more identities than LGBT and there's far more gender identities than male or female. And I think it's just about realising that humans are complex and that every relationship and every person deserves to have their experience represented and told." Troye has always been incredibly open about his experiences, through both his songs - the song 'Bite' is about his first ever experience in a gay club - and in videos, and those experiences have been crucial for so many of his fans, in helping them to better their understanding of matters not commonly discussed by celebrities.
At times there exists a strange prerogative fed and strengthened by the Internet, that if you're famous, the world is entitled to know everything about you - and if that doesn't happen, then you are labelled as "mysterious" or "puzzling". As a musician who made his start on YouTube, there's an expectation that Sivan ought to share everything with everyone, and that fans are owed an entitlement to Troye's life - something that he has been struggling with. In a series of tweets to a fan last month, he explained, "Privacy to me is doing that at my discretion. I've decided to live my life openly and freely and do what I want because I need to, for my happiness and because I have nothing to hide. And then if I want to talk about or share something, I'll talk about it with you guys - if I don't discuss something, I probably don't want to and would rather just keep that part of my life to myself." It's a delicate conversation about privacy in the modern age for celebrities, but Troye articulated the point concisely - a point which fans have since respected. Just last month, Sivan's Soundcloud and Twitter accounts were hacked, leading to a private photograph being leaked online - which fans responded to by refusing to share it on social media in an act of solidarity.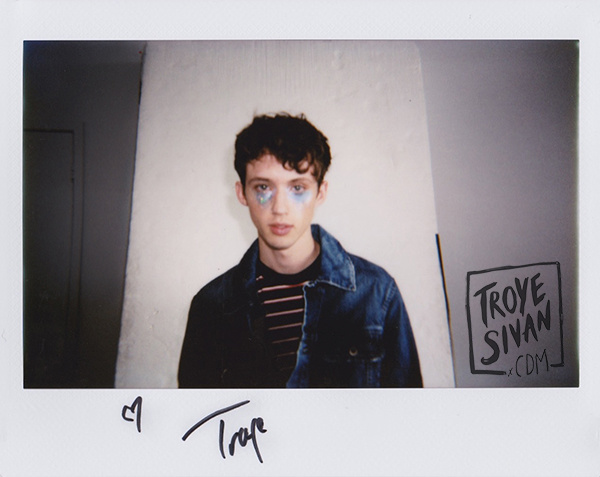 [Dart Denim Jacket by AG. Sunday Stripe Tee in Navy/Red by Rolla's.]
In the eight-minute-long 'Coming Out' video that Sivan initially shared on the Internet three years ago, he said, "I hope that people like 14-year-old Troye are going to find this video," and that hope has come true, with those viewers having grown into the most loving, respectful fanbase that he could never have imagined in his wildest dreams. Millions of fans around the world have not only found that video, but found themselves through that video, a video which has inspired countless LGBTQ+ people to feel more comfortable and confident in themselves. Sivan's genuine love for every single person who's supported him can be felt and seen so easily in both an online setting and in IRL - from his interactions with fans, to his stage-show, to the relatable anthemic lyrics contained within his songs. And with his first album already behind him at only age 21, Sivan has a long career ahead of him - and there's no doubt in anyone's mind that he won't ever forget every single person who has helped him along the way.
"...it means a lot to me that they [my fans] put so much trust in me in everything, and so I take that role very seriously. I want to try to be everything that they need me to be."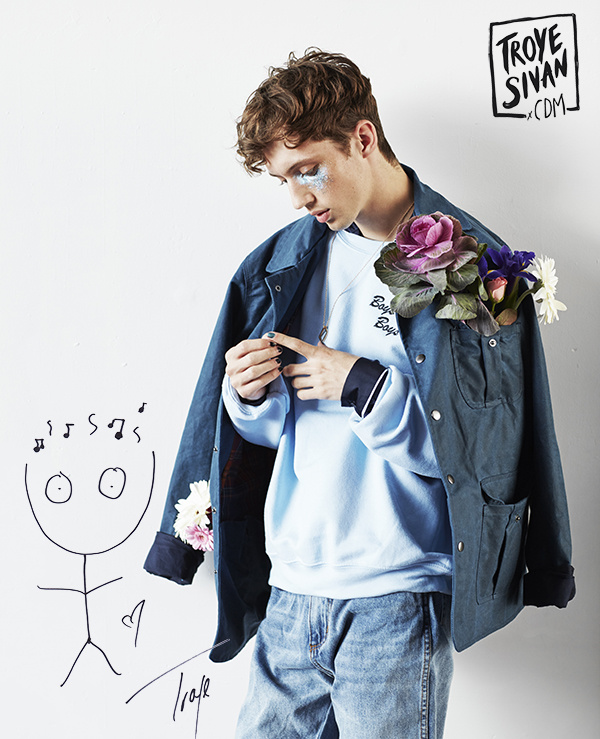 [All flowers thanks to Flowers On Onewa. Waxed Cotton Cruiser Jacket by Moreporks. Custom-designed 'Boys Boys Boys' sweater by La'Pin. Rose Gold Necklace by The 1975. Satin Look Piping Shirt in Navy by Glassons. Norm Reg Fit jeans in Hutchence Blue by Rolla's.]
COUP DE MAIN: When we talked to you last year, the 'Wild' EP had gone to #1 on iTunes in New Zealand literally the day we spoke. Now you're here playing sold-out shows. It's literally wild. How have the non-Queenstown parts of NZ been treating you thus far?
TROYE SIVAN: So, so, so, well. I was saying before, we've been to so many really, really amazing places over the last year, and I think Sweden, Japan, and New Zealand have to be the ones for me. I really, really love it here. It feels like home. It feels super familiar, but it's just like really pretty and everyone is really, really cool.
CDM: In 'Ease', you say, "Take me back to the basics and the simple life." For you, what's the simple life? When/where are you happiest?
TROYE: They're different I think. The simple life isn't necessarily when I'm happiest, do you know what I mean? But when I think of simple, simple moments, it's probably lying on my bed in Perth. In the afternoon, the sun comes into my room, and that's probably it.
MY FAVOURITE PART OF MY YOUTH IS…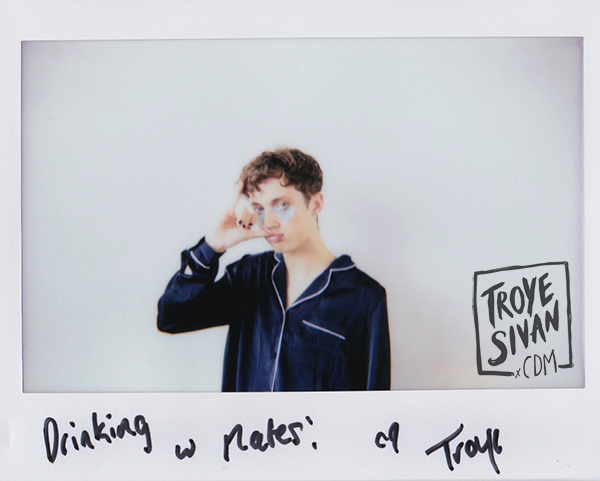 [Satin Look Piping Shirt in Navy by Glassons.]
CDM: In 'The Quiet', you sing, "I'd rather have broken bones / Than feel myself turn to stone." Do you think it's better to have loved and lost, than to never have loved at all?
TROYE: 100% better to have loved and lost.
CDM: 'Talk Me Down' perfectly embodies the loneliness of being physically apart from someone. Is distance the hardest thing for you now with this touring-lifestyle, in maintaining any kind of relationship, be they platonic or romantic?
TROYE: 100% yeah, and even with my family and stuff like that, it's hard to be away from people you love, and it puts a strain on your relationship, but you also learn to communicate better, and it makes it nicer when you are with those people in real life again.
CDM: Communication can be hard enough when you see your loved ones daily. Distance forces communication to be via technology. Do you feel like technology if a personal enough medium to conquer distance?
TROYE: I actually do. Well, not conquer it, I do think that it's always good to see the people that you love in person, but I have a lot of faith in FaceTime.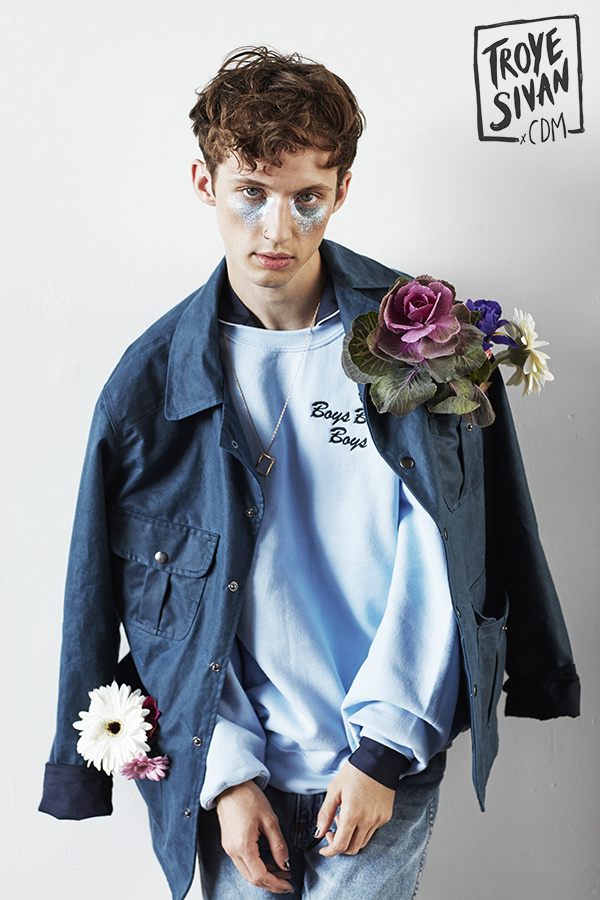 CDM: It must be difficult to be away from your loved ones when on tour. Is it nice having your family here with you on this Australasian leg of the tour?
TROYE: Yes, so my Mum and my brother are here <sorry, stops to eat> My brother's supporting me on the tour. It makes such a big difference, it makes me so much happier. I love having them around.
CDM: The lines in 'Lost Boy', "I'm just a lost boy / Not ready to be found," are so universally relatable. What do you think it is about human nature that makes us so afraid of commitment?
TROYE: For me, that feeling is a little bit intoxicating. I think recently, 'cuz I get the opportunity to travel the world, it's kind of easy to feel… like there's just so much out there, there's so many opportunities, and so many places to see. That's something that can be super lonely at times, but other times it's the best thing in the world. I wouldn't change my lifestyle or anything at the moment.
HOW I FEEL ABOUT 'BLUE NEIGHBOURHOOD'...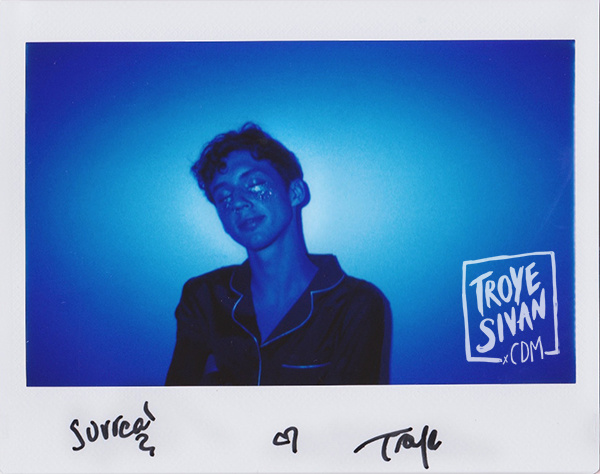 CDM: 'for him.' is probably my favourite song on all of 'Blue Neighbourhood'. You sing "You don't have to say 'I love you', to say I love you." Do you think that society and the media has placed an importance on the words 'I love you', when in actuality love can be expressed in so many other ways?
TROYE: Yeah. I think those three words are super, super nice. I love those three words. But in general, what I was thinking about writing that song was like— I think it was a Tumblr post that I first read that was like— it was about, even just text, just saying to someone, "Text me when you get home safe," or little things like that. Stuff like that is real life. 'Cuz you could say 'I love you,' and lie. But actions speak louder than words, I reckon.
CDM: In the world of Troye Sivan, what's the ultimate way that a human can convey their love?
TROYE: In my personal life, or…?
CDM: Whatever you think.
TROYE: I think, just being solid. Being reliable. Being there when you need them.
CDM: "I drink but I choke", you sing in 'Cool', and "I'm a spark and you're a boom." In a society which places so much importance on the idea of 'cool', do you think it's dangerous to compare yourself to someone else, and to chase the perception of 'coolness'?
TROYE: 100%, yeah. I wrote that song in L.A. when I was, for the first time ever, like, feeling some of those pressures to be someone that I wasn't, just dealing with that. And then, ultimately realising that the coolest people in the world, to me, are people who haven't really succumbed to any of that stuff, really are individuals in the true sense of the word. It's sort of about feeling all of that pressure, and then not really succumbing to it, I think.
CDM: Last time we spoke, you hadn't yet gone on tour but we talked about the ethics of paid meet & greets. You said that you "never wanna give a fan who's more economically well off than another, a better experience," so it was so super heartwarming watching you sign for 350 fans yesterday. What's going through your mind when you're basically speed-dating 350 people one after the other all within an hour-and-a-half?
TROYE: It's mostly just, look people in the eye, say their names. I wish I could spend more time with people than I actually get to, but then we don't get through everyone. So it's just one of those things where I'm like, "Try and make this moment as special for this person as you possibly can, and try and actually connect with the people." Because I think it's sort of easy to let your eyes glaze over and become a zombie. And so, I would say I'm mostly trying to be like, "Let me actually take in this person." Maybe look at what they're wearing, their hair.
CDM: You were complimenting so many people, it was adorable!
TROYE: I do that because it really snaps me out of, if I get into a daze— kind of brings me back to the present moment so I try and do that as much as I can.
CDM: Your fans are SO creative - at the signing I was in awe of everyone's talents, and I often think that fan's talents or particular habits are reflective of the artist. Do you think your fans are a reflection of yourself in a way?
TROYE: I'd like to think that I encourage creativity, and encourage— I want people to, I just have so much fun making all of the stuff that I get to make, and so I want everyone to do that, always.
CDM: You had a huge bag full of gifts and letters, and I can imagine that must be so much stuff to load around all the time. Do you find it important to open this window for fans to communicate with you in some way?
TROYE: It's super tough, because we're travelling, I have a suitcase… So what we'll often do is we'll ship stuff back to America, where— I've got a storage unit. Sometimes I'll do that, or I'll just sit for a while and open stuff, and then ship the rest when I run out of time.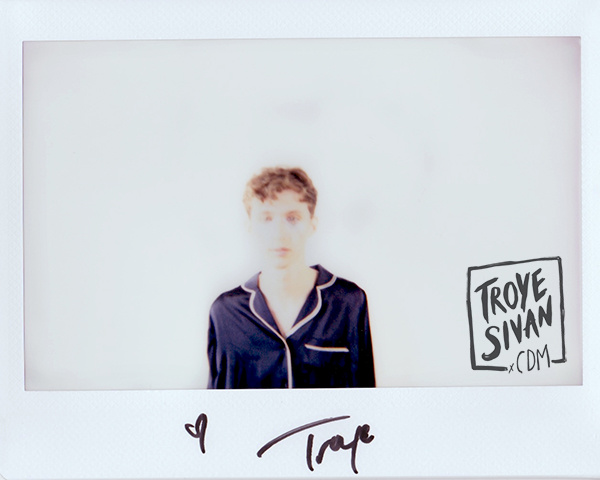 CDM: I love how on your website you have a 'support' section which has phone numbers for hotlines all over the world. Your relationship and care for your fans is SO genuine as evidenced by this - you really are a role model in this sense. Do you feel a sense of responsibility to look after your fans in this way?
TROYE: I definitely do, yeah. I think— it means a lot to me that they kind of put so much trust in me in everything, and so I take that role very seriously. I want to try to be everything that they need me to be.
CDM: Your album is rooted in the colour blue - obviously from the title, and you've even incorporated it into your visuals in videos and live shows. Do you get chromesthesia when you write music? It's a type of synaesthesia that when you listen to music and see colours.
TROYE: I don't have it. I definitely think about visuals when I'm writing. I'll picture  place— that's one of the reasons why, we had an artist draw the artwork for the cover. Because we went out, and I had this sort of world in my head, this vision in my head of what 'Blue Neighbourhood' looked like, which I think is Perth for me, which I've romanticised in my head completely, it's this very place. And then we went out and we did a photoshoot, and tried to capture that on a camera, and it just didn't work. And so then, to capture that ethereal vibe we needed to get an artist in. I definitely build worlds with moods and stuff in my head.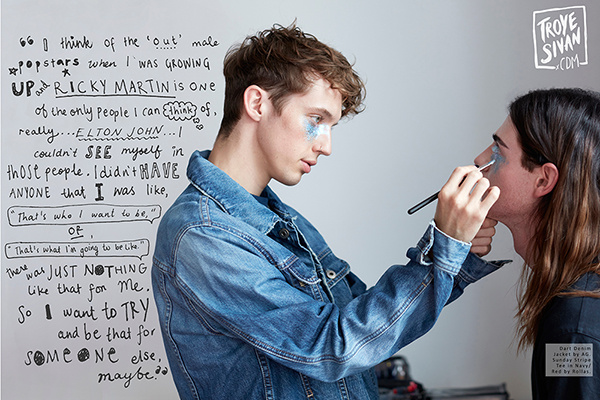 CDM: Following the LGBT shooting that occurred in Orlando last month, you called out Malcolm Turnbull for segregating LGBT people in his comments regarding the incident where he failed to mention anything about the LGBT community. Your social media use, especially around activism and LGBT rights is fantastic, and I know so many people who admire you so much for it. Do you think it's important to use your voice in this way, not only to call him out, but to educate and inform those who may be miseducated on things like this?
TROYE: Thanks! I think so. I'm really lucky to have this platform, and I just want to make sure that-- I think at the end of the day it comes down to a lot of frustration. I didn't have... I think of the 'out' male popstars when I was growing up and Ricky Martin is one of the only people that I can think of, really... Elton John... I couldn't see myself in those people. I didn't have anyone that I was like, "That's who I want to be," or, "That's what I'm going to be like." There was just nothing like that for me. So I want to try and be that for someone else, maybe.
CDM: We interviewed Allie X in London a couple of months ago, and she had a question for you - so from Allie: "How's Twoye today?"
TROYE: Oh, cute! Twoye's good. He's in New Zealand.
MY FAVOURITE TROYE SIVAN SONG IS…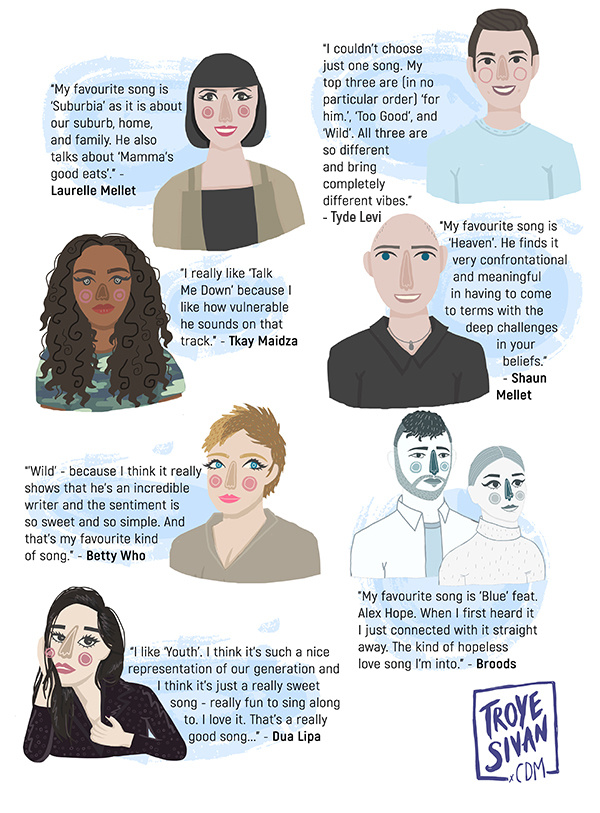 GET THE LOOK…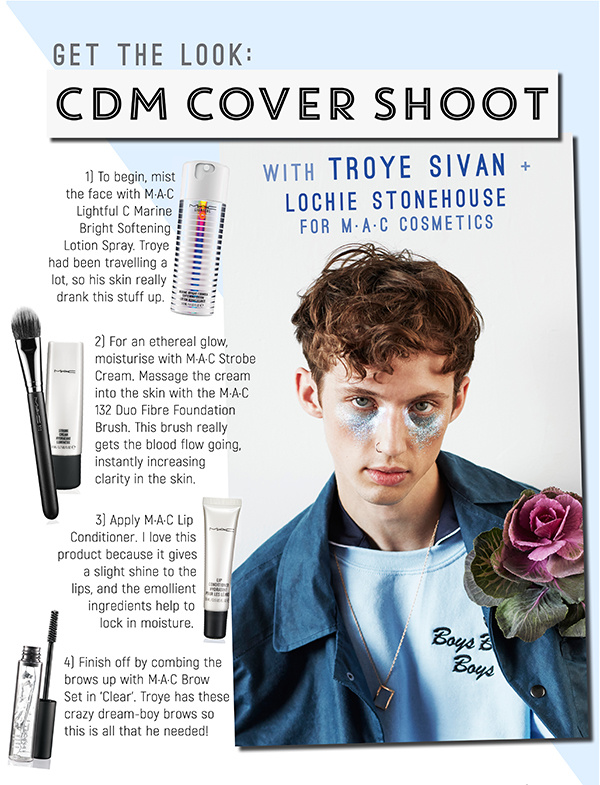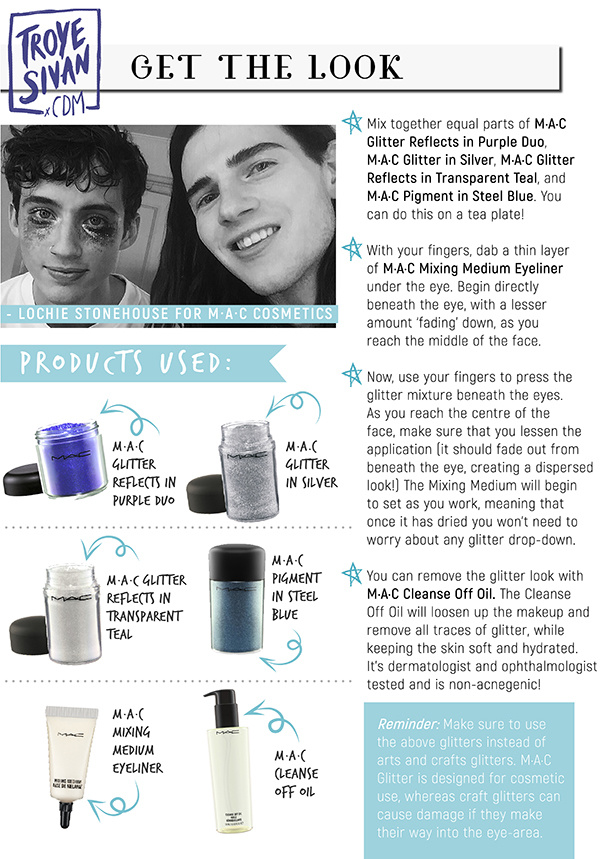 If you're also wondering how you can get your hands on the sweater Troye is wearing in our photoshoot - our friends over at La'Pin Store who custom made the sweater for him have started a pre-order, so you can order your very own!
They're also donating $10 from every sweater to Rainbow Youth - a New Zealand organisation supporting queer & gender diverse (LGBTQ+) young people. Check them out below…

Troye Sivan's album 'Blue Neighbourhood' is out now - click here to purchase.
Watch the 'Youth' music video below…