Outside Lands announce 2016 daily schedule.
Outside Lands announce 2016 daily schedule.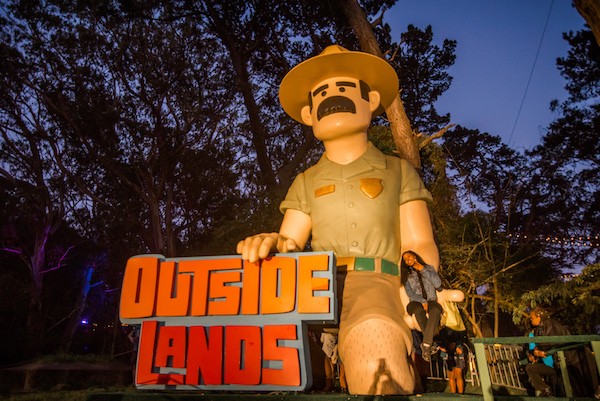 [Photo Credit: Andrew Jorgensen]
The annual San Francisco music festival Outside Lands Music and Arts Festival (held this year on August 5th - 7th) has just released their daily timetable - so you can start planning who you're gonna watch each day.
We've compiled a list of hard choices you're gonna have to make if you're heading to the festival - check them out below…
Friday, August 5th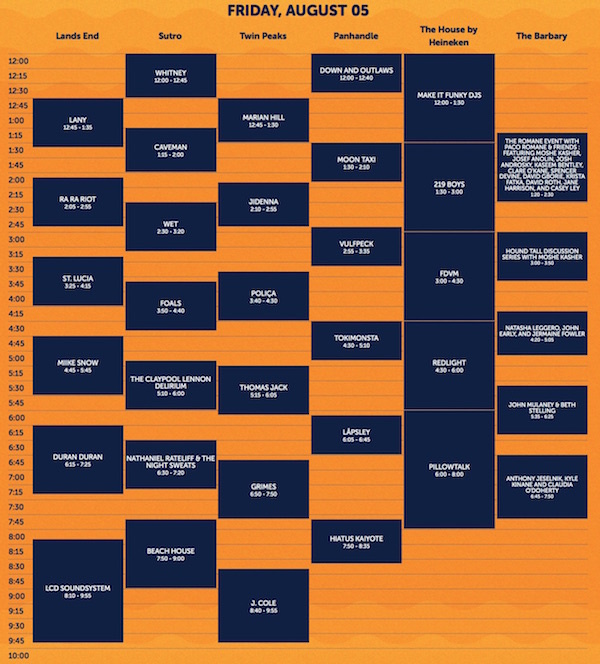 It's a day of tough choices - firstly you have to choose between Ra Ra Riot or Wet, or you could just opt to run between the two stages to have a taster of both.
The mid-afternoon slot sees St. Lucia, Foals, and Poliça playing at the same times, but personally, I think Foals' live on-stage energy isn't worth missing.
Closing out the night is gonna be an epic set from LCD Soundsystem, and though Beach House put on a great show, LCD is a once in a lifetime opportunity.
Saturday, August 6th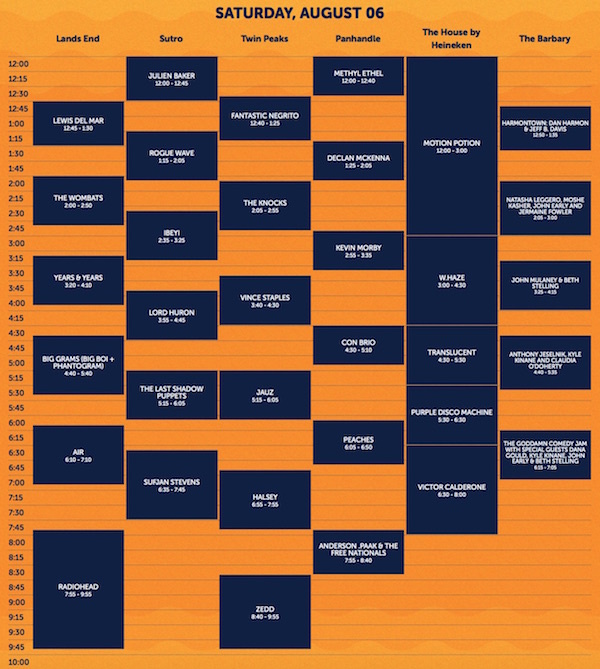 Though Years & Years and Vince Staples are basically polar opposites of the music spectrum, it's still a tough decision. They're both gonna bring a great show to Outside Lands, and as their stages are at opposite ends of the Park, it's gonna be one or the other.
Night-time brings a perfect evening, from The Last Shadow Puppets, to Halsey, closing out with two-hour-set from Radiohead.
Sunday, August 7th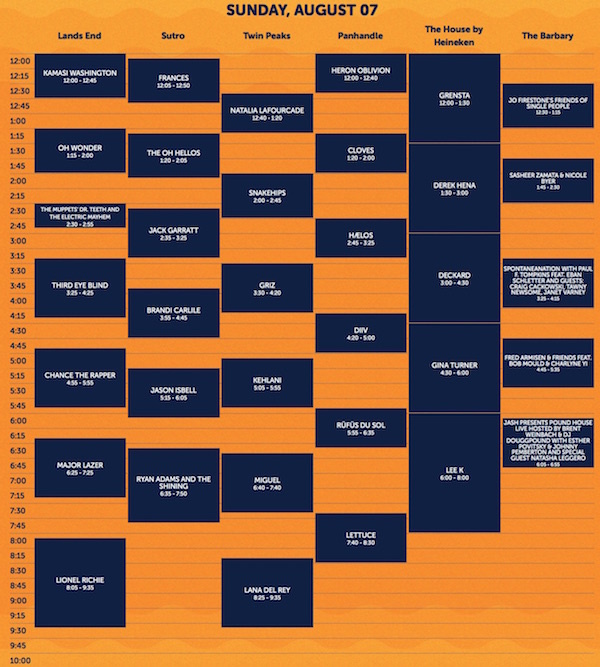 The Muppets' Dr Teeth And The Electric Mayhem are playing for 25 minutes on the Sunday - a must-see for the festival, even just for the fact that you can say you've seen the Muppets' band live.
One of the other hard choices of the whole festival is Chance The Rapper and Kehlani playing at basically the same time - it's one choice I'm still torn about. It also means that they can't be a guest in each others' set, as I would love to see 'The Way' live.
Miguel and Lana Del Rey follow each other on the Twin Peaks stage, making the end of Outside Lands sure to be a great night.
Check out the full daily schedule here.
Watch Lana Del Rey's music video for 'Freak' below…
Load next