Interview: Carly Rae Jepsen - pop's intrepid explorer.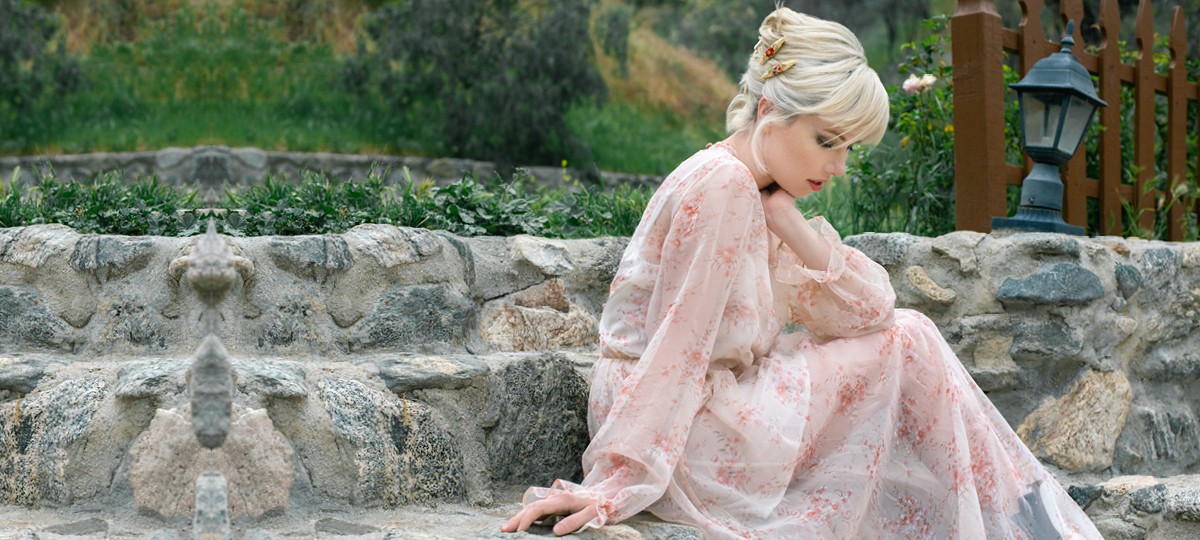 Carly Rae Jepsen is practically bounding with vigour next to me as we begin our ascent of a hill to one of the picturesque locations for our cover photoshoot. Having turned down the offer of an air-conditioned private car to drive her up the hill, we instead take a moment to enjoy the fresh air in the depths of the Angeles National Forest. It's been over seven years since we first met Jepsen on a promotional tour in New Zealand for our first cover feature, but meeting again feels akin to reuniting with an old friend, with Jepsen enthused to discuss her brand-new album 'Dedicated' with total sincerity.
Spend any period of time with Jepsen and you'll almost instantly forget her status as one of the most beloved pop artists on the planet today, with her on-site requests being few and far between. Her work ethic is collaborative and open-minded as soon as she arrives on-set, and at one point asks our stylist, "If I wasn't here, and you could pick anything for me to wear, what would you want me to wear?"
Jepsen is by no means a newcomer to the world of music, and despite the newly released 'Dedicated' being her fourth studio album, she still somehow feels like an underdog, someone that you want to win against all odds.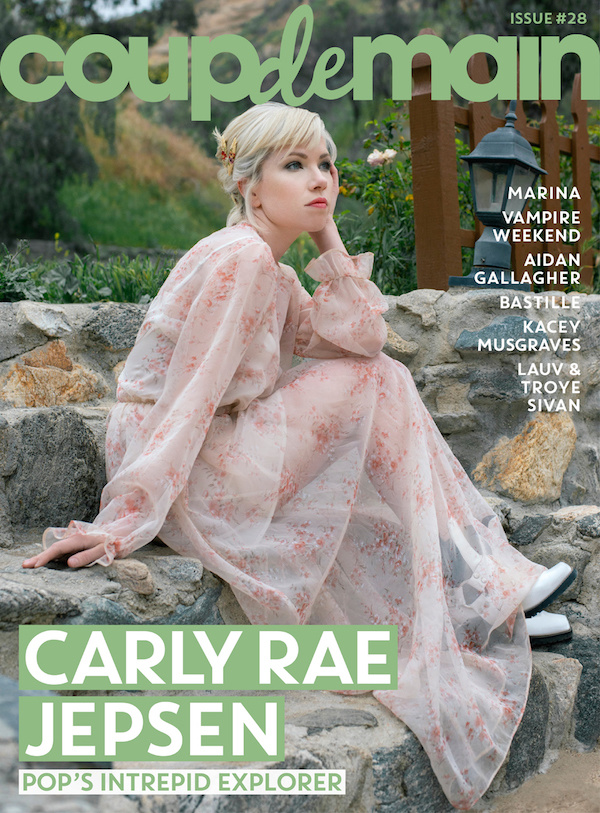 Click here to order a CDM x Carly Rae Jepsen zine (i.e. a mini-magazine featuring photos + quotes from this cover-story).
And much like her music, Jepsen has an energy for life which you can't help but feel infected by. During our photoshoot, sans music, she jumps around and off walls spontaneously, dorkily dances solo, balances teetering on an abandoned vintage fountain, and appears to have fun all the while doing so. It's an unseasonably cold day in California, so she wraps up in an oversized teddy jacket between each look to stay warm (which she is later ecstatic to gift to her assistant of the past four years, Jenna), but not once does Jepsen complain, or ask to pause for a break.
Post-photoshoot, I'm sitting with Jepsen in a cozy trailer on location, where we discuss the album itself at length. I received a stream of 'Dedicated' the week prior to meeting Jepsen, and she's eager to hear my opinions on the songs. "I think I grew up tending to be [a people pleaser]," Jepsen explains, and relies a lot on her team and friends for their input on cutting down her gargantuan musical outputs into an album-length quantity of songs. But some songs, like the album's opener 'Julien', saw her own instincts win out, and set the tone for the album to follow.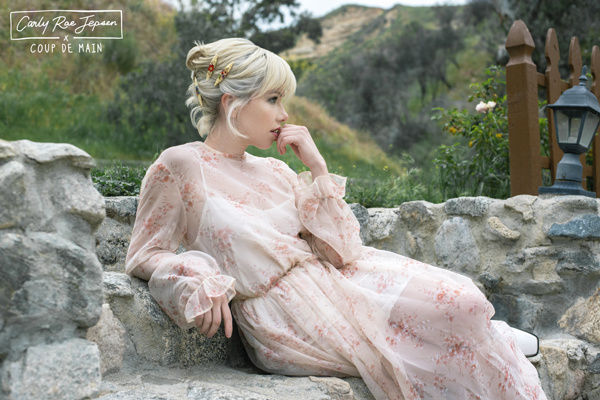 [Vintage Sheer Dress from magichollow. Cinnamon Girl Barrettes by Heart Of Gold Designs. White boots, Carly's own.]
Throughout the fifteen songs that make up the album (including the two bonus tracks, 'For Sure', and the previously released 'Party For One'), Jepsen shares her heart with her fans through explorations of love - something that she's all too familiar with now in her career, with each of her albums delving into different aspects of love. On 'Dedicated', Jepsen feels more authentic and vulnerable than ever before, with songs like 'Happy Not Knowing' and 'Right Words Wrong Time' unafraid to showcase the more difficult sides of love, with Jepsen even acknowledging on 'Happy Not Knowing' that she may not "have the energy to risk a broken heart."
If you've ever had any musings on the feelings of love, chances are Jepsen has written a song about it - and it's this exploration of that multi-faceted emotion that has made her music the soundtrack to so many moments in different people's lives. She bursts into loud laughter when I tell her that the 'Emotion' B-Side release 'Store' has soundtracked many of my trips to the supermarket, but I'm sure it's equally as likely that songs like 'Now That I Found You' and 'Automatically In Love' will soundtrack the blossoming of many a relationship to come. Jepsen's overjoyed to be a part of that, stating that she wants her albums to feel like "the backdrop of narrating your life."
On 'Dedicated' alone, Jepsen takes us all on an emotional rollercoaster of ups and downs - from the witty brushing off of a crush, "I'm sure it's nothing but some heartburn, baby," in 'Happy Not Knowing', to the realisation in 'The Sound' that, "Love is more than telling me you want it," and Jepsen even being fearless to explore the extremities of love in her songwriting, with 'I'll Be Your Girl' touching on green-eyed envy which is so often hidden away.
Love has always been an emotion that we, as humans, struggle to properly comprehend - and that's probably the reason why it's the most common theme in songwriting, with the desire to understand it uniting us. Towards the end of our time together, Jepsen and I are reflecting on her learnings on love throughout her life, and she concludes, "So I would just say that I've learned that I don't know anything yet." Though a broad statement, it's somewhat comforting to hear - that if even Carly Rae Jepsen doesn't have a full understanding of love yet, maybe it's just not meant to be understood, but more an exploratory exercise for the hardest-working muscle in the human body; your heart.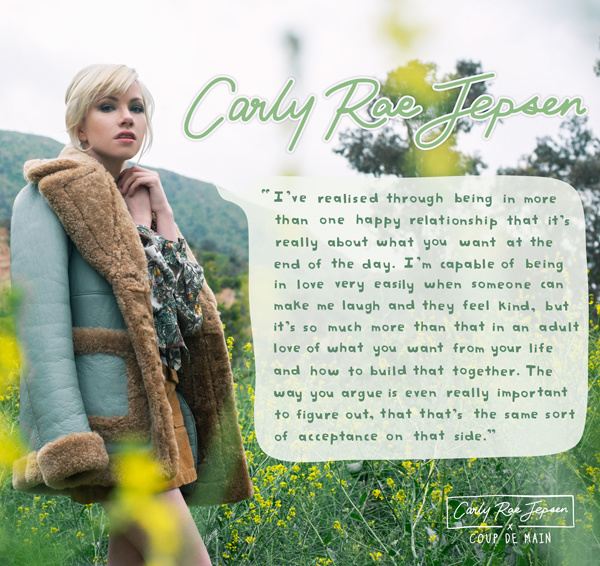 COUP DE MAIN: I was sent your album 'Dedicated' last week and have been listening to it non-stop. It has so many different feelings encapsulated in the songs! How are you feeling about the release?
CARLY RAE JEPSEN: I'm both things - I'm terrified and so excited simultaneously because I think you've touched on exactly that, I really allowed myself to probably be more authentic and vulnerable than I ever have before. It was written over the span of so many years so it kind of feels like it encapsulates little memories that were full moments in time. <laughs> So I think for that reason it's scary to share.
CDM: It's following up 2015's 'Emotion', which is an album that became so beloved following its release. Within the family of your albums, where do you feel like 'Dedicated' sits? Is it like an older sister to 'Emotion'?
CARLY: I'm always hoping that every time I'm releasing a new project, especially when I've taken a pause of three or four years to make it, that I'm offering something new, versus just trying to remake anything. But you're always building off of your story and your art. I think I wouldn't have made 'Emotion' without 'Kiss', and I wouldn't have made 'Dedicated' without 'Emotion'. So sorry to answer that question both ways.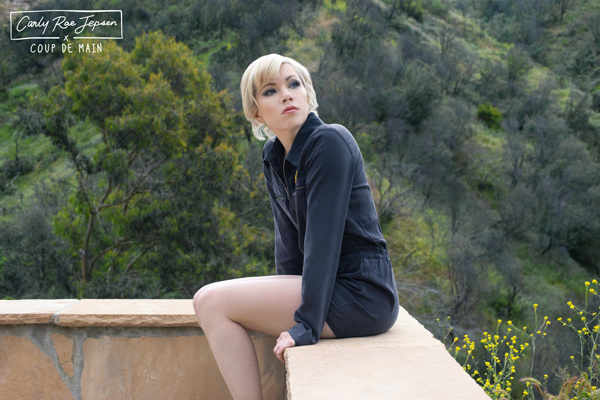 [Zip Up Boilersuit by Glassons.]
CDM: What type of time span were these songs written in? Did you start straight away after 'Emotion'?
CARLY: Yeah, I began writing for this next project immediately after turning in 'Emotion'. I have a ton of material and it took me a while to decide what was going to make it. And it surprised me that some of those songs that were still winning for me were some of the songs that happened right away when I first went to Sweden. And then, also some of the ones that ended up making the cream that rises to the top was in the last inning of stuff. <laughs> It was strange. And then of course, there were a couple in between, but I would say that the majority came from those first few months of discovery, and then a better grasp of what I wanted to do near the end. But I think, every song, even the songs that don't make it, are all part of the road of learning what you want to do.
CDM: You narrowed down 250 songs to 12 for 'Emotion'. Was it a similar process when choosing what would become the songs on 'Dedicated'?
CARLY: It was similar. I can't time travel back to exactly what the process was for picking songs for 'Emotion', but this ['Dedicated'] felt harder. It felt a little more stressful just to select at the end of the day for some reason. It was some 200 songs again. I think I'm starting to realise my process is to overwrite.
CDM: If you can accept that, at least you can expect it each time!
CARLY: <laughs> Yeah, I know. I'll meet other artists that are like, 'I wrote 8 songs and I only have 2 more to go before I'm done with my album.' I'm like, 'How do you do it?! That's amazing.' I have to explore in so many directions before I feel happy. For me, it's also such an art-form to keep learning, and I feel like the more I put into it, the more I learn what it is that I want to offer. Obviously, everyone as a person, as a human, has different flavours to who they are, and musically, I want to explore all of those. But also, taking the emotion away from that and trying to somehow still find the emotion while selecting songs when you all have different... Maybe you fell in love for a day, and for a moment that song made so much sense. That part becomes hard to separate, but that's where I call in my team, and my bandmates, and label people, and start to listen a lot to what is getting the best reaction.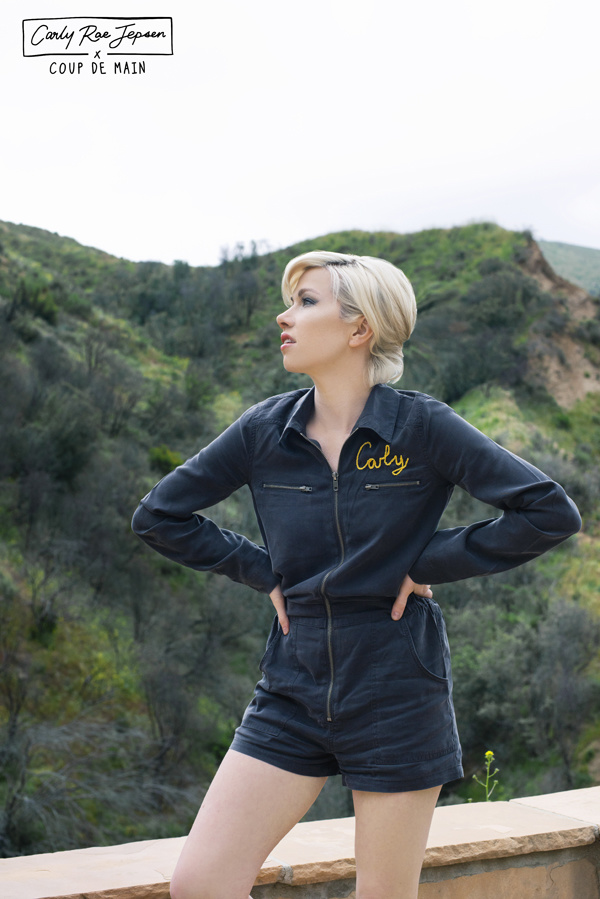 CDM: Do you have a gut instinct when it comes to songs, or do you come back and second-guess your initial thoughts?
CARLY: I definitely second-guess. I wish that wasn't the case with me, but I do. I think when you have that many songs it's impossible to completely just be like, 'This is it.' Even after selecting for this album there were a couple of days where I was like, 'Wait? Did I?!' But then I kinda went back to it and thought, 'No, this still feels right.'
CDM: What happens to all the unreleased Carly Rae Jepsen songs that exist in the world?
CARLY: Oh god, I don't know. I think that's part of the reason I put so much time into making this album, is I kind of felt like it would be fun to have a collection of material to start to look at other ways of getting to share that with a less traditional, 'Every three years, take a break, release an album.' So I think we have some secret plans in the mix for how to get those out into the world later on. Not all of them, but some of them!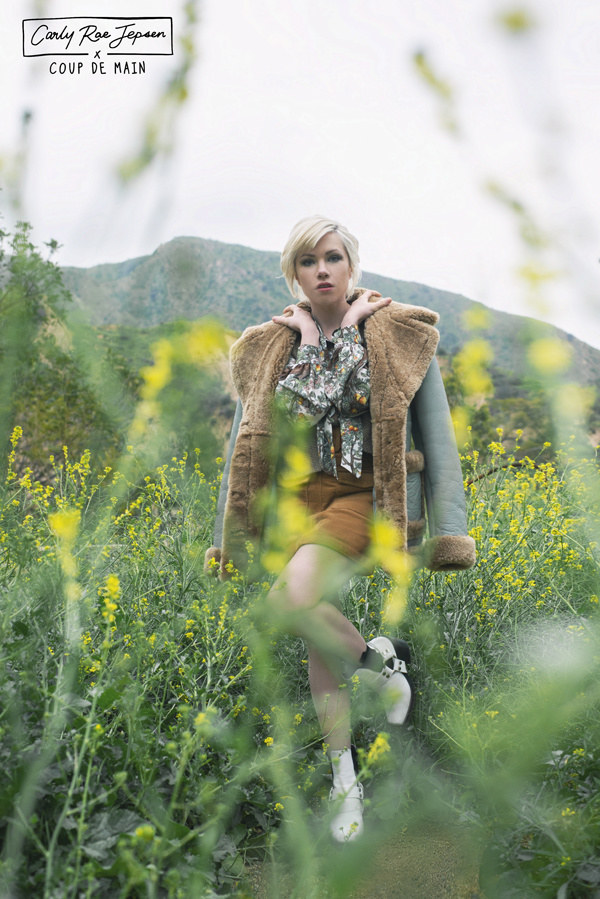 [Babylon Blouse in Bad Apple Crepe De Chine print by Karen Walker. Belted Cord Mini Skirt in Sir Camelot by Glassons. Waistcoat, stylist's own. White boots, Carly's own. Midwest Shearling Coat in Pale Sage by Stolen Girlfriends Club.]
CDM: 'Julien' is a SONG to open the album with! It definitely sets the tone, production-wise and lyrically, for the album to follow. What made you want to open the album with that song?
CARLY: Thank you! When you asked me earlier if I ever had gut feelings about something, one thing that I had a gut feeling about was not only that song, but in the same way with 'Emotion' (the actual song), it started to have a mould of what I wanted to create. That was a real breakthrough song for me and this album. It was like, 'Oh, this feels like something, I could get really into this vibe,' and it sort of had this understated disco thing that I hadn't played with yet before. So I think I also knew with complete determination that it was going to open the album, and I hadn't even created the album yet, but I was like, 'This should be the chill first song, let's bring them to the water slowly,' kind of thing.
CDM: I love in the second chorus the way you describe the ended relationship - "But all your colours are still dancing in my mind." Do you remember how you came up with that particular line?
CARLY: Well, I think I was starting to paint a little bit of Julien. I did have an ex named Julien; he's not my everlasting love, let it be known, but he had a very musical name! But I sort of enjoyed the idea of looking at what everlasting love is to people nowadays. It's maybe sometimes not the person that you end up with, but that person that you're always going to think about. So I thought about making him more of a mirage versus a human being - that was sort of the right move.
CDM: That line also reminded me of 'Favourite Colour' from 'Emotion'!
CARLY: I think I feel a little bit in colours, I think a lot of people do. When I'm really in the haze of what feels like euphoric love, I always feel like there's a colour around it.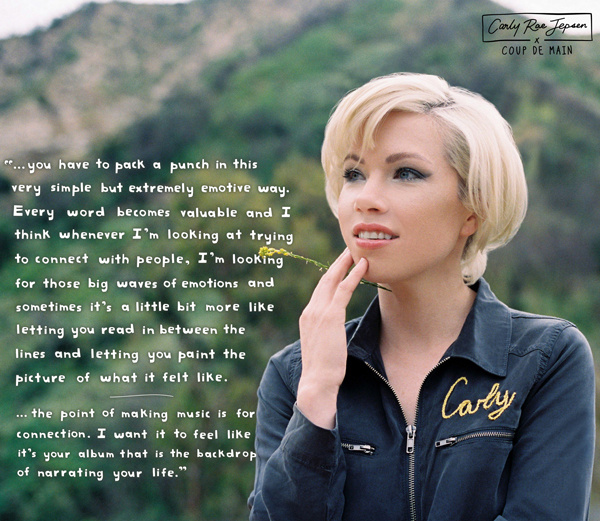 CDM: I think some of the best qualities of a Carly Rae Jepsen song are how they manage to encapsulate how so many people feel, summed up in a way so simple yet also hard to describe, and lines like describing someone as colours dancing in a mind is such a perfect example of that. Are you conscious of how your songwriting explores those ideas, or does it come quite naturally to you now?
CARLY: I think it's a combination of things - I think it's just the way that I talk or the way that I lyrically write, and think about love in general. But I also think I'm a product of what I listen to, what I'm attracted to, and that's less what is currently popular versus really old school 40s jazz songs. When you listen to a Billie Holiday song like 'My Man' it's not too far away from, structurally, what a pop song is lyrically, with how much you have to pack a punch in this very simple but extremely emotive way. Every word becomes valuable and I think whenever I'm looking at trying to connect with people, I'm looking for those big waves of emotions and sometimes it's a little bit more like letting you read in between the lines and letting you paint the picture of what it felt like.
CDM: It's cool because your fans all feel like your music connects with them so much - even though they all have completely different experiences, it unites them.
CARLY: Well, to me, the point of making music is for connection. I want it to feel like it's your album that is the backdrop of narrating your life. I can remember driving in the car when I was a little girl and my dad would give us each a bit of time to listen to whatever song on our camping trips that we wanted to. Whenever it was my turn to take over, the time would fly by because I would be painting stories in my mind around these songs, as if I was the main character of a Celine Dion song! It was so fun to imagine, and I think I enjoy listening to music like that, so I think I try to create it as well.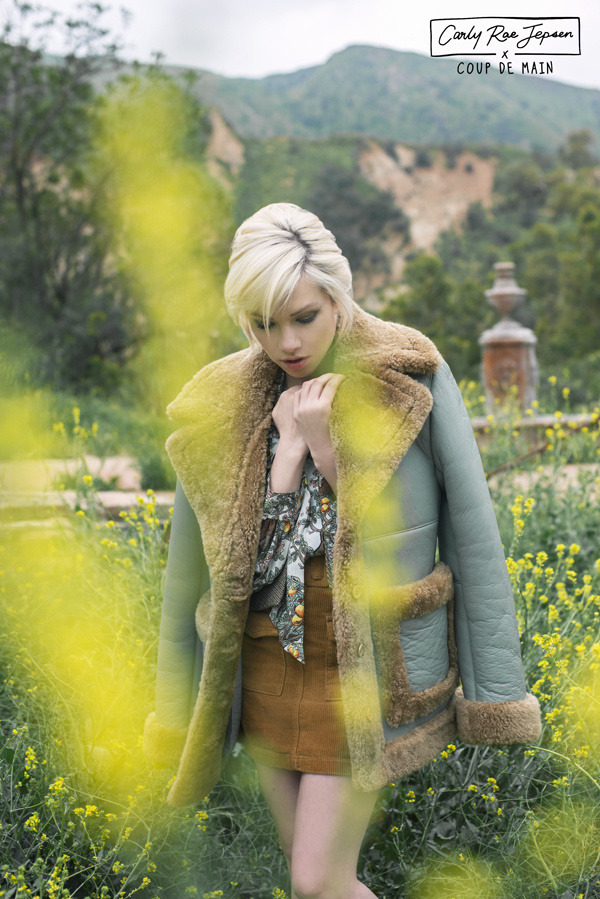 CDM: It was such a genius move to have 'Now That I Found You' soundtrack the recent 'Queer Eye' trailer launch - especially as you are so, so beloved in the LGBTQ community. How do you feel about your place as such an icon in their community?
CARLY: Very proud and very fortunate. I feel like that came to us last minute when they had heard the song. I'm such a huge fan of the show and I think the first time I saw the trailer for it - it came together so last minute before the release - I cried, because regardless of our song's involvement, what they were actually talking about... We were like, 'The world needs more shows like this.' So we were very stoked to be involved. Any time we can be involved in the LGBTQ community, a pride festival or anything like that, you do feel like the luckiest person in the world because there's never a better time in the world. It's just so fun.
CDM: Very important question: Is 'Want You In My Room' a song that you worked on with Jack Antonoff?
CARLY: Yeah!
CDM: The production is so distinctive, and you guys working together is one of my favourite combinations. What has it been like working with him on this new album?
CARLY: Really fun! He's been a hero in so many ways, just for again, the game of experimenting. I think there's a world where I have a fantasy where me and Jack get to release all of the songs we've done together. <laughs> I've been hinting at him like, 'We should just do a side project,' because it happens really naturally for us too. We'll get in together to write one song and we'll come out with three, and be like, 'It was just so fun, we were just shouting at each other!'
CDM: You guys also collaborated together on 'Wildflowers' from the 'Teen Spirit' soundtrack. Was that a song that you guys initially wrote together with a soundtrack in mind, or was it just something that came about totally organically?
CARLY: No, 'Wildflowers' started for me and Tavish Crowe, my guitarist, while I was on the road as a concept in its baby form. Later on, I was considering it for one of my albums and Jack had taken it away and started this new direction with this wild production that made us all look at the song differently, and we were like, 'This is kind of sick.' But by the time it got to its completion I feel like we had run out of time to make it for the album, so I'm really glad that it's found new life - I always had hopes that one day someone [would release it]. And Elle Fanning is singing it now, what a dream.
CDM: In 'Everything He Needs', those opening piano chords kinda remind me of an Elton John song, in the best possible way. How did that particular song come about?
CARLY: <laughs> YES! It started way before my time, it was actually interpolation. In the 'Popeye' film back in the day where Robin Williams starred in it, the black and white version, Olive sings this song called 'He Needs Me'. The writers that I was working with that day were CJ Baran and Ben Romans, who are both songwriters in the L.A. crowd of people, but we also have this New York / Broadway love of anything theatrical and over the top. We were just referencing old songs not even thinking we would land on this idea, but we all got hooked on how creepy and beautiful Olive singing, 'He needs me, he needs me' is, and we listened to the old production. It's crazy. We kind of were riffing off, 'What if we flipped it on its head and make it sort of sexy and funky?' We just had so much fun, and by the end we were just cackling, and we thought we would never get permission because it's a Disney thing, so I had to actually go to Disneyland and take a fake picture with Mickey Mouse with a fake contract being like, 'The big boss says it's okay! Let me please pay you to put this out!' And at the very end of the day they did, and we're all very happy.
CDM: In 'Happy Not Knowing' you sing, "I don't have the energy to risk a broken heart / When you're already killing me." Do you think that in this day and age, some people feel that it's not worth the energy to risk the heartbreak in a relationship?
CARLY: I think a lot of our generation is going through that. I can feel myself, after I've been really burnt or I'm just at a place where I'm maybe not over it, there's a moment myself where it's just like, <sigh> if someone's playing games and stuff, it's too much at this moment to risk the up and down. I think we have to be more selective with who you let yourself be vulnerable to. As soon as you pick the right one though, you've got to be brave to go for it. So on this, I was in the middle stages of me admitting to myself that I was into someone, but I was too afraid. I think there's actually a phrase I wrote in my journal a lot during the making of this album which was, 'You can hurt me baby, and I can hurt you too.' That has to be a promise going into it of like, 'That's got to be okay, we've got to not be afraid of that happening.'
CDM: I think that 'Too Much' is one of my favourite songs from the album, it's so good. "I'm not afraid to know my heart's desire," feels like such a powerful lyric. Is it a line you personally can attest to at the moment?
CARLY: I write about a lot of the different versions of love that I'm going through, but I wouldn't say I have it completely all figured out yet. <laughs> I think 'Too Much' for me was more an ode to what it is, as a man or as a woman, to feel like maybe the extremes of your personality have to be tamed down. My joke with my boyfriend currently is that any time I'm being "too much" he'll sort of be like, 'Baby, chill out,' and I'll be like, 'Don't quiet my flame! Don't dim my light!' I kind of poke him about it because I'm very wary of being in a place where you're like, 'Don't wear too wild outfits,' or you don't feel like you can be yourself.
CDM: I also feel like women are conditioned to believe that emotionally being 'too much' is a bad thing. Which is crazy, you are allowed to feel all the feelings you want to.
CARLY: Absolutely. A friend who shall not be named, I can remember them telling me a story where they were dancing wildly at this party, and they were feeling gorgeous and beautiful, and their boyfriend kind of came to them, and just a similar thing of, 'Can you just quiet down?' And that's sort of what sparked this for me. I think a lot of us feel this way, and it's not okay.
CDM: You sing in that song about over-thinking, which is such a relatable sentiment. Why do you think that our generations have such a tendency for over-thinking? Do you think it's based on the world that we live in today?
CARLY: That's a great question. I think it's one I don't totally know the answer to, I think it's a product a little bit of how the world is now, in terms of everything from Instagram to television, it's really asked you to look at yourself, and to kind of analyse whether you fit in enough. At the same time, this world of great acceptance and the opposite is happening, so I think there's a little bit of a battle of both. As a songwriter, I'm always going to indulge in the over-thinking side of my brain, at least in that moment. <laughs>
CDM: I love the line in 'The Sound' where you sing, "Love is more than telling me you want it." How does Carly Rae Jepsen show people around her that she loves them?
CARLY: I did one of those love tests. <laughs> I didn't want to do it, but I was sort of forced into it out of boredom one day. I wondered what it is. I'm very physical and touchy-feely, even my sister, she'll come over and she's usually not the touchiest person and I'm just playing with her hair, putting my feet in her lap, and I'm the same way in romantic relationships, where it's very important to have physical contact. But I also show love - and maybe this is a bad thing - sometimes in gifts, and that was one of the options too, that you're a gifter. I'm not so much the one where you do nice things for others… I did the weeds in my boyfriend's garden the other day, and I was like, 'I'm never doing this again. This is horrible. <laughs> I'll just buy you a puppy.'
CDM: Do you think that your concept and understanding of love has changed as you've grown up and experienced different experiences of love over those years?
CARLY: Yes, I think that there is a truth to the fact that I thought I was looking for just this one person. I've realised through being in more than one happy relationship that it's really about what you want at the end of the day. I'm capable of being in love very easily when someone can make me laugh and they feel kind, but it's so much more than that in an adult love of what you want from your life and how to build that together. The way you argue is even really important to figure out, that that's the same sort of acceptance on that side. So I would just say that I've learned that I don't know anything yet. <laughs>
CDM: "If you didn't know that you were right for me / Then there's nothing I can say," is such a strong opening line in 'Party For One'. Do you get like a rush of endorphins every time you sing that line? It's so fierce!
CARLY: It felt super sad at the time, but it also was acceptance which is always good. I have learned the same lesson multiple times in relationships, that morphing yourself too much into this idea of what someone wants from you or what you think that is, is never going to be happiness.
CDM: It never equates to what you actually are!
CARLY: Yeah. If you're a people pleaser in any sort of way, which I think I grew up tending to be, it's easy for me to fall into those traps of, 'This feels like what you want from me.' But I've learnt more and more that men sometimes don't know what they want from you, you just have to show them. <laughs>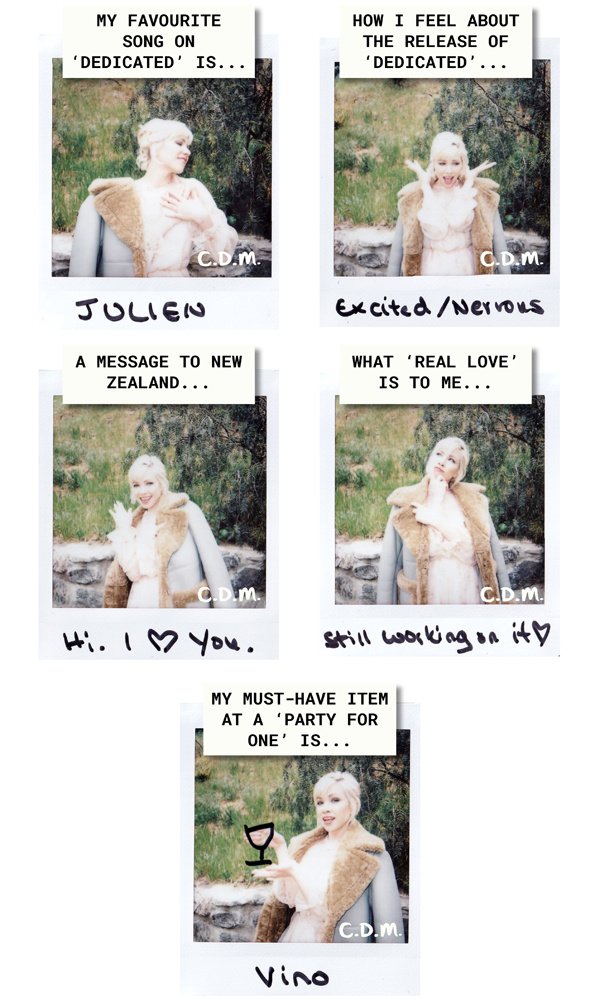 CDM: 'Party For One' is such an important anthem of empowerment because it celebrates spending time alone with yourself. As society becomes more and more reliant on technology for communication and leisure, the human race seems to become less and less sociable, but pop-culture mostly doesn't reflect that - society still conditions us into codependency and thinking you're incomplete as you are. Do you think self-love goes hand in hand with being able to comfortably enjoy one's own company?
CARLY: I think being social is really important. Even forcing yourself if you notice you've been on a spin of too much anti-social-ness, it's really valuable to just be like, 'I'm going to talk to somebody.' Communication and connection are important, but that doesn't mean you don't also need to have time for yourself throughout the day - or throughout the nights alone, if you are spending nights alone - where you're good with you. That's a relationship that takes work your whole life, I think.
CDM: It's rad that you are donating a dollar from every ticket sold from your upcoming tour to Crisis Text Line - and specifically in San Francisco to The Trevor Project to support their work providing crisis intervention and suicide prevention services for LGBTQ youth. Is it important to you to help give back like this when you can?
CARLY: Absolutely. And also just to push the needle forward in any way that we can, I think that's a responsibility everyone has. My friend Brandon personally went through an experience like that - he came from an adopted family, and around the time that he came out as gay, he was left on his own, and I think that struck a chord really early on. So when we were talking about what we wanted to focus on this year, that felt like a really perfect way to let him know I love him.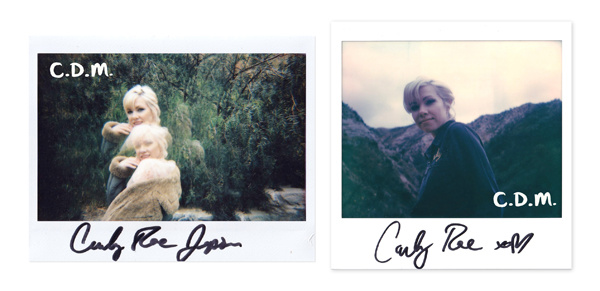 CDM: Back in the very first interview we did together in 2012, we talked a little bit about being a role model, and you said, "It's one thing to be successful in life, but if the people around you face-to-face don't admire you, then that's not really anything. So I take that really seriously and I've always worked to practise kindness as much as I can and when it comes to thinking about how I'm viewed that way, it's a lot to take on. I think I just focus on being the best person I can be and hopefully, that's a positive example and if it isn't then I'm only human!" Seven years on from that, do you still feel the same about being a role model for fellow young women?
CARLY: It's interesting timing for this question. Two weeks ago we were in Canada and this guy pulled me aside and was like, "So in your latest video, you had a lady with a dildo. And in the one after that, you were doing these other naughty things with the outfits you were wearing." He kind of brought up a couple of things and was like, "So, are you trying to follow this role of what past popstars have done of 'good girl turns naughty'? Is this your thing?" I was like, "I'm not a good girl or a bad girl, I'm a human girl!"
CDM: Also girls aren't good or bad, they are defined by so many more characteristics!
CARLY: Yeah! I'm a human girl. I feel like as I'm getting older, I'm feeling less pressure of being this perfect thing that I'm never going to be able to live up to. I love that we got to show an older woman comfortable with her sexuality! I think the one place where I'm protective probably is mostly young kids - I feel like there's a delicate way of showing adult things in a way that kids aren't gonna get right away, and I think we try to do that so people can watch.
CDM: You still haven't been back to New Zealand to play a show since your first promo visit 7 years ago! Do you want to come play some shows down in NZ on this album cycle?
CARLY: Oh my god! Oh, absolutely! I have memories of that trip. That was only a two-day trip of the five days, but it was the highlight for me.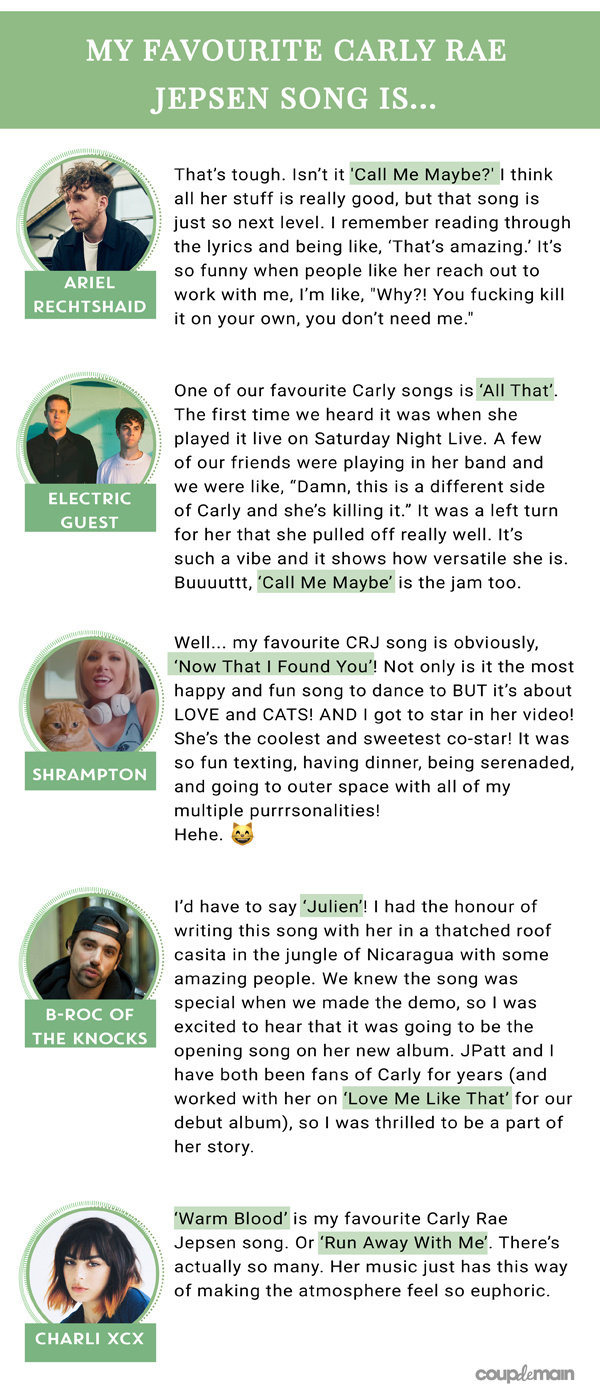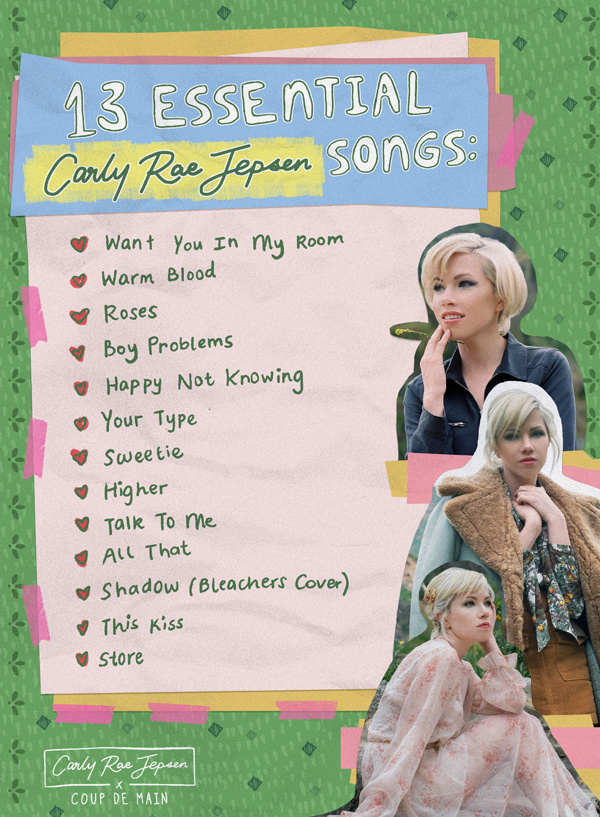 Carly Rae Jepsen's album 'Dedicated' is out now - click here to purchase and watch the 'Too Much' music video below…
PHOTOGRAPHY BY KAREN ISHIGURO
MAKE-UP BY ROB RUMSEY FOR EXCLUSIVE ARTISTS USING SURRATT BEAUTY
HAIR BY JOHNNY STUNTZ AT CROSBY CARTER MGMT