Review: Tame Impala and Mini Mansions - Sydney Opera House Forecourt, November 2015.
Review: Tame Impala and Mini Mansions - Sydney Opera House Forecourt, November 2015.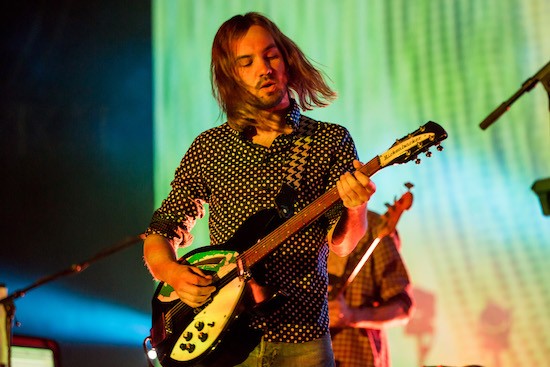 [ All photos by Daniel Boud ]
There's something pretty special about seeing a band perform in their home country, especially to an enormous sold-out crowd - and even moreso in the very special venue of the Sydney Opera House Forecourt, which was the ideal place for Tame Impala to bring their enormous sound to, and provided a memorable night for the entire crowd.
The venue in itself provides a spectacle to be appreciated, with a beautiful view looking out into the Harbour, surrounded by the domineering sight of the Opera House. It's somewhat of a rarity for artists to perform there, and seems to be reserved for a certain class of musician - with Chet Faker playing there last week, and Florence + The Machine playing there later this week, making this show all the more special.
The show was opened by the ever fantastic Mini Mansions, who despite the heat, all appeared in their suits to play an energetic 45-minute set. Their set had something for everyone - from 'Death Is A Girl' showcasing Mikey's abilities to switch between drums and guitar with such ease, to 'Creeps', a slower number which highlighted the synchronicity between the band, with harmonies between Michael Shuman and Tyler Parkford that were bound to give everyone goosebumps.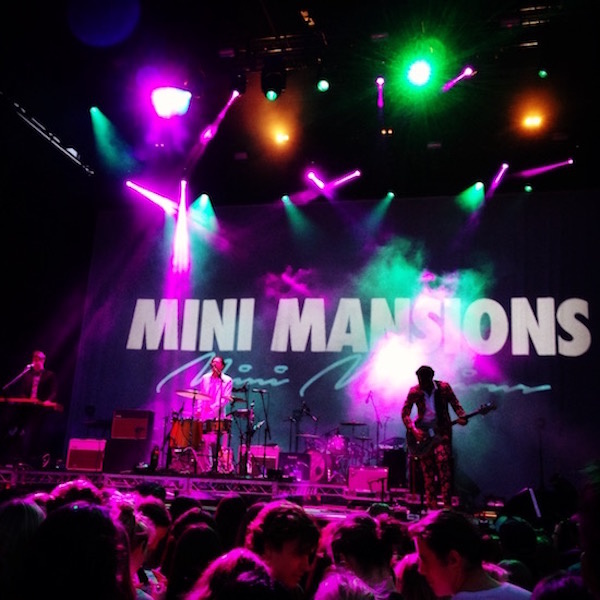 Fans of the band (including myself) were overjoyed that they played 'Geronimo', the B-side to 'Any Emotions', which they played back-to-back. Although some of the audience were somewhat underappreciative of the band at times, they were won over particularly during 'Mirror Mountain' - especially when Zach Dawes decided to use his bass guitar to play Mikey's cymbals. It was a raucous set, finalised by well-known jam 'Vertigo', and 'Freakout!', leaving the audience ready and full of anticipation for Tame Impala.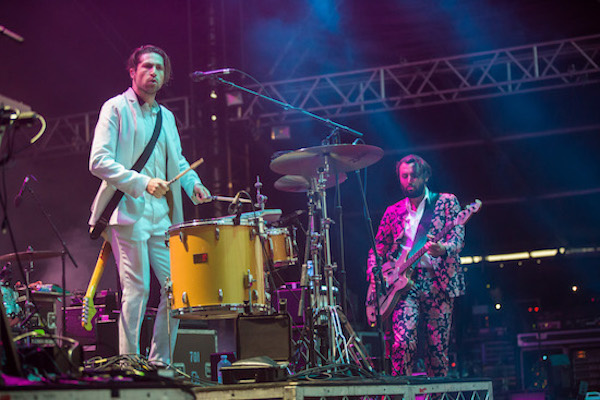 After a half hour interlude during which an enormous amount of stage set-up was required, Tame Impala casually strolled on stage. The six-piece have always had an air of casual-ness about them, but it was clear that they were overwhelmed to be playing in such an epic venue.
Opening with 'Currents' album track, 'Let It Happen', it's clear why people love this band - their live sound is incomparable to their records. To have six people who are totally in sync with one another is like nothing else to watch, especially over a span of three records.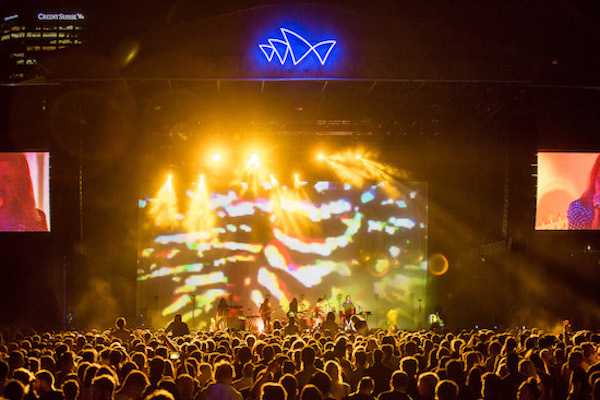 In addition to the sound created from the band, their live visuals are something else entirely. During 'Mind Mischief', the psychedelic changing backdrop was like an iTunes visualiser - that is, if an iTunes visualiser were a recreation of Kevin Parker's mind.
The crowd lapped up the intensity of the guitar riffs of 'Elephant', highlighting the longevity of the band. 5 years on since the release of their debut album, 'Innerspeaker', and the audience still sung all the words to songs like 'Alter Ego' and 'Why Won't You Make Up Your Mind?'.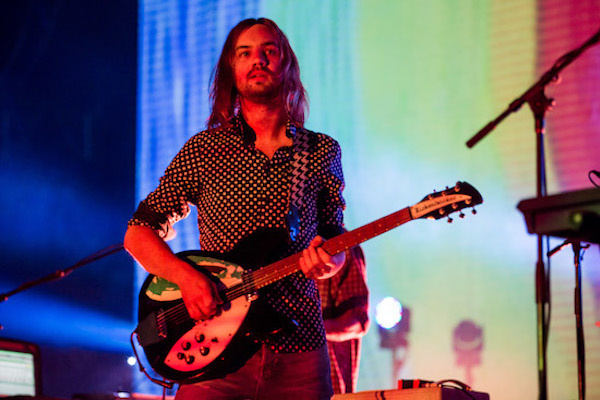 The show was made even more memorable through the performance of 'Yes I'm Changing', which they debuted at their Melbourne show earlier in the week, marking this show as only the second time they've ever played it live. It also marked a change in the performance style, with Kevin adopting more of a traditional frontman style - he sat on the front of the stage to sing some of the saddest lyrics to come out of the new album.
After a set spanning the career of the group, the demand for an encore was clear - with chanting and cheering heard from every corner of the venue. "It's overwhelming, guys," Kevin said, as he looked clearly humbled by the audience. They played two final songs ('It Feels Like We Only Go Backwards' and 'Nothing That Has Happened So Far Has Been Anything We Could Control'), but it was clear the crowd could have happily heard more.
Set List - Mini Mansions:
Double Visions
Death Is A Girl
Creeps
Sherlock Holmes
Geronimo
Any Emotions
Honey, I'm Home
Mirror Mountain
Vertigo
Freakout!
Set List - Tame Impala:
Intro
Let It Happen
Mind Mischief
Why Won't They Talk To Me?
It Is Not Meant To Be
The Moment
Elephant
Yes I'm Changing
The Less I Know The Better
Eventually
Alter Ego
Oscilly
'Cause I'm A Man
Why Won't You Make Up Your Mind?
Apocalypse Dreams
Encore:
It Feels Like We Only Go Backwards
Nothing That Has Happened So Far Has Been Anything We Could Control
The Sydney Opera House's Music At The House program continues this Summer with Beach House, Purity Ring, Sleater-Kinney, The Decemberists, Hot Chip + more! Click HERE for info.
Load next