Interview: Face to face with Ruel.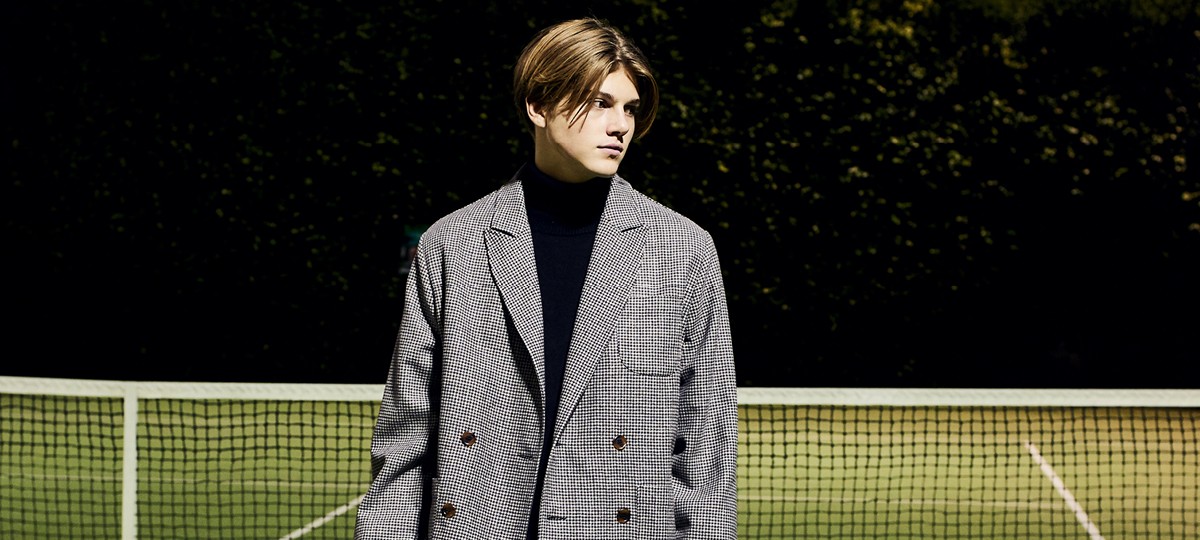 Fresh off a plane from Sydney only an hour prior, human beanpole Ruel Vincent Van Dijk is hard at work entertaining everyone within earshot, drily improvising deadpan impersonations of an alter ego who begun life as quarterback of his high school football team, before growing up into a slickly suited art school graduate - all inspired by real-life outfit changes tonight at his Coup De Main cover-shoot in New Zealand ("My Dad grew up here and pretty much his whole family lives here, so we always go see them. I go to Queenstown all the time and that's probably like my second favourite place on Earth, it's so great, it feels like a different planet," divulges Van Dijk).
Prone to random impressions and practical jokes, Van Dijk is the life of the party, and it's inevitable that he attracts the attention of all the ladies of the Parnell Lawn Tennis Club - each curious to know who he is, and all failing miserably to be any kind of subtle while snapping away on their phones and wondering aloud in revered whispers about who this boy doggedly trailed by two photographers and a videographer could be. Van Dijk is oblivious to the hullabaloo, of course, and it's easy to forget that the happy-go-lucky sixteen-year-old is already an ARIA-award winning popstar in his homeland of Australia (the youngest recipient in history to win the Aria Award for 'Breakthrough Artist Of The Year') and poised to take on the rest of the world, with Sir Elton John having already pledged his allegiance ("It's astonishing someone so young can write something so good; I give up"), and past tour-mate Khalid describing him as "a wunderkind" after being "blown away" by Ruel's first official single 'Don't Tell Me' (which he wrote at the age of twelve, as the result of a dinnertime conversation with his family during which they told him he was too young to be crushing on a girl).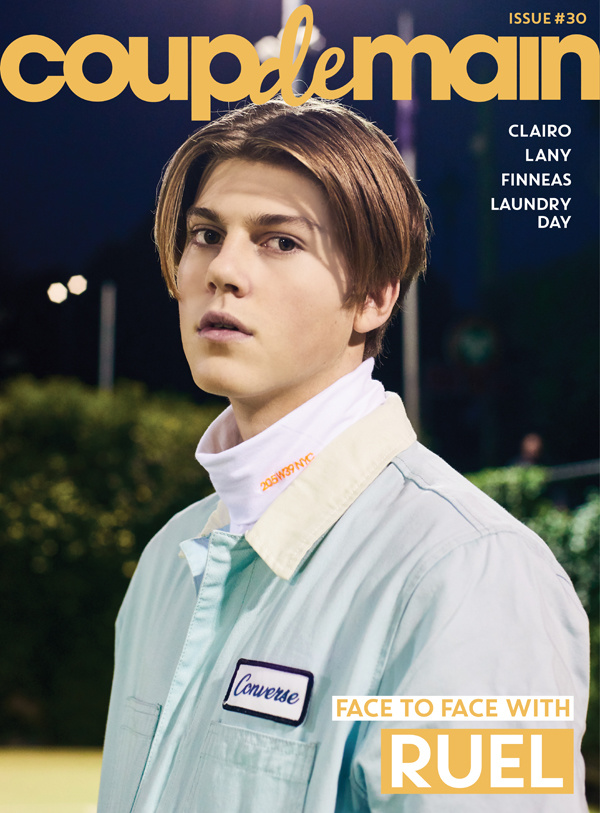 Click here to order a CDM x Ruel zine (i.e. a mini-magazine featuring photos + quotes from this cover-story).
On Van Dijk's debut EP, 'Ready', he touched on themes like friendship in 'Younger' ("When you're growing, people find different interests, you just grow apart naturally, it doesn't have to be one particular thing that pulls it apart, but I guess it's all about growing, instead of the strength you need to put into the relationship,"), and the dissolution of a relationship in 'Say', but on his forthcoming EP out September 13, he now turns his thoughts towards society's obsession with social media on title-track 'Free Time', opening up a discussion on mental health with 'Unsaid', and in 'Real Thing' is inspired by the epiphany that John Cusack's character Rob Gordon in 'High Fidelity' has when he decides to stop chasing fantasies and instead pursue a 'real' love. Van Dijk says he's still exploring and learning about songwriting as a creative outlet, but earnestly confides that, "The thing that touches my heart the most is when I see fans and they say, 'I could relate to this song so much and it helped me through this.' That's just the best feeling in the world, so that's what I want to do."
No longer in school ("I'm kind of doing half home-school, but I graduated Year 10 and I passed that and I've been taking a little bit of a break recently just because it's been pretty hectic, but I should be going back into that soon"), Van Dijk is now being kept busy globe-trotting, and shares a story from a recent visit to Norway: "I went to Bergen and Oslo on the Europe tour, I did some festivals over there, and it was honestly the most beautiful place I've ever been in my whole entire life. I had such a good time and there was this one day we went to the top of a mountain. We took a cable car up there and there were mountain goats and we just got lost in these woods at the top of the mountain and found this cabin and just stood there and watched the sunset. It was such an insane day. It was like Whoville!" Van Dijk is also incredibly fond of his hometown, Sydney ("The air. The smell of it! As soon as you get off the plane coming into Sydney, you're like, 'Oh shit! I'm home.' I could be blindfolded and not know where I'm going, but I just smell the air. It's just so clean and green, the water is beautiful, the beaches, and the people"), and penned recent single 'Painkiller' as an ode to being homesick - which is a song that any Australasian who has ever been to Los Angeles is sure to relate to.
Two months later after his cover-shoot when he was in Auckland on his 'Painkiller' Tour, Van Dijk calls me from home while enjoying some much deserved time off ("I've been home for a month, it's been crazy. I've been in Sydney and just chilling and hanging with my friends and doing some writing, it's been nice"), but when his scheduled downtime includes a Splendour In The Grass main stage performance ("I closed the Amphitheatre on the last day with Hilltop Hoods, which was really incredible, Chance The Rapper pulled out last minute, so Hilltop Hoods shined a bat signal and were like, 'We're here to save the day!'"), one suspects that 2019 may not hold too many more days off of surfing in-store for him as he prepares to go level up his touring game ("This year I'm going to be touring heaps! Like HEAPS! The biggest tour I've ever done and I'm going to the States and going to Europe again, and all around Australia and New Zealand") and introduce himself and his songwriting muscle to even more of the world.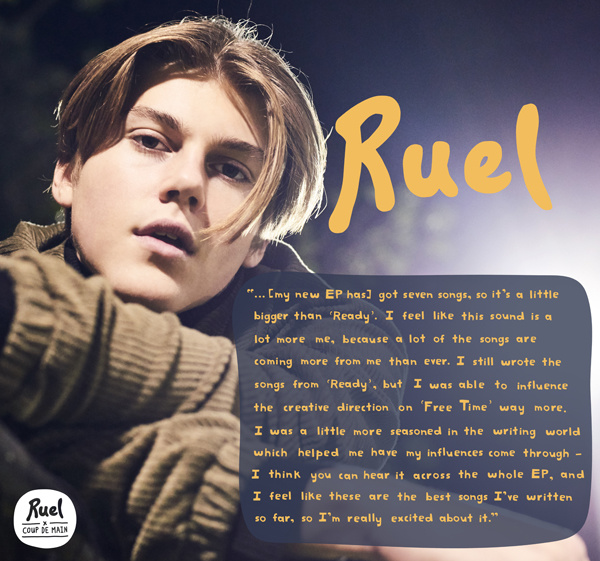 COUP DE MAIN: When we first met you last year, you said you were wanting to explore every type of music before choosing what your particular sound is. Are you still exploring? Or have you honed in a specific sound now?
RUEL VAN DIJK: I think I'm still exploring, to be honest, and I want to just keep exploring. I feel like, even when I find my specific sound I'm still going to want to venture off and try other things. But right now, I'm still in writing processes and trying writing with different people and seeing whom I click with, and I'm still having a good time trying out new things, but I'm liking the music that I'm making.
CDM: Was it fun doing 'Flames' with SG Lewis, as something a bit different musically?
RUEL: That was really fun. I love his music and I love his style. His music is obviously very different to mine, so I just thought it would be a cool little mesh, and I'm really happy with what came out.
CDM: Have you felt like you've learnt a lot about songwriting over the last few years?
RUEL: Definitely. I've learnt so much just from doing sessions, and kind of seeing how different people work and different processes and different ways of writing songs. I've learnt a lot.
CDM: What's your very first earliest musical memory?
RUEL: Probably going to my first ever guitar lesson and I was really intimidated because I was in a room with two other guys who were actually really good. It was my first time and I was in this room with a really intimidating guitar teacher and it was a lot for me. I remember leaving crying because I couldn't do a G chord. <laughs> But I came back, and I'm still not better at guitar. I would have been like eight.
CDM: What was the first song you played on the guitar when you first started learning at eight?
RUEL: I think it was 'Sunshine Of Your Love'. <sings riff> That kind of riff-line, that's the first thing I learnt.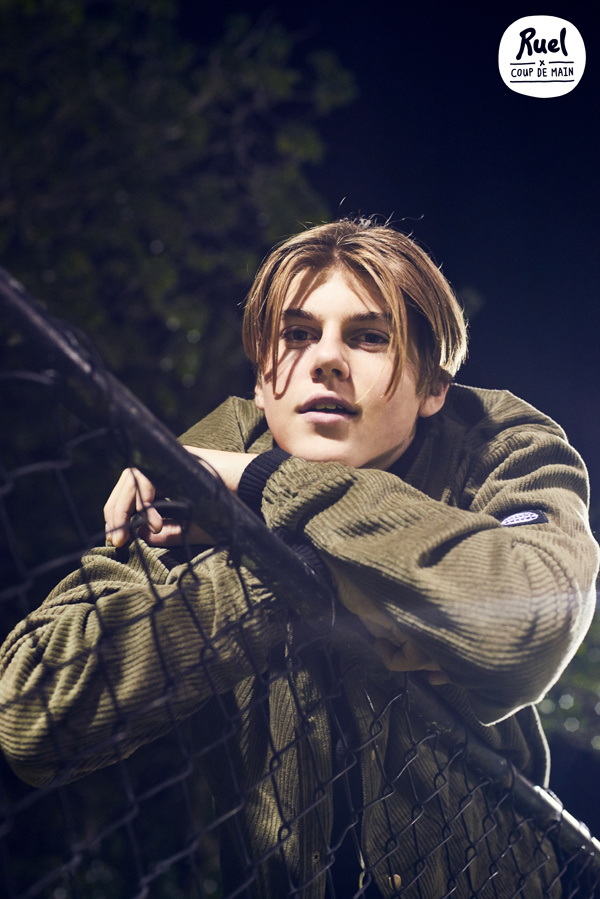 [Sideline Jacket in Moss Corduroy by Checks. Lost Monarchy Lucas Roll Neck Pullover by Hallensteins.]
CDM: Was there a certain point when you decided you wanted to do music as a career?
RUEL: Probably when I started singing and playing the guitar and realised how fun that was. I just knew that if this was a job, I would love to do it. And it turns out it is.
CDM: Did your dad tell you that he was going to send the demo of you singing James Bay's 'Let It Go' to your now-manager Nate Flagrant before he sent it?
RUEL: My dad is in advertising and met him while on a work campaign. They were just doing something together because Nate also manages a beatboxer who they were using, so it was a lot of little connections, but on set they had a bit of downtime so dad just played him that demo without telling me because I had no idea this was happening at all. He liked it and sent it to M-Phazes and we've been working together ever since.
CDM: I read that you performed a showcase for Mark Ronson back when you were 13?
RUEL: Yeah that was actually pretty crazy. Back before I had any music out, this was the first time I had ever been to L.A. and I was with my manager who has had a relationship with Mark Ronson in the past. He was like, "Do you want to go meet Mark Ronson at his studio tonight?" I was like, "Uhhh okay." We were in the car waiting to go in the studio and he was like, "Maybe you should just do a quick little vocal warm-up just in case he asks you to sing." I was like, "Dude! It's 11pm at night, this is the first time meeting, he's not going to ask me to sing. It's just going to be a little hi and then we'll leave." My manager was like, "Just do it! Just warm up!" And then I was like, "Okay fine," and did a half-arse vocal warm-up. The first thing he said when I went in there was like, "Hey man! Great to meet you. Want to sing something for me?" I was like, 'Ohhh shit! Lucky I warmed up.'
CDM: What was it like having Elton John request to meet you and ask for an interview for his Rocket Hour show on Beats 1?
RUEL: That was honestly insane. It was crazy to hear him just talk about me on the radio the first time, and then when he wanted to meet me, I was like, 'Okay. This is insane.' And then I got to meet him and talked about music for two hours, which was really nice. And that interview too was obviously really cool. So yeah, that was a great time.
CDM: Elton praised your voice saying, "You have the most amazing voice that I've ever heard from a male singer at fourteen years of age and it's quite incredible," which is something that anyone who has heard your music would definitely agree with. When did you realise you could sing better than a normal person?
RUEL: HA! I still feel like I haven't realised that. But I've always had a weird husky voice, even when I was a kid, it was high, but it was always husky. When I started singing, that kind of tone came through and I knew that that was different and weird. I didn't know if it was good or better, because the teachers that I grew up listening to - like from school choir and stuff - would always say, "Ruel! Get that husk out of your voice. Sing more clearly. It's not as operatic as we would like it to be." I was like, <says sadly> "Okay." Later I found out that it sort of set me aside from the crowd and it was more unique, and then I kind of realised I could use it for the better.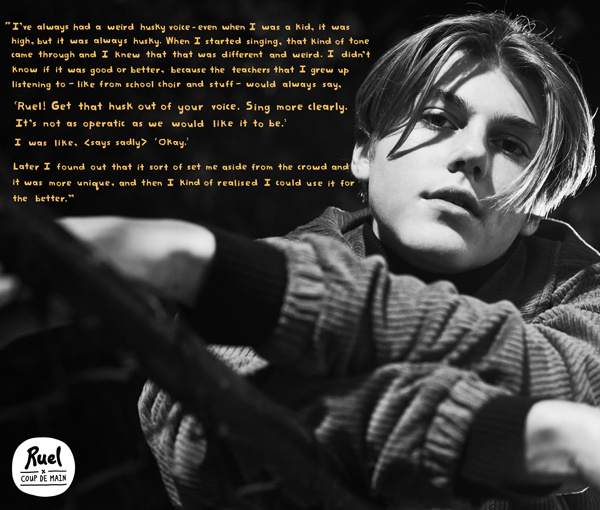 CDM: You first came to New Zealand to open for Khalid on his American Teen Tour, playing Auckland's Spark Arena. Do you have any favourite memories from that tour?
RUEL: That show is still one of the biggest shows I've ever played and it was just such an amazing time. I remember the crowd being so incredible, and I got to meet two of my first ever fans that had made fan accounts; which is really weird but cool. It was just a really cool experience and I had a great time on that tour.
CDM: Are you looking forward to your upcoming tour with Shawn Mendes?
RUEL: Yeah! That's gonna be sick. He's such a good guy and we're going to be back in Spark Arena, which is going to be cool. I'm really excited. These are going to be huge shows for me, so it's going to be fun.
CDM: As someone who is known for not spending heaps of time on social media, it's interesting that you've written your new song 'Face To Face' about how social media encourages obsession. What personally inspired you to write the song?
RUEL: When I do find myself on social media and looking at how my fans look at me, I often find people talking about me like we intimately know each other even if I have never met this person. That was a weird feeling at first, but then I realised I could relate to this because of the way I looked at my idols. For this song, I wanted to take it a whole step further, I wanted to create a character who would go to extreme lengths to be noticed by their idol.
CDM: Whose idea was the 'Face To Face' music video character Ecâf?
RUEL: The original idea came from my creative director Grey Ghost, we all wanted to have a big but unique campaign surrounding this song and music video, and the idea to completely create an artist from scratch and involve her in the campaign was perfect.
CDM: Why did you want to name your upcoming EP after your song 'Free Time'?
RUEL: I think the words 'free time' have a lot of meaning behind it. Most people crave free time, time off, or a break, but when people get too much of it, free time can be really bad for you. I wrote the song when I had a lot of time off in between writing sessions in L.A. and I was just extremely bored. I didn't really know anyone there so I didn't have much to do at all. I found myself just sitting in this Airbnb with my phone just moping around the house. I wrote the song the next day all about getting caught up in your thoughts in your free time
CDM: I love 'Free Time', I think it's probably my favourite out of your new songs that are unreleased so far.
RUEL: Thank you!
CDM: The lyrics, "Brush my teeth / But not my hair," are very funny and relatable. It's so easy to fall into the routine of a pity party when you're feeling sad, but have you found any good ways to shake out of that?
RUEL: When I'm sad, I just try not to be alone, to be honest. I invite someone over, I go to a friend's place, I go out and meet someone, I go for a surf - that's really all I do, I just try and get my mind off things and it just fizzles out if I'm distracted.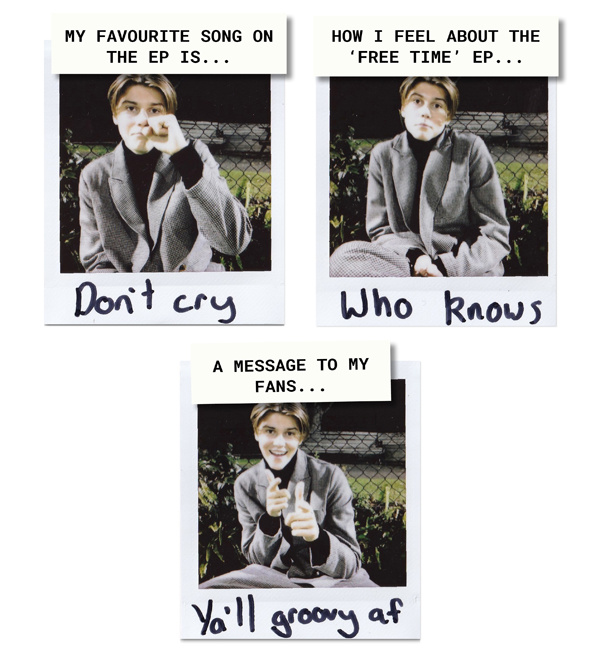 CDM: You've also been performing a new song 'Real Thing' live, what was running through your mind while writing it?
RUEL: That was about a movie that I watched called 'High Fidelity' with John Cusack. I was watching it with my family and I just loved it so much. I thought the concept was really cool and how towards the end, the main scene with him just being sick of fantasising about people, he's having a chat with his girlfriend and he asks to marry her, and she's like, "I'm sorry, it's just two days ago you were making tapes for that girl from the Reader. Well, forgive me if I don't think of you as the world's safest bet." He's like, "That other girl, or other women... I was thinking that they're just fantasies. And they always seem really great because there's never any problems. And if there are, they're cute problems like, we bought each other the same Christmas present, or she wants to go see a movie that I've already seen. And then I come home, and you and I have real problems... and you don't even want to see the movie I want to see, period... I'm tired of the fantasy because it doesn't really exist. And there are never really any surprises, and it never really... Delivers. Right. And I'm tired of it. And I'm tired of everything else, for that matter. But I don't ever seem to get tired of you." I just thought that was so brutally honest, but a nice ending to a movie, so that was what I wanted to write about.
CDM: You've said about songwriting: "All my songs are about personal experiences. Songwriting helps me get through things, feelings that I don't understand myself. When I write about something, it helps me figure it out in the process." Do you still feel that way?
RUEL: Definitely. I've definitely found other ways to write as well, like I'm not just stuck to one writing process, but that's the process that I've used for all the songs that I've released. But on this upcoming EP, I tried some different ways of just finding something that feels good and then doing sketch melodies. Sometimes you'll just say a lyric or a line that's cool and different, and just write off the first thing that comes into your head and make a story out of that, which is a cool little process that I've been using with Sarah Aarons recently.  
CDM: How did you feel writing 'Unsaid'? Was it therapeutic to be able to put your thoughts together in song-form?
RUEL: Definitely. I wrote that with Tobias Jesso Jr. in L.A. and when we first wrote it, it was about a girl who I'd had a break-up with and after we'd broken up there were so many things I'd wanted to say to her before she broke up with me, and it was too late. So it was just all about having all these words left unsaid. And when I came back to it, I wanted to write it about a friend of mine who had passed away and was dealing with mental illness and depression, so I kind of brought it to that topic as well. It was a lot harder to bring it there, but it was very therapeutic.
CDM: How have you found performing that song live? Does it feel heavy? Or do you kind of feel like it's a tribute to your friend who passed away?
RUEL: It's definitely heavy, but it still is a tribute to a friend. It's still hard to sing every time because the lyrics are so specific and true, but it's so nice to see the fans react to that one as well though, it's so reassuring to know that they can relate to it.
[Converse x GOLF le FLEUR* Boiler Suit in Starlight Blue.]
CDM: Billie Eilish recently advocated in support of mental health awareness saying: "It doesn't make you weak to ask for help. It shouldn't make you feel weak to ask anyone for help, and you should be able to ask anyone for help. Everyone has to help someone if they need it. The main thing that I'm trying to say is that you should keep your ears open and you should listen. I'm just dealing with it how I'm dealing with it - I'm trying my best. I'm not a trained professional in anything, I don't know what I'm doing half the time, but I have seen it, and I have been it, and even if it's just a little bit more comfort, that can really mean a lot to someone because you don't know what is going on even in that moment." Do you agree with her?
RUEL: Definitely. I feel like she's got a really good head screwed on her shoulders. She gets it. And I've also seen how she's so open about dealing with that sort of stuff, and I think that's great. And how she's opening up more conversations about it. She's got a great platform to use to get the word out, so yeah, I definitely agree with that.
CDM: It's great to see musicians being more open about mental health now, it was really stigmatised when I was your age.
RUEL: And you have all these movies coming out now, where you see the behind-the-scenes of all those artists and you would never have known because they were never open about anything.
CDM: Are there any things you haven't written a song about that you want to?
RUEL: Every time I get an idea I just write it down and write about it. But if I truly wanted to write about it, I think I would have already written about it now. But there definitely will be new things to come and new life experiences that I will want to write about.
CDM: Are there heaps of unreleased Ruel songs floating around out there?
RUEL: Oh yeah, there's so many! <laughs> For the first EP we wrote 35 songs. For this next one, we wrote another 40. I really like writing, I just love it, and writing with other people is just such a fun thing to do as well. You get to meet new people, so there's a lot of advantages to it. Obviously, 60% of them will never come out just because they're not great, but for me, it's just trial and error.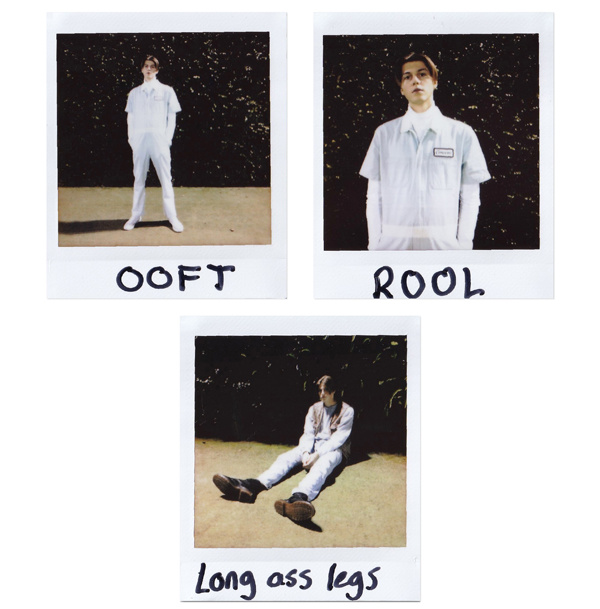 CDM: What else can you tell me about the new EP at the moment?
RUEL: It's got seven songs, so it's a little bigger than 'Ready'. I feel like this sound is a lot more me because a lot of the songs are coming more from me than ever. I still wrote the songs from 'Ready', but I was able to influence the creative direction on 'Free Time' way more. I was a little more seasoned in the writing world which helped me have my influences come through - I think you can hear it across the whole EP, and I feel like these are the best songs I've written so far, so I'm really excited about it.
CDM: Who were you influenced by?
RUEL: A little bit of Rex Orange County, Frank Ocean, Bishop Briggs, and Billie Eilish even. Those are some artists I love.
CDM: Are the songs you were playing live going to be on your EP?
RUEL: Yeah, like 'Real Thing' and 'Unsaid' and 'Free Time'.
CDM: You told us once that: "I way prefer [writing] based on something from myself, because or else I feel like I just can't relate to it as much. I feel like when there's no emotion behind the song, the soul and the feeling behind it gets lost." Do you think you would ever release a song not written by you? Or does that feel inauthentic to you?
RUEL: Actually, I have. 'Flames' that I put out with SG, I didn't actually write that one, so that was the first time I've done that and I did feel stupid guilty in putting that out - I was like, 'This doesn't feel right! I don't know if I connected with it!' But the song was just so great and I was featuring on his track. I went to do a session with him to write a song, but I was so tired, and I was really young as well; I met him ages ago and I had no ideas left in my tank. So he was like, "I've got this song here if you want to put it down, you can just do one take and then go home and sleep." I was like, "Thank you!" So I put that down and then a year later I got it back and he'd completely produced it up and changed it and put my vocal in there, and I was like, 'Fuck! This sounds really sick.' It was never something I'd really done before and I couldn't really write a track like that because it's quite different, and I just didn't want to waste that opportunity. So I was like, 'Yeah, let's do it!'
CDM: Would you want to write songs for other people in the future?
RUEL: I'd love to do that. I'd really love to do that! It's cool to get into other people's shoes and their headspace, because I'm constantly just writing for myself, but there are so many people I'd love to write for.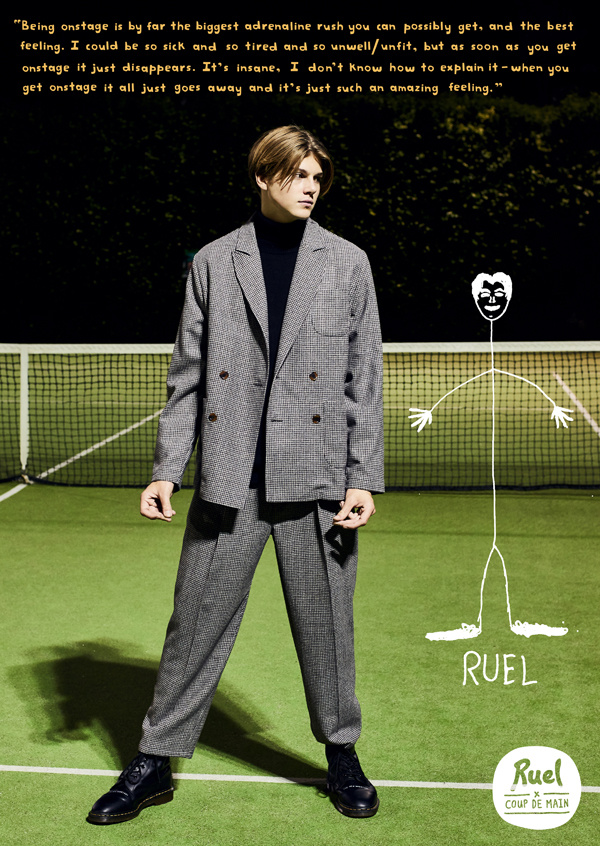 [Box Jacket in Houndstooth and Pleated Slacks in Houndstooth by Checks. Lost Monarchy Lucas Roll Neck Pullover by Hallensteins.]
CDM: When we first met you, you told us that: "The thing that touches my heart the most is when I see fans and they say, 'I could relate to this song so much and it helped me through this.' That's just the best feeling in the world, so that's what I want to do." Have you been enjoying going on tour, because at live shows you get to feel all of that energy from entire sold-out venues of fans singing along to all of your songs?
RUEL: Yeah! It's been so sick. I was just in Europe recently and that was probably one of my favourite tours yet. The energy was so good, the crowds were so nice, and it was just a good vibe. Everyone was having a good time and I got to meet a lot of cool people and meet a lot of the fans. It is just so crazy to hear people sing your songs on the other side of the world, but I just had such a great time.
CDM: Is that one of your favourite things about getting to do music as a career?
RUEL: Yeah! Definitely. Being onstage is by far the biggest adrenaline rush you can possibly get, and the best feeling. I could be so sick and so tired and so unwell/unfit, but as soon as you get onstage it just disappears. It's insane, I don't know how to explain it, when you get onstage it all just goes away and it's just such an amazing feeling.
CDM: What are your other favourite things about your job?
RUEL: Writing is just such a fun experience and I love coming home after a writing session and listening to it back and knowing, 'I created this during two/three hours today, and this could be something one day.' That feeling is just so cool and you can't really get that doing anything else.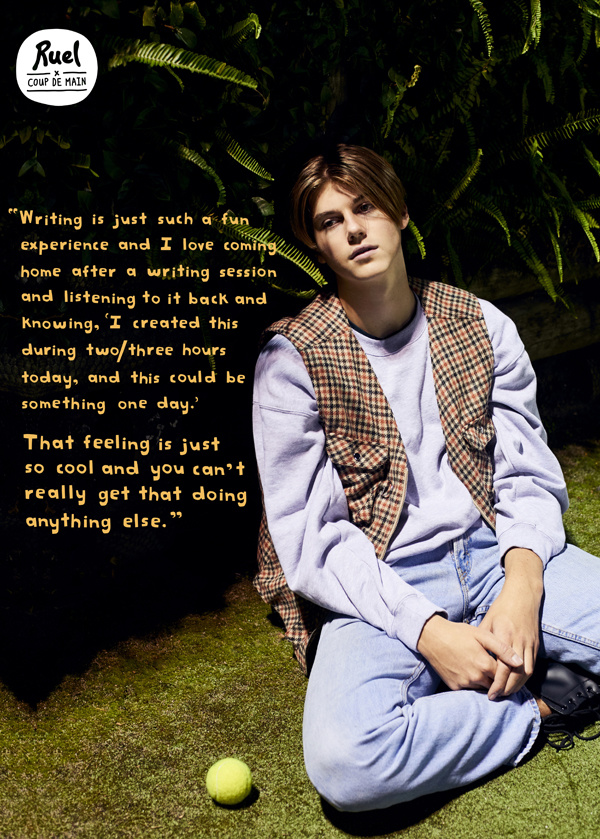 [Tactical Vest in Orange Tweed and Classic Mini Sweatshirt in Ash by Checks.]
CDM: How have you been finding growing up kind of in the public eye? Your fans are very knowledgeable about every aspect of your public life and keep a close eye on you at all times via social media.
RUEL: It's a lot, knowing that they pretty much know more about me than I do myself. <laughs> It is a lot and I don't think I'll ever get used to it. It's pretty crazy, but I really am grateful for it, they are super loyal and dedicated, but I don't know if I'll ever get used to it.
CDM: I always see them being upset you don't spend more time on Twitter.
RUEL: I feel like Twitter is not for me. <laughs> My manager hates that as well, he always wants me to go on Twitter, but I feel like it's such a weird concept, posting a line a day of what you're thinking. It's almost like, 'I don't want you guys to care what I'm thinking.' So I feel like that's why I don't do it.
CDM: I like that you don't spend lots of time on social media. It means that you're more present in your real life!
RUEL: Yeah! That's what I want them to think of me, instead of saying that I'm not interacting with them. I try to interact with them as much as I can, I'm never going to say no to a photo on the street, but I feel like social media is such a weird thing these days and the more time I spend on it the more unhealthy I'll get.
CDM: How do you juggle being a teenager and letting yourself be a teenager, with also being the head of a business and being busy with your career?
RUEL: By keeping good people around me; they're all good people. I always think I'm going to have the same crew from when I'm sixteen to sixty, I want to have the same people who are there for the right reasons, and I know absolutely do like me, and it will get tough at times, but I just want to keep the same people with me.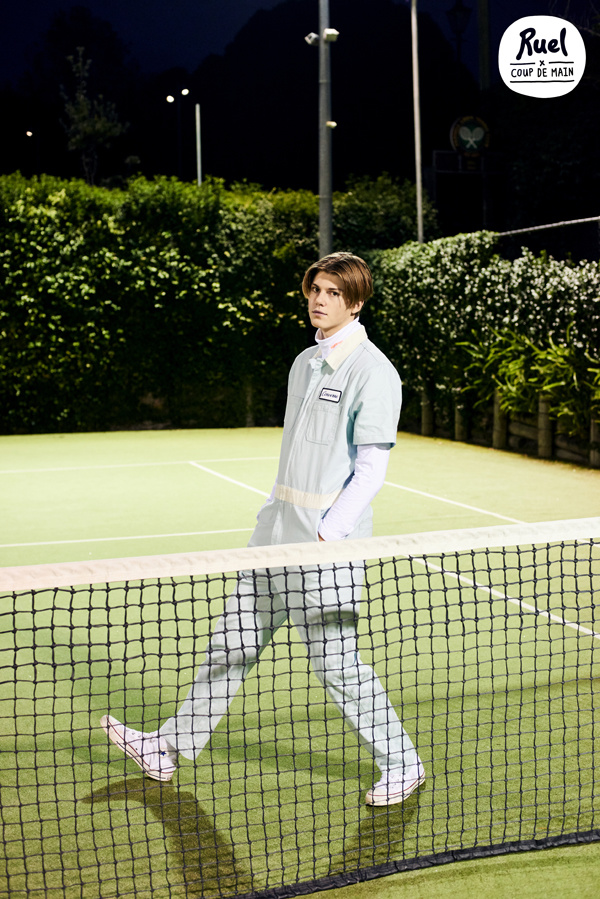 CDM: The list you wrote for the back page of your Coup De Main print zine of your 'Top Five Worst But Best Adam Sandler Films' is so great. What's the special significance of Adam Sandler movies to you?
RUEL: <laughs> I've grown up watching Adam Sandler movies and I remember loving them when I was a kid and thinking about 'Grown Ups' that, 'This is a cinematic masterpiece!' I re-watched it two days ago and I just find him hilarious. No shade, honestly, I just think he's hilarious and those movies are pretty out there.
CDM: Did you see that The Weeknd is going to be in a movie with Adam Sandler out at the end of this year? It's supposedly a crime thriller called 'Uncut Gems'.
RUEL: No! Oh my god! That's so funny! That is so sick! Okay, that's now my new goal. If The Weeknd can get a movie with Adam Sandler, fuck it, I'm going to do 'Grown Ups 3'.
CDM: And what's next for you?
RUEL: This year I'm going to be touring heaps! Like HEAPS! The biggest tour I've ever done and I'm going to the States and going to Europe again, and all around Australia and New Zealand. I'm really excited about this new EP, I feel like it's really going to open some doors for me, so I'm really, really excited, and pretty much just doing what I've been doing but more of it and on a bigger scale.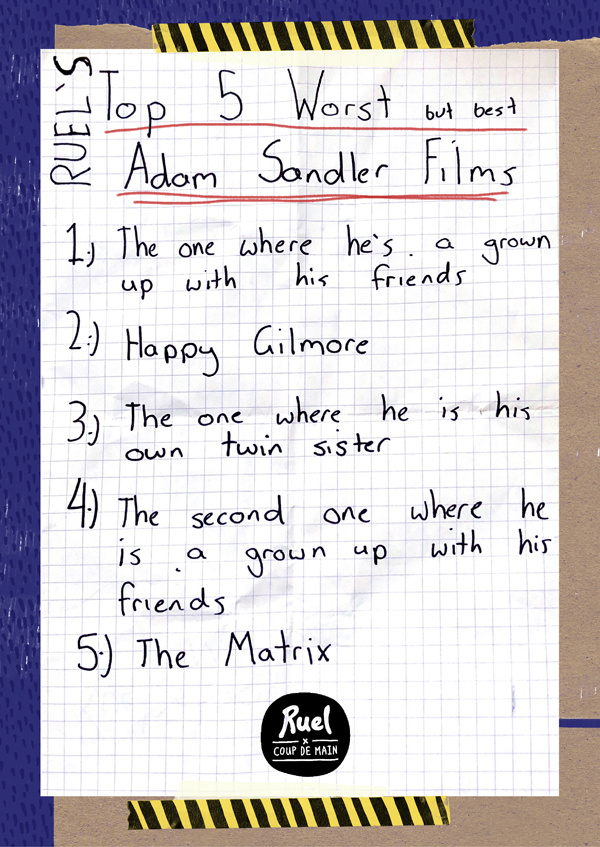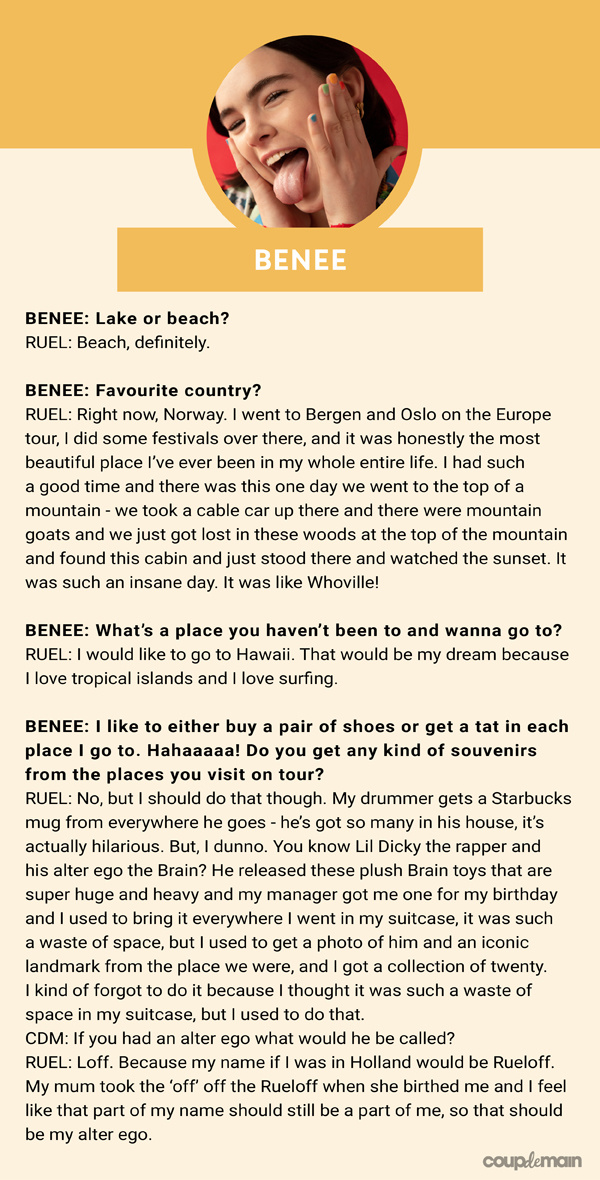 PHOTOGRAPHY BY KAREN ISHIGURO
GROOMING BY LIZ HYUN & KANE PAKE
Ruel's new single 'Face To Face' is out now from his upcoming new EP of the same name which will be released on September 13 - watch the music video for 'Face To Face' below: