Timothée Chalamet on the cover of GQ, November 2020.
Timothée Chalamet on the cover of GQ, November 2020.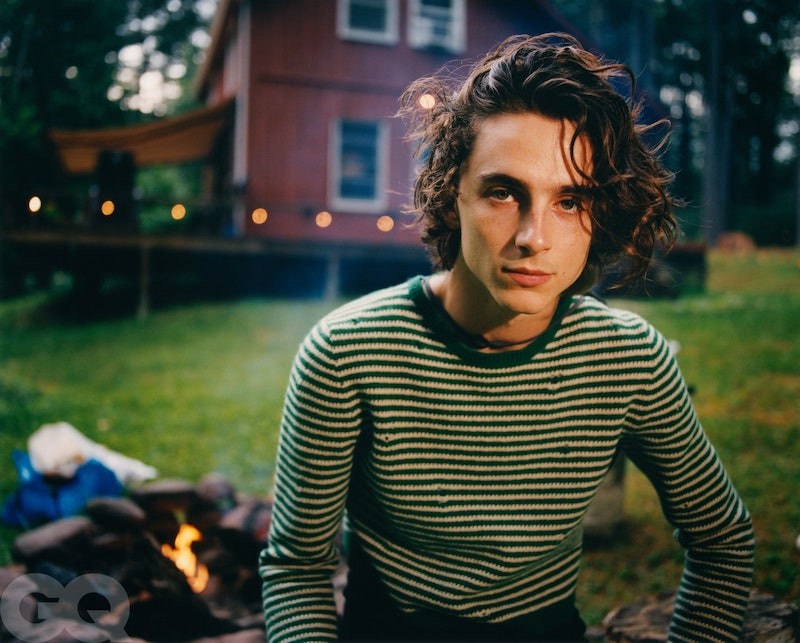 Timothée Chalamet is GQ's November cover-star, in a photoshoot that was shot during his time spent in Woodstock this year. Wearing a variety of outfits (from Gucci and Ralph Lauren, to his own pink Juicy Couture hoodie!), Chalamet models both in and outside of his own cabin in the woods.
In the in-depth profile, he talks about everything from what he's looking for in work ("I want to get back to the undefined space again. I'm chasing a feeling. When you think you're doing some great thing, it's probably something you've done before, and when you really fucking have no clue, that's when you're doing something on the edge, good or bad") to the importance of figuring out where he stands on issues before sharing his thoughts ("I care so much about this stuff. But I would never want my caring to be misconstrued. I don't want my caring to be about me in any way").
Greta Gerwig contributed the following to the story too: "It's hard for me now, because I'm his friend, to see him strategically.… I love talking to him. We can get on the phone and talk for an hour or more without even realizing it, just skipping from subject to subject, making jokes, me feeling old and happy and him being funny and anxious and delightfully all over the place."
Zendaya also spoke fondly of him and their time filming 'Dune' together, sharing: "His positive energy is infectious. He really is so much fun to be around. We have very similar humor, and we can keep a joke going for a long time, but when the cameras start rolling and it's time to work, you can see it's game time, and he just taps into this brilliant intensity. It's awesome to witness."
Check out the rest of the shoot below (and read the full profile here)...
Load next