Interview: Christian Convery on 'Sweet Tooth' + filming in New Zealand.
Interview: Christian Convery on 'Sweet Tooth' + filming in New Zealand.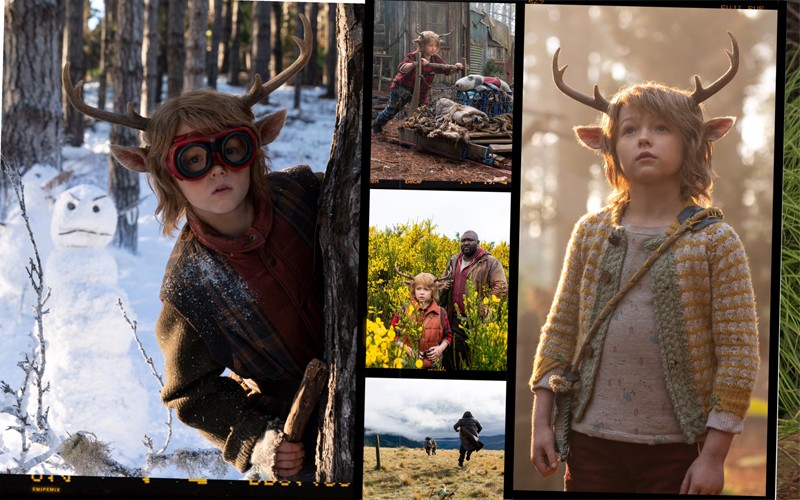 "Happiness to me, really means hope and love," emphasises 11-year-old actor Christian Convery - the adorable lead in Netflix's adaptation of the dystopian DC comic book series, 'Sweet Tooth', in which he's the perfect embodiment of guileless hybrid deer-boy Gus who unexpectedly happens across a gruff recluse, Jepperd (played by Nonso Anozie, whom you'll recognise from Donald Glover's 'Guava Island' musical film), and decides to set out from his sheltered forest home into a virus-stricken world where "The Great Crumble" has brought out the worst in humanity.
Executive producer Robert Downey, Jr. says: "This is an expansive world and an epic story. Nowadays, you have to wow me. I have to feel like, 'Wow, what is that? And where is that? And who are these people? And what's going on?'... This show has the big macro elements that get my attention, and you also really buy into these characters and root for them."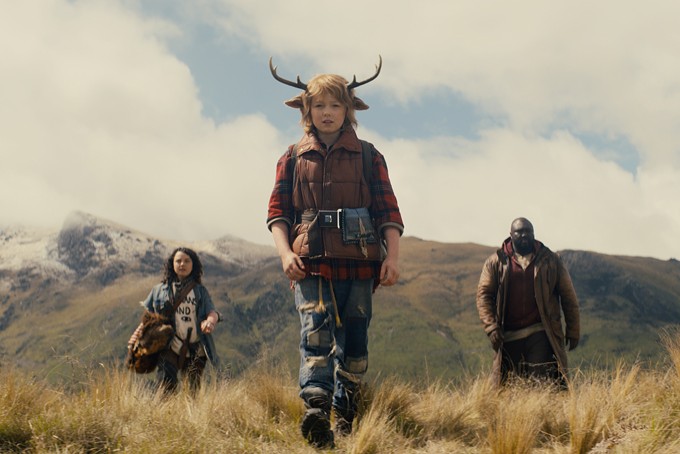 Filmed on location in New Zealand, mostly late last year, executive producer Susan Downey explains that: "Filming in New Zealand gave us a really beautiful and exaggerated landscape that played perfectly into the look we were going for, because unlike many post-apocalyptic stories where everything's kind of gray and dusty with crumbling buildings, the central idea for 'Sweet Tooth' was that nature was reclaiming everything. We created this idea of 'storybook dystopia', meaning everything had to be lush and green and heightened. The setting was absolutely perfect for the storytelling."
Around the release of the new series, we caught up with Christian Convery to discuss his likeness to Gus, what family and home mean to him, and the importance of kindness...
...that is the number one rule that you should follow every day, all day: be respectful and kind.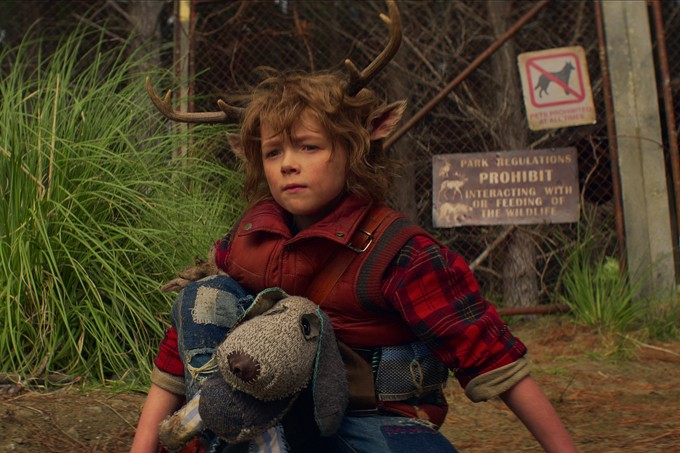 CDM: When did you first learn about 'Sweet Tooth' and Gus?
CHRISTIAN: I got cast way back in 2019 before Covid even started. As an actor, you always get auditions and then you either go in the room or you self tape, and I learned about the role of Gus when I did the self tape for the role of Gus. When you send it off, you just hope for the best and hope you get a callback, and maybe even meet the director and discuss it with them. I got a call back, and then they really liked that callback too, so I flew to LA and met them in person. And then after a long, very long audition process that took around three months, when I got cast as Gus, I was screaming in joy. I was dancing and I was jumping on the bed. I was doing what I like to call the Ooga Booga dance with my dog. And when I played the role of Gus, I was so excited to be able to do such an amazing experience.
CDM: Robert Downey, Jr. has said about you being cast as Gus: "I love this kid. It couldn't have been anyone but him." Did you get to meet him and Susan Downey during the casting process?
CHRISTIAN: No, no, I didn't meet them during the casting process, but let me tell you about the time where I did meet them. I met them virtually on a FaceTime call while I was in New Zealand, and we talked about how well the show was going and what we think, hopefully, the next season will be. And we talked a lot about the dailies and what he was receiving every day about the show. We were so excited to talk about it and I felt like we had an amazing connection. And also, he's Iron Man, so it's pretty cool to get to talk to him.
CDM: The narrator in 'Sweet Tooth' says that: "We're looking for family from the moment we're born. Turns out, we just never know where we're going to find it." Is that sort of what it's like for you each time you go and film something new - you find a new family within the cast and crew?
CHRISTIAN: On-screen and off-screen, that is totally true because I'm always looking for new friends to make, and to bring that on-screen too. So I definitely feel like that's quite true.
CDM: What do you think makes a family?
CHRISTIAN: People that love each other, and are kind and respectful to each other. That's what I really think of family.
CDM: What does home mean to you?
CHRISTIAN: Home means... well there's one simple definition to it; where you live, but home to me really means where your whole family is home. That's what I think home is: your family.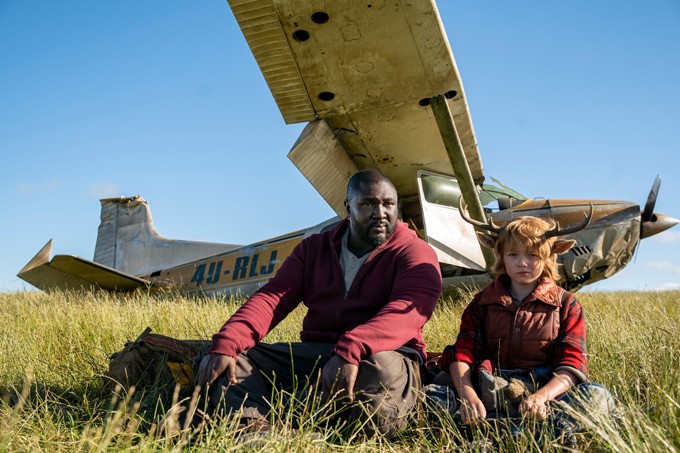 CDM: Do you think everyone should try and channel their inner Gus and be as optimistic and imaginative as possible, even when it's hard?
CHRISTIAN: During a hard time like Covid, playing that role of Gus, you do get hope and optimism from playing such a hopeful role. And that's also what I hope viewers take away from the show - a message of hope and optimism to push through dark times like Covid-19, for example, where it's pretty hard, but we're slowly getting through it because we're slowly working as a team and do have hope and optimism to get through it. That's one of the main messages I hope that people take away from 'Sweet Tooth'.
CDM: That kind of ties into what Pubba says to Gus: "It's your job to live a full life, and to be happy, to be kind." Is that something every person in the world should aspire to? To be happy and to be kind?
CHRISTIAN: Yes, that is the number one rule that you should follow every day, all day. Be respectful and kind.
CDM: What does happiness mean to you?
CHRISTIAN: Happiness means to me that you're always looking at the best, and you're having a fun time. And happiness to me, really means hope and love.
CDM: And why do you think kindness is important?
CHRISTIAN: Let's say you're talking to someone... then kindness really means that you're being nice to someone. And being kind to the environment is treating the environment nicely, or being kind to someone is treating that person nicely. So I really do think that kindness means you're being respectful to something or someone.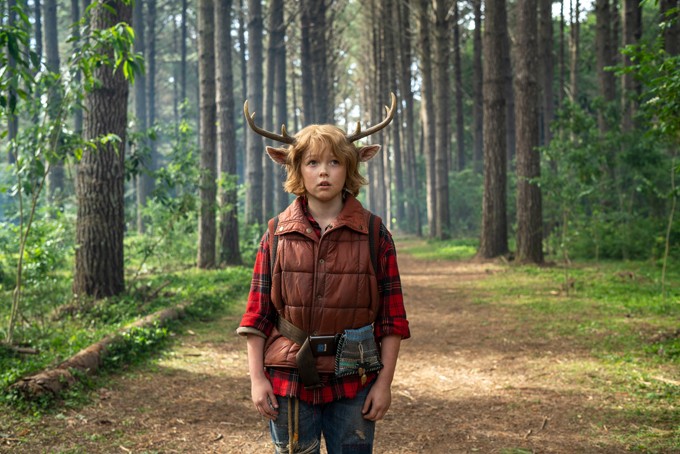 CDM: You shot the pilot episode of 'Sweet Tooth' here in New Zealand back in 2019, right? Was that the first time you'd ever been to New Zealand?
CHRISTIAN: Yeah, that was the first time I ever went to New Zealand, and New Zealand was on my bucket list for a long time because I was like, 'Oh, that looks like a cool country!' When I was younger, I was looking across the globe and I have this distant memory of me saying, 'Oh, that's a cool country I want to go there.' So now that's crossed off my bucket list and I hope to go back for Season 2 - fingers crossed!
CDM: Was it weird for you coming back to New Zealand last year to film the rest of 'Sweet Tooth', knowing that the real world was kind of mirroring your show, with all the real-life chaos of the pandemic?
CHRISTIAN: Yeah! The original DC comic was written way back in 2009, way before Covid started, and the script was written mid-2016, so to get to bring that to life during the pandemic was a bit of a scary but really interesting experience. It's obviously kind of scary, looking at the Great Crumble and what happened to the world, but also, seeing Covid right now, Covid isn't gonna be as bad as the Great Crumble because we have vaccines and it's almost over.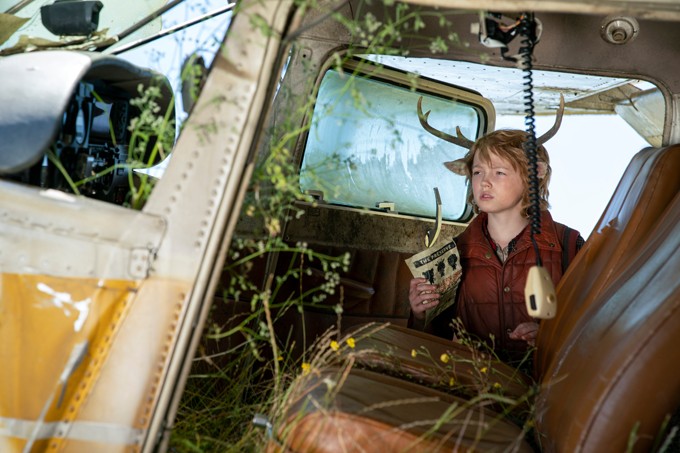 CDM: I heard that you liked getting to eat spaghetti on toast in New Zealand. What were your other favourite things about New Zealand?
CHRISTIAN: So, the Māori were one of the first people of New Zealand right? Getting to try the... when they cook the meat under the ground? I forget what they called it, but they would...
CDM: A hāngī!
CHRISTIAN: Oh yeah, the hāngī feast! They would cook the meat all the way under the ground for like, six/seven hours, then they would take it out and it would be the best meat I'd ever tasted in my life. It was so good. I loved it. And that was definitely one of my favourite delicacies I got to try in New Zealand.
CDM: I love that both you and Gus think that food is a big priority in life. Me too.
CHRISTIAN: It is our biggest priority in life! <laughs> I love food.
CDM: Relatable. What do you miss most about New Zealand?
CHRISTIAN: The nature, the people, and the city, and the wildlife! Here in Canada when you're going in the woods you're always scared of encountering a natural predator like a bear, but in New Zealand, there's no natural predators. So it's pretty cool that you get to roam around in the woods and really experience nature like that. So that's what I also really loved about New Zealand.
CDM: What were your favourite adventures while filming 'Sweet Tooth' both on-screen and off-screen.
CHRISTIAN: On-screen, it's getting to bring Gus to life. That's one big adventure for me, and getting to create the world and the universe of 'Sweet Tooth' with everyone who worked on the show together. That was definitely my favourite adventure on-screen. But off-screen, was probably just adventuring throughout all New Zealand, like getting to go surfing on the East Coast beaches, or getting to do 100 metre abseils at Waitomo Caves and getting to see the glow worms and all the sights there. My favourite adventure was just being there.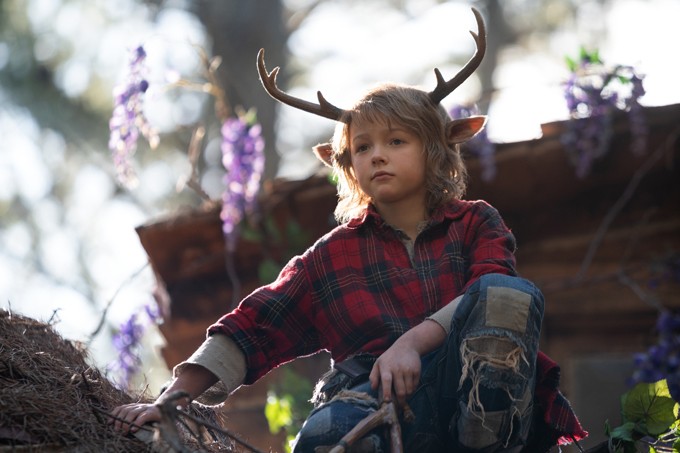 CDM: I love Gus' optimism and his imagination. What are your favourite things about Gus?
CHRISTIAN: How he has a sweet tooth. Definitely!
CDM: Again, back to food!
CHRISTIAN: <laughs> Yeah! I have a sweet tooth in real life too. And we both love sour candy, me and Gus, so yeah, that's probably my favourite similarity between me and Gus.
CDM: Are they worth going to the dentist for?
CHRISTIAN: Yes. <laughs>
CDM: You're only 11, but you've already been working so hard. What do you hope to achieve by the time you're 20?
CHRISTIAN: Well, I'm 11, and 20 is in nine years... So I hope to accomplish another season of 'Sweet Tooth', making my own sour candy brand, filming in a lot more TV shows with some friends and other people, and writing a script! Those are my goals.
CDM: What was it like filming 'Beautiful Boy' with Timothée Chalamet and Steve Carell?
CHRISTIAN: Oh, that was a long time ago, when I was seven! I loved getting to film with them. Working with Steve Carell, it was so funny because he's the voice of Gru and the Minions, and so I was like, 'Can you do your Gru voice?' It was such an amazing experience because he's such a talented actor and I learnt so much from him - same to Timothee and Maura Tierney. I loved getting to work with them, it was definitely an amazing experience.
CDM: My final question for you today is... I heard a rumour that you might be coming back to New Zealand this November to film a second season of 'Sweet Tooth'. Can you confirm or deny this?
CHRISTIAN: I have not heard this rumour! But I really hope it's true because I definitely want to come back down to New Zealand and film again.
CDM: And your birthday is in November right? So it would be a good birthday present for you!
CHRISTIAN: November 10, 2009!
CDM: Okay, I'm gonna cross all my fingers and toes and manifest this for you as your birthday present for this year!
CHRISTIAN: Hopefully, yes!
Season 1 of 'Sweet Tooth' is out now on Netflix - watch the trailer below:
Load next