Interview: 2022 Must-Know - Erny Belle
Interview: 2022 Must-Know - Erny Belle
"My spirit," responds New Zealand singer-songwriter Erny Belle (a.k.a. Aimee Renata), when asked about who her biggest inspirations are. Belle's music is completely transportive, taking you to another realm or universe, firmly hand-in-hand - and wherever the journey's taking you, she wants to be right there too.
"Drinking on a broken heart was a bad move," she confesses, with captivating piano sown throughout the track 'Sorry Not Sorry', quickly followed by 'Nuclear Bombs' in which she utters, "Put my baby in a washing machine and pray to God that a nuclear bomb is gonna kill me." Belle's voice dances over the melodies, and spews lyrics shifting from sweet to sour, and back to sweet in a flash, all throughout the album, 'Venus Is Home'. 
Belle self-directs her music videos, including the western-inspired video for 'Hell Hole' and the ethereal 'Venus Is Home' (which she worked on with her dad, Fred Renata), which are absolute must-watches. She also independently releases music, ensuring Belle is in the driver's seat of her maiden musical voyage. 
We got the chance to chat to Erny Belle via email recently to talk-all-things never jumping out of a plane, working with family, and her film-brain bleeding into her music...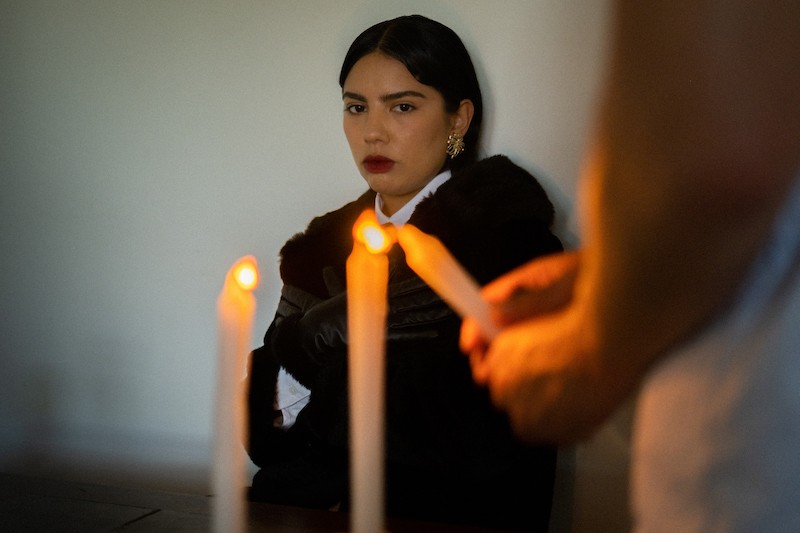 MUST-LISTEN: 'Hell Hole', 'Gone Fishing', 'Chuck It In The Trash'.
YOU WILL LIKE, IF YOU LIKE: Weyes Blood, Lucy Dacus, Julia Jacklin, Marlon Williams, Faye Webster, Samia, Angel Olsen... and communing with the natural world.
COUP DE MAIN: What is Erny Belle's origin story?   
ERNY BELLE: I've always dipped my toes and been surrounded by music. Many, many moons ago, I vowed to myself that I was going to make something. At the time I was performing under the name Erny Belle, put together through different family names, and alas, here we are now, ten years later.
CDM: What was the experience like creating the video for 'Venus Is Home'?   
ERNY: Special. I worked with my Father and older Brother - we shot over three evenings. The beach location was where my Nana Venus used to pick oysters, the wind picked up force, and I felt like a big hawk. My family were camping out at their boat shed there, I could see all their faces squished together watching from inside the window as we shot the rowing scene. Was very cute, two shoot nights ended in drinking beer and eating fresh fish with them afterwards.
CDM: The backing vocals throughout the album give the songs an almost mythical feel. What can you tell us about these vocals and importance of them to the record?
ERNY: I was brought up around old churches through my Nana Shirley, her and my mother were both Opera singers, so I have nostalgia for the sound of voices reverberating in big spaces, and harmonies in hymns. I haven't been able to master an instrument or write anything musically complex so I've had to develop a sound with the use of my voice - just felt suited to the landscape of the album being set mostly in a rural town and by the beach.
CDM: Who are your biggest inspirations, both musically and in your life?   
ERNY: My spirit.
CDM: The production throughout the album is so unique and cinematic. When creating songs, do you see them as a cinematic experience or more like flashes of experience?   
ERNY: Both. It's either just processing how I feel about a situation, or I see a scene very clearly and it moves me. I do think maybe the film side of my brain has bled into the way I create music. I've never thought about that until now.
CDM: What was running through your mind when you were writing 'Hell Hole'?   
ERNY: That I saved myself from a deep dark hole.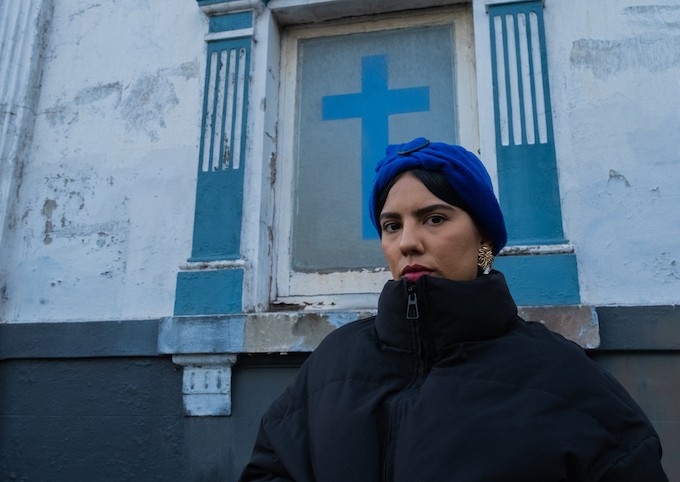 CDM: What do you think is the difference between a good song and a great song?
ERNY: I have no idea. For me personally, a great song is sonically creating a world I want to fantasize about being in and if the lyrics are relatable in humour, symbolism or heart, it strikes gold.
CDM: If E.R.N.Y. were an acronym, what would each letter stand for?   
ERNY: Evil, Raunchy, Night, Yearn.
CDM: What's on your bucket-list?   
ERNY: To never jump out of a plane.
CDM: If you could steal one thing without consequence, what would it be?   
ERNY: Batmobile.
CDM: You're one of our 'must-know' artist picks for 2022… who are yours?   
ERNY: I've been loving Gregor from Australia, his 2020 Album called 'Destiny', and an artist called Berlen from New Zealand who dropped an album called 'Half Cooked Cowboy 2021'.
CDM: What's next for you? Will you be touring this year?   
ERNY: Play live, write another album, tour Aotearoa, try to get overseas.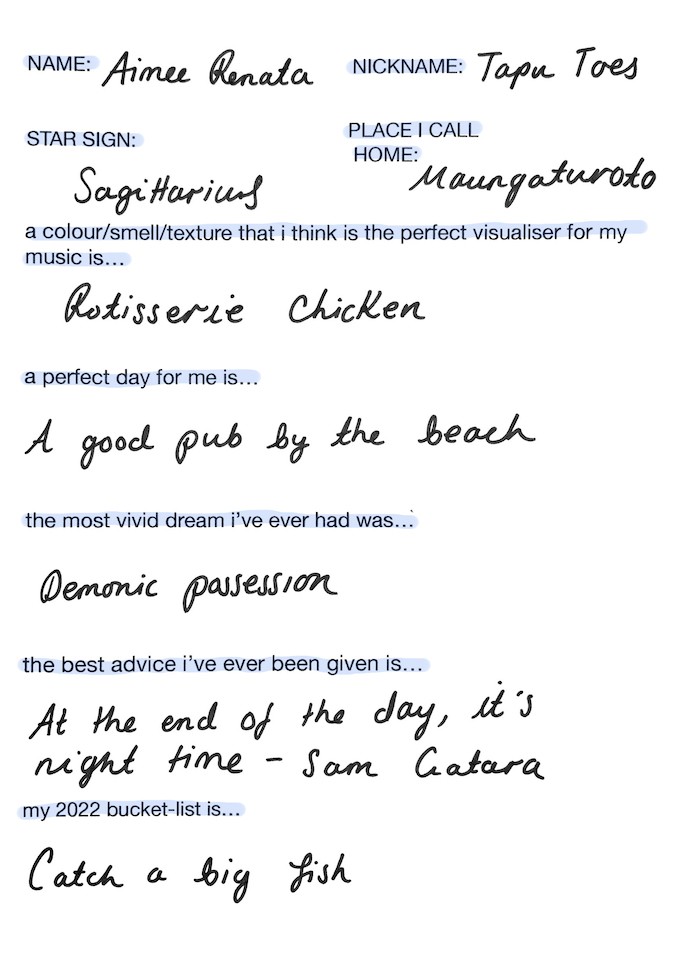 Watch Erny Belle's video for 'Venus Is Home' below... 
Check out more 2022 Must-Know artists here.
Load next