Interview: Savannah Lee Smith talks HBO's 'Gossip Girl'.
Interview: Savannah Lee Smith talks HBO's 'Gossip Girl'.
Self-proclaimed Los Angeles girl who got her start in LA theatre, Savannah Lee Smith, is stepping into being one of TV's New York elite. Smith stars in the HBO reboot of the cult classic, 'Gossip Girl', as Monet De Haan - the cut-throat self-appointed ruler of Constance (a high school they attend, only when they decide they feel like it). Being part of a mean girl trope is a responsibility to Smith, as she explains that "any character is made better and elevated when they're well rounded and have a lot of things living inside them," and embraces as Monet navigates the Upper East Side and social media chaos.
We talked to Savannah Lee Smith about all things 'Gossip Girl', mean girls, and the future of Monet's relationship with the show's Luna La...
COUP DE MAIN: You're so great in the show! I think from the moment we see you on-screen, you command our attention entirely. How much of Monet's character do you see in yourself? 
SAVANNAH LEE SMITH: Thank you! Honestly, not a lot. She's pretty cut-throat and mean sometimes, I wouldn't say I'm particularly like that. But I do think that if I were to relate to her in some way, it would probably be her work ethic and her drive. Whatever she's working on at that moment is all that she can think about, sometimes to a fault, and I relate to that a little bit.
CDM: You also have such a great cast of people around you on the show. Do you have a favourite memory on the set of 'Gossip Girl'? 
SAVANNAH: Oh yeah, it's always fun because everyone has big personalities. There was a moment, I think it was episode four, when Julien, Monet, and Luna are sitting around the table at the fundraiser. Jordan's wearing that Christopher John Rogers dress that has the rainbow stripes or threads on it. It's a huge dress and she was in heels but they wanted us to kind of exit the scene quickly, so we're all rushing out from the camera, and when they yell "Cut", she falls down, so silently, it was hilarious. The silence was so loud because she tripped over her dress and it didn't make a sound at all. It was very weird. And we were trying to hold in our laughter for a really long time after that. That was funny.
CDM: From your experience being involved in the show, what do you think is the biggest difference between the original 'Gossip Girl' and the reboot?
SAVANNAH: A lot of things are different, and a lot of the things that are different are important. The diversity is the first thing that people kind of noticed about the show and I think it's incredible. Just the representation with different races and different sexualities. We have a lot of LGBT representation, which is lacking in the original, and so if we're gonna reflect today, accurately, I think we had to make those changes and they're important. I get messages from young girls saying, "Monet encouraged me to come out my family," which is amazing and a great responsibility that I have. Then also just the social media aspect of it. Obviously, that's a change because in the original, social media wasn't really a thing yet. You see with Julien, specifically, her dealing with how to be an influencer while having real relationships with people like her sister. I think that's important too. A lot of young people get caught up in Instagram and social media, and I fall victim to it as well sometimes, but the show sheds a light on how influencers might really feel sometimes.
CDM: You're also very close with your fellow co-star Zion [Moreno] who is also kind of your partner in crime on the show! What was it like when you guys met for the first time?
SAVANNAH: I met her for the first time when we all went to go have drinks at her apartment. I walked in and I was like, "Oh, so you're a LA girl?" And she was like, "Yeah, are you?" And that was the first thing that we said to each other after looking at her decorations. I was like, "You're from LA," and I'm from LA, so I guess that's why I noticed. We instantly just clicked and realised that this was gonna be really great because we knew that we were gonna be spending most of our time with each other. It's a blessing that we like each other because we're in everything together. Working with her is amazing - she's a brilliant artist, she's also a poet, and she's so much more than Luna. It's nice to have someone like that close to me that I can riff off of and take inspiration from sometimes.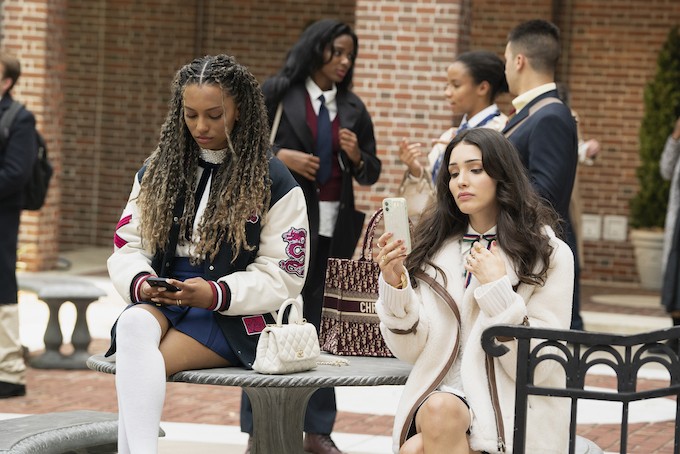 CDM: I feel a little obliged to ask about Lunet... your fans on Twitter love you guys! 
SAVANNAH: Yeah, they really, really want it to happen.
CDM: Is that something you'd want the show to explore at all in the future?
SAVANNAH: I'm open to anything. I don't think Josh wants to do that because I don't think he wants to sexualise the two female characters and make them be together. But he said with the original, that's always what [the fans] wanted - people made fan fictions about Blair and Serena. It would be a power couple; it would be amazing. We're both like, "Do whatever you want with the show," but we don't know what's gonna happen.
CDM: Mean Girl characters are such a staple of today's TV and movies. Do you think that the stereotypical mean girl character always has to be misunderstood, or can they be who they are unapologetically?
SAVANNAH: Yeah, I think there's two different mean girl tropes, I think there's the confident mean girl, and then there's the insecure mean girl, but both of those can live inside the same person. Ultimately, any character is made better and elevated when they're well rounded and have a lot of things living inside them - that's how I feel with Monet. She puts up this front that she's very confident, strong, and strong willed, but I feel like you can already start to see in the first half of the season and get to see more in the second half, that something's living underneath her front. I'm not really sure where that comes from yet. I don't really know what it is that can break that exterior down but I'm excited to find out.
CDM: Monet is also a very skillful social media manager in the show. Is there another career path that you think Monet would be good at?
SAVANNAH: I don't know, PR kind of seems perfect for her because she likes telling people what to do. I guess the next step after that is being an influencer herself. She already knows how to do it. Maybe she could do that but all I know is that she does not want to go into what her mom does. She's dreading it.
CDM: If you could describe Monet in three words, what would they be? 
SAVANNAH: I would say she's driven, she's cut-throat, and she's short-tempered.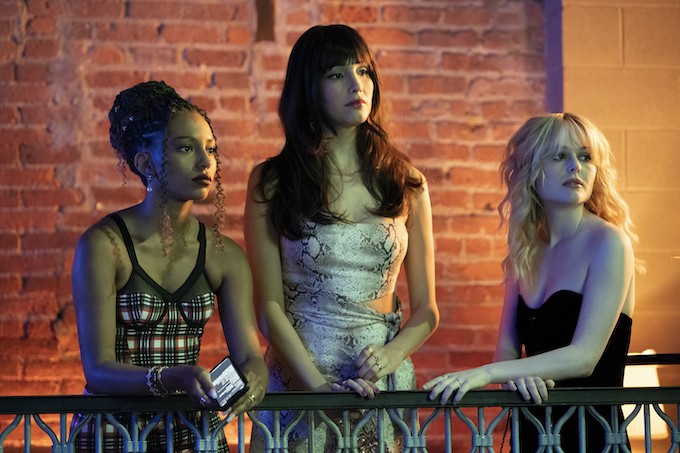 CDM: Is there a certain song that you associate with Monet's character? 
SAVANNAH: There is one specific song. I actually played it in the screen test when they just got some footage of us embodying our character to test the lighting and get the vibe and let us get into the character. The director of the first episode, Karena [Evans], she asked me what song I wanted to play, and I chose '19' by Flo Milli. Because I was 19 when I booked the show and Monet is almost 19-ish: she's 17. It's just an empowering song and that's the song that I listen to when I'm about to go somewhere nerve-racking, it boosts me up.
CDM: Earlier this month, you came to Twitter to tell your followers that you were feeling unmotivated and to let people know that there are always people there for support. Do you think it's harder to ask for help? Or to actually listen to the help you receive? 
SAVANNAH: That's a great question. I think it's probably different for everyone, but for me personally, it's always harder to ask for help - just because I like to feel independent. I like to feel like I can do things myself and that was sort of a thing that ran throughout my childhood. My dad was the one who told me, "It's okay to ask for help, everyone needs to ask for help and it would actually benefit you," so him putting it that way put it in perspective. I think I was just shy as a kid, so asking for anything was difficult for me. I think it's really important to share stuff like that because I know that my followers are looking at my Instagram and the pictures I post, and to them, it's all condensed into a small amount of time. When really there are so many days when I'm in bed and not feeling great, not being creative, not working, or going to some cool event. Just sitting on my couch thinking about things and sometimes I'm sad and I'm un-motivated. So I wanted to let them know that behind the social media persona is a real person.
CDM: How do you think people will feel seeing where Monet's character heads in the second half of the season? 
SAVANNAH: They're gonna be really excited. I think they're gonna be really excited and relieved, some of them are kind of on the right track with where she's going. I think it's a really nice build that kind of leads to this crescendo in the last episode, where Monet really puts her foot down with Julien and change is going to happen, so I think they'll be excited. It's very dramatic.
For more with Savannah, check out CDM DIY Zine #4 for a Truth Q&A.
Watch part two of 'Gossip Girl (2021)' Season 1 streaming now on Neon in New Zealand.
Load next