The Jack Antonoff x Coup De Main TTSOOSN 'fan excerpt'.
The Jack Antonoff x Coup De Main TTSOOSN 'fan excerpt'.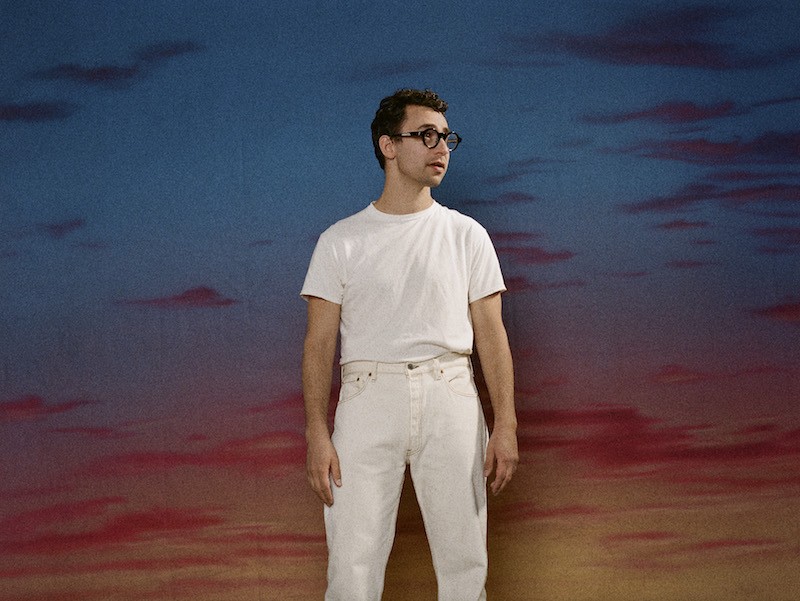 It's hard to believe it's been four years since Bleachers' last album, 'Gone Now', and the follow-up 'Take The Sadness Out Of Saturday Night' is finally here - an album to soundtrack moments like late-night drives, diner visits with friends, and reflections on one's own life.
The album sees Jack Antonoff delving deeper into ideas he's previously contemplated on the previous two Bleachers albums, of love, grief, and relationships, while leaning into his signature nostalgic sound - all wrapped up succinctly in ten songs.
We caught up with Jack Antonoff ahead of the release of the new album - and we're excited to share a 'fan except' of that interview today (with the rest on the way... soon...)...
COUP DE MAIN: Talk to me about the tomatoes...
BLEACHERS - JACK ANTONOFF: The tomato is the state vegetable of New Jersey, but it's a fruit. I thought that was so bizarre because all the totems-- there's the broken bottle which is sort of like a broken relationship, the car which is about running, the bleachers which are the band, and then the tomato is New Jersey. I thought it was such a funny way to do it because tomatoes are fruit, but they're the New Jersey State vegetable, and that feels so connected to this place in the funniest way. So it just has become a symbol of the band somehow.
CDM: There exists a Bleachers song called 'Shadow Of The City' that you have only ever performed live, circa 2016. Which came first, the festival idea, or the song?
JACK: Both. I kind of had the idea for it [the festival] and then I was like, 'I want to write a song.' I always thought, 'I'll just play it once at the festival and never play it again. It could be this weird theme song to the event.' But I don't know, I got too excited, and I didn't love the song as much as I loved the festival. So the song kind of drifted, but the festival exists. <laughs>
CDM: Maybe the song will come back one day?
JACK: One day. The chorus was good, I never really got everything else right.
CDM: 'Strange Behavior' was originally a Steel Train song - what made you decide to revisit and include it on this new album?
JACK: It's such an interesting one. I sat down on my piano and I just started playing the song called 'Women I Belong To', which is an old Steel Train song, because I liked the structure of how I wrote it, and I hadn't played in a while. Then I was playing other songs. I played a song called 'The Speedway Motor Racers Club'. Then I started playing 'Strange Behavior'. I was just playing on the piano. To your point about some of the tie-ins with the last song ['What'd I Do With All This Faith?'], I was just like, 'Jesus, this is like a brother or sister to some of these later album statements.' I went into the room where I am now, down the hall, and I just recorded a pretty quiet version. I found it really powerful. And then I started dressing it up, with the horns and whatnot. But it was pretty... I sort of stumbled upon it. I don't really listen to things from the past, but it hit me and I felt like I'd written it that day, even though I didn't.
CDM: How long did it take you to cut out all the squares for the new album teasers and write on each of them?
JACK: Oh, forever. It was me, my assistant Maddie, and some of the people at Electric Lady. We set everything up there, and we fucking did that shit. We just went nuts on it. I said, 'Hey, send me self-addressed envelopes,' and then I figured we would cut up the squares based on however many we got. We got over 4,000, so I was like, 'Ah, okay'. <laughs> But those are my people and I love them and I want them to hear it from me and it was just wonderful. We had the best time.
CDM: Will you ever make another Red Hearse album?
JACK: I'd like to! I love that album. I love Sam [Dew] and [Soun]Wave. We're kind of always off doing our own stuff, but we actually talked about it the other day. I really would like to.
CDM: What happened to your book, 'Record Store'?
JACK: Working... It's sort of shifted in tone, but I'm working on something.
CDM: In the 2015 'Like A River Runs' release you included a 15-minute recording of you and your therapist talking about dreams ('Dreams Aren't Random') where you try to decode the meaning behind some of your recurring dreams. Do you still have any vivid or recurring dreams now?
JACK: Yeah, I've been writing them down. I would like to do a different version of that in some way. I like the idea of some of these discussions about subconscious set to pieces of music.
CDM: A lot of people are wondering what the badge is that you wear on your leather jacket?
JACK: My favourite artist is this man named Bill Traylor, and I think it's says: Chasing Ghosts. He's my favourite artist of all time, and I got that pin and put it there and love it.
CDM: You've described tour as waking up somewhere new with no baggage, and you've also explained how utilising your live band in this album was very important. How have you been adjusting, going from a year of no touring, as things start to open up, and people start to be more optimistic about the future of returning to touring?
JACK: Yeah, it's weird. You know, a few months ago we were like, 'Who knows?' Then we put the tour up hopefully and now it's seeming like it's going to happen. It starts in September. I think I'll know how I feel in mid-August because right now it's still far enough away where I'm like, 'Is anything firm?' But this is happening and I'm over the moon. I don't know what's going to happen to me emotionally. It's going to be really heavy and wonderful and filled with joy and intensity. I can't wait. I also can't imagine it at the same time.
Bleachers' new album 'Take The Sadness Out Of Saturday Night' is out now - listen below:
Load next