Interview: 2019 Must-Know - RIKA
Interview: 2019 Must-Know - RIKA
With the music video for latest single 'Wanna Know' already clocking up over half a million views, 19-year-old Londoner RIKA is capturing attention for her catchy and relatable pop songs.
First launching herself in 2017 with 'No Need', the half-Indian, half-Serbian singer has been on the incline since then - and with 'On My Way' from last year being picked up from the likes of BBC Radio 1, it's clear that she'll continue to rise in 2019.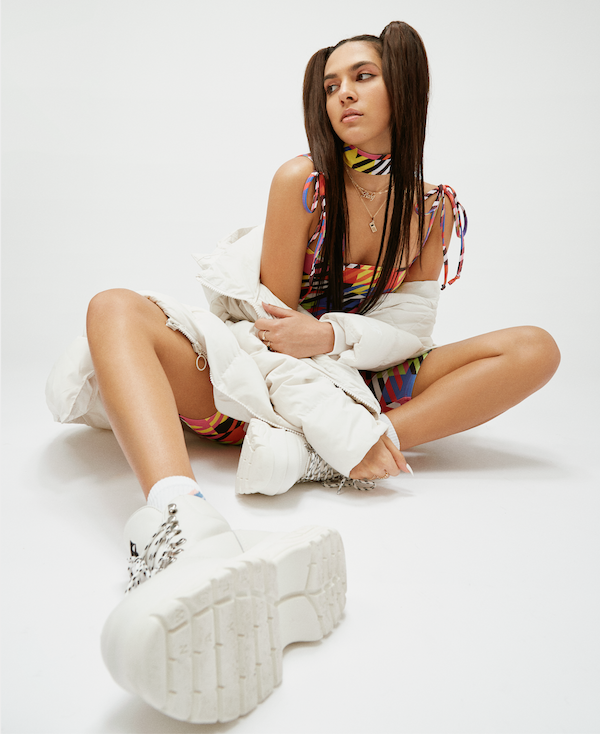 MUST-LISTEN: 'Wanna Know', 'On My Way'.
YOU WILL LIKE, IF YOU LIKE: Rita Ora, Camila Cabello, Jess Glynne, Years & Years, Dua Lipa, Little Mix… and an impromptu dance party in your bedroom.
COUP DE MAIN: What was running through your mind when you were writing 'Wanna Know'?
RIKA: My recent song 'Wanna Know' is about unrequited love, something I've (and probably everyone) had my fair share of. But I wanted to sound really happy and dance-y, to make people feel that even though it is something that happens, you can take something positive away from it too. There are so many fish in the sea!
CDM: What else do you have planned for 2019 so far?
RIKA: I have another single coming out in March, I'm supporting Zak Abel on tour in March too, and that's just March! This year is looking real busy.
CDM: Do you have plans to play some live Rika shows this year?
RIKA: Yes! I should have my first headline show sometime in May!
CDM: As a half-Indian, half-Serbian Londoner, do you feel it important to represent ethnicities who often aren't really seen in pop music as much?
RIKA: Myself being half Indian and Serbian, I can hopefully be a symbol which others of my heritage can look up to, to say to themselves that with hard work anything is achievable. It's really important to have that kind of representation in such a large genre. I never grew up seeing icons with the same heritage as me, so if I can be that someone for someone else that would mean the world to me.
CDM: At what age did you write your first song ever, and what was it about?
RIKA: I wrote my first song when I was nine, for my dad who was abroad during Christmas, so I wrote him a song in the style of Mariah Carey's 'All I Want For Christmas Is You' basically telling him to come home for Christmas. In all honesty, it's not my best piece of work but that's when I first discovered the magic of writing a song..
CDM: How does your songwriting process work?
RIKA: I like coming up with chords which go with how I'm currently feeling, and then I come up with melodies I like and put words on top. People write in different ways though, some turn poems into songs, some start with an instrumental fully made. I like to start with a base and build the song up.
CDM: Do you write your lyrics specifically for the songs, or do you write poems or prose and then evolve them into song-form?
RIKA: I write songs on subjects I walk to talk about, or things I feel other people want to hear. I like to write about things I hear and see, what my friends are going through, or something I read in a fictional book. You can take inspiration from anywhere. Charlie Puth does this really well, like in his recent album he has a track call 'BOY' which isn't about himself but is written so well! It's all in the creativity.
CDM: Lyrically, what's your favourite song that you've written?
RIKA: Probably my first release 'No Need'. I wrote it about a time when I was bullied in school. So many people have told me they've taken something positive from the song and that it helped them through their time of need. It makes what I do 100 times more worth it.
CDM: What do you hope for people to take away from listening to your music?
RIKA: Something positive and empowering. That's all I want to stand for. I hope they can connect to my music and for my music to find a home in their hearts.
CDM: If R.I.K.A. was an acronym, what would each letter stand for?
RIKA: Righteously Idealistic Keen & Appreciative.
CDM: You're one of our 'must-know' artist picks for 2019… who are yours?
RIKA: PRETTYMUCH are one of my top boyband ones, they've kind of revolutionised what being in a boyband means. CHRIS and her latest self-titled  are both masterpieces. I can't wait to see what they have in store for this year!
CDM: If you could steal one thing without consequence what would it be?
RIKA: Clothes for sure. I think I'm addicted to shopping, so if I can grab a couple of free threads that'd be great.
CDM: If you were a country, what would be your national anthem?
RIKA: 'Run The World (Girls)' - Beyoncé for sure. Probably the best girl power anthem ever.
Watch the 'Wanna Know' music video below…
Load next