Alt-J announce NZ + AUS December 2017 tour.
Alt-J announce NZ + AUS December 2017 tour.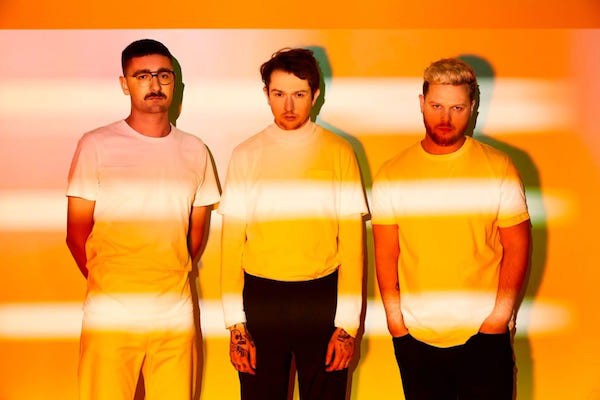 Alt-J are finally returning to New Zealand this December, having announced headline shows for both Auckland and Wellington - as well as Australian dates for Adelaide, Melbourne, Sydney and Brisbane - which marks the band's first NZ appearance since Laneway Festival 2013.
Tickets go on sale to the general public from midday on Tuesday, June 6th, with a Frontier Members pre-sale available from 2pm NZT on Thursday, June 1st.
"Quietly, resolutely, impressively, singularly, alt-J have become one of the biggest British bands of whatever it is we're calling the 21st century's second decade. Art-electro, math-folk, hymnal-rock, call it what you will, the music made by alt-J is the muscular sound of cutting edge innovation pumped by a melodically bleeding heart. Ten years after forming at Leeds University, alt-J are a post-guitar group for the new-pop generation. And as audiences all over the world know, when they get going, they rock hard.
 
alt-J's highly anticipated third album RELAXER will be released next Friday 2 June (via Liberator Music/Infectious Music/BMG) on CD, heavyweight vinyl and digitally. Ahead of its release, '3WW' as well as 'In Cold Blood' have both been made available to fans, and today, alt-J have released 'Adeline' as a further taste of what's to come on RELAXER. The release of RELAXER follows alt-J's Grammy and Brit Award-nominated This Is All Yours, which debuted at #5 in New Zealand and #1 in the UK. Their debut An Awesome Wave won the 2012 Mercury Prize and an Ivor Novello Award. Between them, the two albums have sold in excess of two million copies worldwide and their songs have been streamed well over 1 billion times.  
 
Three years of worldwide touring have forged alt-J's reputation as a fierce live act. alt-J have headlined festivals across the globe, and on their last international tour, alt-J sold out the London's iconic O2 Arena and New York's legendary Madison Square Garden."
ALT-J - NZ + AUS 2017 TOUR
 
Tue 5 Dec - AEC Theatre | Adelaide, SA (All Ages)
ticketek.com.au | Ph: 132 849
 
Thu 7 Dec - Sidney Myer Music Bowl | Melbourne, VIC (All Ages)
ticketmaster.com.au | Ph: 136 100
 
Sat 9 Dec - ICC Sydney Theatre | Sydney, NSW(All Ages)
ticketek.com.au | Ph: 132 849
 
Sun 10 Dec - Riverstage | Brisbane, QLD (All Ages)
ticketmaster.com.au | Ph: 136 100
 
Tue 12 Dec - Auckland Town Hall | Auckland, NZ (All Ages)
ticketmaster.co.nz | Ph: 0800 111 999
 
Thu 14 Dec - TSB Bank Arena | Wellington, NZ (All Ages)
ticketek.co.nz | Ph: 0800 842 538
 
Load next