Interview: Coast Modern on their self-titled album.
Interview: Coast Modern on their self-titled album.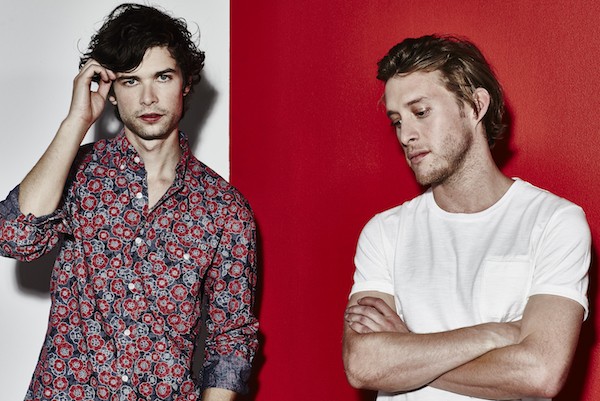 Luke Atlas and Coleman Trapp make up Coast Modern, the Los Angeles duo behind what are sure to be the anthems to your Summer - from the glittery 'Comb My Hair', to the rap-infused 'Guru', each song on their debut self-titled album tells a clear narrative, atop a production that's hard to pin down. Drawing comparisons to Glass Animals, Alt-J, and more, Coast Modern are no doubt going to be ones to keep an eye on.
Coup De Main caught up with the band via e-mail to discuss the Coast Modern sound, their album, and more…
COUP DE MAIN: I really love 'Guru' and the sentiment in the lyrics ("When I'm super low you pull me higher") - do you think that the best relationships (romantic or platonic) are one where the other person can bring the best out in you?
COAST MODERN: There's no time for vampires! If you're with someone you should be boosting each other and that's what it's all about. We're all just walking each other home, as Ram Dass says.
CDM: In 'Pockets Full Of No' you throw the 'American Dream' in the air - so what is the Coast Modern dream?
COAST MODERN: It'd be cool to have a warehouse factory like Andy Warhol where people hang out and make art and there's huge canvases, cameras, music rooms, and bleep-bloop machines everywhere. We just make all sorts of strange creations and collaborate and support all types of other artists. And there's an indoor trampoline.
CDM: Heaps of the album was recorded in one-take, just on a laptop, and you can hear background noise etc - was this natural-ness to it an important part of the album process?
COAST MODERN: It's really important for us to capture a vibe and preserve it. The strongest vibes usually come when we're hitting on a new idea, so we try to record it right then and there, and that can often be a little rough. But I think it shows more of the human side. We're two dudes making music in a 'lil studio apartment and you can hear it.
CDM: You guys both met while you were producers of different musical genres. How do you think this helped combine into what the Coast Modern sound is now?
COAST MODERN: We've basically created every type of music, from hip-hop to country, so all of those influences go into a huge soup. No sound is off limits. I fully envision a folk album and an R&B album.
CDM: How does your songwriting process work?
COAST MODERN: The only goal is to turn off our brains because brains get in the way. We have to play and have fun and that means every song birth is different. It's like bushwhacking through dense jungle until you come to the Fountain of Youth, but in this case it's the Fountain of Song.
CDM: If you were to curate your own music festival, who would you want to play and what would the festival be called?
COAST MODERN: Okay, it's called Mood Nectars (an anagram for Coast Modern), and we want Beck, Kanye, Lil Uzi Vert, Billie Eilish, M.I.A., Beach Fossils, Mac DeMarco, Rihanna, Frank Ocean, Portugal. The Man, MGMT, Toro y Moi, Blonde Redhead, and a giant Slip'N Slide.
CDM: What's the most despicable thing you've ever done?
COAST MODERN: I made a lizard ride a skateboard down a halfpipe.
CDM: If you could pick any five people (living or dead) to be in your entourage, who would you choose?
COAST MODERN: Prince, Bowie, Billie Eilish, Dumbledore, Keanu Reeves.
CDM: Do you believe in magic?
COAST MODERN: Everything is magic.
CDM: What is your spirit animal?
COAST MODERN: Giant Sea Turtle.
CDM: If you could steal one thing without consequence what would it be?
COAST MODERN: Probably a [Henri] Matisse painting or something.
CDM: What is the most heroic thing that you've ever done?
COAST MODERN: Pulled a dog out from swirling rapids. Okay not really.
CDM: What is your first proper memory, ever?
COAST MODERN: Dipping a big paintbrush in water and 'painting' a wood bench.
CDM: If you were a country, what would be your national anthem?
COAST MODERN: Would definitely compose a custom anthem with Hans Zimmer or something. Super epic. Tears.
CDM: Stretch your right arm out as far as you can reach, what can you touch?
COAST MODERN: A cheap karaoke microphone used to record delightfully lo-fi vocals.
Coast Modern's album 'Coast Modern' is out now - click here to purchase.
Watch the 'Comb My Hair' video visualiser below…
Load next