Tyler, The Creator's latest Golf Le Fleur* One Star collection is out in NZ this Thursday.
Tyler, The Creator's latest Golf Le Fleur* One Star collection is out in NZ this Thursday.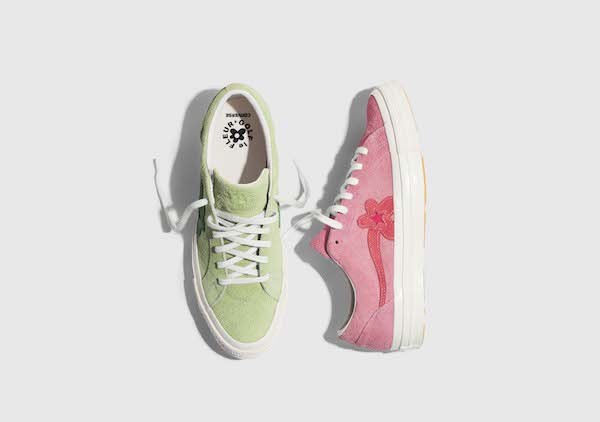 In very exciting news, Converse have today announced that Tyler, the Creator's latest GOLF le FLEUR* One Star collection will be available in-store in New Zealand - marking the first time ever that any of Tyler's shoes have been in-store locally.
The collection releases this Thursday, January 18th, and includes three sneaker options, along with an apparel collection of hoodies and tees.
The limited-edition release will be available exclusively at www.converse.com.au, Converse Sylvia Park, Loaded (High Street, Auckland), and Area 51 (Wellington) in limited numbers.
"Tyler, the Creator is audacious. He is loud. He is particular. And 2017 was a big year for the artist.
He received his first Grammy nomination for his album fourth studio album Flower Boy, and a series of collaborations with Converse, ranging from a creative interpretation of the One Star to the release of his own GOLF le FLEUR* sneaker, were largely regarded as some of the most unexpected, and refreshing.
Jump into 2018, and the 26-year-old shows no signs of this vibrant energy burning out. Neither does the GOLF le FLEUR*.
Today, after much anticipation, Tyler, the Creator and Converse reveal the latest iteration of the GOLF le FLEUR*.  His signature suede sneaker comes in three bold pastels to kick off the year – Geranium Pink, Bachelor Blue and Jade Lime. The GOLF le FLEUR* will be available in unisex sizing for RRP $180.
The collection also continues to see Converse Essentials apparel delivered from the two brands. The legacy French Terry Converse Essentials Hoodie, which retails for $130, features the GOLF le FLEUR* logo, and is available in four complementary colour ways – Jade Lime, Peach Pearl, Clearwater Blue and Egret. Cotton Jersey Converse Essentials tees come in Hawaiian Ocean Blue, Black, Peach Pearl and White for $55."
Load next