London Film Festival 2018 - Part #1: 'Widows', 'Colette' & 'Support The Girls'.
London Film Festival 2018 - Part #1: 'Widows', 'Colette' & 'Support The Girls'.
The 62nd BFI London Film Festival has just wrapped in the British capital, highlighting some of the best and biggest films of the year, many of which will be big players in the upcoming awards season. We were there to see the best of the best, and now bring you the first instalment of our look back at the big-hitters and under-the-radar gems worth looking out for in the coming months.
'Widows' (dir. Steve McQueen)
A van explodes, claiming the lives of four men – husbands, lovers, fathers. One of them is Liam Neeson. This may not be typically where to expect a film to open, but that's exactly how we begin Steve McQueen's 'Widows', a contemporary, urgent and absolutely sensational genre-masher of a film. And now that the men are out of the way, it's time for the women to take over.
Based on a 1983 TV mini-series, which itself was adapted by Lydia LaPlante from her own novel, Gillian Flynn's script has all of the sharp edges, acerbic wit and twisty turns that made her name with 'Gone Girl'. It finds Veronica Rawlings grieving for the loss of her criminal husband, Harry (Liam Neeson), after a heist goes wrong. Before long, she's being approached by Jamal Manning ('Atlanta''s Bryan Tyree Henry), a local political candidate and the owner of £2m that went up in flames along with Harry and his accomplices. She rallies the three grieving wives of Harry's gang of thieves, and two out of three answer the call: resourceful and feisty mother Linda (Michelle Rodriguez) and naïve but mysterious Alice (Elizabeth Debicki). They're later joined by hairdresser/nanny Belle (Cynthia Erivo) and they begin their plans to plot and rob their way out to freedom.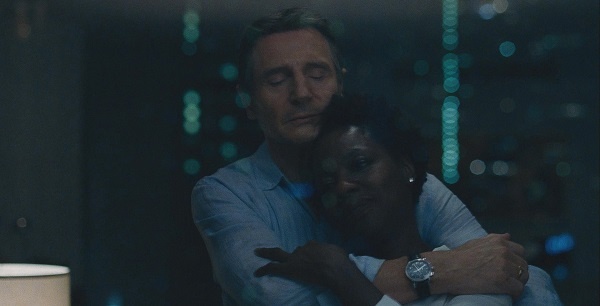 In the background of 'Widows,' but woven delicately throughout the film so as to show that it impacts every character, is a political race to represent Chicago's impoverished 18th Ward. African-American challenger Jamal is up against White-Irish Jack Mulligan (Colin Farrell), son of the incumbent Tom Mulligan (Robert Duvall). It's apparent that Jack has no interest in victory and is just running to appease the racist powers that be, with the Mulligans representing inherited power and the idea that communities can't run themselves, that power must be delegated from above. It's one of several socio-political topics that Flynn crams into her script, including the gig economy, a reference to the gun show loophole that allows the purchase of firearms without background checks, and the vulnerability of young African-American men when pulled over by the police. These timely moments never feel crowbarred in, but instead help to paint a picture of the violence of contemporary America.
The cast that McQueen has pulled together for his first film since 2013's multi-Oscar-winning '12 Years A Slave' won't be bettered this year. It's a rag-tag, cross-discipline bunch, from revered theatre actors (Davis, Carrie Coon and – in her first film role, and following Tony, Emmy and Grammy wins for her Broadway role in 'The Color Purple' – Erivo), popcorn movie veterans (Rodriguez, Neeson, Colin Farrell) and rising stars of the big and small screens (Debicki, Henry, Daniel Kaluuya). Between them, they've won over 40 major acting awards in film, TV and theatre. There's a meta element to this ensemble, the sense that they all come from different backgrounds but at this moment in time are in the same place. Veronica, Linda, Alice and Belle may never have crossed paths had their husbands lived, but here they are, fighting for their lives together, because they have no other choice.
A feature of McQueen's previous films has been the entrapment of his main character, be that in the form of imprisonment ('Hunger'), addiction ('Shame') or slavery ('12 Years A Slave'). The same reading could be applied here to Veronica, who must go wildly out of her comfort zone to liberate herself both from the threatening grasp of the Manning brothers and the legacy of her late husband's misdemeanours. While Veronica is only threatened in person in one scene – a stand-out in which Jamal's caressing of Veronica's beautiful white puppy turns sinister – we learn just what sort of fate Veronica faces when we witness the violent capabilities of Jamal's brother and henchman, Jatemme. In this role, Daniel Kaluuya ('Get Out', 'Black Panther') is extraordinary, menacing and terrifying, with just a hint of charm that feels oh-so-wrong.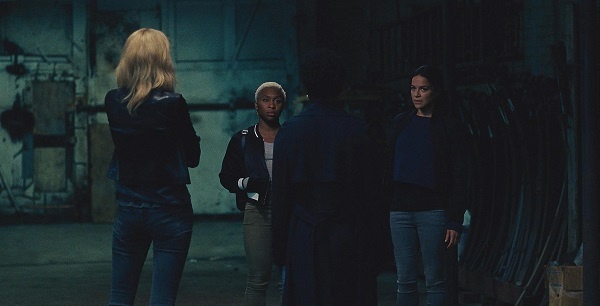 We learn more about Veronica's life through sparing flashbacks, which skilfully pre-empt their relevance to the story at large. It's an example of how Flynn keeps her script one step ahead of us throughout. Moments that seem fleeting or throwaway – or, at best, are so minute that they don't even register – later reveal themselves as hugely relevant. Chief among these is a wordless glance between two characters in waiting on a sofa. The next time they have eye contact, days later, it's a silent look of recognition on which lives hang. Flynn has flavoured her script with deeply satisfying moments such as this, which set off mini explosions of shock in the viewer's brain. It's the mark of a writer at the absolute top of her game.
Any surprise that Steve McQueen has moved from '12 Years A Slave' to a heist thriller will dissipate once audience's fill up the screens to see 'Widows' – it's the smartest film of that genre to make its way out of Hollywood in decades. It uses a big-budget, eye-catching, wide-reaching vehicle to explore subjects and topics usually reserved for straight dramas and social realist indies, resulting in a film that is the best of all the worlds from which it draws inspiration.
'Widows' is released in the UK on 9th Nov, in the US on the 16th Nov and in New Zealand on 22nd Nov.
'Colette' (dir. Wash Westmoreland)
In the opening scene of 'Colette,' the new literary biopic by Wash Westmoreland, Sidonie-Gabrielle Colette (Keira Knightley), going at that time by the second of those three names, is handed a snow globe of Paris. "Turn it upside down," she is told, and she does. The entire story of the film is in that moment. It's the story of how the eponymous Colette, the mononym she would adopt as her identity, stepped out from behind her writer husband's shadow and asserted her right to her own creativity and self-expression, eventually becoming one of the greatest French literary sensations ever.
Colette arrives in Paris in 1893, the new wife of Willy (real name Henry Gauthier-Villars, played with equal amounts charm and smarm by Dominic West), a celebrity writer 14 years her senior who is struggling to stay relevant. He runs a writing factory of ghost-writers, before noticing a literary talent in Colette. She begins writing semi-autobiographical tales of her childhood, replacing herself with the character of Claudine, which he then edits and publishes in his name. The first, 'Claudine à l'école', becomes a sensation, and is followed by several more.
With each new book, Colette attempts to assert more of herself. By the time, towards the end of the film, that Willy tells his wife, "You're at your most brilliant when you're with me," we've got to know Colette well enough to know that's not even remotely true. Willy stifles his wife, even locking her in a room to write after the success of 'Claudine à l'école', co-opting her talent and claiming it as his own.
Set over the course of 15 years around the turn of the century, 'Colette' is surprisingly good fun. The script by Westmoreland, his late husband Richard Glatzer (who together directed 2014's 'Still Alice'), and Rebecca Lenkiewicz, fizzes with humour and, just like its protagonist, is not constrained by the times in which it finds itself. One of the smartest moves Westmoreland makes is to view gender in the film through a contemporary lens, which highlights the timelessness of a fluid attitude towards the roles of men and women in society. Missy, portrayed by Denise Gough (looking not unlike a young Ellen DeGeneres), is a gender non-conforming aristocrat who has been regarded retroactively by some historians as a trans man. It is through her relationship with Missy that Colette explores her own queer identity, beginning to dress androgynously and being more open about her female attractions. A scene in which Colette and Willy pointedly use different pronouns for Missy is a sharp reminder that the same debates we have about gender today have been going on for hundreds of years.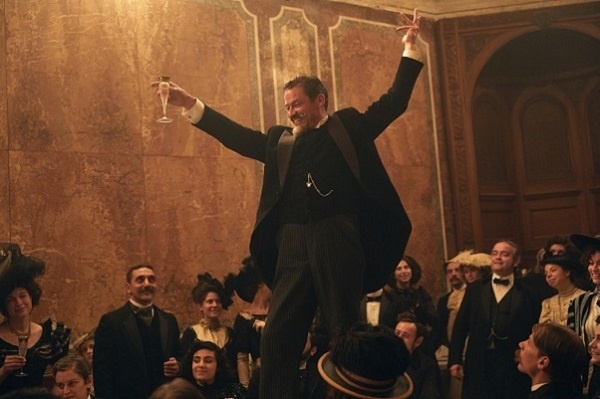 Knightley gives a miraculous performance as Colette from the age of 19 to 34. She draws a direct line between the ponytailed, teenage farm girl and the androgynous performance artist baring her chest on stage at the Moulin Rouge. We may not go along with such a drastic character transition in the hands of a less skilled actor, but Knightley, aided by a linear structure, has such a strong sense of her character that we never lose the Gabrielle in Colette.
At the heart of 'Colette' is the story of a woman reclaiming her voice. She may be "in on the joke" of her complicated relationship with her husband, but she never lets him get the better of her. When, late on, he jests that he'll lock her up to write again, she claims calmly that this time she would "scream the house down." This may be a scream that's never heard – her threat deters him from trying again – but it's felt throughout the film as Colette breaks free from Willy's suffocating grasp. But 'Colette' is not an enraged film – it's frustrated with the sexist status quo, but great joy is found in Colette's journey towards liberation, and the result is a charming, often-hilarious film anchored by a spellbinding lead performance.
'Colette' is out now in the US, and will be released in the UK on 11th Jan and New Zealand on 28th Feb.
'Support The Girls' (dir. Andrew Bujalski)
 "NO DRAMA" is rule number one for the staff at Double Whammies. This is the setting for 'Support the Girls', a sports bar in the uniquely American tradition of having a focus on the sexiness of the female staff who bus the tables, pour the beers and butter up the patrons. It's no shocker to reveal that drama does inevitably follow, as well as a lot of heart and comedy.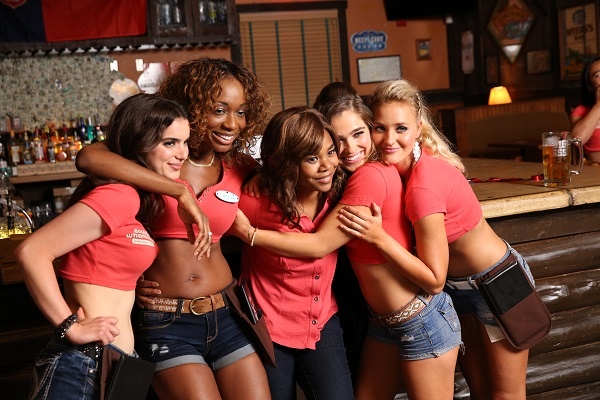 Written and directed by Andrew Bujalski, 'Support The Girls' is a delightful indie, anchored by Regina Hall as Double Whammies' just-about-managing general manager Lisa, whose personal life is just on the fritz as her bar's TV screens. Over the course of one day, and a later epilogue, we watch her do her utmost to hold together the various components of her life, including the establishment she's "married to," as she's told by a colleague. She's the mother hen of the building, supporting her girls through their hardships and upsets. "It makes such a difference when your boss cares about you," Haley Lu Richardson's Maci declares from atop the bar with a pint in hand, and you might just find yourself nodding in agreement.
'Support The Girls' finds female solidarity in a locale that seems initially to be a shrine to the male gaze. It's a paradox that's not unlike the film itself: to find this much female power in a film of a man's creation is a rare joy. Bujalski understands both the gender specific and non-specific aspects of the solidarity between these co-workers. Expectations based on gender are further subverted by Lea DeLaria's Bobo, a trucker who's there to defend the girls (with both her words and her fists) as much as she is to ogle at them.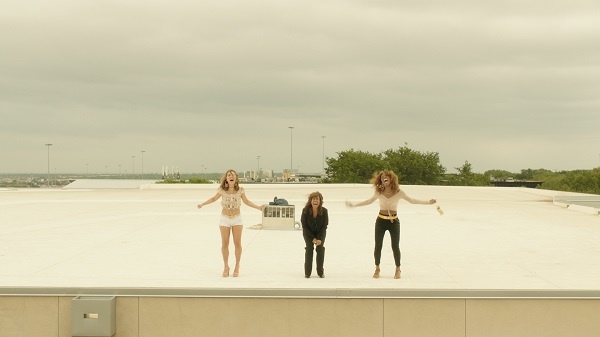 The girls – who include young mother Danyelle (Shayna McHayle a.k.a. rapper Junglepussy) and newbie Jennelle (Dylan Gelula from 'Unbreakable Kimmy Schmidt') – support Lisa as much as she supports them. One of the film's best moments comes when Maci surprises Lisa with a confetti canon and a cry of "You're incredible and we love you!" Lisa's response may be more of shock than gratitude, but this spontaneous act symbolises the strength of her employees that carries her through everything life is throwing at her. This is very much Regina Hall's film. In Lisa she has created a character who radiates love and care in the sort of working environment often lacking in both.
Sadly, the modest size and scale of 'Support the Girls' means it's almost destined to fly under the radar, but there's plenty of drama here – and plenty of love – that makes the film worth seeking out.
'Support The Girls' is out now and on demand in the US. International release dates are yet to be announced.
Load next