London Film Festival - Part #3: 'The Favourite', 'Madeline's Madeline', 'If Beale Street Could Talk'.
London Film Festival - Part #3: 'The Favourite', 'Madeline's Madeline', 'If Beale Street Could Talk'.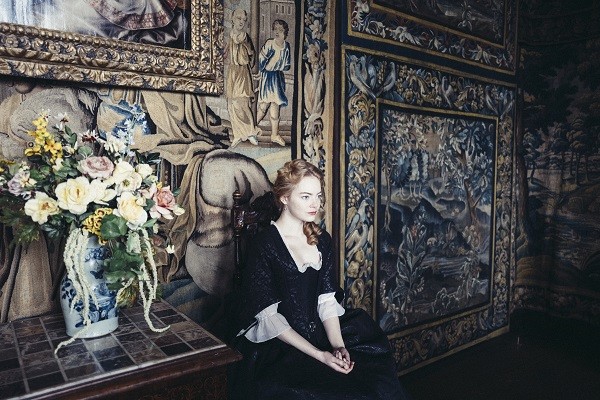 In the final instalment of our look back at this year's London Film Festival, we have three female-driven films set in the 18th, 20th and 21st centuries, each with something different to tell us about love, pain and fighting the powers that be.
'The Favourite' (dir. Yorgos Lanthimos)
An indecisive, thin-skinned, volatile head of state rules over two warring political parties. Every hanger-on attempts to curry favour and push their own agenda, but the leader just wants to eat and play games. If this premise sounds familiar, it's purely coincidental – Yorgos Lanthimos was working on his new film, 'The Favourite', long before the current White House resident took office.
Here, we're in England in the first decade of the 18th Century and Olivia Colman is Queen Anne, the ailing, fickle monarch. She's cared for – and controlled by – her very good friend Lady Sarah Marlborough (Rachel Weisz). That is until Lady Sarah's long-lost cousin Abigail (Emma Stone, with a very impressive English accent) arrives at court, first gaining employment as a maid before slowly and slyly working her way up through the ranks. Meanwhile, the queen is being pulled in opposite directions by the government and the opposition, who disagree on the ongoing war efforts.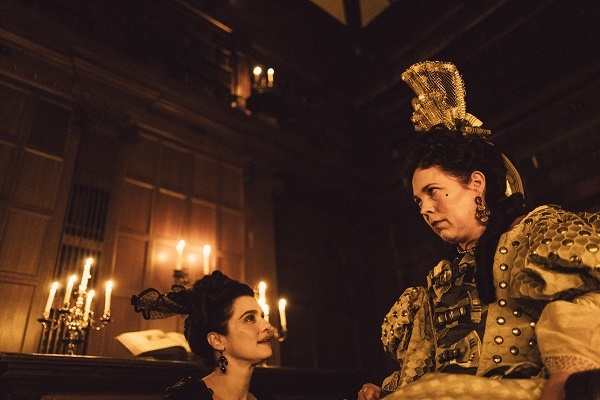 It may sound stuffy and stiff, but 'The Favourite' is easily one of the funniest films of the year. Anyone familiar with Lanthimos's two previous English language efforts, 2015's 'The Lobster' and last year's 'The Killing of a Sacred Deer' will know his awkward, blunt style of delivery and flair for absurdist humour. The latter is a major feature here, but the softening of former makes 'The Favourite' his most accessible feature of the three. Robbie Ryan's fish-eye lens helps to familiarise us with this new and perplexing world, guiding is through a place where lobsters are raced for sport and palaces are given as thank-you gifts.
Almost all of the action takes place in the grounds of the queen's court, a non-descript palace that serves as a microcosm of the country at large. Everything is within its walls: the landed gentry, the peasants, parliament and the monarch. As with 'The Lobster' and 'Sacred Deer', the events take place in a self-contained world where the rules are given but the logic that drives them needn't be understood. What this allows to develop is a simple, effective dichotomy between the old and the new, and a parallel between the two women fighting for Queen Anne's affections and the political parties attempting to persuade her that their approach to an ongoing war is the right one. Lady Sarah is aligned with the Earl of Godolphin (James Smith), whereas Abigail finds an ally in political challenger Robert Harley (an excellent Nicholas Hoult).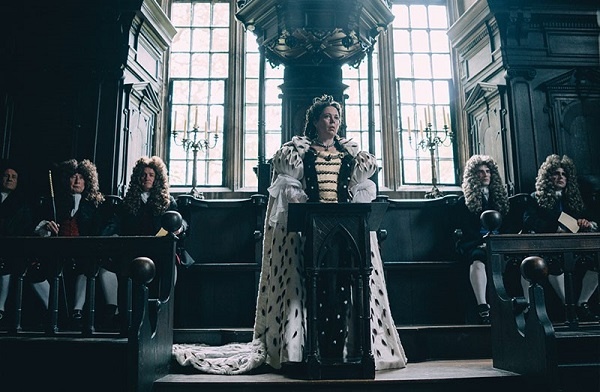 Olivia Colman gives a tour-de-force performance, the sort that offers something new in each scene. We're immediately drawn to her hilarious, cantankerous nature ("How dare you!" she screams at a servant boy for looking at her, one second after ordering him to do exactly that). But in a pair of scenes around the middle of the film, she shows us the heart-breaking depths of tragedy and despair that her eccentricity covers. Colman is one of Britain's most beloved actresses for both comedic and dramatic roles in TV shows such as 'Broadchurch', 'Fleabag' and 'The Night Manager'. However, her film roles, including in 'Hot Fuzz', 'The Iron Lady' and her first collaboration with Lanthimos in 'The Lobster', have up to this point only hinted at her brilliance. In 'The Favourite', she's the star of a very starry show, in a role that is sure to finally get Hollywood to sit up and pay attention.
Flanking Colman, Emma Stone and Rachel Weisz both give as good as they've got as the sparring cousins. It's the cruel, ambitious nastiness of these two that propels the film. Deborah Davis and Tony McNamara's script is wise to make neither a villain – that they are both equally deplorable in their actions means it's easy to sit back and root for both, rather than one against the other. Joe Alwyn also deserves a mention as a "completely cunt-struck" courtier chasing Abigail's affections, whose dance number with Lady Sarah provides some of the biggest laughs.
'The Favourite' could maybe benefit from having its corset pulled a bit tighter (its division into eight chapters provides little), but ultimately this is a ferociously entertaining romp propelled by three equally glorious performances by Colman, Stone and Weisz. It also further cements Lanthimos as one of the most exciting and wildly unpredictable filmmakers working today.
'The Favourite' will be released in New Zealand on December 26th, in the UK on January 1st, and in the US on November 23rd. You can watch the trailer below:
'Madeline's Madeline' (dir. Josephine Decker)
The most wonderful thing about cinema is that it allows us to escape into a fantasy world and ignore whatever is troubling us in our real lives. For teenager Madeline, the double-titular character of Josephine Decker's new Brooklyn-set indie 'Madeline's Madeline', her escape is not cinema but a theatre troupe. The group, of which Madeline is the youngest member, workshop as animals, exploring human emotions through non-human expression. It's an outlet for Madeline's frustrations, until group leader Evangeline (Molly Parker) tries to blur the lines between reality and fantasy.
It's that dialogue, between what is real and what is not, that is at the heart of this stunning film. Madeline is happiest when she can clearly delineate between the two and destabilised when the lines blur. She doesn't want to bring her discordant and volatile relationship with her mother, Regina (American indie darling Miranda July), into her beloved creative outlet, but can only keep them apart for so long. This collapsing of boundaries is mirrored in the way Decker treats scene transitions, blending one moment into the next in a haze of colour and jumbled sound. Caroline Shaw's music – her Pulitzer-winning 'Partita for 8 Voices' is used heavily – full of vocalised breaths and grunts, lives somewhere in the gap between the human and the animal, just like the troupe's performances.
Decker fills her film with rich imagery and symbolism. Evangeline isn't just recreating life in her theatre company, but also within herself – she's pregnant, and appears to draw her own parallels between Madeline and her unborn child. Every frame and image serve the themes Decker is exploring. Madeline's two existences, with the theatre troupe and at home with her mother, are so fantastically realised. Decker ensures we have a full understanding of how these worlds differ, so that it's all the more notable when they begin to collide. By the time it is revealed the roles that mental health and race will have in the narrative, we have no doubt of the assured hands we're in and Decker approaches both with sensitivity and compassion.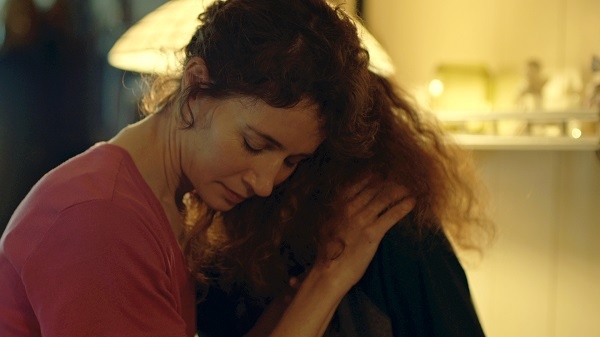 Helena Howard gives a powerhouse performance as Madeline, the sort of star-making debut that cannot be ignored (Jennifer Lawrence in 'Winter's Bone' has become the benchmark and Howard is just as sensational). She telegraphs emotional complexity, telling the whole story of a scene with just a look. Howard is fully in control of what Madeline is hiding and what's lurking underneath some of her more outrageous behaviour (she keeps us watching an excruciatingly awkward scene with Evangeline's husband, no matter how desperate we are to look away). It's the kind of performance that we get to live inside, with Ashley Connor's cinematography often taking us into the papier mâché animal heads worn by Madeline for the troupe's performances. We become Madeline, with her point of view and breathing becoming our own, a tool that recalls Sandra Bullock's all-encompassing performance in Alfonso Cuaron's 'Gravity'.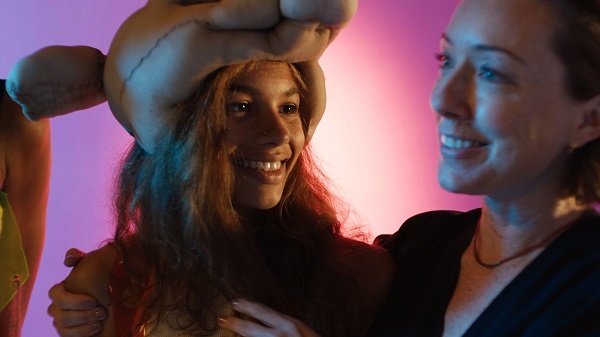 The film's title could be taken to mean "Madeline is Madeline" (rather than reading the apostrophe as possessive), an interpretation which speaks to the themes of recreation and performance. But there are moments in this extraordinary work when Decker and Howard make the audience also feel like Madeline, torn between two worlds, running from reality until it catches up with us. Put simply, this film will remind you why you love cinema and, in the process, introduce you to two incredible new talents – one behind the camera, one in front – whose names and work you won't forget in a hurry.
'Madeline's Madeline' is available on demand in the US. International distribution is yet to be announced.
'If Beale Street Could Talk' (dir. Barry Jenkins)
Love stories have been the cornerstone of cinema since its advent. We've perhaps become accustomed to seeing love on film in the form of the romantic comedy – a 'boy meets girl', a 'will they, won't they'. But love stories have never stopped providing inspiration for some of the greatest, most inventive directors in the business. After all, the current holder of the Best Picture Oscar is a tale of a romance between a mute woman and a half-human, half-fish creature, helmed by an auteur fantasy director. Love provides inspiration to all creatives, regardless of form, budget, style, time period, gender or species.
It is to love that Barry Jenkins has turned for 'If Beale Street Could Talk', his third feature film and the follow-up to his multiple Oscar-winner 'Moonlight'. While love was key to 'Moonlight' – particularly its absence in the life of its lead and the few individuals who were able to provide it for him – it forms the absolute core of 'Beale Street', Jenkins's resplendent adaptation of James Baldwin's 1974 novel. It follows Tish (newcomer Kiki Layne) and Fonny (Stephan James), childhood friends who have found themselves in love. After Fonny is falsely accused of a crime and sent to prison, the shy and unexpectedly pregnant Tish takes on his legal battle while trying to keep her own life together.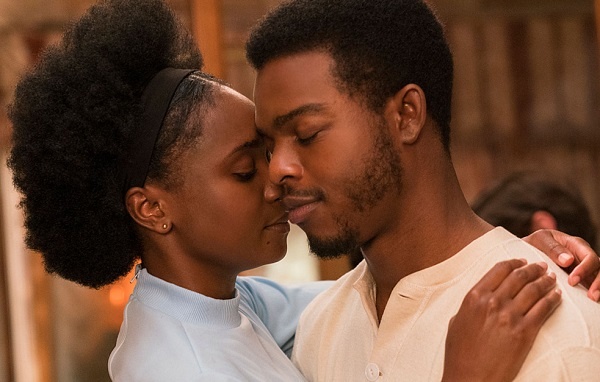 We glide between two narrative strands, one leading up to Fonny's arrest and the other following. Bridging them together is Tish's narration of Baldwin's words, mostly over black and white photographs depicting the injustices faced by African-Americans throughout history, of which Fonny's is just the latest and most personal for Tish. This structure allows us to see their love blossom alongside the forces that are attempting to destroy it, while also providing a tragic call-and-response between the present and the future. As Fonny's newly released friend Daniel, Brian Tyree Henry gives a single-scene, heart-breaking performance in the pre-arrest timeline. Daniel hints to Fonny with great pain and stoicism at the horrors of life behind bars. "They can do with you whatever they want," he mournfully reflects, concluding that "the white man has got to be the devil." His chilling words echo through to the post-arrest timeline, bringing greater tragedy to Fonny's ongoing detainment and the mistreatment he will surely be suffering, unseen by Tish.
There is a shyness to Layne's softly-spoken Tish that Jenkins may not have been able to get out of a more seasoned actor. As the character slowly, reluctantly come out of her shell, we see this measured performance for what it is: a smart, tender depiction of a quiet woman in a loud world whom circumstance suddenly requires to emerge from the shadows. Opposite Layne, Stephan James is a revelation, building on the promise of his small, important role in Ava DuVernay's 'Selma'. His Fonny is charming, vulnerable, goofy, tortured and loving in equal measure. In his changing eyes, we find the whole story – once full of hope and devotion, later bloodied and pained. His ability to emote without using a single word is his greatest talent, and while there may be little justice seen on screen here, if there's any in the real world, this performance of such impressive range will propel James into the big league of reliable leading men in Hollywood.
Teyonah Parris and Colman Domingo excel in the domestic setting of the film's opening act, bringing unexpectedly big laughs alongside a beautiful sense of familial unity and support. The simple instruction to "un-bow your head, sister," that Parris's Ernestine gives her sister Tish is a deeply powerful moment that speaks of a need for pride and strength that extends far beyond their living room. But it's Regina King as matriarch Sharon who shines brightest, fighting for her daughter's happiness in any way she can, taking on Tish's battle for Fonny's justice as her own. An underrated actress seen most often in TV dramas, King commands every moment she's on the screen. That she's been touted as a frontrunner in this year's supporting actress race is entirely deserved.
The score by 'Moonlight' composer Nicholas Britell heightens every moment of tenderness, swelling at times with romance and at others with tension. A film's score has not captured the beauty of the love between its two lead characters so perfectly since Carter Burwell's immaculate work on 'Carol'. Whereas for 'Moonlight', Britell's strings were frenetic and unpredictable (just like the young Chiron and his mother Paula) here they swirl gracefully around a blossoming, soaring woodwind refrain. It's quite simply the most beautiful, pure musical accompaniment for which Britell can surely expect his second Oscar nomination.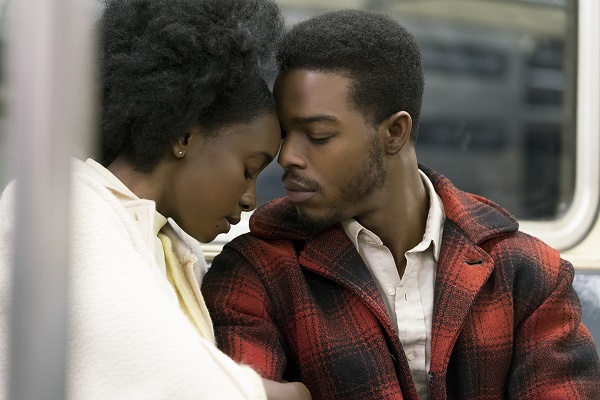 There are few filmmakers working today whose love for their craft shines as clearly through their every frame as Barry Jenkins. Fuelled by his deep adoration for Baldwin and his novel, he has created a deeply warm, generous, patient picture that depicts the tragically intertwined relationship between love and pain. Every time a character looks down James Laxton's lens – be it to deliver a truth, show concern, or simply gaze at a loving partner – we become a character ourselves. Jenkins graceful direction brings his audience to within touching distance of these characters, the result being that we never for a moment doubt the love shared by his two leads.
As cinemagoers, we always, as Dave Franco's landlord tells Tish and Fonny, "dig people who love each other." This could not be truer than the love audiences will have for this star-crossed couple.
'If Beale Street Could Talk' will be released in New Zealand on February 14th, in the UK on February 8th, and begins rolling out in the US on December 14th.
Load next